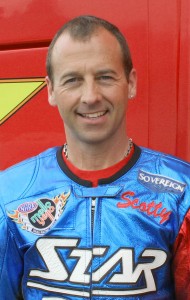 The O'Reilly Auto Parts NHRA SpringNationals this past weekend gave Sovereign-Star Racing's Scotty Pollacheck his second appearance in a final round of competition and moved teammate Michael Ray up three places in the overall points after he won his first two rounds of the 2013 season.
Rainy Saturday weather conditions at Royal Purple Raceway in Houston, Texas, halted qualifying after only three sessions, but that was all the Sovereign-Star Racing pair needed after making strong passes straight off the trailer on Friday. The teammates went into Sunday's Pro Stock Motorcycle Mello Yello Series eliminations with Pollacheck at No. 2 and Ray at No. 6.
"I knew how close we were after Charlotte to really turning a corner, so it was great to come to Houston and out of the truck we qualified two and three on Friday. I ended up qualifying a competitive No. 6 after having to change engines," Ray said.
Ray earned his first bonus points in Houston when he took the No. 3 position in round one qualifying on Friday. Pollacheck had also qualified at the No. 2 position previously at Charlotte, which was his career best and a team best for Sovereign-Star Racing.  
"Everything has definitely been coming together where we're consistently doing well in qualifying and going rounds. Especially now that Michael and I are both in the top ten and he was going rounds, everybody was happy and it makes everything more fun," Pollacheck said.
In round one of Sunday eliminations, both Pollacheck and Ray kept their focus and made solid passes as both their competitors fouled at the starting line to turn on the red light.
Ray posted the low ET of eliminations with his 6.876/194 mph pass against Jim Underdahl. Pollacheck's 6.894 pass also took the round one win after Chip Ellis redlit.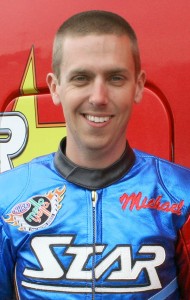 During round two, Pollacheck led from start to finish, posting a 6.913 against Angie Smith's 6.968. Ray also won second round when Andrew Hines turned on the red light, ending his three-year winning streak at Houston.
The Sovereign-Star Racing teammates faced each other in the semifinals, where Pollacheck took the win after Ray staged too deep and redlit when the bike inched forward too far.
"It was the same routine that I had done all weekend. When I turned on the stage light, the bike was creeping and I just couldn't hold it back enough. I was in a lot deeper than I wanted to be. I knew that I had gone red, so I was just ready to get it through there and go cheer on Scotty in the finals," Ray said.
Pollacheck advanced to the final round for the second time in his career, following his first appearance last weekend at the Four-Wide Nationals in Charlotte.
"It's crazy to think that we just went to the final round two weeks in a row. I definitely liked it. It makes you feel like you accomplished a lot more over the weekend," Pollacheck said.
No. 1 qualifier Hector Arana Jr. had lane choice for the finals and continued his perfect winning streak this season by posting a 6.912 over Pollacheck's 6.985 to claim his third consecutive Wally.
"It was mixed emotions after that final round. It was really cool, though, that we had the live TV thing for the semis and finals and that we got to be a part of all that. It made it go by in a flash between rounds to get things done to get back up there," Pollacheck said.
The competitive numbers posted by the Sovereign-Star Racing teammates were even more of a challenge due to the quick turnaround between passes as NHRA and ESPN2 featured live television coverage of the semifinal and final rounds for all classes.
"Lane choice in the final was crucial, and of course Jr. had it. We matched him to the thousandths on low ET of the meet, though. We didn't tear up anything again; the engines were very reliable. If we had had any damage or mistakes we would have been out of luck with that short turnaround time," Bryce said.
After more than 30 years of Pro Stock Motorcycle racing, the Star Racing crew is definitely prepared for the challenges of a hectic day at the racetrack.
"I think the short turnaround is where our team flourished. (Crew members) Ken (Johnson), Andrew (Schulz), Chuck (Kennedy) and George are some of the most prepared individuals at the racetrack. I think that's one reason why Scotty is so consistent on Sunday, because the bikes are just always ready to go. There's no scramble; the team is 100 percent prepared. All the guys at the Star Racing shop also do a great job of having all the parts ready so that we don't break anything while we're there," Ray said.
The Star Racing facility is also where the team performs all of their dyno testing and engine improvements throughout the season. The crew will return to the Americus, Ga.-based shop to make the necessary adjustments before the next race at the end of May.
"We're going to see if we can find out why we slowed down round by round rather than sped up round by round. We have to fix that, because it's great to be low ET of the round, but it would be better if we were low ET of the final. That's two races in a row that we would've won, so we have to find out what's going away," Bryce said.
After three successful races, the Sovereign-Star Racing drivers are both in the top ten Pro Stock Motorcycle points standings, with Pollacheck at No. 2 and Ray at No. 8.
"There's only one guy that's happier than we are right now, so it could be a lot worse," Pollacheck said. "It all starts back at the shop with everything that the guys are doing there, building the engines and putting in the dyno time. Our results on the track show that everything they're doing is working and paying off. We definitely have to say 'thank you' to them for all their work."
The next Pro Stock Motorcycle event will be May 31-June 2 at the Toyota NHRA Summernationals at Old Bridge Township Raceway Park in Englishtown, N.J.
The 2013 Sovereign-Star Racing Team is a partnership between Georgia-based Star Racing and the Hungarian-based Sovereign Racing Team, the 2011 UEM European Pro Stock Bike Championship Team, owned by sugar distributor Jenõ Rujp.
The Sovereign-Star Racing Team would like to thank the following sponsors: Sovereign, Star Racing, Americus Motorsports Complex, S&S Cycle, Daytona Sensors, Worldwide Bearings, CP Pistons, Cometic Gaskets, Quality Tire, and Uncle Hal Gottspeed Racing.
Star Racing Fast Facts:
·         Based in Americus, Georgia
·         Six-time NHRA Pro Stock Motorcycle Championships
·         78 NHRA national event wins with nine different riders
·         Owned by George & Jackie Bryce
Sovereign Racing Team Fast Facts:
·         Based in Budapest, Hungary
·         2011 European UEM Championship Team with rider Jesper Thiel
·         Owned by Jeno Rujp
Scotty Pollacheck Fast Facts:
·         From: Medford, Oregon
·         Job: Owns "Quality Tire" store
·         Years in drag racing: 27
Michael Ray Fast Facts:
·         From: New Braunfels, Texas
·         Job: Harley-Davidson Motorcycle Salesman
·         Years in drag racing: 11