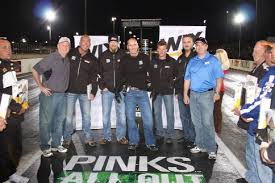 Pinks All Out is coming to Rockingham Dragway this season and motorcycles and dragbikes will be included in the program.
"The fact that racers and fans still want PINKS is both an honor and extremely …humbling," PINKS creator Rich Christensen said. "Their unwavering passion
is the reason I'm bringing it back. I'm hoping PINKS Week at Rockingham will become the largest
grassroots drag racing festival in the world!
Like Sturgis, it will be a one-week event, the one chance each year for friends and family from all over the country to come together and celebrate cars, motorcycles and speed."
"My years of experience with the PINKS brand and Rich Christensen Entertainment has had me leading the charge to
bring PINKS back to the grassroots drag racing community," said Brian Bossone, President of TV and Live Event
Production. "PINKS: All Out has been one of the most popular events in grassroots drag racing history. The on-track
competition created some of the best 'true' reality television ever produced. Rich and I are extremely excited to have
the opportunity to re-connect with Steve Earwood and Rockingham Dragway on July 4th weekend to bring PINKS
back."
Earwood, too, is excited about the prospect of introducing PINKS to a new group of racers, including motorcycle racers
of whom weren't included the first time around.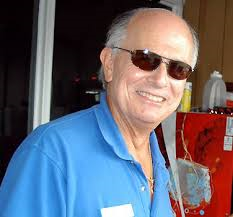 "Our PINKS: All Out event remains the largest paid admission day in The Rock's 44-year history," Earwood said, "so we are ecstatic about the prospect of working again with Rich Christensen and the PINKS staff. The program Rich put together a few years back changed the programming landscape as it applies to all forms of auto racing. It was the most talked about grassroots racing experience ever."
For many years the motorcycle community had to sit out and watch the historic racing action and now that's changed.
Rich is a huge motorcycle fan and along with Brian Bossone, they included motorcycles in there traveling event called
ArmDrop Live.
Speeds decision to stick with a automotive based platform prompted Rich and Brian to let the
motorcycle community join in on the excitement. The overwhelming support at these events from the motorcycle
community prompted Christensens decision to bring PINKS back with bikes.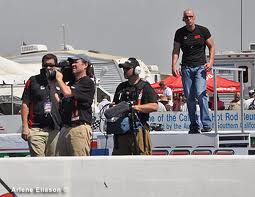 Along for the ride is veteran motorcycle racer and fabricator Michael Beland from A1 cycles of West palm Beach FL. Mike participated in the original PINKS and has been a tech advisor on many of Christensens projects and pilots. Mike is the perfect addition to the new format and will be the go to guy for all things motorcycle related on the show. So motorcycle racers get ready to register on March 14th 2pm est. on facebook at PINKS ALL OUT; WEEK , Rockingham Dragways website and PINKSWEEK.COM.
Big Prizes mixed with a little ALL OUT format twist will surely make TV and live event history one more time!
Sponsorship available: sponsorship@pinksweek.com