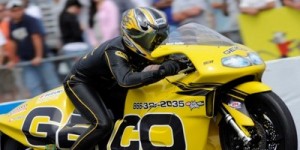 Karen Stoffer could have used another run Sunday to tune her GEICO Suzuki after a difficult weekend at Old Bridge Township Raceway Park. But there are no freebies in the Pro Stock Motorcycle class.
Stoffer, who suffered through transmission troubles in qualifying, had a sensor fail on her Suzuki during her first-round matchup against three-time NHRA Full Throttle Drag Racing Series champion Andrew Hines in the Toyota NHRA SuperNationals.
Stoffer, the No. 11 qualifier, made a pass of 6.990 seconds at 191.40 mph but fell to Hines' 6.946 at 190.89 mph.
"You're racing multi-time champion Andrew Hines over there," Stoffer said. "Anybody with that Screamin' Eagle logo on the side is tough. Anybody out here is tough, no matter who you line up against on Sunday. You've got to give your A-game, and we didn't have an A-game all weekend. We've got to find our A-game again and make sure we bring it to Chicago."
Stoffer reached the final round in Englishtown a year ago, but transmission problems hampered her in 2012. Her GEICO Suzuki wouldn't shift into high gear on two of the four qualifying passes, and the team decided to change the engine/transmission combination after Q4.
"Englishtown has always given us ups and downs," Stoffer said. "This happens to be a down year for us. We came in here with a good motor, but there are a couple of pieces to a motor. There's a transmission, and that's the part that failed on us all weekend long.
"We really wanted to run that motor, so we kept with it. That's the loyalty of our team. We pulled the transmission out and went through it, and we had some other people look at it. We put it back in, and it actually worked for one hit."
But after it wouldn't go into high gear again in Q4, the team had a decision to make. Crew chief Gary Stoffer decided to take the engine named "Wilson" out and replace it with "Dirty Harry."
"Dirty Harry's usually been a good go-to motor for us," Stoffer said. "Unfortunately, we just had a sensor go bad. That's one of the things that happens when you have a backup motor."
Stoffer remains sixth in the points standings in Pro Stock Motorcycle, which runs again June 29-July 1 at Route 66 Raceway in Joliet, Ill., for the O'Reilly Auto Parts Route 66 NHRA Nationals.
"We still feel comfortable going into Chicago," Stoffer said. "Hopefully, we'll have our motor and transmission and sensor program all in tune for the Windy City."