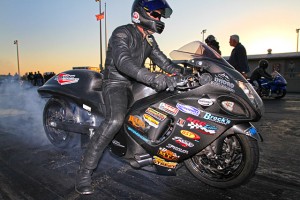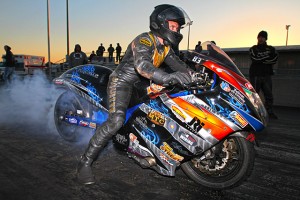 With wheelie bars or without, in Pro Comp or Pro Street, the Mark Paquette Racing team proved up to the task of breaking records and winning in 2014.
Everybody knows that Paquette's turbo-methanol Kawasaki Funnybike is an absolute monster. When the tune-up is right, few can touch this wheelie-barred beast. With a string of wins and number 1 qualifiers, Michigan medical business owner Paquette secured his second straight NHDRO Schnitz Racing Pro Comp championship.
Along the way, Paquette ran a 4.00 and a whopping 198.47 mph in the eighth mile class. What the what? After sporting a copperhead paint job for a while, Paquette was back in black and not lookin' back. "I'm still freaking!" seasoned veteran announcer Radical Rich Tivitt said about the 198 mph blast at Lucas Oil Raceway in Indianapolis. "What a run! Oh my God, it was one of the coolest passes I've seen." And that's a lot of passes.
But there are also two Pro Street bikes under the MPR awning—one for Paquette and the other owned and ridden by veteran rider Bud Yoder. And Yoder did his best to steal Paquette's thunder, running the quickest street tire pass ever with a 6.83 in October's Battle Royale at Maryland International Raceway. Yoder then finished off the year in style with a stunning win at the Manufacturers Cup World Finals at South Georgia Motorsports Park in Valdosta. Bud drew the tough side of the ladder, racing his way past Tony Ficher, the DME bikes of Joey Gladstone and Terence Angela, and finally the HTP bike of Ryan Schnitz in the final.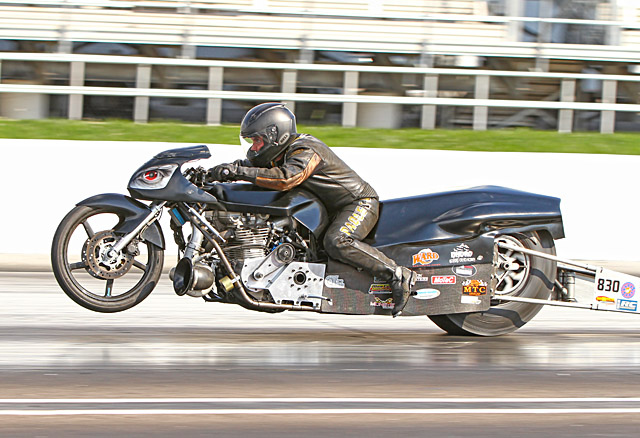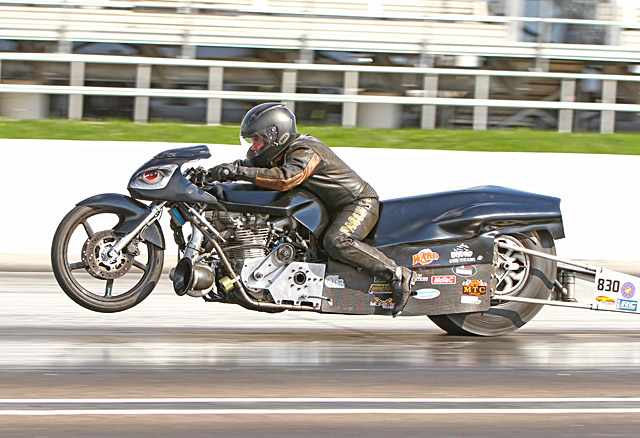 Mark Paquette, Bud Yoder and the MPR team thank McIntosh Machine & Fabrication http://www.mcintoshmachineandfab.com , Robinson Industries http://www.robinsonindustriesinc.com , Shinko Tire http://www.shinkotireusa.com , Ward Performance http://www.wardperformance.com , MTC http://www.mtceng.com/ , Dart Race http://www.racecase.us, JRI Shocks http://www.jrishocks.com , Montgomery Motorsports http://www.montgomerymotorsports.net , Portable Shade http://www.portable-shade.com , J&E Pistons http://www.jepistons.com , RCC Turbos http://www.rccturbos.com , Web Cams http://www.webcamshafts.com/ , Worldwide Bearings http://www.worldwidebearings.com/ , Comp Turbo http://compturbo.com , Bellman Oil Company http://www.bellmanoil.com , Brock's Performance http://www.brocksperformance.com , Schnitz Racing http://store.schnitzracing.com , McCall Colors http://www.mccallcolors.com , Spiegler Brake Lines http://www.spieglerusa.com/brakes/cycle-brake-line-kits.html and crew members Tony Paquette, Brent Paquette, Kerry Paquette, Kelly Yoder, Terry McIntosh and Tiffany Broderick Kuhn. "Last but not least, I'd to thank our families for letting us make the shop our second home, and all of our friends that have supported us throughout the season," finished Paquette