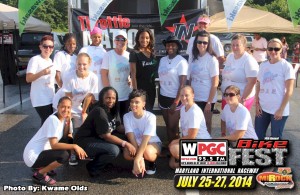 The "Paint The 1/4 Pink" program is back and will once again be run at the WPGC Bike Fest event on July 25-27 at Maryland International raceway to raise money for "Bikers Against Breast Cancer". This program is for female riders only competing on drag bikes and street bikes. This class will be run on Saturday and will be a 32-bike qualified field run in an E.T. bracket racing format. These female motorcycle racers have been raising money from sponsors and taking donations for this great cause, so come on out and show them your support.
Remember… Support Those That Support Your Sport!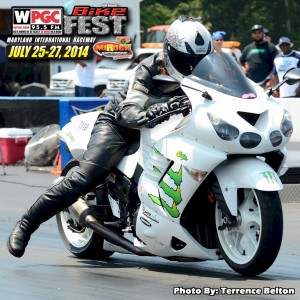 The next event for the Mickey Thompson Tires MIROCK Superbike Series will be the WPGC Bike Fest at Maryland International Raceway on July 25-27, 2014.
2014 MIROCK Schedule
March 21-23: Adams Performance Spring Bike Open – ROCK
Apr 25-27: Fast by Gast Spring Nationals – MIR
May 30-June 1: Fast by Gast Summer Nationals – MIR
July 25-27: WPGC Bike Fest – MIR
Aug 15-17: FBR Shop Summer Sizzler – ROCK
Sept 5-7: Orient Express Motorcycle U.S. Nationals – Atco
Oct 3-5: Fast by Gast Fall Nationals – MIR
Oct 31-Nov 2: Lee's Performance World Finals – ROCK