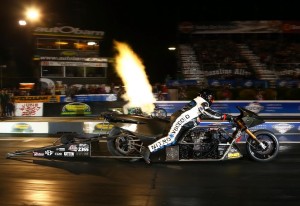 Australia's quickest Top Fuel Motorcycle Racer Chris Matheson has taken the Gold Christmas Tree at the 40th Australian Winternationals held at Willowbank in Queensland, Australia last weekend.
Matheson, Australian Multiple Champion was ecstatic after the win. My Team are the best in the game, they never gave up, we broke a lot of gear from testing the weekend before, all the way to the final on race day, I guess that's just "Nitro".
It's a great result for me personally and the Team, as this time last year, I was still recovering from a high speed crash (370kph) in Sydney. To come here and win against the best Australia has to offer is very encouraging in our quest to get back to where we were before the accident.
The weather, track condition and a huge crowd were just the deserved reward to the staff and officials at Willowbank Raceway, especially following rain conditions in previous years.
A field of 9 Top Fuel Motorcycles entered, but was quickly reduced after many Teams suffered irreparable damage from qualifying.
Matheson said they struggled all weekend with mechanical issues, but got the win against giant killer Graeme Morrell and his Team in the final with a 6.374 to a 12.441.
Matheson added he was grateful to James Noonan and his staff of NRE (Noonan Race Engineering) for repairing a damaged cylinder head, in time for the main event. People don't realize without the support from behind the scenes, experts such as NRE, we just don't get down the track.
Matheson said he is looking forward to the next round in Hidden Valley, Darwin next month, as we continue little steps to regain our Championship winning mojo.
Thank you once again to our Sponsors & Supporters:
WebCam, Red Line Oils, RB Performance, Rocket Industries, CRC Industries, PDS Graphics, Kitten Car Care Products, GT Radiators & Machining, Vance & Hines, Hi-Side Leathers, PR Factory Store, Boninfante Friction Inc. and special thanks to Larry "Spiderman" McBride & Steve McBride.
www.nitrovoodoo.com.au