NHDRO, the Midwest's largest motorcycle drag racing series, made its annual visit to National Trail Raceway just west of Columbus, Ohio, this past weekend June 6-8. And while the dragbike event was constantly under threat of rain sweeping in on raceday, the NHDRO staff and family of racers responded with a smooth pace that very nearly fit the whole event and then some in before Sunday's inevitable washout.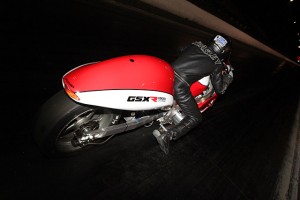 Nowhere was the action more furious than McIntosh Machine & Fabrication Pro Street, which saw a revival of the Dunigan Pro Street Shootout on Saturday night. Number 1 qualifier Jeremy Teasley seemed to have the upper hand on John Drake's "No Fear' bike in the Shootout, until the fluorescent Hayabusa developed a starting line spin as the night wore on.
On the other side of the ladder, number 2 qualifier Gabe Frederick and his side-mount turbo 'Busa showed great consistency along with competitive speed. That turned out to be the winning combination, as Frederick's 7.26 at 201 mph took the final over Teasley's 7.49/190.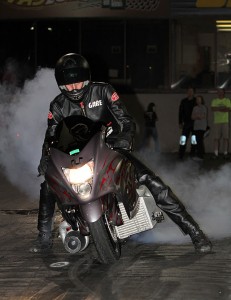 Frederick and Teasley were also still alive in the Sunday program, along with champion Doug Gall and Wisconsin's Joe Robbins, when rain halted the event after round 2. Frederick had low ET of the round and will face Robbins in the semi when the race resumes at Indianapolis in July.
The Schnitz Racing Pro Comp eighth mile class ran to completion, with champion Mark Paquette taking an easy win on his turbo-methanol Kawasaki Funnybike. A lot of breakage in the class meant that number 1 qualifier Paquette (4.15 at 182 mph) was able to simply break the beams in the semi and the final, which should have had him racing the recently improved Ron Maddox.
Sportsman index classes also ran to completion, with Columbus homeboy Teasley taking the Catalyst Racing Composites Crazy 8s 8.88 win in front of a huge crowd of family and friends. Riding his stunning Kawasaki ZX14R, Teasley took the tree and the stripe against Cory Craig in the final.
Like Teasley, Pro Street racer Gall also took a streetbike index win at Columbus. Gall beat Fun For All racer Ron Arnold in the Tsukigi Racing Streetfighter 9.50
final, as Arnold slept at the tree and broke out chasing Gall down.
Indy opener runner-up Greg Mallett took the Route 21 Top Gas 8.20 index win on his Ray Mancini-built hot rod. Mallet nailed an .018 light on Bradley Shellhaas in the final.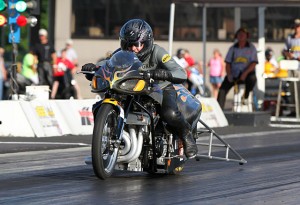 Don't feel too bad for Shellhaas, who piloted his Kawasaki dragbike to a win over Brian Selner in the Millennium Trailers Super Comp 8.90 final. This time Shellhaas took the tree.
Shellhaas is also still alive in Sunday's G&G Metal Spinners Pro ET race, which rained out just before the final. He'll face Jason Sargent when racing resumes in Indy. Kounselor Kenny Schwartz won Saturday's race, giving up the tree but taking the stripe on his Team Dar turbo-Suzuki against Larry Hunter in the final. Friday's bonus race went to living legend Bruce Sauer and his .016 light against Mike James.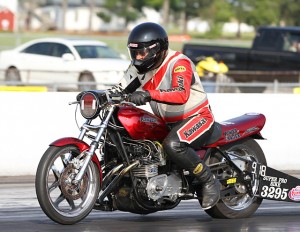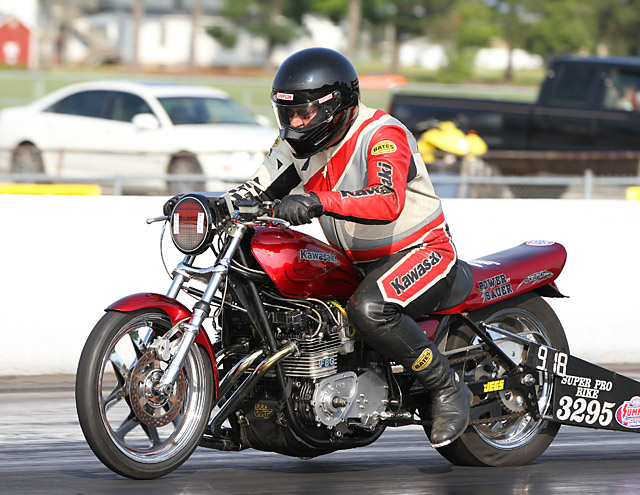 Dustin Burchett beat fellow Buckeye Matt Ehora in Saturday's Kevin Dennis Insurance Street ET race, taking the tree and running close to his number while Ehora broke out. Sunday's race also squeaked in just before the washout, with Ben Knight nailing an .016 light on Ray Perdue, who then redlit. Friday's Street ET bonus race went to Streetfighter runner-up Arnold over Saturday winner Burchett.
Port-Tech Grudge saw a lively night with the starting line positively packed with fans watching Teasley lap on the MSP-built, supercharged "Fugitive," and several match-ups spread throughout the night right up to the track's midnight curfew.
NHDRO's youngest, smallest racers made up much of Saturday's scooter race field—an impromptu event sure to spread the racing bug to the next generation.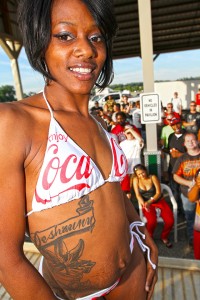 Hard-working Bambi scored an upset, come-from-behind win over Indy winner Carmen in the NHDRO bikini contest. It was bottoms-up and bottoms-off in this always-creative affair, with Bambi scoring the win by a close shave.
NHDRO's KD Kanopies came in handy, keeping staff in the shade during the good times and dry during the bad.
Brian and Niki Welch and the whole NHDRO staff welcome all racers and fans to Title Bout #20—the Mid Season Sizzle—on July 11-13 at Lucas Oil Raceway just west of Indianapolis, Indiana.
Find out more about the NHDRO at http://www.nhdroracing.com/
NHDRO thanks Schnitz Racing http://www.schnitzracing.com , McIntosh Machine and Fabrication http://www.mcintoshmachineandfab.com , Route 21 Racing Apparel http://www.route21.us , Catalyst Racing Composites http://catalystracingcomposites.com , Tsukigi Racing http://www.tsukigi.com , Millennium Trailers http://www.milltrailers.com , G&G Metal Spinners http://www.ggmetalspinners.com , Kevin Dennis Insurance http://www.bettercoverages.com , Port-Tech http://www.porttechheads.com/index.html , and KD Kanopy http://www.kdkanopy.com .
This report was prepared by Tim Hailey. Enjoy everything there is to read, see and watch about motorcycle drag racing and more at http://www.eatmyink.com