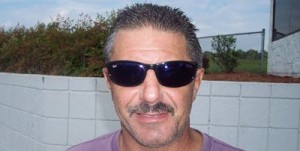 Drums Brancaccio made some strange moves this weekend at Rockingham Dragway.
from sliding down the wall on Saturday to stopping at half track to leaving early.
Larry, Drums, Brancaccio of Bammer Racing out of Nutley, NJ is completing with the IHRA Nitro Jam Spring Nationals Harley Class at Rockingham, NC
"Rockingham is one of my all time favorite tracks, everything about it is great, just not this weekend. We were possibly carrying some damaged baggage from a rained out appearance at Moroso Motorsports Park a few weeks ago, this weekend at the Rock was not good." said Brancaccio.
According to Brancaccio, "Saturday during qualifying, we had no power after the launch, if you think riding one of these 900 horsepower monster's on one wheel under power is hard, you should try it with no power, it won't do anything or go where you want it to go (some expletives deleted) and I bounced off the wall. We brought it back to the pits where Michael Hopkins, crew chief and I started testing everything we could think of- timing, leak down, compression, the used crank shaft, we drained the oil, no metal. The only thing left to test was the fuel pump so, of course, it was the fuel pump. We replaced it and after working into the night we reassembled everything and went for broke (no pun intended) for the Sunday show."
Running on a used but tested good crank is the way that privateers often run, "everything tested good and we had a lot of runs on the crankshaft-we were running 6.30's but I guess we just finally pushed our luck too far. Maybe the fuel pump was going bad in Moroso, and because of the rain out we didn't catch it, but it caught us on Sunday at the ROCK. I was qualified 5th and running Randall Andres, I launched hard went out about 60 feet and the motor locked and I mean LOCKED. We brought it back and drained the oil, still no metal but the rods wouldn't rotate either direction-bad news for Bammer Racing."
"We're supposed to be ready for Budds Creek, June 13-14, I've already been on the phone and have a new crank lined up, now I guess it'll be overtime for me at work to try to get everything back together again. On an up side we did do some good TV interviews. We'll be ready for Budds Creek."
Soo— Bammer Racing is on the way back to New Jersey, you can bet they'll be ready for Budds Creek, and Maryland International Raceway in 3 weeks.
Sponsors for 2014 include:
Central Metal Fabricators www.centralmetalfab.com
Anthony Augliera, Inc www.augliera.com
Richard Murray
Keith's Custom Seats www.keithscustomseats.com
World Wide Bearings www.worldwidebearings.com
Capone Landscape www.caponeracing.com
Vanson Leathers www.vansonleathers.com
Tattooville Tattoo www.tattooville.com
Autolite www.autolite.com
Chris DiMaggio Property Services
Starlight Tattoo www.starlighttattoo.com
drumsonnitro@aol.com
phone 973 667 8504
website. www.bammerracing.com