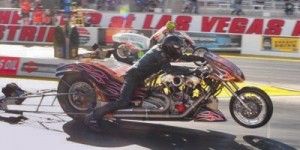 NHRA has announced the formation of the NHRA Screamin' Eagle Championship Motorcycle Series, a 10-race series at NHRA Lucas Oil Drag Racing Series divisional events beginning in 2013.
The NHRA Screamin' Eagle Championship Motorcycle Series will offer a total purse of $152,800 and will feature five classes: Top Fuel, Pro Gas, Draggin' Bagger, Street Pro, and Hot Street. The classes will run in addition to the Sportsman E.T. Motorcycle class that competes at various NHRA divisional events.
The 10 events scheduled for the inaugural NHRA Screamin' Eagle Championship Motorcycle Series will be announced later this year when the NHRA Lucas Oil Drag Racing Series divisional schedule is released. One NHRA Lucas Oil divisional event in each of the seven NHRA divisions will host a series race, and three additional divisional sites will be determined.
"Being involved with an NHRA series at the divisional level allows Harley-Davidson to not only reach the broader NHRA fan and participation base, complementing our efforts at the NHRA Full Throttle Series level, but provides more opportunities and a national platform for the competitors in these five classes," said Harley-Davidson Racing Manager Kris Schoonover. "This series strengthens our commitment to Sportsman motorcycle drag racers by providing additional events and a national reach to those competitors currently competing in these classes."
"We are excited to expand our relationship with Harley-Davidson and bring this exciting racing to the divisional events in the Lucas Oil Series," said NHRA Senior Vice President of Sales and Marketing Gary Darcy. "This series will be a feature attraction for the NHRA member tracks that will host the series. In addition, it allows Harley-Davidson the opportunity to reach NHRA's grassroots community of fans and racers."
Event winners in each category will receive a Wally and participate in the event winner's circle. The program also includes the crowning of a year-end champion in the Top Fuel category. The champion will receive a specially designed Wally and year-end bonus.
Details on the program, venues, and rules will be announced in the coming months on NHRA.com.
Harley-Davidson Motor Company produces heavyweight custom, cruiser, and touring motorcycles and offers a complete line of Harley-Davidson motorcycle parts, accessories, riding gear and apparel, and general merchandise. For more information, log on to www.harley-davidson.com.