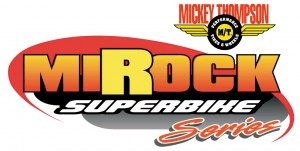 Rockingham Dragway owner Steve Earwood
announced Wednesday the dissolution of one of drag racing's most successful
franchises, the Mickey Thompson Performance Tires MIRock Superbike Series.
The two-wheel series, which was jointly hosted by Rockingham and
Maryland International Raceway, apparently was collateral damage in the sale
of MIR to IRG Sports and Entertainment, the company that also owns the
International Hot Rod Association.
Jason Miller, coordinator of the MIRock Series, notified
Rockingham Dragway management this week that MIR's new owners did not wish
to continue a series that was created in 1999 by Earwood and MIR's Royce
Miller.
"Royce and I were both producing motorcycle events in the late
'90s and we simply merged our efforts to create the MIRock Series offering
points and championships in as many as eight classes each season," Earwood
said.
"Mickey Thompson had been sponsoring my events so it was natural
for them to pick up the whole series. Mickey Thompson Performance Tires
and Wheels was the title rights sponsor for the full run," Earwood said.
"It has been a great partnership with Mickey Thompson Performance, beginning
with Jerry Francis in the mid-90's and continuing with Carl Robinson and Tom
Kundrik."
"We have thoroughly enjoyed working with Royce, Jason and Chris
Miller these many years but nothing lasts forever," Earwood continued. "I
sincerely wish the Miller family the very best in their new endeavors."
As for the future of motorcycle racing at The Rock, Earwood said
it's business as usual.
"It's been a great run and we have made numerous friends in the
bike community," he said. "We had metric bike races before there was a
MIRock Series and I'm sure we will host more in the future. We're
open to any and all options right now."
In point of fact, Rockingham already hosts two of the nation's
largest all-Harley events and regularly has scheduled independent bike
events and rallies in partnership with various sanctioning organizations.
-www.rockinghamdragway.com-