One event after one of the most frustrating outings of his career, Top Fuel Motorcycle legend Larry "Spiderman" McBride rebounded with one of his best.  McBride exited the Motec MANCUP World Finals from Valdosta, Ga., Nov. 14-16 with his 14th championship and a new world record of 5.76.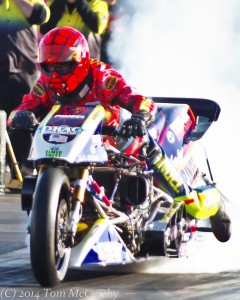 "I'm trying to catch John Force," McBride joyfully said, referencing the legendary 16-time NHRA champion.
McBride recorded a 5.81 at a blazing 242 mph off the trailer in Friday's opening qualifying, which served as a back-up to Saturday's 5.76, supplanting McBride's previous world record of 5.79. It's quite a dichotomy compared to last month at Maryland International Raceway where McBride damaged thousands of dollars worth of parts and failed to make a clean pass.
"I've been saying it for years and I had to take my own advice; sometimes you have to back things down to go faster," McBride said. "We were too aggressive at MIR and the track wasn't giving us any wheel spin at all.  We calmed it down and it all came together."
Although recording unofficial passes of 5.74 and 5.76 over the past few seasons, this is the first time McBride has reset the record since the 2009 Elmer Trett Nationals from Atlanta Dragway in April of 2009.  A backup within one percent at the same event is required for a run to be considered official.
"It's always nice to set a record. It gives me a lot of self pride," McBride said. "We've had some great passes over the past few years, but getting that backup can be difficult."
McBride's first opponent on Sunday was the wily veteran Chris Hand. The Spiderman's unrelenting desire to crack into the 5.60-zone almost cost him the race, as McBride smoked the tire and slowed to a 6.07
"We got too aggressive again," McBride said. "We got really lucky Chris was off his pace."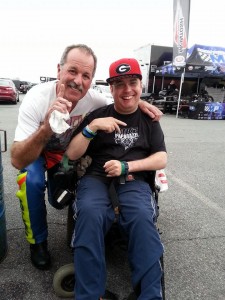 McBride advanced to the final to oppose No. 2 qualifier and five-second capable Dave Vantine. With reaction times that looked more like a bracket race than a Top Fuel showdown, McBride cut a stellar .041 to Vantine's impressive .049. Spiderman held the advantage for the entire length of the South Georgia Motorsports Park dragstrip, winning with a 5.92 to Vantine's 6.04.
"I've been working hard on the tree," McBride said. "Vantine is a former Pro Mod racer so I know I have to bring it."
The victory proved costly for the 14-time champ.
"At 5.2 seconds into the run we did some serious damage," McBride said. "We only ran 215 mph because we sheared off all the bolts and dial pins on the clutch."
Nonetheless the Spiderman agreed it was a small price to pay for gaining yet another trip to the winner's circle.
"It was a great event and a great season," McBride said. "I'm looking forward to doing it all again next year and going to 15."
McBride thanked his primary sponsors; Pingel Enterprise, Trim-Tex Drywall Products, Drag Specialties-Parts Unlimited, Red Line Synthetic Oil Corporation and Final Swipe Merchant Services.

"Joe Koenig is one of the best guys I know. He sells the best drywall products in the world."

"Wayne and Donna are like family to me. I make the joke that I'm their oldest and youngest child. Pingel has by far the best quality in America. They have the top of the line, best engineered products and they are all USA made."

"The Web Cam girls and Steve are the best. They are like family to me as well. Laurie Dunlap does so much to help the sport. They also make the best cams on the market."
McBride added – "Red Line is the best oil on the market or Alan Johnson would not be using it."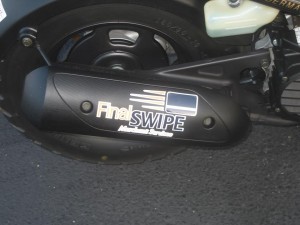 "Drag Specialties is a great company that I'm honored to be involved with. They are the best people to deal with."
"I really appreciate Final Swipe and Gary Baillio. He's a great man with a great company."
"There is not one sponsor that is not important." McBride thanked his associate sponsors and added, "Everybody is equally important. We couldn't do it without each one of these fine companies."

K&N Air Filters, Web-Cam, Vance & Hines Motorsports, PR Factory Store, Ferrea Valves, Kibblewhite, Precision Machine, World Wide Bearings, Vanson Leathers, Millennium Technologies, Belt Drives Ltd, Simpson Race Products, Nitrous Express, APE, EK Chain, Arias Pistons, MSD, Protect ALL, Cometic Gaskets, B&J Transmission, Carolina Cycle, L.A. Sleeve, PJ1, Mickey Thompson Tires, Valco, Goodridge, Carlisle Belts and Gates Belts.