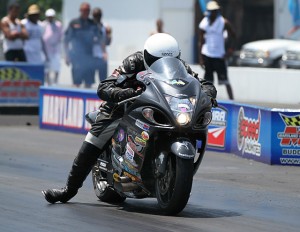 The most anticipated Mickey Thompson MIRock Superbike Series event of the year is going down October 4-6 with the Fast by Gast Fall Nationals, featuring Orient Express Pro Street's biggest payout—the $10,000 to win Battle Royale! The world's quickest, fastest streetbikes will be shooting for record times and trap speeds on Maryland International Raceway's meticulously prepped quarter mile.
At least 42 racers will be battling for Pro Street glory, including Joey Gladstone on the DME Suzuki Hayabusa, three-peat champ Rodney Williford, and all-time streetbike champion of the world Mikey Slowe making his Pro Street return on Maltese racer Simon Giordmaina's Williford-prepped turbo-Busa. "Rodney, Mike and I are all excited and looking forward to his first 6 second pass on the bike," Giordmaina said from the beautiful Mediterranean island.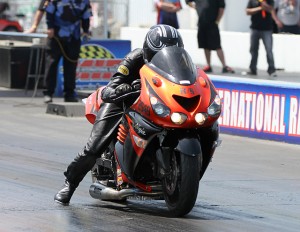 The world's first 6 second Pro Street pass occurred during the October race two years ago at MIR, and the 6 second club is still a tight fraternity. "First in the 6s" Ryan Schnitz will be in the house, along with fellow club members Tony Ficher on his ragingly loud supercharged 'Busa and Frankie Stotz, making his first ever MIRock appearance on his turbocharged Honda CBR1000RR.
Don't think for a minute—or even 6 seconds—that the other MIRock racers will allow Pro Street to steal all the thunder. DME Real Street champ and recent Atco winner Johnny "Turbo" Dobrin will have the wick turned up as high as it will go on his Exoticycle turbo 'Busa, as he chases down multi-time champ Jeremy Teasley's Roger Starrette owned and tuned, nitrous-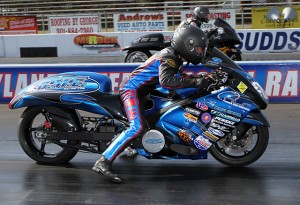 huffing Kawasaki ZX14. Atco number 1 qualifier Darion "Nanu" Payne and his Mike Mace Motorsports, nitrous Suzuki GSXR1000 will also be vying for the Real Street win, and how long will it be before Kawasaki superstar Rickey Gadson brings a gun to this fight and mounts a serious challenge? Also look for Eddie Murphy, Sherell Blake, David Merks, Anibal Merced and more to be blasting big nitrous pops at every shift down MIR's 1320.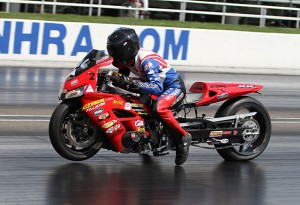 The Mickey Thompson Pro Mods return to absolutely chew up the eighth mile, carrying the front wheel all the way to the finishline. Maryland native Ronnie Procopio, recent ADRL Battle for the Belt winner Dave Norris, multi-time champ Billy Vose and others will twist their chassis to the limit. And a new MIRock rule gives a huge weight break to short wheelbase bikes, bringing lot of old favorites back out to show what they can do.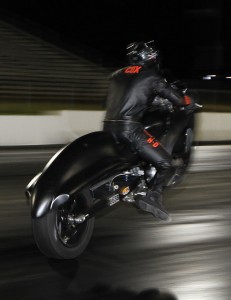 It won't just be pro classes felling the love at MIR, as sportsmen get every bit as much attention from the Budd's Creek crowd. Trac King/APE Top Sportsman, MIRock Crazy 8s, Louis Concrete 4.60, and FBR Shop 5.60 will see champion index racers "Hillbilly Hustler" Jimmy Shifflett, MIR homegirl Kelly Clontz and her husband Chris, Julie Lucas, Jay Windsor, Kenny Cornnell, Ronnie Smith, Marion Ford, "Fearsome" Andy Baumbach and more.
Brock's Performance Street ET and Fast by Gast Pro ET are expecting over a hundred racers aiming for the last remaining spots for November's Tournament of Champions at Rockingham. Anybody not in will have to run the gauntlet of Connecticut Kingpin Bob Carlson, MIR homeboy Shayne Proctor, Virginia's Clay Davies, Floridian Robert Parker and more.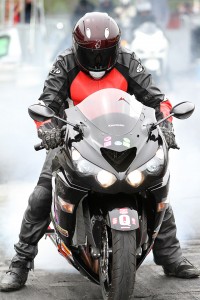 Saturday night's Afterdark Undergound will feature, as always, the nation's hottest grudge bikes—Cobra Commander, Ric Flair, Eddie Kane, etc—and coolest riders—Teasley, Payne, Schnitz, Richard Gadson, Lil' Daddy, and then some.
A full 800+ entries are expected, and this is your last chance to catch the world's biggest motorcycle drag racing series in action—real, sizzling action—at MIR in 2013, so don't miss it!
More event information: http://www.mirockracing.com/events/fallnationals.htm
Find out more about the Mickey Thompson Performance Tires MIRock Super Bike Series at http://www.mirockracing.com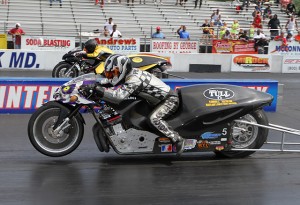 Find out more about Maryland International Raceway at http://www.mirdrag.com/
This report was prepared by Tim Hailey. Photos are for editorial use only. Enjoy everything there is to read, see and watch about motorcycle drag racing and more at http://www.eatmyink.com