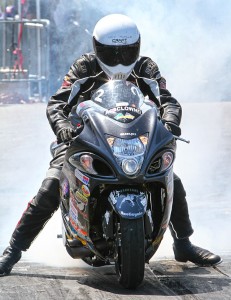 The world's largest motorcycle drag racing series ramped up the boost and added another jet of nitrous with this past weekend's 17th Annual Fast by Gast Spring Nationals at Maryland International Raceway in Budds Creek, MD. A mind-blowing 844 entries took the tree for their share of Mickey Thompson MIROCK Superbike Series purses and contingencies, and yet race promoter Jason Miller's MIR staff polished off the event with the precision and efficiency of a Navy SEAL team.
The big noise in Orient Express Pro Street was the expectation of the sport's first true 6.80something street tire pass. And when champion Joey Gladstone pulled his turbocharged Suzuki Hayabusa out of the DME Racing trailer and popped off a 6.91 right away, it seemed a forgone conclusion that the milestone would fall during a weekend with a high performance weather forecast on MIR's fussed-over quarter mile.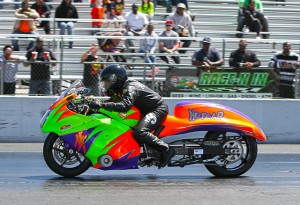 Gladstone improved to a 6.907, but when he damaged a motor the DME team shifted focus and aimed for the win, nearly filling the entire semifinal ladder with DME bikes along the way. In the end it was Gladstone with a 6.94 to 7.03 win over teammate Terence Angela. Keith "Shine" Dennis won Pro Street B.
DME Racing Real Street saw the most competitive Pro class action of the weekend, with seven bikes qualifying with 7.80s on the board. Former champ Johnny "Turbo" Dobrin led the field into eliminations and made it pay with a trip to the winners circle. Dobrin beat fellow turbo-'Busa racer Eddie "Who?" Chapman 7.91 to 8.08 in the final.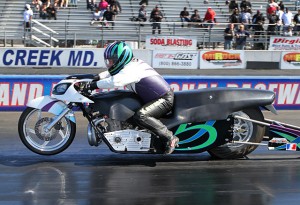 Defending Real Street champ Jeremy Teasley struggled with his new nitrous Kawasaki, losing the semi to Chapman while fighting to keep the ZX14 off of the centerline.
Louis Concrete 4.60 packed a full field with the world's quickest eighth mile index bikes and, in a surprise move, Miller doubled the 4.60 purse although the field fell short of the number required for him to do so. Virginian Darryl Hollins nailed the index best in qualifying and then nailed the tree in the final, taking the win over Terry Tompkins.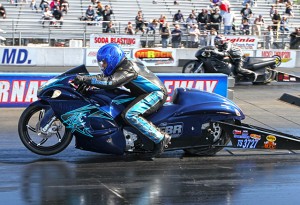 And speaking of nailing the tree, how about a .003 light from legendary Boo Brown in the Trac King Clutches Top Sportsman final? Brown posted that dizzying number against Kermit Garnett, who never stood a chance.
With so many racers on the grounds, it hardly seems fair that one would walk off with two trophies. But there's nothing fair about Kentucky racer Ron Arnold's starting line and stripe skills, and he won both the Cycle Connection Crazy 8s index class and Sunday's Fast by Gast Pro ET bracket race. Arnold's .015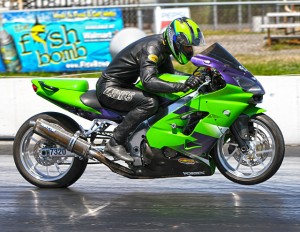 light in the Crazy 8s final was tough for Richard Gadson to deal with, while Arnold's Pro ET win came at the expense of Anthony Buckson in a double-redlight final. Saturday's Fast by Gast Pro ET win went to Pennsylvanian Bill Bair on a Hayabusa dragbike over Willie Warren Jr.
Brock's Performance Street ET wins went to Virginia's Clay Davies on Saturday and—just when you thought you already knew all of Maryland's legendary Proctor family of motorcycle drag racers—previously little-known Francis Proctor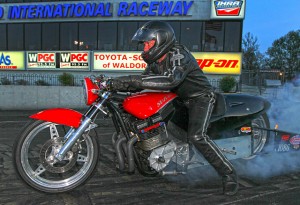 on Sunday. Davies beat Virginia rival Michael Herman Jr. with an .026 light in Saturday's late-night final, while Proctor nailed an .015 on fellow Marylander Jimmie Miller on Sunday.
It was North meets South as Michael Ostrowski made the drive down I-95 from New York pay with the FBR Shop 5.60 win over Floridian Robert Parker. Ostrowski's .033 light on a Suzuki dragbike was hard for Parker to overcome in the eighth mile on his Kawasaki streetbike.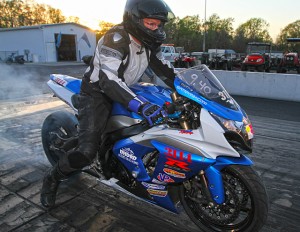 Saturday night's Afterdark Undergound was severely curtailed by nagging, un-forecast showers. But the weekend as a whole saw passes by grudge favorites Kingpin, Eddie Cane and Cobra Commander. Eddie Cane actually washed out and crashed with Gladstone in the saddle on Saturday afternoon, with neither worse the wear for the experience. A highlight on Saturday night was future second-generation racer Gina Hamilton making her first passes on dad Dale's streetbike.
The best-attended motorcycle drag racing season in history continues at MIR with the MIROCK Fast by Gast Summer Nationals, May 30-June 1, 2014.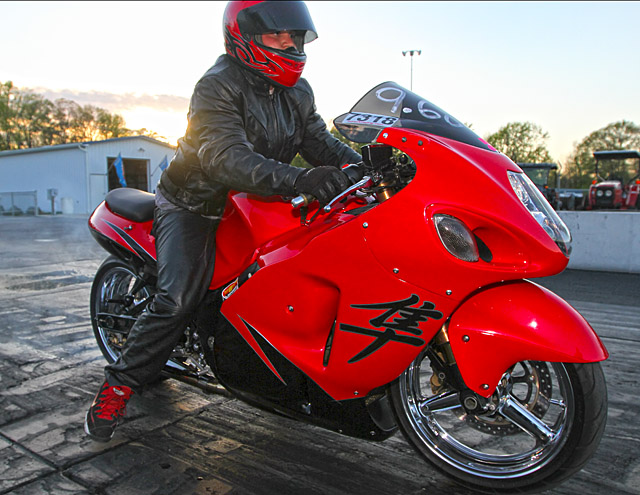 This report was prepared by Tim Hailey. Enjoy everything there is to read, see and watch about motorcycle drag racing and more at http://www.eatmyink.com