The Mickey Thompson Tires Top Fuel Harley Series will roar back into action at the Lucas Oil NHRA Summernationals at Indianapolis, resuming a season that, like their nitro-powered Top Fuel and Funny Car cousins, was paused after just two events.
The season certainly started well for the Jay Turner Racing team, which has won all three championships since the series became part of the NHRA Mello Yello Drag Racing Series national event in 2017.
Points leader Randal Andras won the season-opening Lucas Oil NHRA Winternationals for Team Turner and Turner himself, the series' inaugural champ in 2017, won the NHRA Arizona Nationals to sit 1-2 in points. Two-time defending world champ Tii Tharpe sits fourth after a runner-up in Pomona and Tyler Wilson is fifth on another Turner bike. Sandwiched between the four Turner bikes is Rickey House, who sits third.
THE CHAMP
Tharpe rode Jay Turner's bike to his second straight world championship last year, edging out the powerful Vance & Hines bike of rider Doug Vancil.
Tharpe also started last season with a Winternationals runner-up finish and, after struggling at the next three events, won three straight races: Topeka, Bristol, and Epping. Vancil clawed back with wins in Seattle and Brainerd but Tharpe clinched the title with his semifinal win at the U.S. Nationals, where he eventually was runner-up. Tharpe's 2020 also has had a rough start, dealing with cracked intake manifolds and a faulty wiring harness.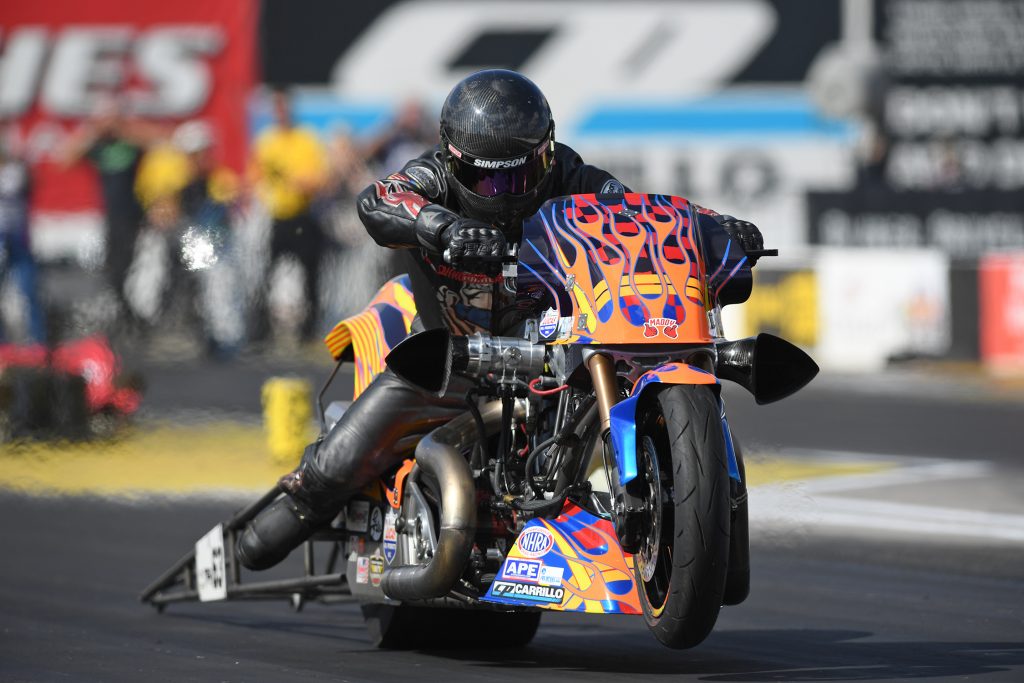 "I made 10 passes at those first two races and only went into high gear and activated the fuel system one time, so to go to the finals in Pomona, I was lucky," he said. "We found a few issues during the break and got to test a little bit. We went through the bike tip to tail and made two good passes in testing in Rockingham [N.C.].
"I feel like we'll have a good package; we've had plenty of time to work on trailers and motorcycles and to get prepared. It feels like it's the first race of the season again."
THE CHALLENGERS
Andras has certainly emerged as Tharpe's biggest threat, having defeated him in the 2019 U.S. Nationals final and then again in the 2020 Pomona final. Andras qualified No. 1 in Pomona and No. 2 in Phoenix, where he lost a tough semifinal battle to Turner.
"Randal really started coming around at the end of last year," Tharpe assessed. "He had a couple of crashes before, but I think he's got his confidence back and his motorcycle is certainly fast."
Team owner Turner certainly turned heads en route to his win in Phoenix, where he set low e.t. and top speed of the meet, 6.193 at 237.35 in a first-round conquest of Tharpe. The speed was the fastest ever recorded in the series.
"Last year Jay was dedicated to developing a supercharged bike and he didn't like to lose, so he went back to a naturally aspirated bike and looks like he's the guy to beat this year," assessed Tharpe. "He beat me in Phoenix when I had some troubles on the starting line, but I didn't have anything for that 6.19 at 237. He's fast, but I feel like if my bike works, I can beat him."



Third-place House qualified No. 1 in Phoenix and reached the final before falling to Turner. The two-time series winner also finished in third place last season. Last year's second-place rider, Vancil, has not competed this season.
"I just hope the top 4 bikes at the end of the year will all be Jay Turner Racing bikes," said Tharpe. "I feel like we're definitely coming together as a team more than ever and just trying to make it work. We plan on being at all of the races.
"This Indy race will be exciting, and I look forward to it," he said. "The first run is always scary and gets your nerves worked up, but I don't have any reservations about it outside of normal stuff that comes from sitting on top of a Top Fuel Harley."
WHAT'S NEW
The Top Fuel Harley class will still contest a 10-race season -– eight races now remain -– but with the COVID-19-related cancelation of originally-scheduled events in Chicago and Epping, N.H., meant that their itinerary got some new dates. Their next date after Pomona and Phoenix was supposed to be the NGK Spark Plugs NHRA Four-Wide Nationals in Charlotte, but that race was moved to September and off the Top Fuel Harley schedule.
Now, after the new Indianapolis event, the teams will travel to Brainerd, Minn., for the Lucas Oil NHRA Nationals Aug. 14-16 and then onto Topeka, Kan., and the Menards NHRA Heartland Nationals the following weekend, Aug. 21-23.
Two weeks later they'll be back in Indy for the Denso Spark Plugs NHRA U.S. Nationals Sept. 3-6 then on to Reading, Pa., the following weekend for the Mopar Express Lane NHRA Nationals Sept. 11-13.
Two of the three new events will round out their season beginning with a stop at the prestigious Amalie Motor Oil NHRA Gatornationals in Gainesville, Fla., Sept. 25-27, and then the AAA Texas NHRA FallNationals in Dallas Oct. 16-18, which was their original season finale. Now, instead, the Top Fuel Harley teams will conclude their seasons Oct. 30-Nov. 1 at the Dodge NHRA Nationals in Las Vegas.
There are more videos on the Cycledrag Youtube channel (please subscribe here) and the Cycledrag.com Facebook page (Please like here) and more will be coming soon. Check back daily.
To take advantage of some amazing discounts at Brock's Performance, click – http://brocksperformance.com?aff=12