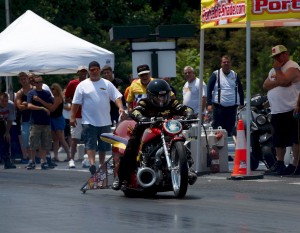 The big news for the MIROCK Superbike Series in 2011 is that Pro Mod has been added to the class line-up and Mickey Thompson Tires has committed to sponsoring the Pro Mod class in addition to their MIROCK Series "Title" sponsorship. In the past the Pro Comp class was run at select events in the MIROCK Series and the class put on a great show for MIROCK fans and had great bike counts. The MIROCK Series has always wanted to have these wild machines apart of its entire series and 2011 is the right time to do it. For 2011, the "Pro Comp" name was changed to Pro Mod because fans can relate to the Pro Mod name. Every race fan in the country is familiar with Pro Mod cars and Pro Mod bikes, so the name change was made. The rules structure for the class is still very similar to the old Pro Comp format with only a few tweaks.
A huge list of Pro Mod riders are preparing now for the 2011 MIROCK Superbikes Series such as: Paul Gast, Ronnie Procopio, Robbie Hunnicutt, Casey Stemper, Keith Lynn, Mark Paquette, Jamie Emery, Mac McAdams, Dave Norris, Tyler Cammock, Billy Vose, Dave Vantine, Mike Thyen, John Collins, Danny De Leon, Darryl Hollins, Frank Christian, Larry Berg, Eddie Gonder, Keith Browne, Ricardo Knight, and more. The competition will be tough but Pro Mod will put on one great show for race fans.
The Mickey Thompson Pro Mod class will have a $5,200 total payout: $2,500 to win, $1,000 to runner-up, $250 to semis, $150 to 1/4 finals, and $75 to 1/8 finals. The entry fee for Pro Mod will be $150. The Pro Mod class will also have a championship points series awarding $1,000 to the champion and a MIROCK Championship Gold Card, Iron Tree Trophy, and a MIROCK Championship Jacket. Do you have what it takes to win a Pro Mod Championship?
Jason Miller of MIROCK, states "I can't express enough how excited I am about the addition of the Mickey Thompson Pro Mod class at MIROCK. To see these bikes yank the front tire off the ground on the starting line and carry it to the 1/8 mile with the rider steering the bike down the track just gets my heart racing. I am very pleased to see how many talented riders have committed to running the MIROCK Superbike Series and I will do everything I can to make these riders and teams glad that they did."
Steve Earwood of Rockingham Dragway, states "Rockingham Dragway has a tradition with Pro Mod Bikes that goes back to the very conception of the class.  Some of the top Pro Mod racers of all-time reside here in the Carolinas and consider "The ROCK" their home track. Matt Smith, "Super Man" Robbie Hunnicutt, past ADRL Dragstock winners Ronnie Procopio, Billy Vose and Dragstock runner-up Rob Bush, plus Pro Mod engine builder genius Dan Wagner. This is a great addition to our Mickey Thompson events, arguably the most significant motorcycle series in drag racing."
Royce Miller of Maryland International Raceway, states "The addition of the Mickey Thompson Tires Pro Mod class to the MIROCK series is another major step up for this already incredible motorcycle program.   This new class will bring many colorful personalities and awesome machines to our series.  It's going to be fun!"
Carl Robinson of Mickey Thompson, states "When it comes to Motorcycle Drag Racing, the MIROCK Series has been the cornerstone by which all others gauge their success in the bike market. All of us at Mickey Thompson appreciate the opportunity to grow with MIROCK. Working with Jason, Royce and Steve over the past years has been very rewarding for the M/T brand". Robinson also stated, "Adding the PRO-MOD class to the sanction will provide a great deal of excitement for the fans and additional exposure to the venue. It's a natural progression and an opportunity that we couldn't pass up!"
To find out more about Mickey Thompson Tires, check out their website at: www.mickeythompsontires.com
Click here to view the 2011 MIROCK Pro Mod Rulebook: http://www.mirockracing.com/rules/
For more information on the MIROCK Superbike Series please visit: www.mirockracing.com
Mickey Thompson Tires Pro Mod Purse
$2,500         Winner
$1,000   Runner-Up
$250             Semis
$150        1/4 Finals
$75          1/8 Finals
(Entry Fee $150)