It was a day at the races no one will ever forget.
The 14-time Top Fuel motorcycle champion, Larry "Spiderman" McBride, and his talented and experienced crew have over 100 years of racing experience combined.  They've seen just about everything.
Yet no member of the squad experienced a happening like what occurred on Sunday of the IDBL U.S. Nationals from Atco, N.J., Sept. 13, 2015.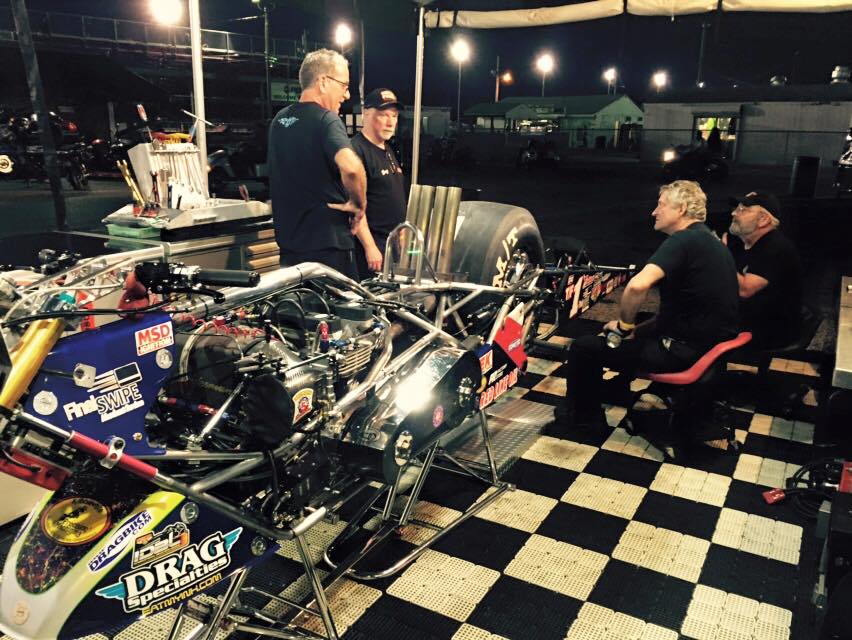 At about 1 o'clock Sunday afternoon McBride and his match race partner Dave Vantine suited up for their first scheduled race of the day.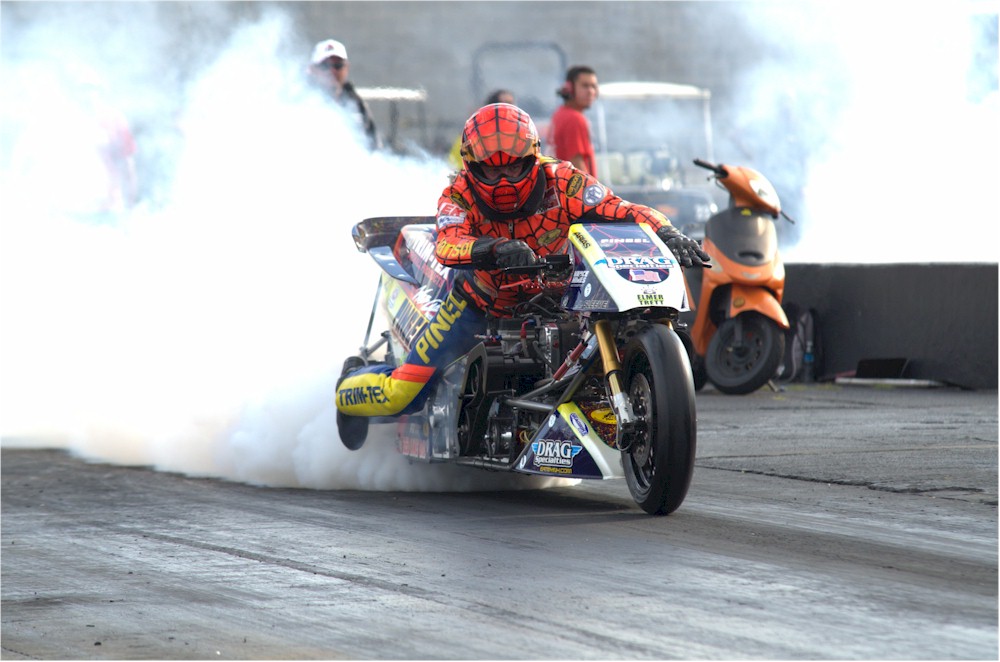 It would prove to be the calm before the storm.
Immediately following a beautiful rendition of the national anthem, with the flag still at half-staff from Sept. 11, the only duo to run a side-by-side five-second pass prepared to entertain the fans in the South Jersey racetrack's grandstands.
After blasting off the line, both competitors struggled to gain traction, resulting in a tire-smoking "pedal fest." Typically a racer will abort such a run when not in eliminations, but Vantine and McBride were aiming to produce a spectacle.
Always the crowd-pleaser, McBride forcefully and emphatically cracked the throttle open-and-closed. At about the fourth twist of the wrist, near the 1,000-foot mark, McBride's motorcycle exploded and burst into flames as he was traveling at about 200 mph.
A saying McBride uses often, "Nitro is not your friend," eerily reverberated.
A view of the pedal fest from the starting line did not show much but smoke.
It was difficult for the starter to see what was going on. Somebody yelled, "Dave's on fire," and both crews, along with officials and safety personnel dashed to the scene.
"I had my Elmer (Trett) shirt on and I was trying to put on a show like he would. I wanted some tire smoke for the fans," McBride said later. "It was a mistake. I'll never pedal it again."
A veteran and confident move, McBride was able to keep his composure, even as he was on fire. The Spiderman was able to activate the parachute and get the bike stopped right in front of the ambulance.
"You just do what you have to do. I knew I was in trouble but I stayed calm," McBride said. "If you get scared you make mistakes."
The chute did not last long in the flames.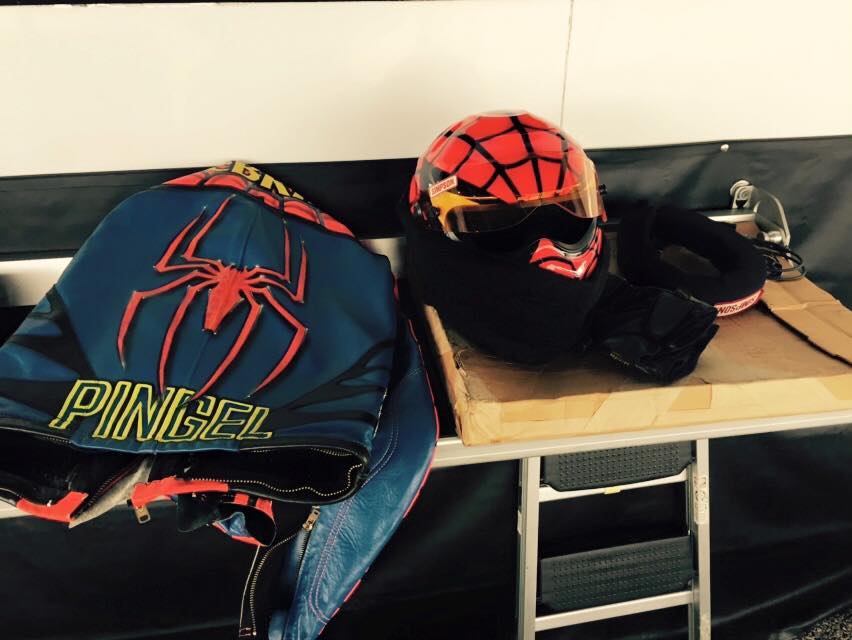 "I figured get as close to the ambulance as I can," McBride said. "That would get me the help I needed quickly."
McBride got off the bike, patted himself out and was quickly met by medics and Vantine, who rushed over.
"He unzipped his leathers and they wanted to cut off his Elmer Trett t-shirt. I said, "no don't cut that t-shirt!"" Vantine said of McBride's good luck charm since the untimely, on-track death of McBride's mentor in 1996.
"Elmer was definitely looking over me on that run," McBride said in retrospect.
As crews and friends rushed to the scene it seemed as if there was a very long moment where everyone held their breath, paralyzed by fear that McBride could be seriously injured. There was a collective sigh as onlookers saw McBride up, walking and talking.
McBride was loaded into the ambulance and air-lifted to Temple University Hospital in Philadelphia, Pa., where he was treated for second-degree burns on his legs. The boiling hot oil from the engine is what did the most harm to McBride's skin.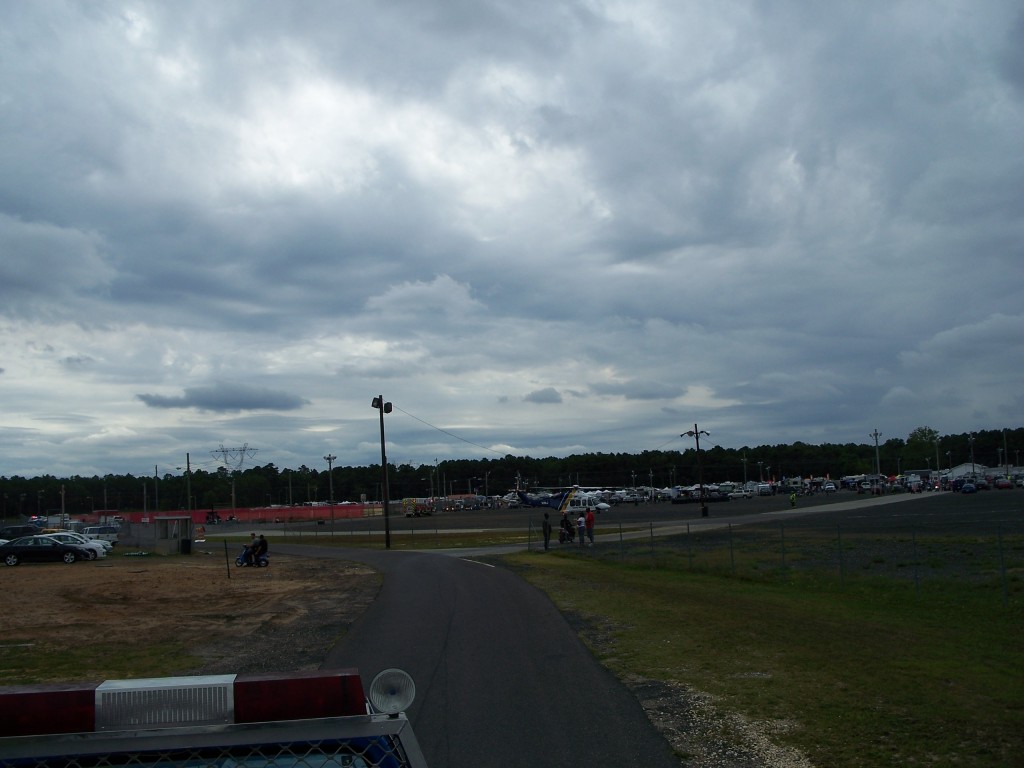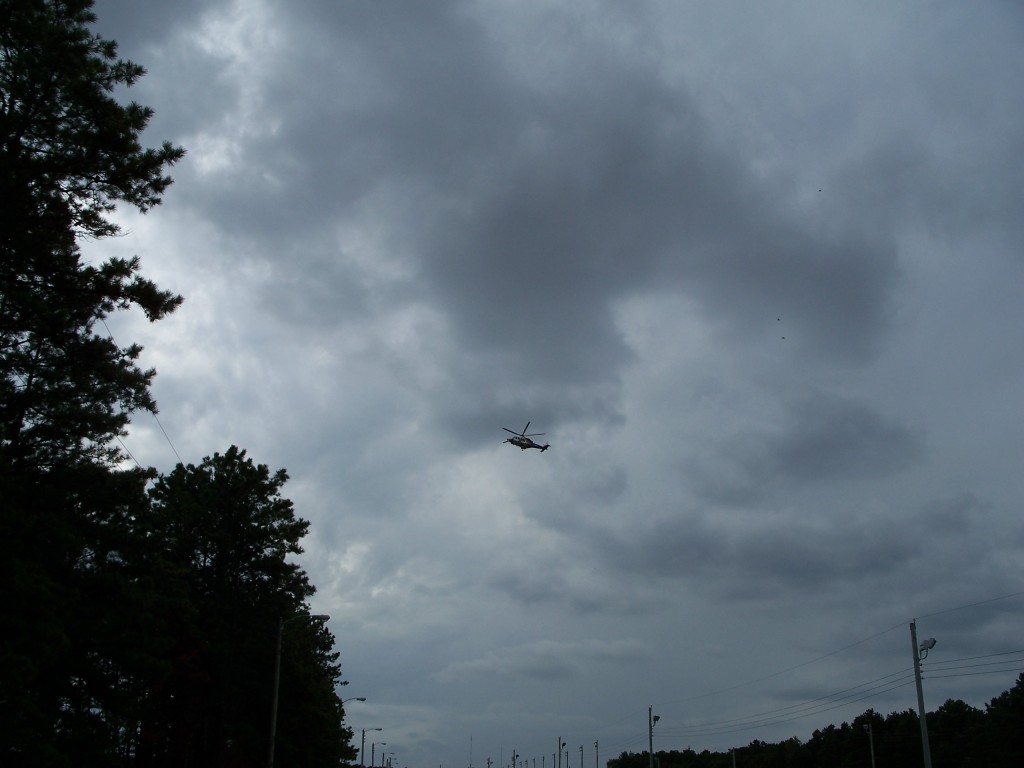 After the relief of knowing the Spiderman would survive, crew members Roland Stuart and Steve McBride were nearly in tears looking at a broken, chared and melted historic motorcycle they put much of their lives into.
"Blue" has been in competition for 21 years. It was the first motorcycle in the five-second zone in 1999 and has amassed more five-second runs than all other motorcycles combined. McBride and Blue's best performance is a jaw-dropping 5.74.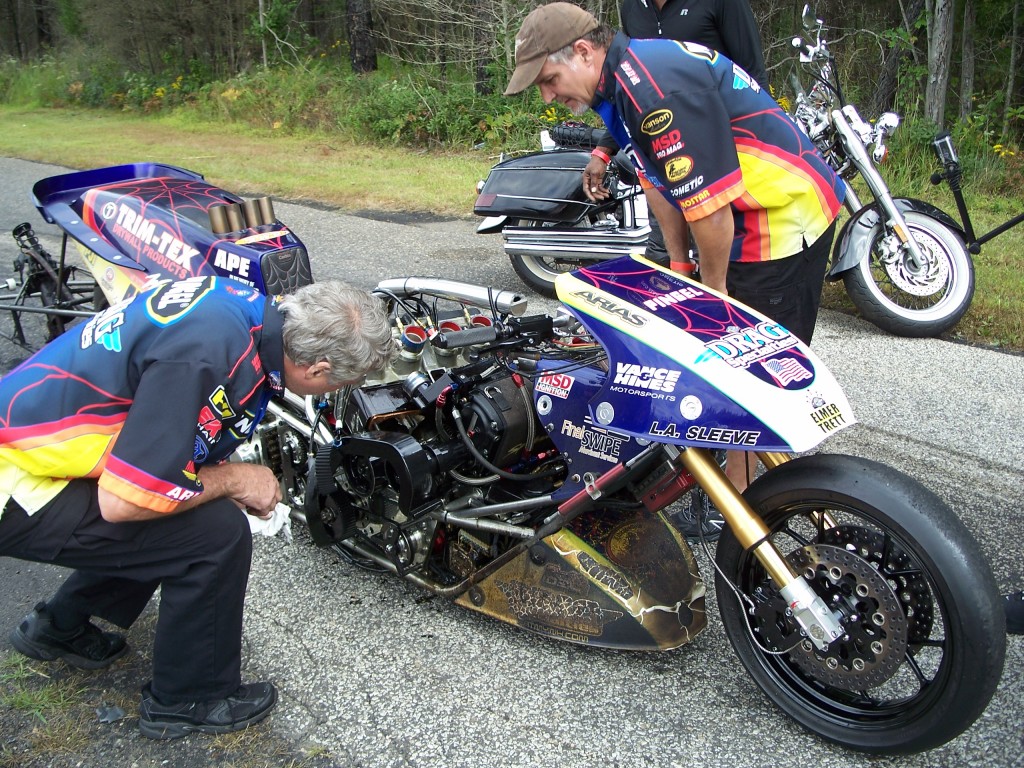 The block exploded off of the engine cases so forcefully it broke the ultra-strong backbone of McBride's frame above the cylinder head.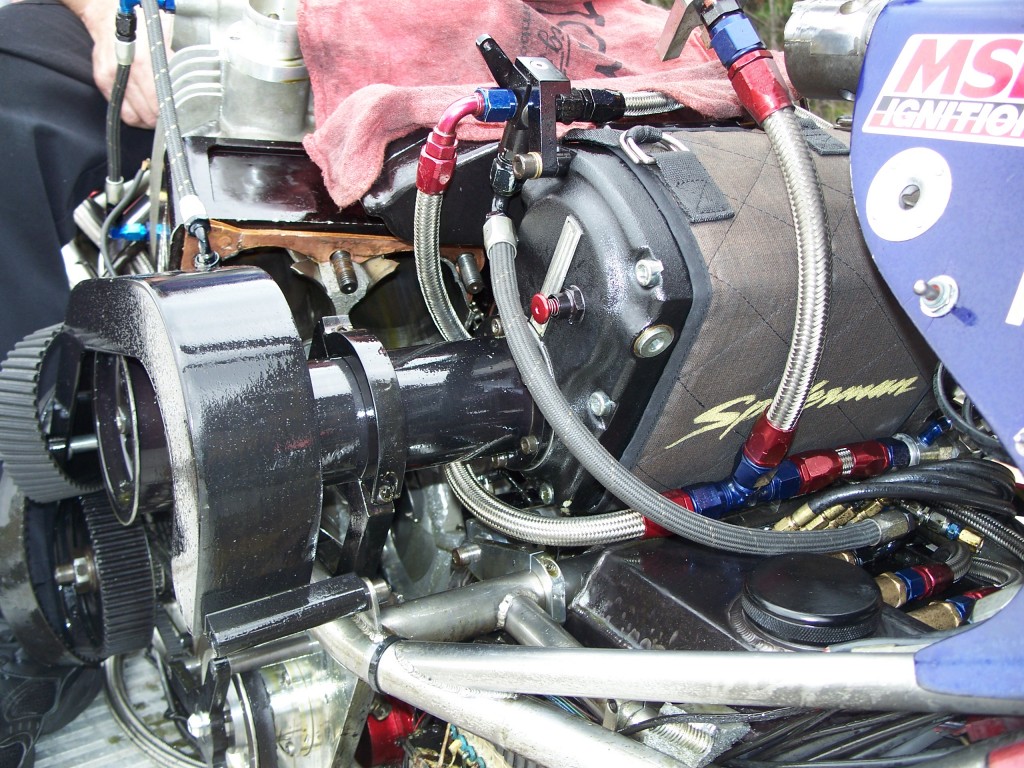 "It actually blew up on deceleration. We are fairly sure it was hydraulic. It got a load of fuel in it and ignited like a bomb," McBride said.  "The fire was so extensive that it burnt all the computer stuff up and I can't get any data."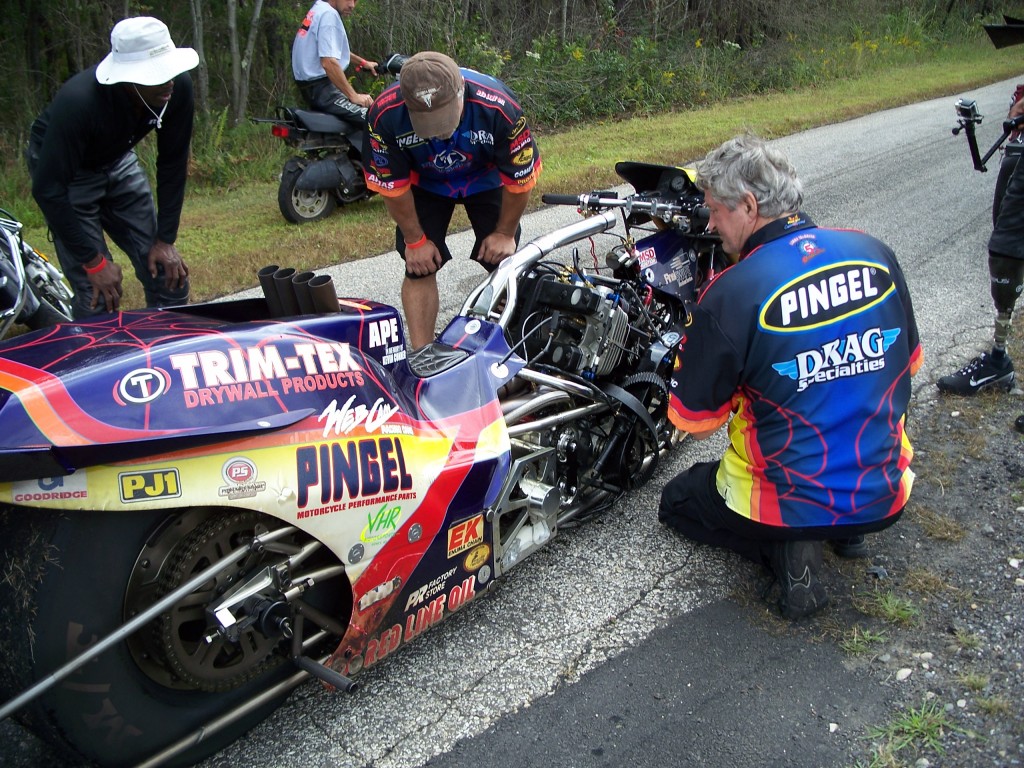 McBride has "pedaled" it many times in the past.
"As long as I've been doing this, I've never seen anything like this," Steve McBride said.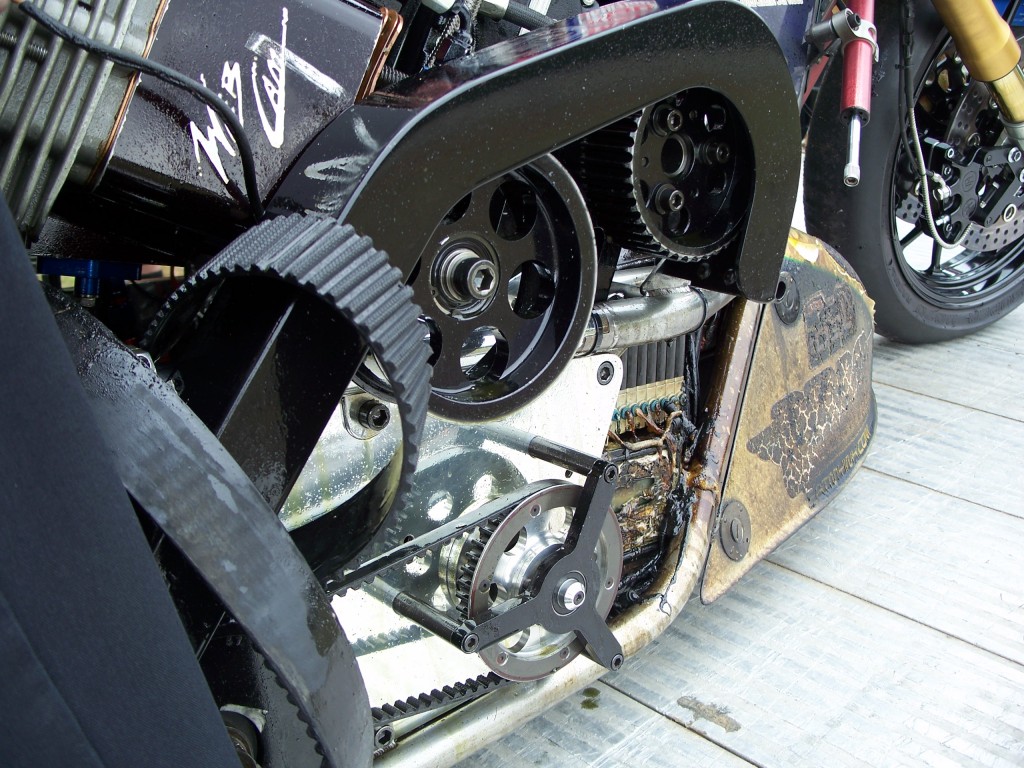 The bodywork and the electronics also melted.
"You will never see this motorcycle go down the track again," an emotional Steve McBride said with tears in his eyes on the return road.
Due to the policy in the state of New Jersey the team was not allowed to touch anything on the motorcycle in the moments after the accident. The track wanted to lock the bike away in a container, in case a detailed inspection and investigation by police would be required. The accident had to be treated as a worst case scenario situation until McBride's condition was updated from the hospital.
After a long delay and some negotiation among track staff and officials, McBride's team was able to park their motorcycle under their canopy back at their trailer, but could not tamper with it until notified.
It made the situation seem even more surreal for the veteran team.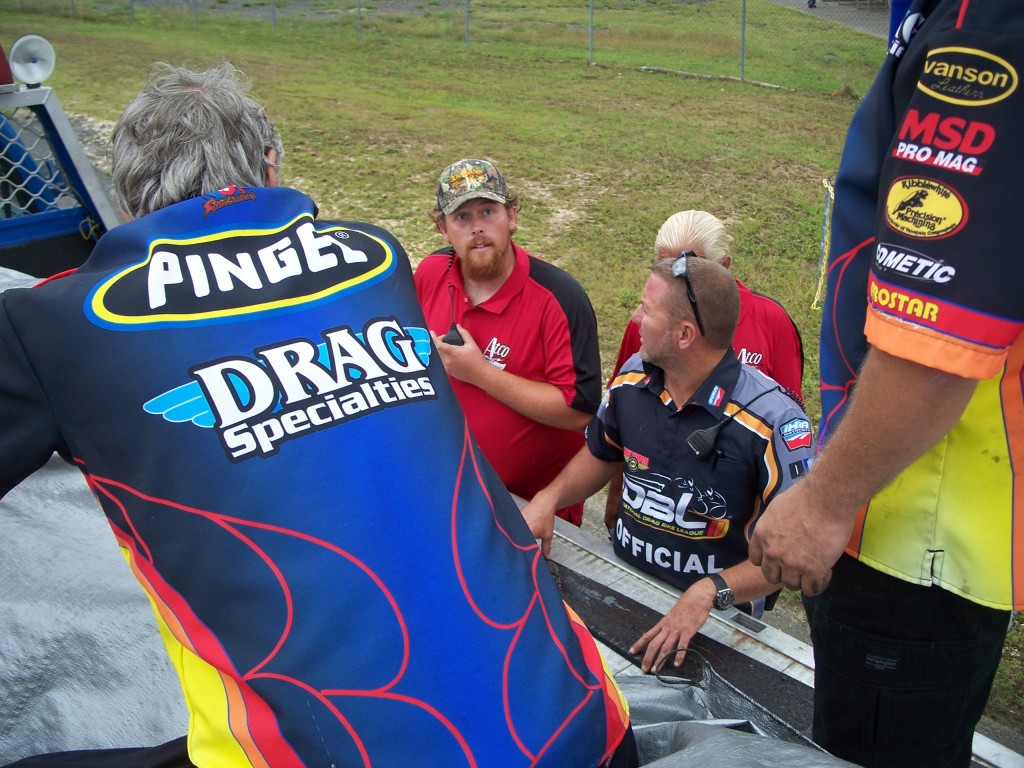 The best news of the day came a couple hours later when McBride called from the hospital to let everyone know he was alright and would be returning soon. The news was announced on the Atco sound system.
Ever resilient, team McBride was given the go-ahead to work on the motorcycle and immediately began, dissembling and scrubbing the soot off the machine in anticipation of Spiderman's arrival.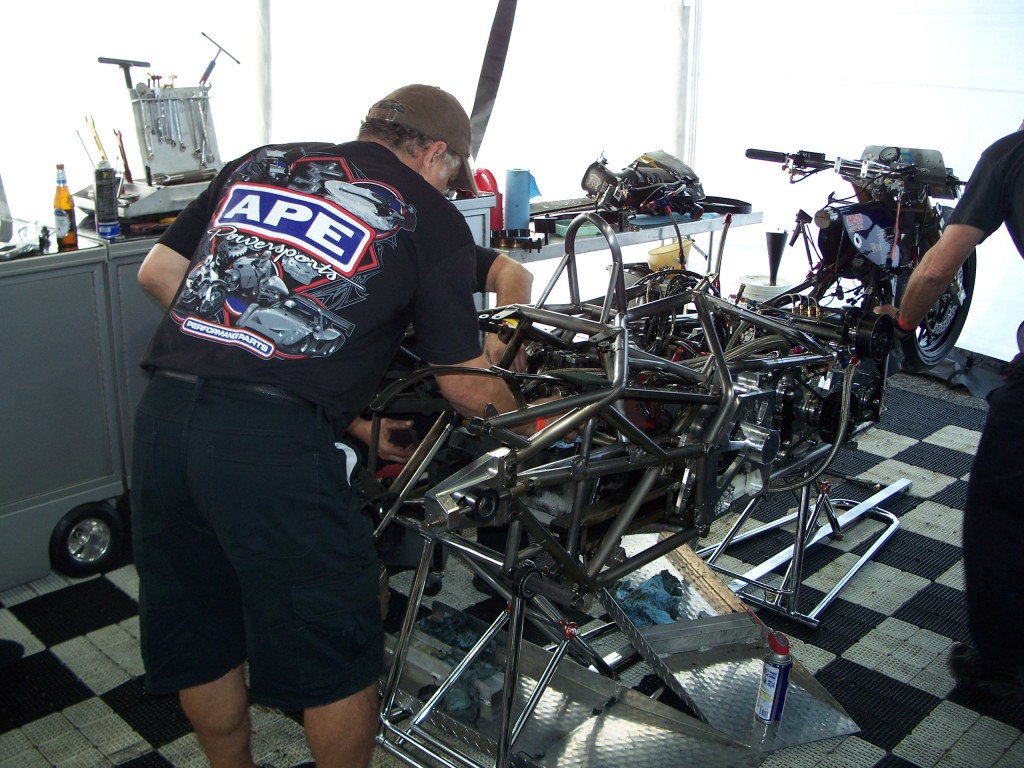 NHRA U.S. Nationals champion and Philadelphia-native Reggie Showers graciously offered to pick McBride up from the hospital.  Driving back with Showers, a double-amputee who lost his legs in an electrical accident, gave McBride an even more vivid picture of just how lucky he was to leave the hospital with only bandages on his legs.
"I can't say enough about how awesome of a human being Reggie Showers is," McBride said.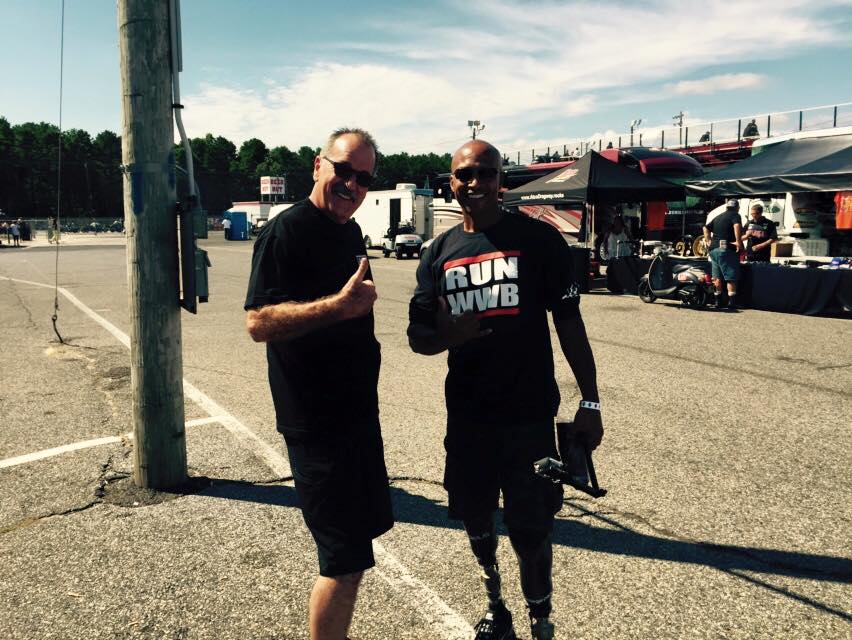 It was a blessing the Spiderman suffered only second-degree burns.
A few cold beverages were had to calm some of the team's nerves, and to the delight of everyone around, McBride returned to the track at about 6 p.m.
Upon arrival, McBride was greeted with emotional hugs from the entire team and friends.  The sense of relief seemed palpable.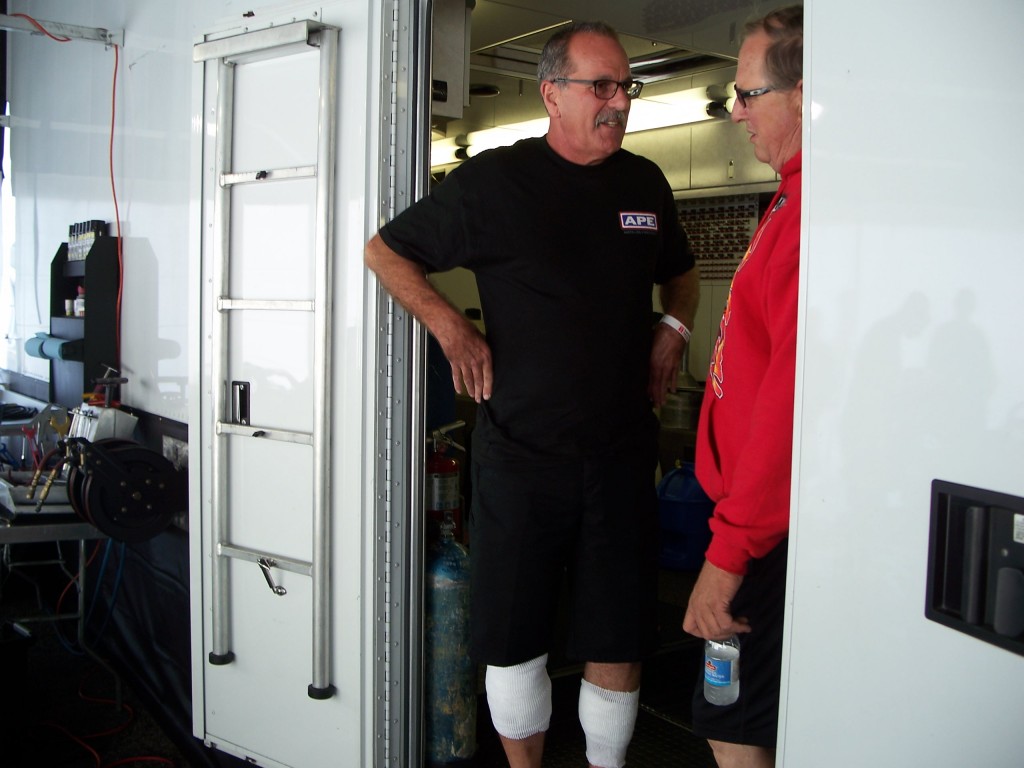 McBride had his own emotional moment when he glanced at his beloved, extensively and expensively damaged "Blue."
Yet the crew was inspired. Stuart, DeFeo and Steve McBride kept dissembling and scrubbing.  The sentiment began to change.
The Spiderman was ok and maybe, just maybe, so was Blue.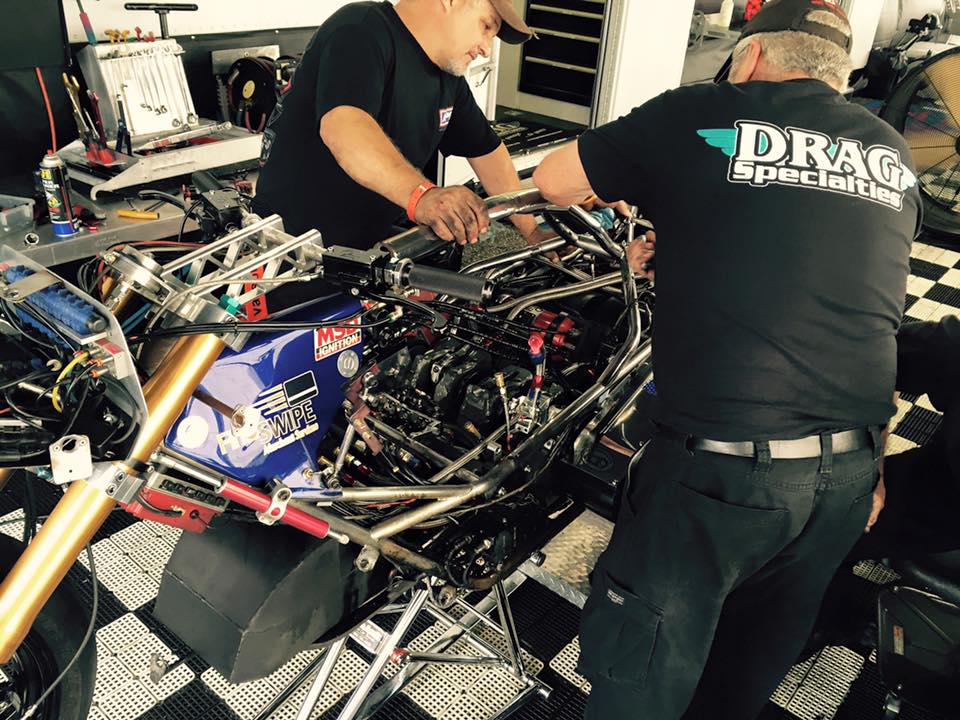 "You know, this is not as bad as I thought," Steve McBride said.
Just then Dave and Jason Dunigan from Dunigan Racing told McBride they had started a Go Fund Me link to help rebuild Blue, you can check out here.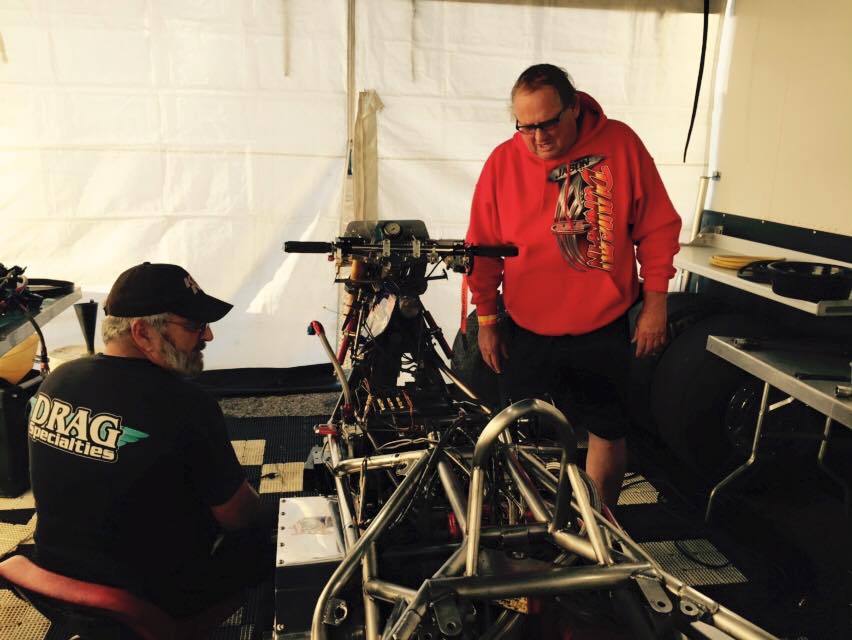 The gesture brought tears to McBride's eyes.
It's hard to keep good men down.
By the end of the night, the team opened all the curtains of their pit area and laughed and joked as racers and friends came to visit.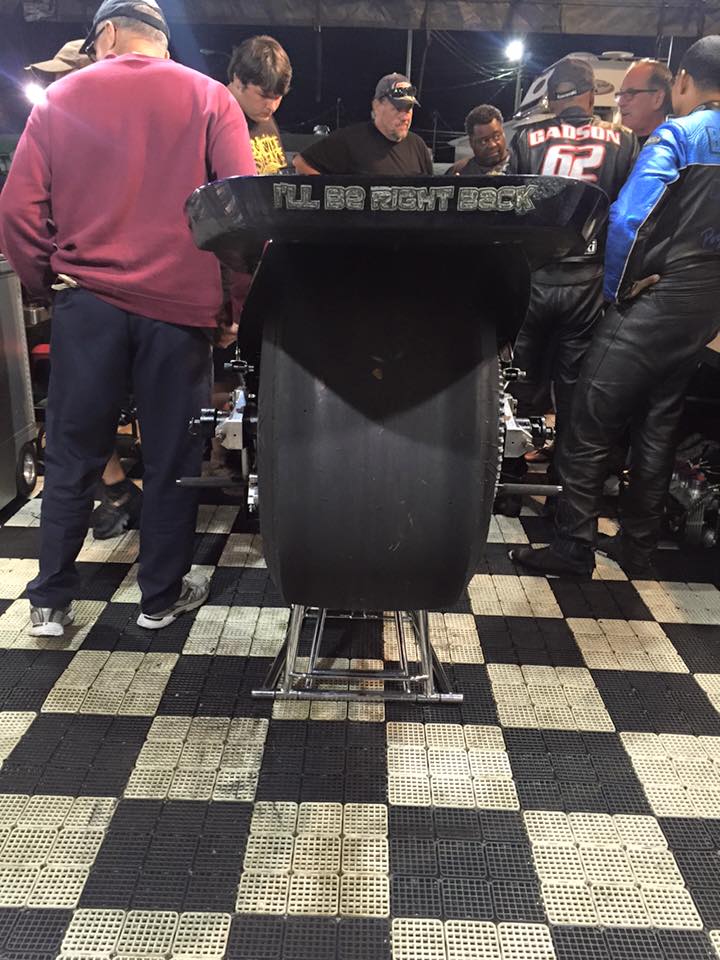 It was a scary incident that hit close to home for many.
McBride has been a fixture at the races for the past 30 years, and although his nickname is the Spiderman, many racers and fans see him as "Superman" too – a fearless and seemingly invincible competitor.  Seeing even the great McBride was not immune to the horrors and dangers of high-speed racing was nearly incomprehensible for most.
"Is he ok? I love that guy," an emotional Joey Gladstone said as McBride was being air-lifted. "I grew up watching him."
Gladstone's statements represented the feelings of many.
"I'm very humbled by the outpouring of concern and help. "Thank you" may not even be the propper words. I'm just overwhelmed," McBride said. "I've heard from so many people. I don't look at myself as a superstar. It's hard for me to put into words how it feels knowing that many people care about me. It gets me emotional. It is an awesome feeling."
It was a scary day for McBride's family as well, who first learned of the news from social media.
McBride's youngest daughter, Natalie, expecting her first child in December, was beyond relieved to find out her dad was alright. There was a moment of comic relief for her.
"I finally got a hold of him and I asked him what happened? All he said was, "It was hot." I was like dad, I know that. Sometimes my dad is a man of many words," laughed Natalie McBride.
Vantine dedicated his final run to McBride.
It was a frightening, alarming day at the racers that ended in relief.
"I just want to thank everyone for all the prayers," McBride said. "I will be back."
McBride talked about the incident with great emotion after returning from the hospital.
On Monday afternoon McBride checked in from a rest stop while eating lunch and said he was, "a little tight and in some pain."
"My right thigh was burnt pretty bad," McBride said.
After assessing Blue,  McBride thinks it may have indeed been the historic machine's last ride.
"Blue can fixed to look at but not to race," said McBride in reference to the damage to the chassis built by the late, great James "Puppet" Ditullio.
"Blue went out with a bang," McBride said.
Saturday was a better day, and perhaps Blue's final five-second pass at 5.91.
As for future races, McBride says his new motorcycle is nearly complete, but he wants some time to think things over before making any announcements.
"I have to go back before I make any quick decisions," McBride said.  "It's hard for me to say today."
The feeling of being happy to be alive is more pressing right now.
McBride thanked his primary sponsors; Pingel Enterprise, Trim-Tex Drywall Products, Drag Specialties-Parts Unlimited, Red Line Synthetic Oil Corporation and Final Swipe Merchant Services.
Web-Cam, Vance & Hines Motorsports, PR Factory Store, Ferrea Valves, Kibblewhite, Precision Machine, World Wide Bearings, Vanson Leathers, Millennium Technologies, Belt Drives Ltd, Simpson Race Products, Nitrous Express, APE, EK Chain, Arias Pistons, Cometic Gaskets, B&J Transmission, Carolina Cycle, L.A. Sleeve, PJ1, Mickey Thompson Tires, Valco, Goodridge, Carlisle Belts and Gates Belts.