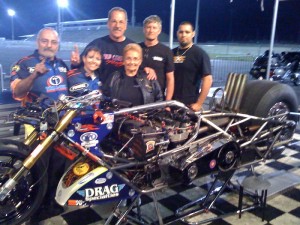 Larry "Spiderman" didn't become a 10-time world champion without learning how to overcome hardship.
However, it has been a long time since the Top Fuel elapsed-time record holder played the role of the underdog. In a gung-ho, eight-bike Top Fuel field at the Manufacturers Cup, Nov.12-14, from Valdosta, Ga., McBride qualified on the bottom half of the ladder in the No. 5 spot. The Spiderman struggled to find traction for his 1500-horsepower machine.
In opening eliminations McBride used every bit of luck the drag racing gods could bestow upon him. At first glance, The Spiderman appeared to lose to No. 4 qualifier Chris Hand, who ran 6.44 to McBride's 6.47.  As McBride's crew walked away from the starting line dejected, it was discovered Hand ran over a foam block at the finish line and was disqualified. McBride, on the other hand, knew of Hand's mishap immediately.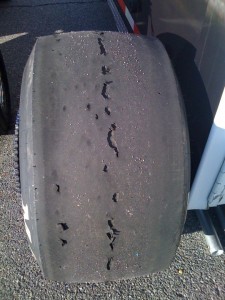 "The block almost took my head off. I had to duck," McBride said. "Chris had us beat. I feel bad for him, but I will take a win anyway I can get it. It has been a tough weekend and we needed that."
McBride was showered with even more good fortune when No. 1 qualifier, and McBride's potential round No. 2 opponent, Korry Hogan red-lit (-.090) against No. 8 qualifier Ross Sowers. Hogan threw away a 6.11 to Sowers' 6.97.
"We can't figure it out," said Hogan, who initially thought he may have rolled out of the staging beams. "I looked at the tape from my helmet cam and the bike never moved. I don't think it could have possibly rolled through the beams. It was a tough loss for sure."
On the other half of the bracket the world's quickest nitro Harleys emerged victorious with an on-and-off the throttle Takeshi Shigematsu running 7.83 to RichVreeland's 8.10 and Tommy Grimes running 6.36 against newly-inducted MTC Five Second Club member Geoff Pollard's 6.79.
For round No. 2 the goal for McBride was to take even more power out of the bike to prevent yet another tire-smoking run.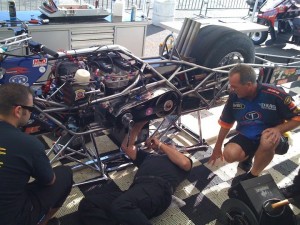 "We sure found some serious power over the weekend," said McBride, who attributes the gain to changing a fuel pump on Friday night. "We just want to make a clean run. We are tuning the clutch and decreasing the percentage of nitro."
McBride's strategy paid off as he ran his quickest pass of the weekend and scored a victory over Sowers with a 6.13 at 233 mph to Sowers' 9.34 at 92 mph. 
In the other semifinal, fans were not treated to the quickest side-by-side Top fuel Harley pass Grimes (6.16) and Shigematsu (6.13) provided less than 24 hours earlier, but they were given an entertaining and competitive race. Grimes 6.29 at 232 mph granted him the victory over Shigematsu's 6.30 at 214 mph.  Shigematsu appeared to be headed for victory and was clocked above 200 mph at the eighth-mile mark, but encountered problems at the top end.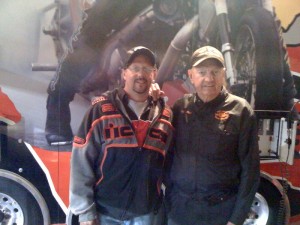 There was plenty of drama for both the McBride and Grimes teams prior to the final.  McBride's team scrambled to fix a broken transmission while a fire broke out in the back of Grimes' team owner Ray Price's truck due to a tail light shorting out.  Fortunately the fire was quickly extinguished.
In a classic showdown of the world's quickest import bike (5.79) vs. the world's quickest V-twin (6.15) (also the quickest blown bike vs the quickest naturally aspirated bike) McBride improved to a stellar 5.83, low elapsed time of the meet, at 232 mph to defeat the 8.78 at 102 mph of Grimes.
"We spun the tire hard.  We were going for the win," Grimes said. "I can cross racing Larry McBride off of my bucket list. It was an awesome experience."
Grimes says he had a great time and plans on being at the Manufacturers Cup committee's next race in Valdosta next spring.
"We knew Larry was going to be tough to beat and we added a lot of power to the bike," 47-year drag racing veteran Ray Price said. "Overall, I couldn't be happier with the way the weekend went.  Tommy did a great job riding and we are very proud to leave with the record."
McBride was quite aware of Price's aggressive tune-up and after the race jokingly asked Ray, "Do you have a kitchen sink left in your trailer, because you threw everything else at us?"
McBride says he can't remember winning a race in this fashion in all of his 32 years of racing.
"We just never gave up.  We kept fighting and kept digging," McBride said.  "We stepped-up when we needed it the most.  It's a great win."
More Manufacturers Top Fuel Notes –
European Top Fuel star Ian King provided color commentary for Top Fuel on Sunday.  King believes the last time Top Fuel enjoyed a full field was in 2003 in Gainesville, Fla.
Prior to eliminations a ceremony was held for legendary chassis builder James "Puppet" Ditullio, who passed away in October.  Along with his many creations, DuTullio built McBride and Hogan's chassis. As a fitting tribute, Hogan's team packed some of Puppet's ashes in his parachute and planned to scatter them amongst the facility when the chute was deployed. The problem was Hogan's chute didn't come out during his opening-round loss. On a second attempt later in the day Hogan was shut off on the line by race officials due to his motorcycle leaking fluids on the track.  It was agreed, Puppet, being a big practical joker, would have thought the situation was hilarious. 
Finally during his third attempt to honor the fallen chassis builder, Hogan made a beautiful pass to the 1000-foot mark and scattered Puppet's ashes throughout the shutdown area.
Race organizer Jay Regan of MRE says the Manufacturers Cup exceeded his expectations.
"When is the last time a 'world finals' flopped? I can't ever remember a bad one.  That was my reasoning in putting this race together," Regan said. "It was an awesome turnout and an awesome event."
Perhaps The Spiderman summed it up best.
"It was a race I will never forget," McBride said.
McBride thanked; Pingel Enterprise, Drag Specialties-Parts Unlimited, Red Line Synthetic Oil Corporation, K&N Air Filters and Web-Cam as well as his other sponsors.
Trim-Tex Drywall Products, Vance & Hines Motorsports, PR Factory Store, Muzzys Performance, Ferrea Valves, Kibblewhite, Precision Machine, World Wide Bearings, Vanson Leathers, Performance Machine, Belt Drives Ltd, Street & Competition, Simpson Race Products, Nitrous Express, APE, EK Chain, Arias Pistons, R/D Spring Corp, Autolite, MSD, Protect ALL, Whipple Industries, Cometic Gaskets, B&J Transmission, Carolina Cycle, L.A. Sleeve, PJ1, Mickey Thompson Tires, Valco, Goodridge, Carlisle Belts and Gates Belts.