The last time Top Fuel dragbike racers Larry "Spiderman" McBride and Dave Vantine met at Maryland International Raceway history was made.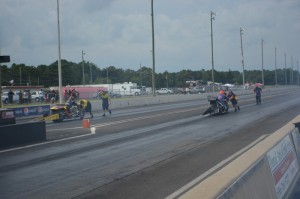 At the WPGC Bike Fest, July 25-27, the duo produced motorcycle drag racing's first side-by-side five second pass when McBride accelerated to a 5.79 alongside Vantine's 5.97. Astoundingly the milestone came amidst unfavorable racing conditions with over 3,200 feet of corrected altitude.
Atmospheric conditions are expected to be incomparable at this weekend's (Oct. 3-5) MIROCK Fast by Gast Fall Nationals – an annual event renown for cool air and record-setting performances.
"This will be the best opportunity we will have to run in the 5.60s," said McBride, who holds an all-time best time slip of 5.74 from Nov. of 2008.  "The high temperature will be in the mid-70s. We should fly."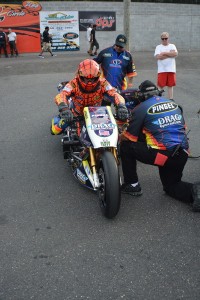 The track will receive promoter Jason Miller's famous, ultra-sticky tune-up. At the last event Miller sprayed multiple $1,000, 55-gallon drums of VHT glue on the race course.  The abundance of traction combined with another pertinent advantage of MIR, its lush and rustic surroundings, is a recipe for quick times.
"There are trees everywhere. And not pine trees, big oak trees. They put a lot of oxygen in the air," McBride said. "Even at 3,200 feet of corrected altitude we felt the air was pretty good."
McBride's journey to MIR began with many long, arduous hours at his shop servicing his motorcycle.  At the beginning of the week McBride still had two motors left to rebuild to complete his arsenal of six.
"I take them apart after every race and inspect the rod bearings. I don't take any chances," McBride said. "We usually end up replacing pistons and rings as well."
McBride's biggest area of concern on his machine is in the clutch. The team has been experimenting with a new configuration and crew chief Steve McBride is still fine tuning the set-up.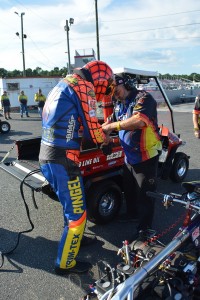 The event will also serve as the rubber match for Larry McBride and Dave Vantine and their three-event exhibition series. Spiderman won all four match races at the Bike Fest, while Vantine bettered his mentor, two out of three, at the Orient Express U.S. Nationals from Atco, N.J. Sept 5-7.
"I know there are not any points on the line but I sure don't like to lose," laughed McBride. 'We won't be giving (Vantine) anything."
McBride and Vantine will race twice on Saturday and twice on Sunday.
McBride thanked his primary sponsors; Pingel Enterprise, Trim-Tex Drywall Products, Drag Specialties-Parts Unlimited, Red Line Synthetic Oil Corporation and Final Swipe Merchant Services.

"Joe Koenig is one of the best guys I know. He sells the best drywall products in the world."

"Wayne and Donna are like family to me. I make the joke that I'm their oldest and youngest child. Pingel has by far the best quality in America. They have the top of the line, best engineered products and they are all USA made."

"The Web Cam girls and Steve are the best. They are like family to me as well. Laurie Dunlap does so much to help the sport. They also make the best cams on the market."
McBride added – "Red Line is the best oil on the market or Alan Johnson would not be using it."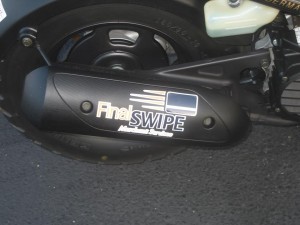 "Drag Specialties is a great company that I'm honored to be involved with. They are the best people to deal with."
"I really appreciate Final Swipe and Gary Baillio. He's a great man with a great company."
"There is not one sponsor that is not important." McBride thanked his associate sponsors and added, "Everybody is equally important. We couldn't do it without each one of these fine companies."

K&N Air Filters, Web-Cam, Vance & Hines Motorsports, PR Factory Store, Ferrea Valves, Kibblewhite, Precision Machine, World Wide Bearings, Vanson Leathers, Millennium Technologies, Belt Drives Ltd, Simpson Race Products, Nitrous Express, APE, EK Chain, Arias Pistons, MSD, Protect ALL, Cometic Gaskets, B&J Transmission, Carolina Cycle, L.A. Sleeve, PJ1, Mickey Thompson Tires, Valco, Goodridge, Carlisle Belts and Gates Belts.