The weekend couldn't have ended any better for defending Pro Stock Motorcycle world champion Matt Smith, as he took down teammate Chip Ellis in the final round with a run of 6.807 at 198.50 on his Denso Auto Parts Suzuki at the 38th annual Pep Boys NHRA Nationals, the first race in the NHRA Countdown to the Championship playoffs.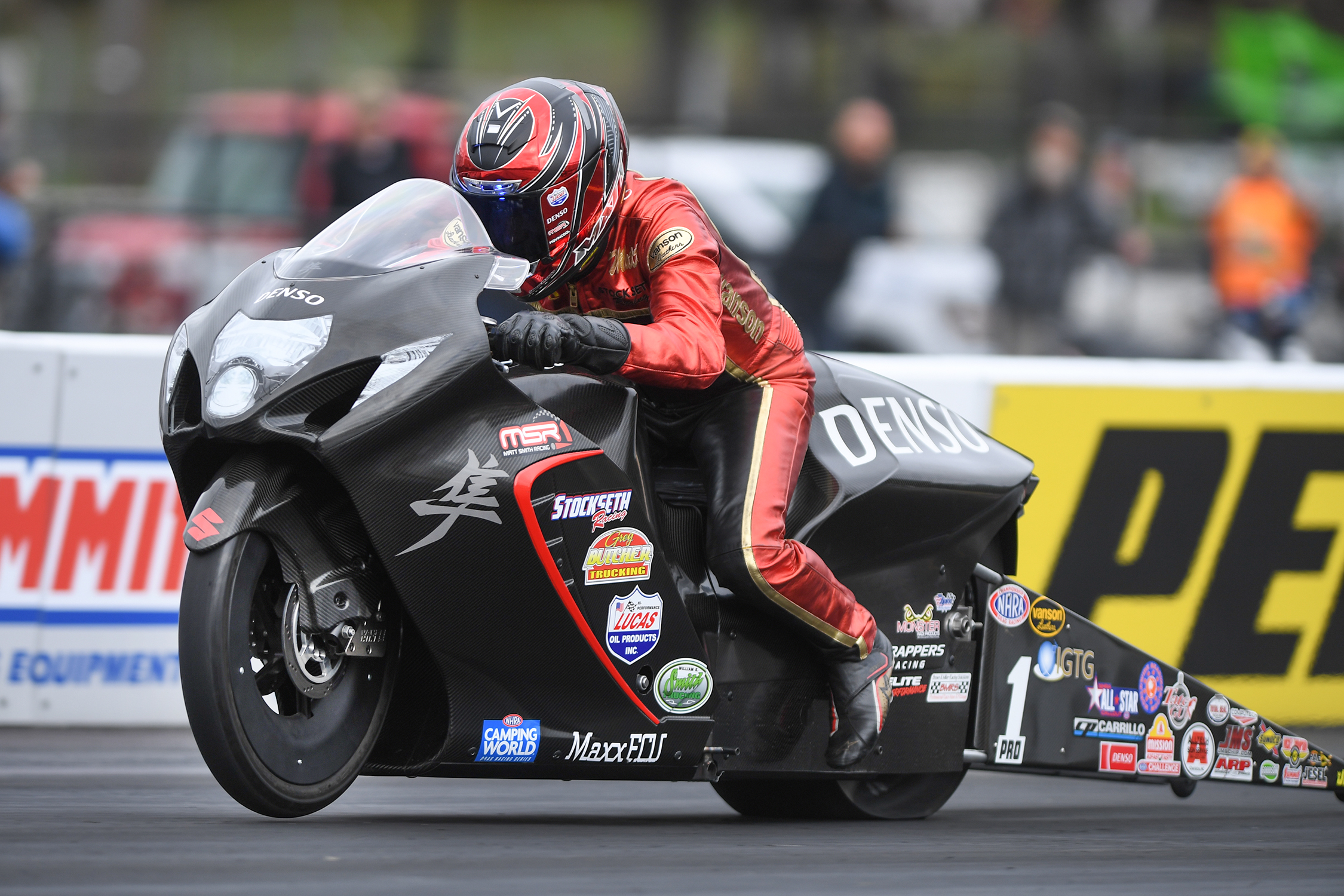 Coupled with Gaige Herrera's surprising second-round defeat, it sent Smith into the points lead for the first time this season as he earned his second straight victory. Chasing what would be a PSM record seventh world championship, Smith followed his Indy victory with a strong opening statement in the Countdown to the Championship.
He knocked off Chris Bostick, Marc Ingwersen and teammate Jianna Evaristo to reach the final round and picked up his 38th career victory a round later. With five races remaining, Smith now holds a 17-point lead over Herrera.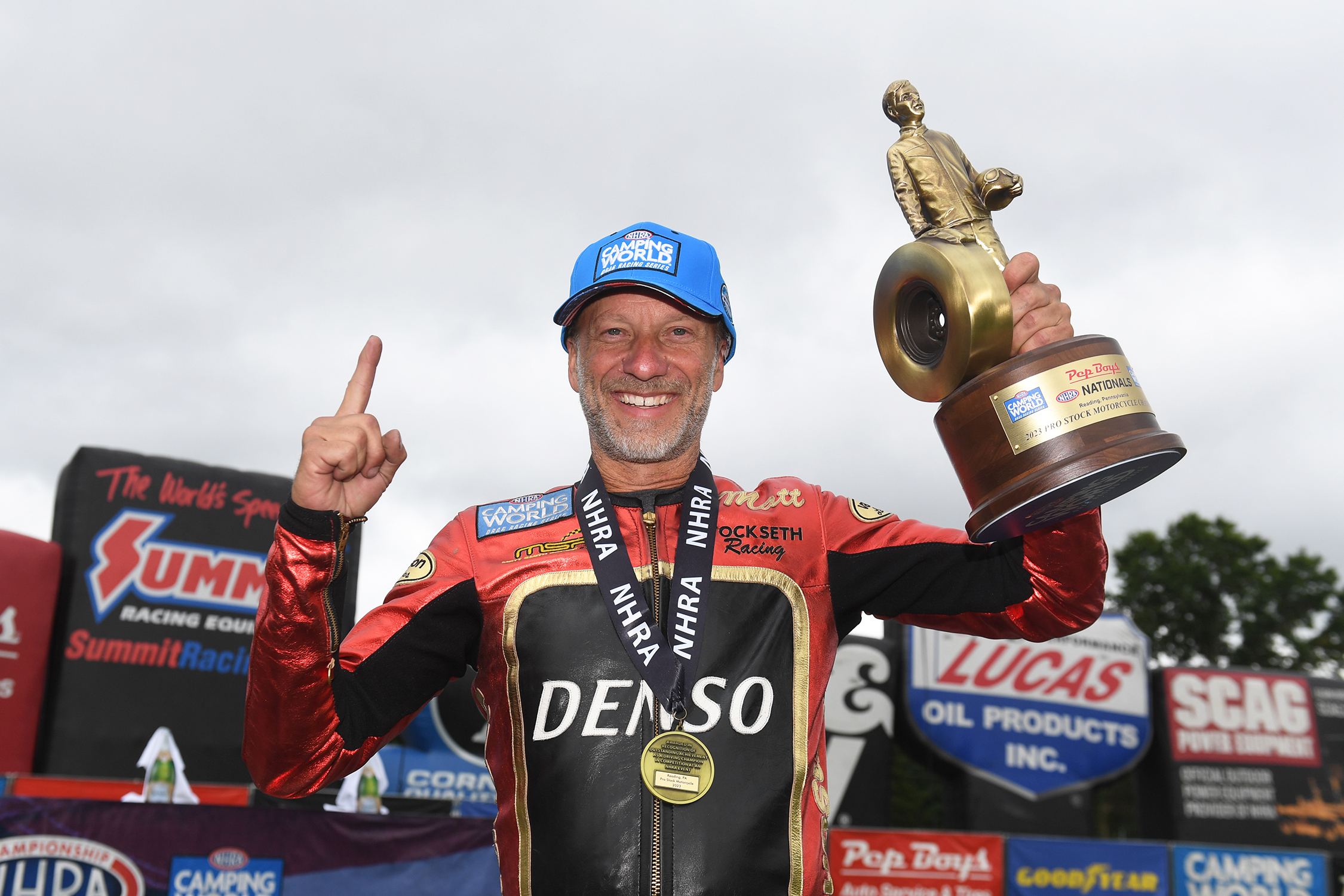 "Today was exciting. We've won races on Monday before and we pulled it off today," Smith said. "All in all, we had a great weekend. Personally, my bike still isn't the bike I need out here to win a seventh championship. We just have to get my bike better. My bike isn't 60-footing the way it needs to. We know we have really good power, even though we qualified fourth, we're still way behind.
"(But) we've won six championships because we play our cards right and we're smart and we do what we need to do. We brought a fourth bike (to this race) and that was our goal. When you don't have the best stuff, you have to bring other stuff in to try to learn. All in all, that's why we brought that bike to Reading and Chip knocked out some people that we needed him to knock out."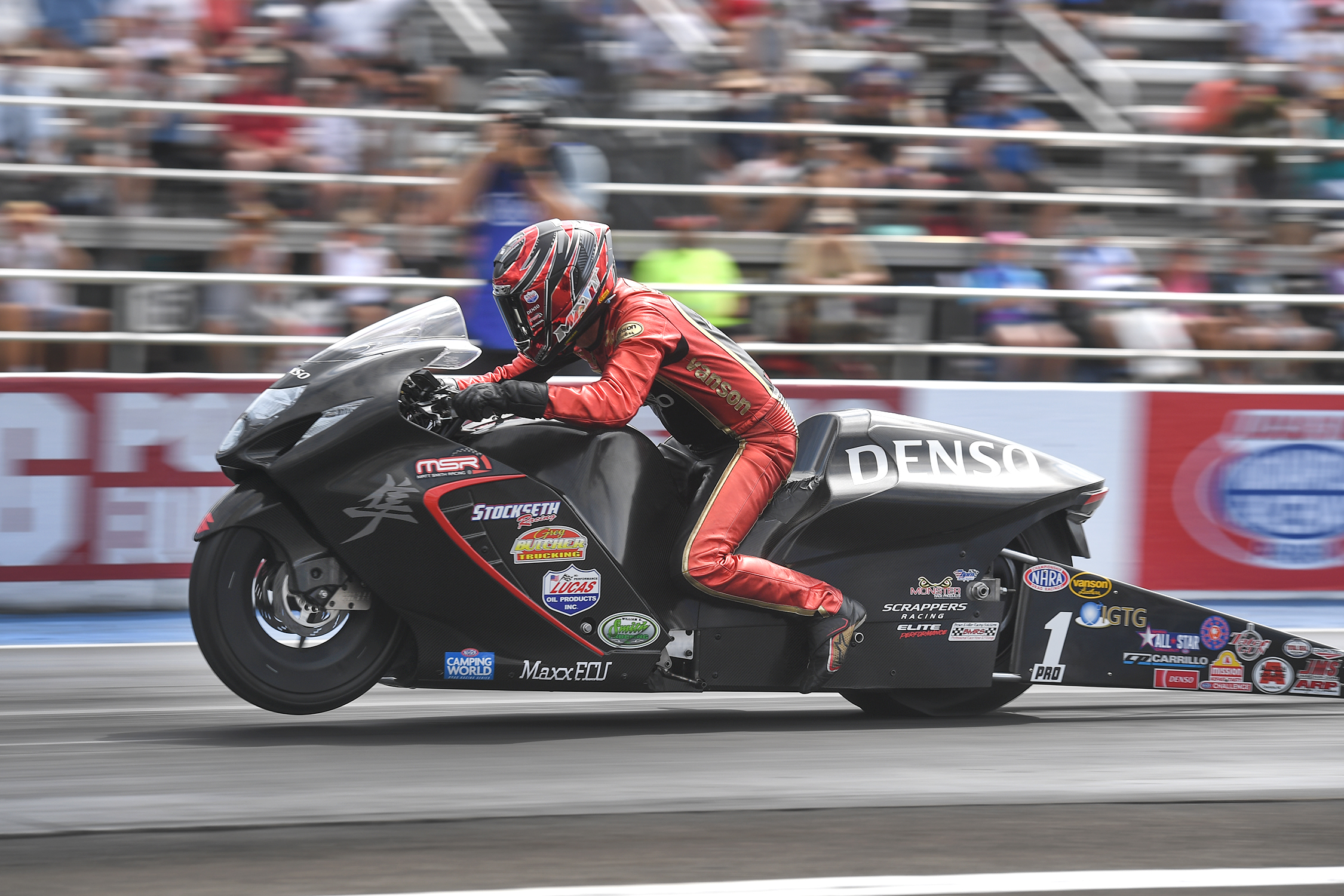 Ellis, who qualified second and was hired by Matt Smith Racing to ride a team bike during the Countdown, took down Cory Reed, Eddie Krawiec and Hector Arana Jr. to reach the championship round.
The NHRA Camping World Drag Racing Series returns to action Sept. 22-24 with the 15th annual betway NHRA Carolina Nationals at zMAX Dragway in Charlotte.
ROUND ONE — Gaige Herrera, Suzuki, 6.695, 202.24 was unopposed; Angie Smith, 6.779, 199.46 def. John Hall, 6.866, 196.04; Eddie Krawiec, Suzuki, 6.743, 201.04 def. Kelly Clontz, Suzuki, 7.046, 186.74; Chip Ellis, 6.766, 197.83 def. Cory Reed, Suzuki, 6.948, 189.87; Hector Arana Jr, 6.745, 199.11 def. Ron Tornow, 7.024, 183.47; Marc Ingwersen, 6.881, 193.77 def. Chase Van Sant, Suzuki, 8.318, 104.02; Matt Smith, Suzuki, 6.807, 199.67 def. Chris Bostick, Foul – Red Light; Jianna Evaristo, Suzuki, 6.853, 197.22 def. Steve Johnson, Suzuki, 7.727, 125.45;
QUARTERFINALS — M. Smith, 6.793, 200.26 def. Ingwersen, Foul – Red Light; Arana Jr, 6.745, 200.62 def. A. Smith, 6.808, 199.02; Ellis, 6.738, 201.46 def. Krawiec, 6.771, 200.83; Evaristo, 6.894, 196.44 def. Herrera, 7.069, 194.07;
SEMIFINALS — Ellis, 6.801, 198.32 def. Arana Jr, Foul – Red Light; M. Smith, 6.856, 198.20 def. Evaristo, 6.890, 196.04;
FINAL — M. Smith, 6.807, 198.50 def. Ellis, 6.727, 199.37.
Pro Stock Motorcycle Points
1. Matt Smith, 2,200; 2. Gaige Herrera, 2,183; 3. Hector Arana Jr, 2,156; 4. Eddie Krawiec, 2,116; 5. Angie Smith, 2,112; 6. Jianna Evaristo, 2,083; 7. Steve Johnson, 2,075; 8. Marc Ingwersen, 2,072; 9. Chase Van Sant, 2,067; 10. Kelly Clontz, 2,032.
There are more videos on the Cycledrag Youtube channel (please subscribe here) and the Cycledrag Facebook page (Please like here) and more will be coming soon. Check back daily.
To take advantage of some amazing discounts at Brock's Performance, click – http://brocksperformance.com?aff=12
USE cycledrag5 coupon code.