The revived AHDRA all-American motorcycle drag racing series thundered into the bucolic countryside of Numidia, Pennsylvania this past weekend, August 29-30, for the Numidia Nitro presented by Vreeland's Harley-Davidson. Delaware legend Bob "Opie" Malloy led pro class winners, while Illinois sportsman Kevin Winters showed that any weekend is a good weekend for winning twice.

Malloy's win came on his iconic nitro Buell in Top Fuel. "I went there to test (for the following weekend's NHRA U.S. Nationals) and was fortunate enough to win," said Malloy, who qualified third while focusing on half-track hits.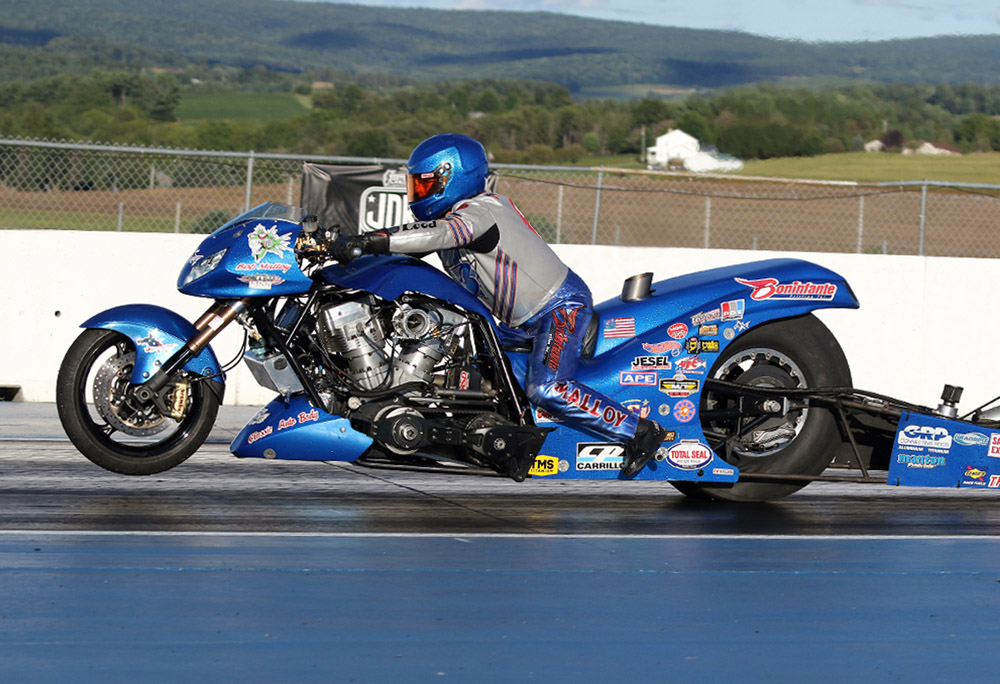 Malloy raced past Cordova winner Rich Vreeland in round one of eliminations. Vreeland is a bona-fide Numidia hero, and along with his brother Ray is the Harley-Davidson dealer in nearby Bloomsburg.
"Billy Jack" Jackson was Malloy's final round opponent, and the number one qualifier. "Came out of trailer after not running a bike since June 2019 at NHRA's Epping event and ran a 6.72 at 201—which put me as number one qualifier for event.
"Second pass we ran a 6.64 at 220 miles per hour, clicking it off at 5.50 seconds. 220 is my personal best.
"Had a bye in E1, then hopped it up for the finals against Bob. Unfortunately, we had a starter cart malfunction."
That allowed Malloy to solo for the win, running only 8.51 at 107 after dropping a hole, and no doubt Jackson's heart through the sole of his boot.
"The crowd wanted to see another pass so we blew it out," said Jackson, who clicked off at 1000 feet, running a 6.94. "So we settled for a runner-up
"Kevin Garrow is owner of the bike but could not attend due to his birthday party, and let me represent Showtime Racing Team. Nice to be back in the saddle again."
"I really want to see (AHDRA boss) Bill Rowe and the AHDRA succeed," said Malloy. "I am going to try to support him when I can.
"That track up there is really nice. That brought me right back to grass roots racing."
Grass roots racing means sportsman racing, and there's no AHDRA sportsman racer more successful this year than Kevin Winters—so successful that it's notable that Winters won "only one" class at Rockingham.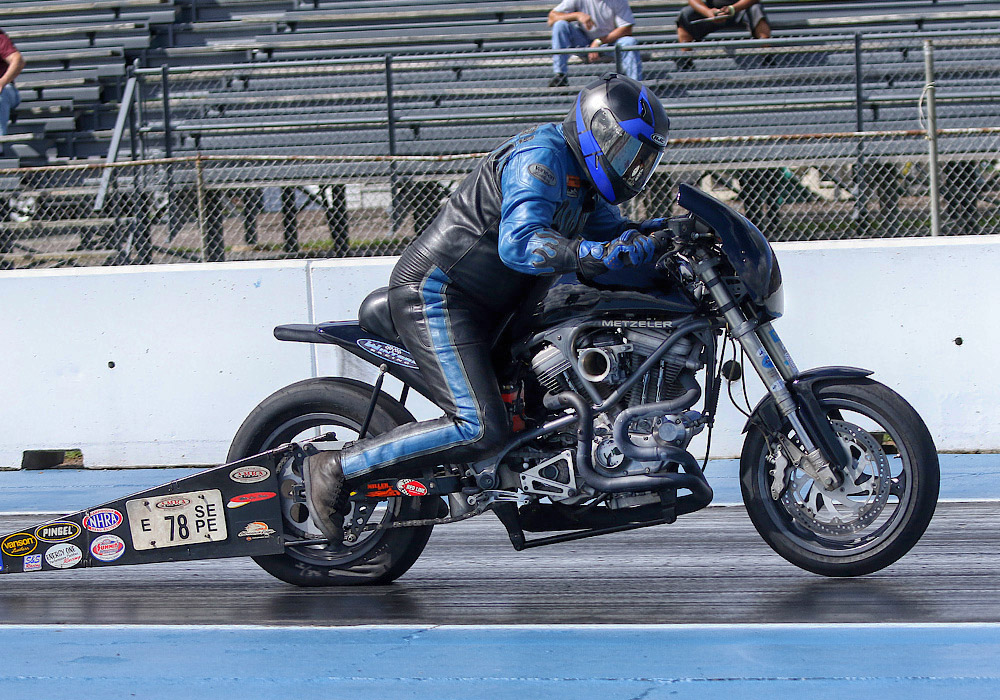 But Winters won two at Cordova back on July 4 and doubled up again at Numidia, winning Pro Eliminator 10.90 and Crete's Performance Street Eliminator 11.50.
Winters had to race his venerable Buell past 10.90 number one qualifier Derek Christensen in the semis. The 10.90 final was all about the tree, as Winters' .018 was nearly a full tenth over runner-up Chris Hoppe's .116 and Hoppe was unable to make up the difference.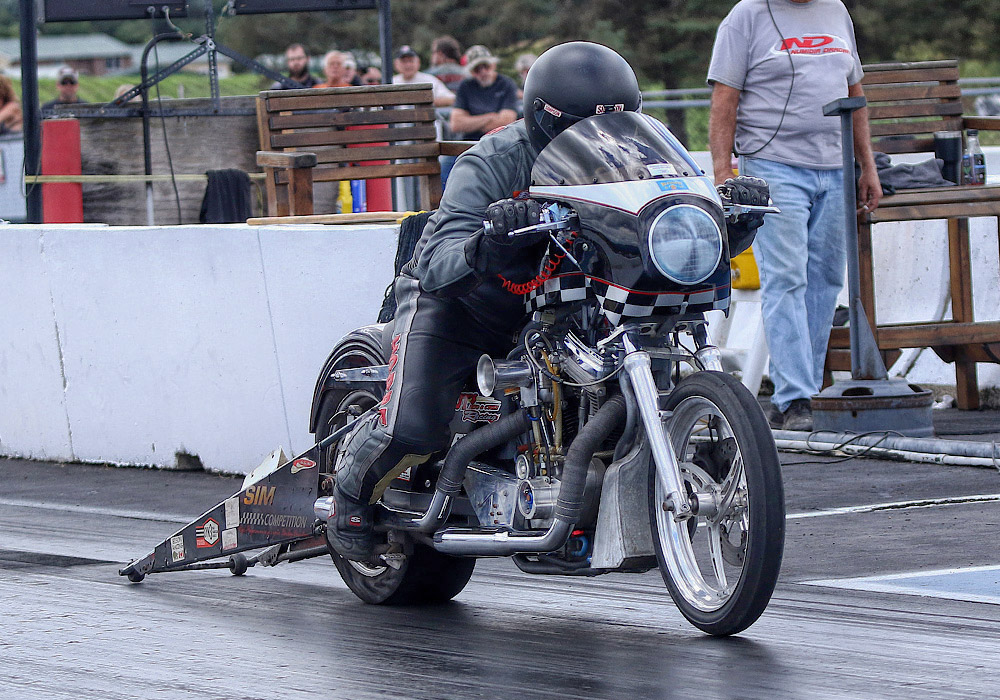 Ditto for the Crete's Performance Street Eliminator 11.50 final. Winters, himself the 11.50 number one qualifier, took another big—even bigger—advantage at the tree with a .008 to runner-up Loren Potter's .171. Poor Potter broke out by large margin with an 11.276 on his mad charge to the stripe.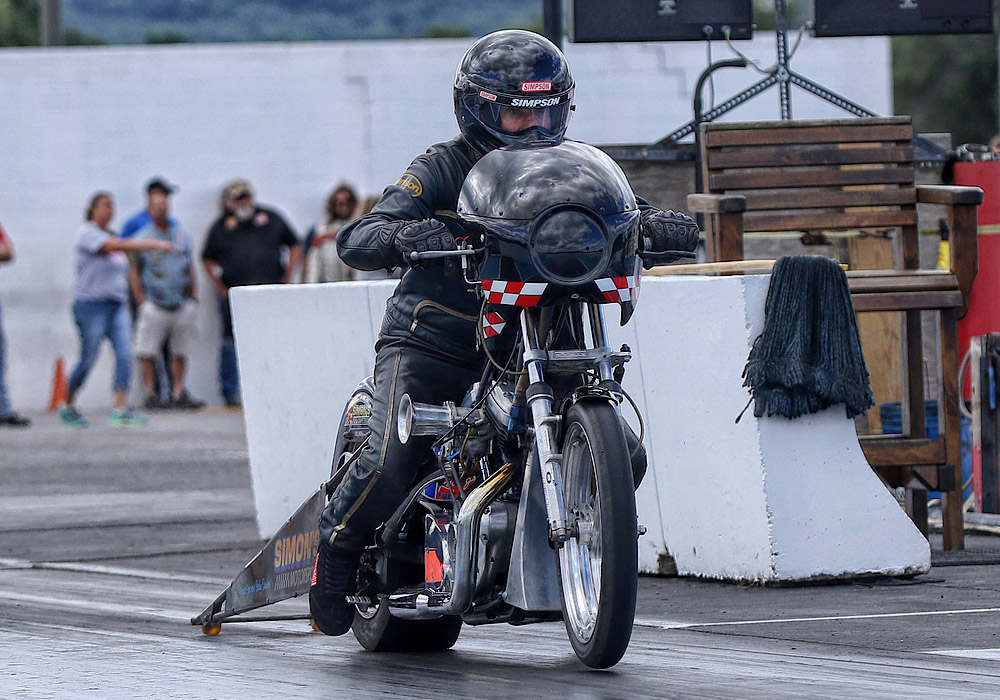 Don't feel to badly for 10.90 runner-up Hoppe. He went on to win Super Pro 10.30 Index. In the final, Hoppe faced Jeff Jampo, who beat number one qualifier Gary Degrange in the semis. Hoppe took the tree in the final by .044 before Jampo encountered a problem and ran well off the index.
Degrange went on to win Zippers Performance Modified, beating Rockingham winner Jeff Workman in the final. The race would have been the best one of the day in all classes, with Degrange running a 9.553 to Workman's 9.558, were it not for the .076 that Workman gave to Degrange at the tree.
Gary Douglass was the Modified number one qualifier, but his son Charley Douglass found winning success in Horsepower Inc. Hot Street.
"This was the first race of the year for Douglass Racing," noted Charley. "We have not even been to our local track to test.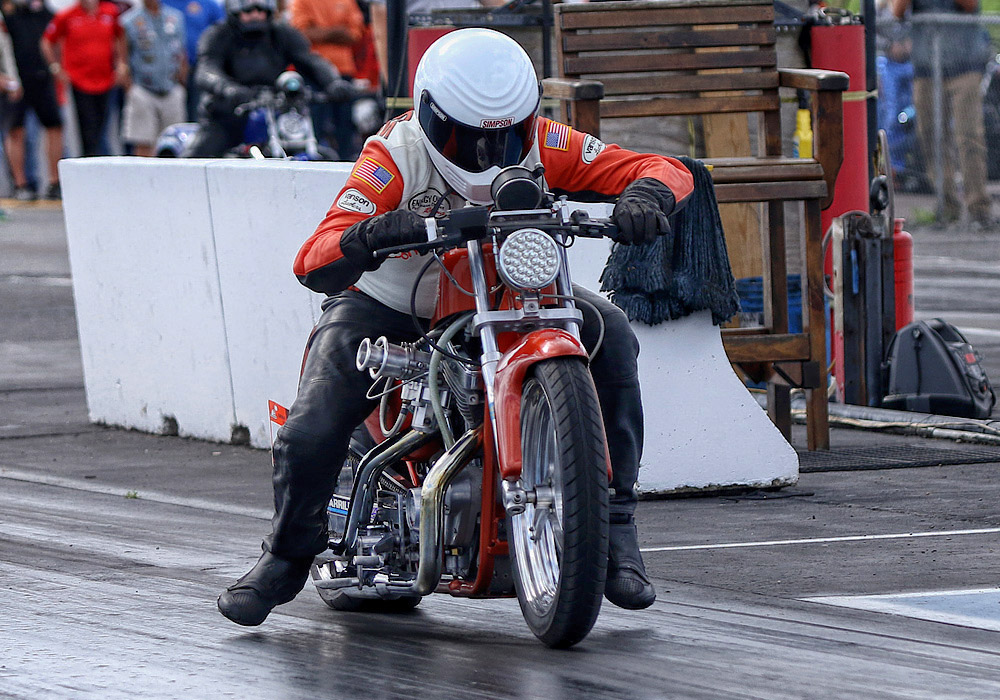 "My first pass of the year on my Hot Street bike started off good with a .012 reaction time but went down hill from there. I was very rusty when it came time to footshift through the gears.
"We ended up with three number one qualifiers—one in Hot Street, one in Pro Mod, and my dad in Modified. The cool thing about being number one in Pro Mod was that I was riding my dad's bike. This was the first time in 20 years that I had ridden a bar-bike, I always ride no-bar bikes and my dad rides bar-bikes.
"I went on to run 9.82 for the win in Hot Street against Scott Schenkel." Rockingham 9.70 winner Schenkel gave it up on both ends of the track to lose Hot Street at Numidia to Douglass.
"Dad and I are a father and son team that has been racing together since 1999," continued Charley. "We had crew help from my nephew Jacob Bush. We usually have a large crew with us, but due to COVID and other health issues, the rest of team Douglass stayed home.
"I want to thank my Lord and Savior Jesus Christ for blessing us with a safe, fun and successful race weekend. I also would like to thank my very supportive wife Angel Douglass and all of our family, including cousins that traveled to this race to watch and cheer us on.
"We have some faithful sponsors as well—Energy One clutches, Zipper's Performance Products, CP-Carrillo, SA racing, Chad Hart, and Xlxbhorsepower.
"We plan to race the rest of the AHDRA circuit this year."
Charley qualified number one in T-Man Performance Pro Mod but redlit in round 1. In a replay of the Rockingham final, John Price took the win when Keith Carper—like Douglass—lit the redeye.
A redlight also decided the Vreeland's Harley-Davidson 9.70 Super Gas final when John Shotts nicked it by -.006 and Bob Maier ran out to the win on his Vreeland's prepared bike.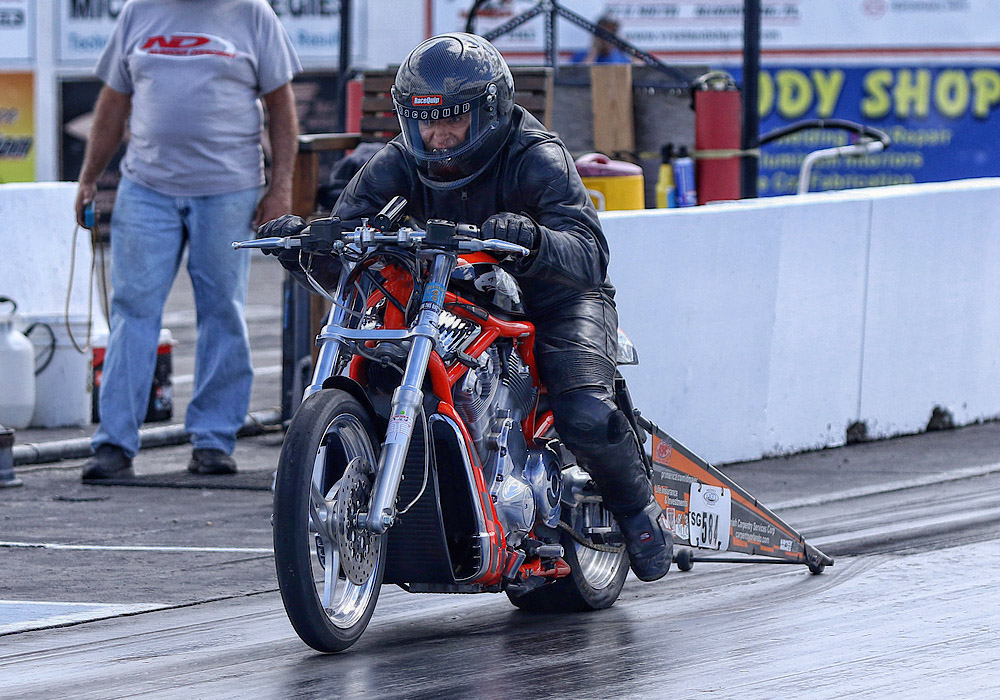 Like Winters, Mike Motto also picked up two wins—GMS Racing Engines Extreme Gas and Outlaw Street—both against Rylan Mason. Motto took a whopping .291 advantage at the tree over Mason in the Extreme Gas and ran a strong 8.36 at 157 while Rylan cruised through the traps at highway speeds.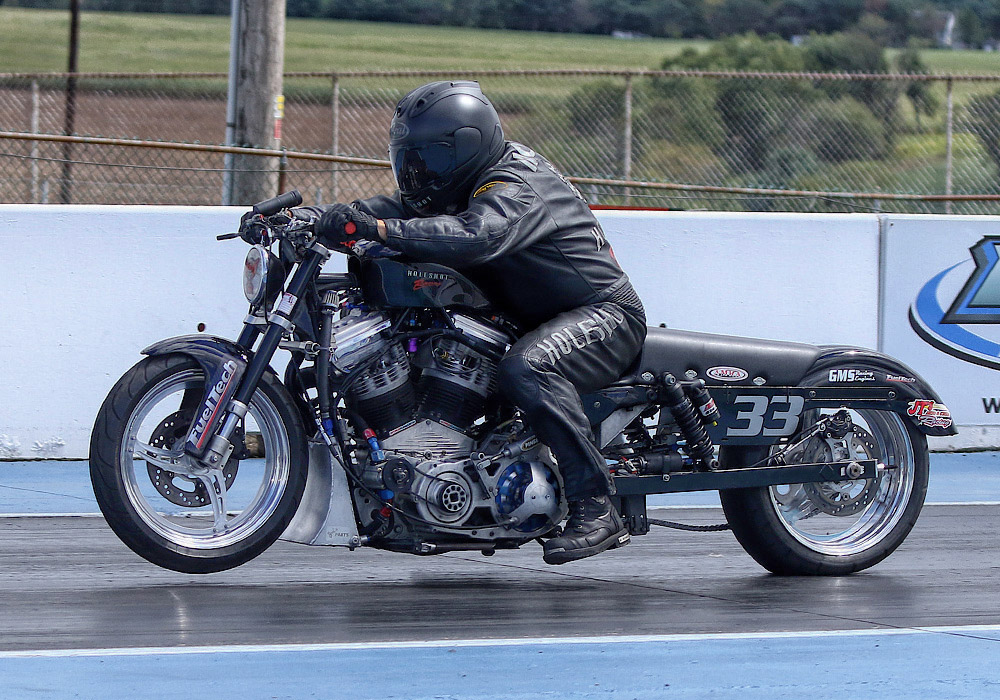 Motto had it even easier in Outlaw Street when Mason broke.
Cordova Mad Monkey Motorsports Draggin' Bagger runner-up Branon White took the win this time around, ceding the tree by .175 to Crosby Blair and driving around with a 9.90 at a class record 142.78 to Blair's 10.67 at 127.68.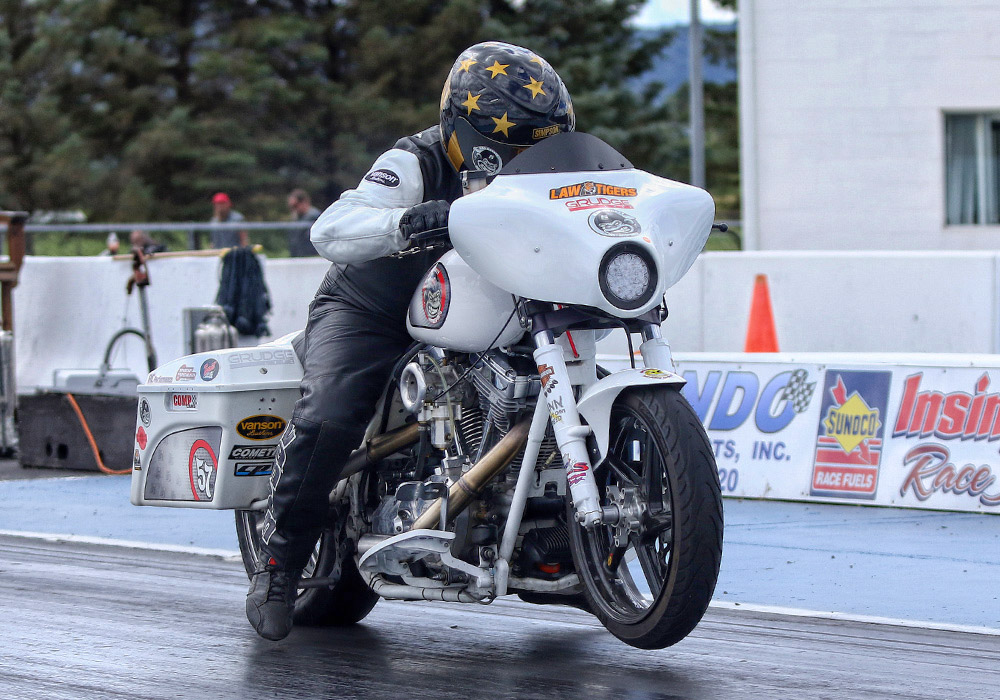 "We fought a clutch issue and I left easy—late not to redlight," said White. "I have lost two semis and not been able to win. I had the bike, no questions, so I chose to limp it out and let it eat." White's previous best was 138 mph.
Back to nitro and we find Cordova Hawaya Racing Pro Dragster winner Preston Bartlett bagging another one at Numidia. Number one qualifier Bartlett faced John McConnell in the final, and both put in two good green lights at the tree. But Bartlett had the Team LSR power between his legs to power across the finishline first with a 7.52 at 169 to McConnell's 7.72 at 158.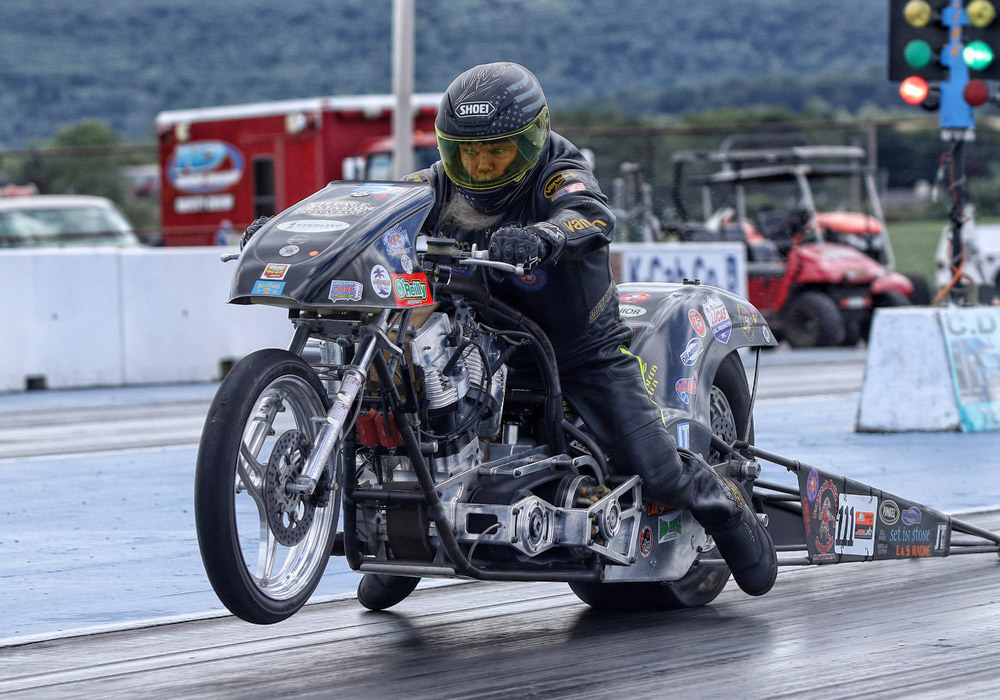 "There were two rounds of qualifying, and our first pass locked us in for the number one qualifier," reported Bartlett. "We had a bye (in E1) but made a pass anyway and improved our time, and then went faster for the win. That's the Long and Short of it!"
The Workhorse ET final saw Steve Kajewski and Kevin Laughman leave within .006 of each other before Laughman took way too much stripe, handing the win to Kajewski.
Laughman rebounded to put .115 on Eric Kuhns at the tree in the Lumbee Racing Trophy final and carried a strong advantage over the stripe for the win.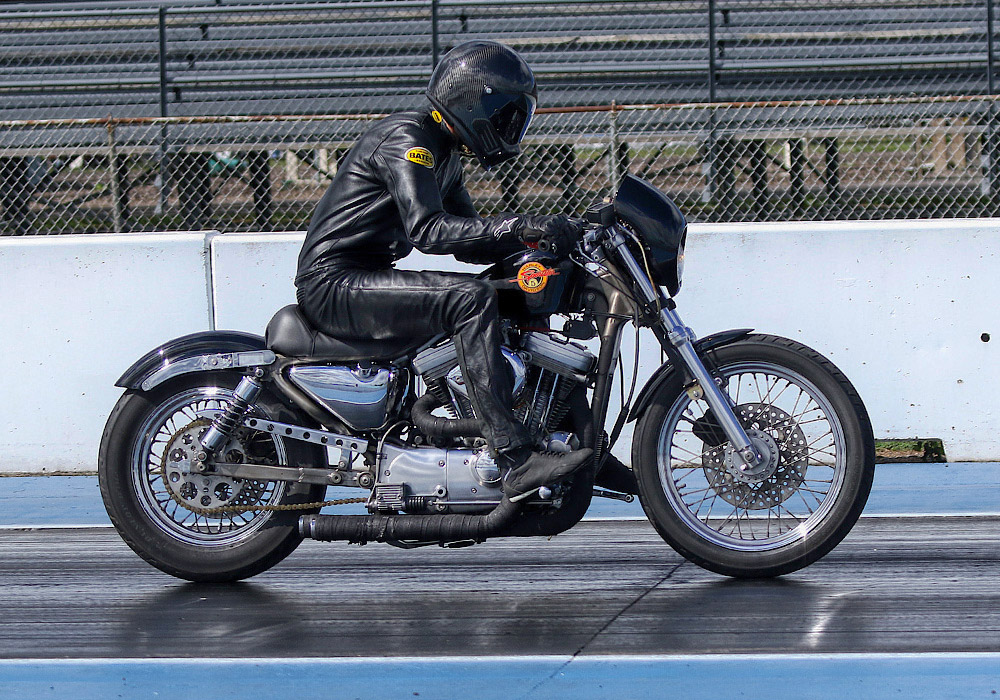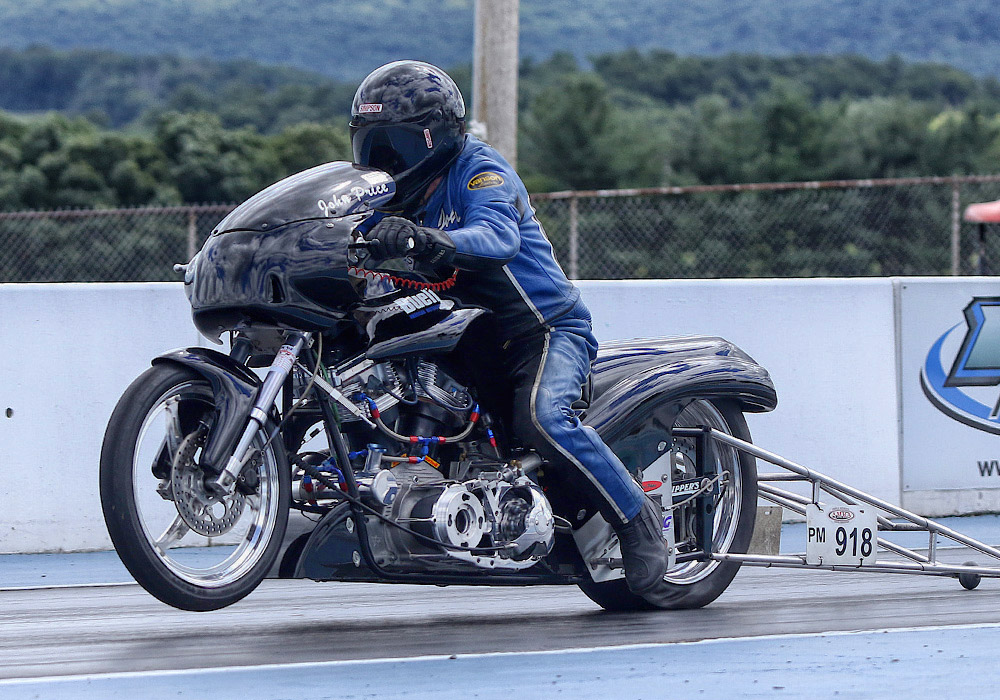 Bill Rowe and his crew thank all the racers, crew and sponsors and look forward to seeing further growth for the new AHDRA at Atlanta Dragway on October 2-4 in Commerce, Georgia.
There are more videos on the Cycledrag Youtube channel (please subscribe here) and the Cycledrag.com Facebook page (Please like here) and more will be coming soon. Check back daily.
To take advantage of some amazing discounts at Brock's Performance, click – http://brocksperformance.com?aff=12
USE cycledrag5 coupon code.