The first victory of Lucas Oil Racing TV racer Hector Arana Jr.'s riding career came at the U.S. Nationals in 2011, but the first professional win of his career came in 2008 at Summit Motorsports Park, site of this weekend's Summit Racing Equipment NHRA Nationals.
Arana served as crew chief for his father, Hector Sr., before he started racing Lucas Oil Pro Stock Motorcycles, and after years of trying, his dad finally broke through with a victory in Norwalk.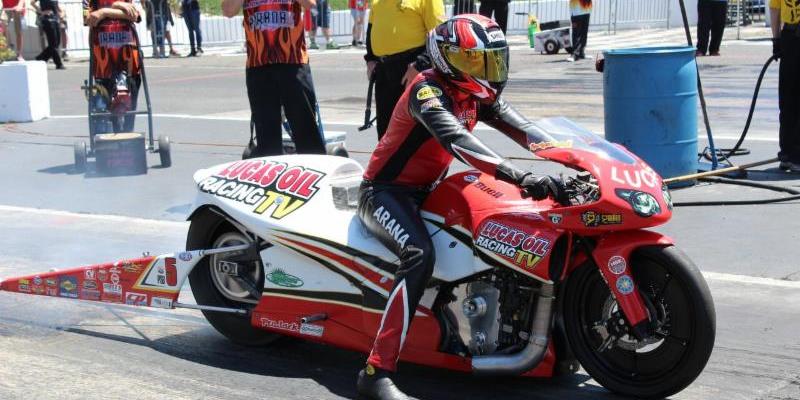 "It's where Arana Racing, my dad, got its first win in 2008," Arana said. "That track will always be a place I'll remember. It'll always be the favorite one, and now I'd like to get a win there."
Hector Sr. mowed through the field that day, eventually beating Craig Treble in the final round.
"It was awesome," Arana said. "We kept going rounds even though we had a couple of mishaps. We got it straightened out, and then it rained. We just went rounds, and it was awesome. When he left the line and didn't red-light in the final and we won, that was the best feeling in the world."
Arana would love to duplicate that feeling as a rider. He has two No. 1 qualifiers at Norwalk, in 2011 and 2015, and raced to the final round in 2012, but he's still looking for that elusive Wally — and ice cream scoop — as a winner there. The racetrack awards a billet ice cream scoop to winners, symbolic of the famous ice cream served to fans there.
"Norwalk's got awesome fans, and I love the facility and the Baders (track owners)," Arana said. "They do a great job with the fans and the competitors. Of course, all the ice cream, who doesn't love that? It's just a fine time."
Pro Stock Motorcycle qualifying sessions are scheduled for 5 and 7:30 p.m. ET, Friday, and 1 and 3:30 p.m., Saturday. Eliminations start at noon, Sunday. FOX Sports 1 will carry qualifying action from 8 to 9 p.m., Friday, and 7 to 8 p.m., Saturday. The first two rounds of eliminations will air live beginning at noon, Sunday, with a three-hour recap later in the evening, beginning at midnight.