Drag bike racing super fan Tom Thibault shared with us this amazing story of his quest to find and restore an incredible, early Vance & Hines Kawasaki Pro Stock Motorcycle.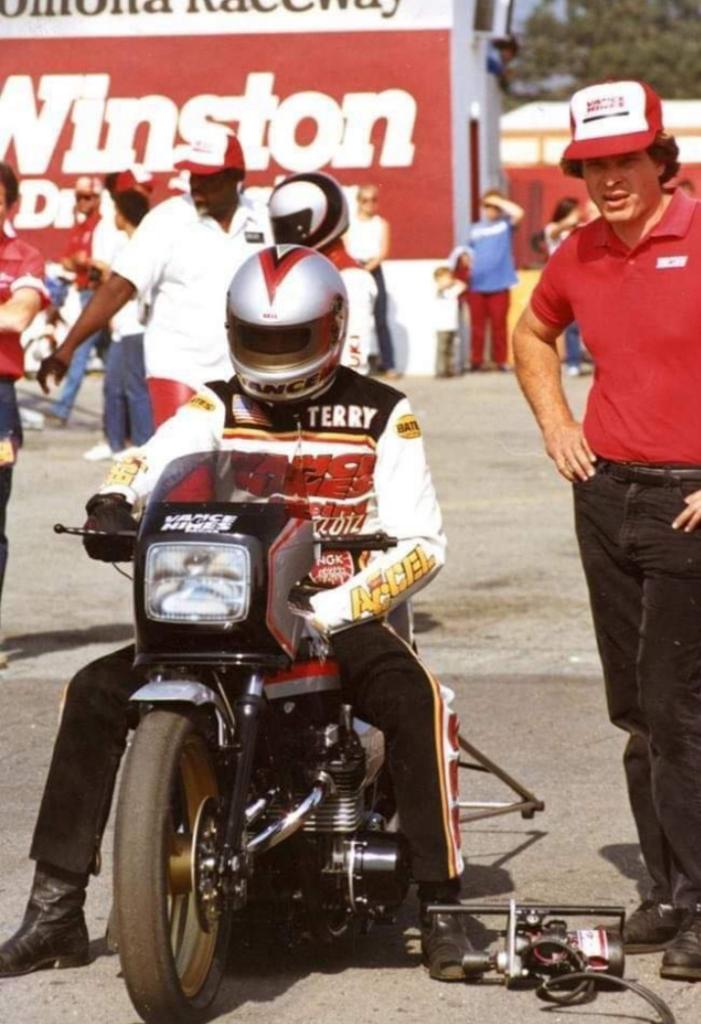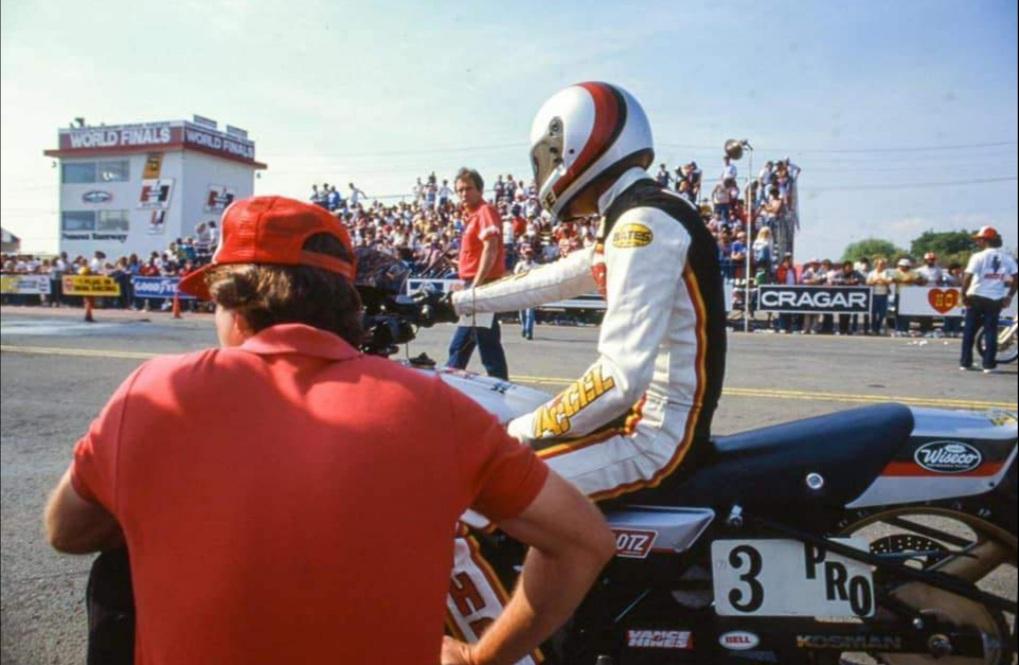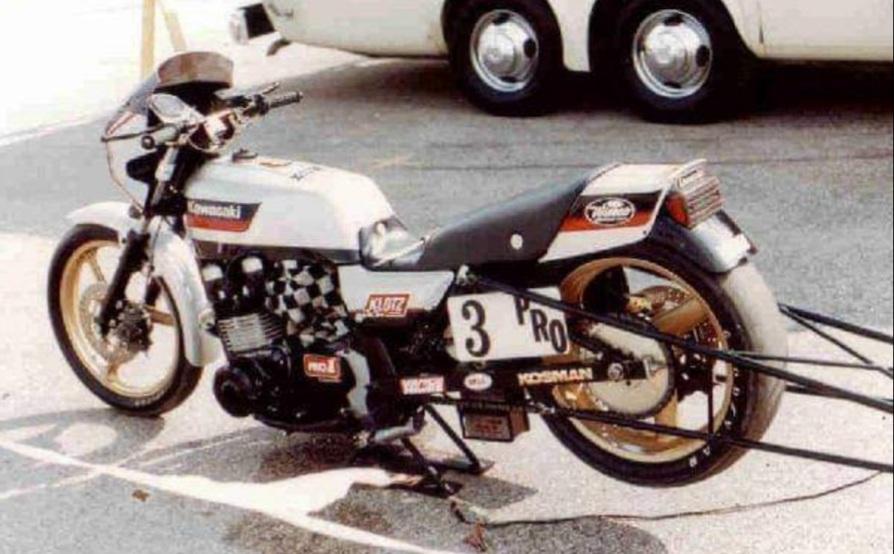 It all started years ago. The first time I saw a Vance & Hines Pro Stock Motorcycle I was hooked, I was in high school. I went to the drags with my uncle and cousin as a kid. My uncle was a car guy, but when the bikes came out I thought that was the coolest thing ever.
In high school I went with an older friend who raced bikes. I absolutely loved it and knew someday I would race. The first time I saw one of Vance & Hines Pro Stock bikes was probably in a 1984 in a magazine. Something really got into my blood. I can honestly say seeing one of their Pro Stock bikes is what really got me into racing.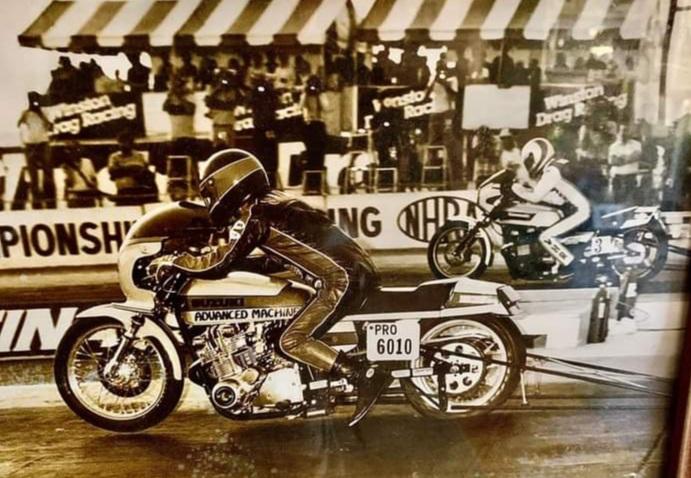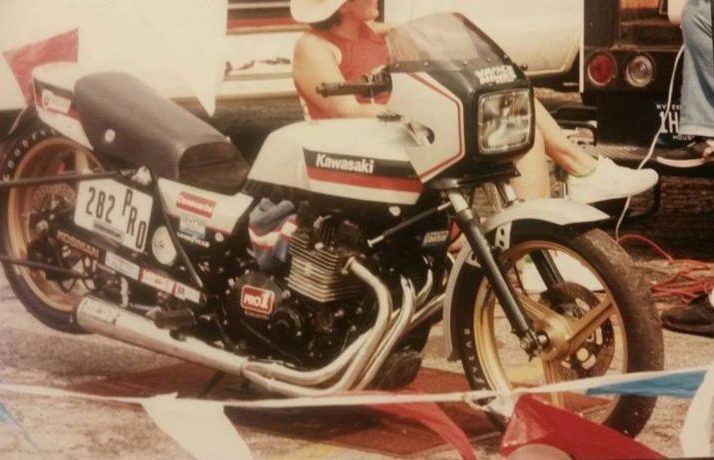 In the late 80's I finally started racing. I started with a 1986 GSXR 750. I actually rode pretty well. Ran low 11's. I got better and ran 10.70's all day with a stock motor. Of course I wanted to go faster. I started building a car tire Suzuki. Then my good friend Steve Serafini found a car tire Kawasaki that he decided not to keep. So I bought that. I did some work to it and raced it. I kinda lost interest in the mid 90's and sold everything. I still loved racing but business, time and relationships took center stage.
I still wanted to build a vintage Vance & Hines Pro Stock motorcycle someday. I really loved their 1985 Suzuki GS 1150. I didn't see the Kawasaki GPZ until probably the late 90's. I never knew they had one. I thought that was a really cool Pro Stock Bike as well. There just was not a lot of pics or info about it.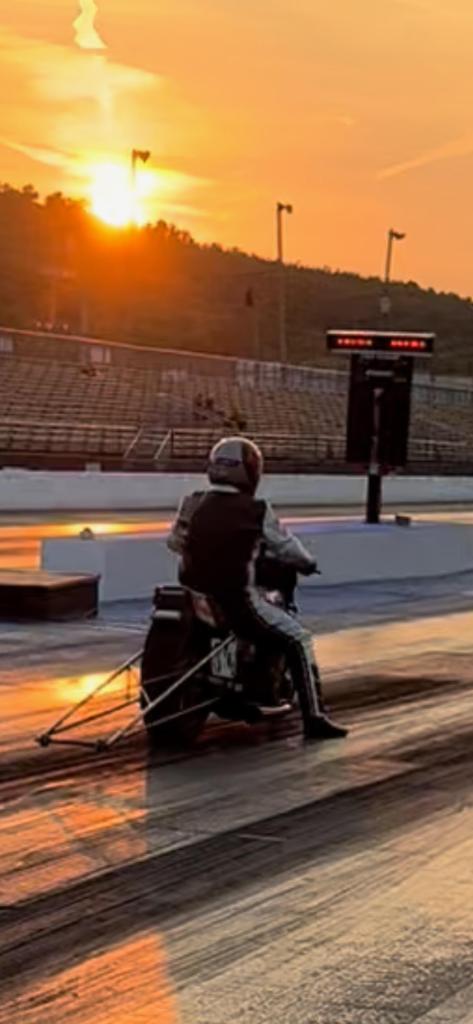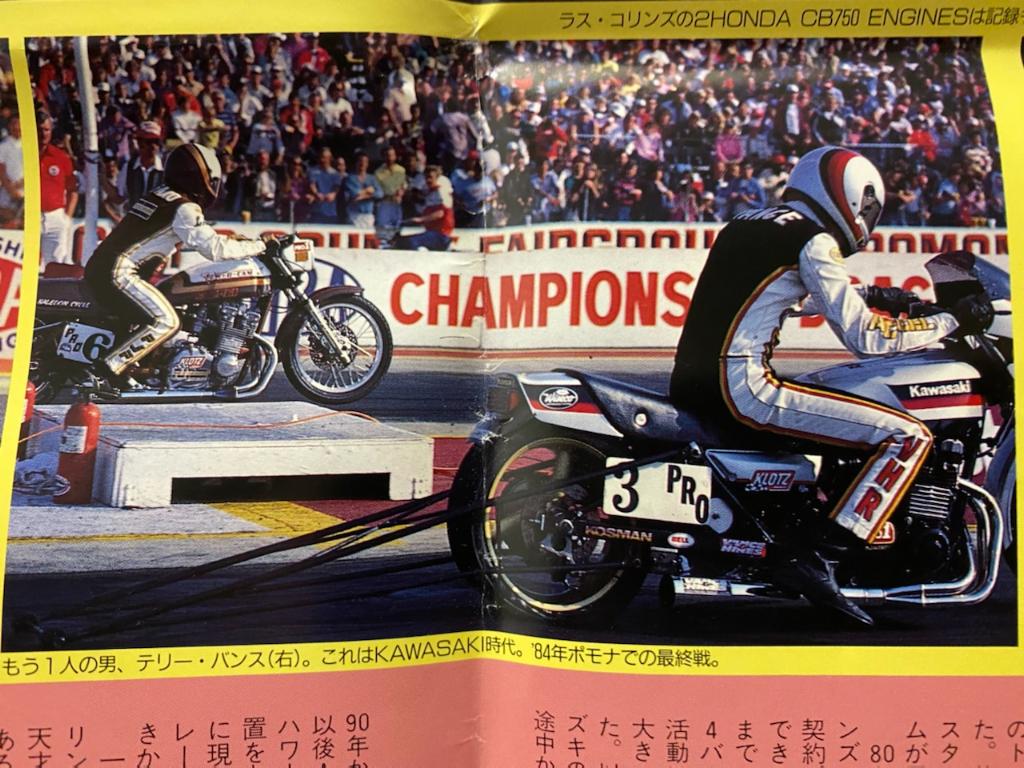 So around 2005-ish I decided to start building a Vance & Hines Pro Stock replica as close as I could. I am a fanatic on being accurate. My friend Jon Law sold me a GS 1150 with a built motor. My hunt for vintage parts was on. The Marvic wheels were the hardest thing to find. I reached out to everyone! I searched and searched. I even talked to the legend Sandy Kosman. He even told me "good luck on finding those!"
They were a must to build the bike correctly. It took five years to find them! I bought the front one from someone in Europe the rear from a guy in California. That guy was Ken Deagle. He asked me what I was building, so I told him. Then he tells me he used to own the 1983 Vance & Hines Lawson replica Pro Stock Motorcycle! I was blown away! He said Russ Collins Jr. owned it and his brother David were still racing it!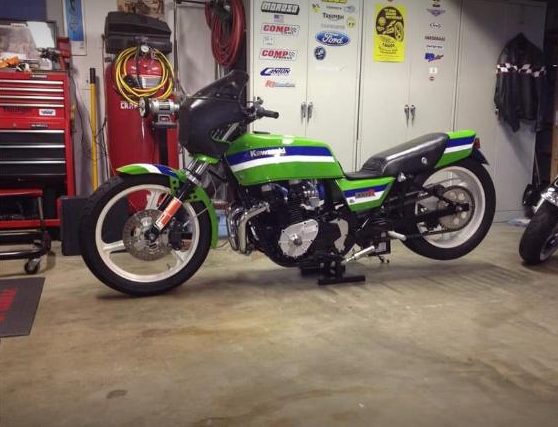 This was such a cool thing to find out. Especially seeing that Terry Vance and Byron Hines started out at RC Engineering. That was the shop of the legendary Russ Collins Sr. These people are dragbike legends.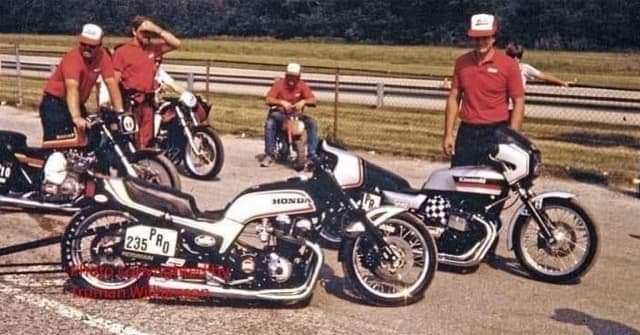 So I put these in my head of where some historical bikes are. I keep gathering parts for my Suzuki replica build, bit by bit. Probably another 5 years go by and I had enough parts to start fabricating the Pro Stock replica. As I always was looking for vintage parts.
Russ Collins Jr posted his bike for sale! I freaked out! I gave him a deposit as soon as possible. It had different bodywork on it, but I knew it was the Vance&Hines 1984 Pro Stock Motorcycle. Not a replica, the real deal! I dug up the money as soon as I could. Russ was so understanding and patient. We figured out the shipping and made it happen.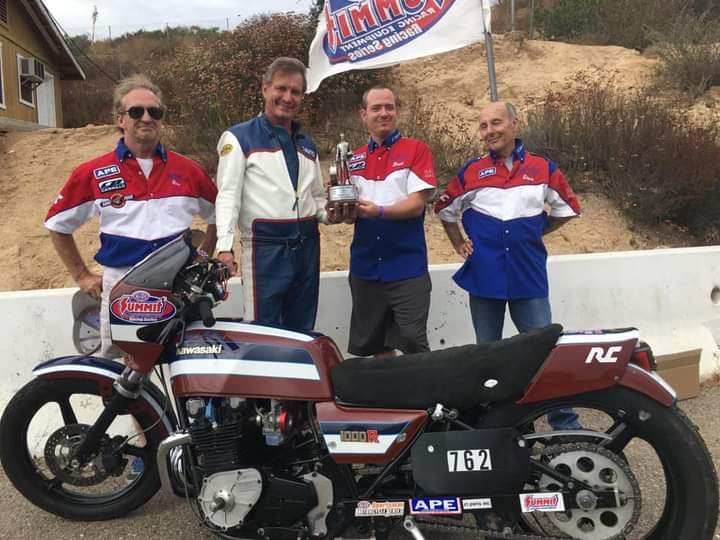 I contacted Ken Deagle because I knew he owned it previously. He asked what I was going to do with it. I told him I was going to bring it back to original and race it. I was going to replicate the original paint and bring it back. Then he tells me he had the original bodywork!!! My God I couldn't believe it!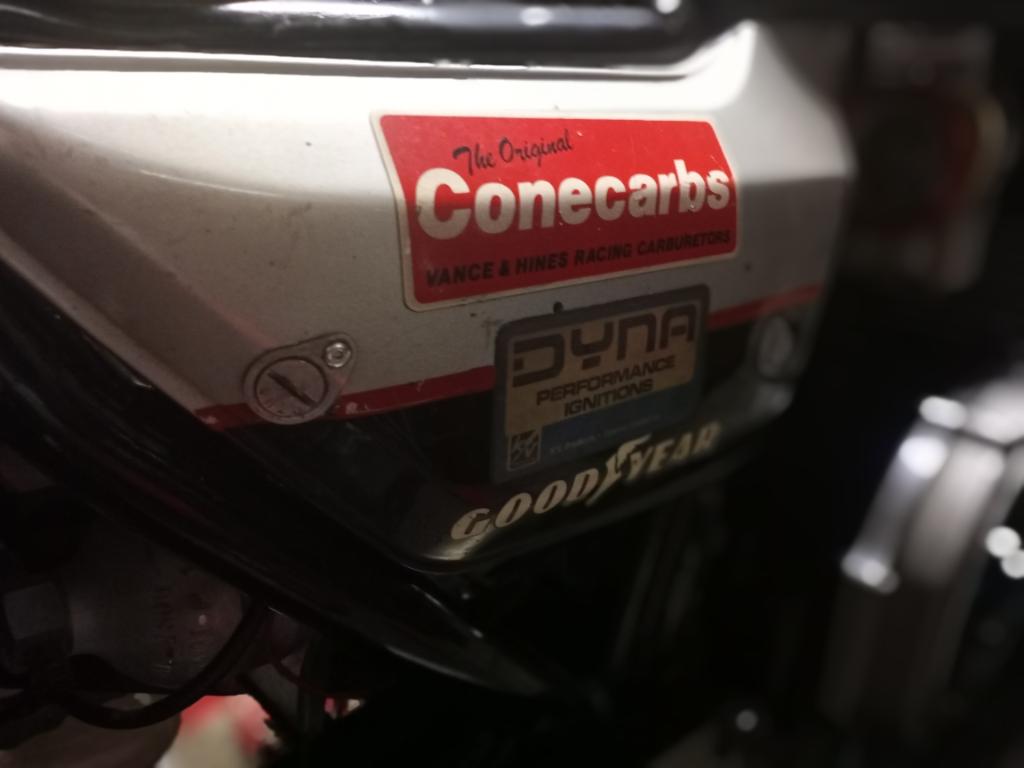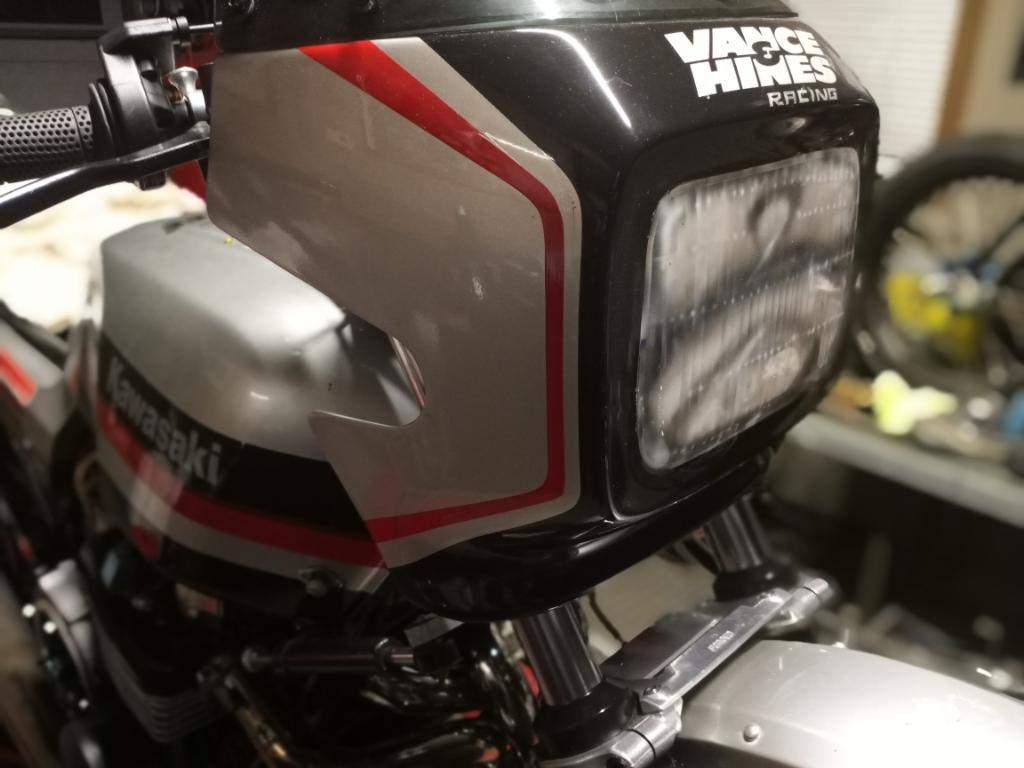 I also found out that was an original 1983 Eddie Lawson replica that Vance&Hines bought from Team Kawasaki/Muzzy Racing. That is who Eddie Lawson actually raced for! The history of this bike is pretty amazing. Ken sold me the original bodywork except the tank and fairing that is on the wall in his garage. He likes the way it looks and has promised me it will never go anywhere but to me to keep with the bike.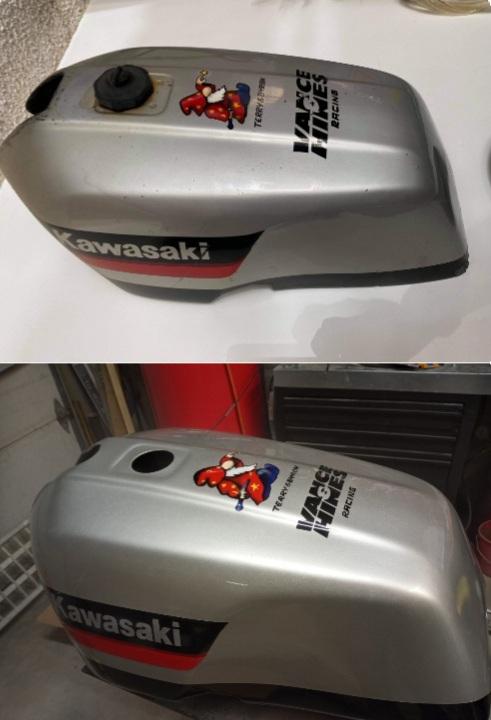 What he did do is give me close up pics with dimensions so I could replace it perfectly. I took great pains to match the aged color, and air brush and hand paint it so it was pretty much exact match. I had tons of help from people all over the country and the world who want to see in its original glory.
From vintage stickers to rare pictures. It still is not 100% original buy I also still race it. I can put it back 100 percent but in it current state it is fun to race. There are so many people that have helped with bringing a lifelong dream together. Ken Deagle and Russ Collins Jr are at the top of the list. Also my wife for dealing with my old! There are too many to list actually. I really can't thank all of you enough!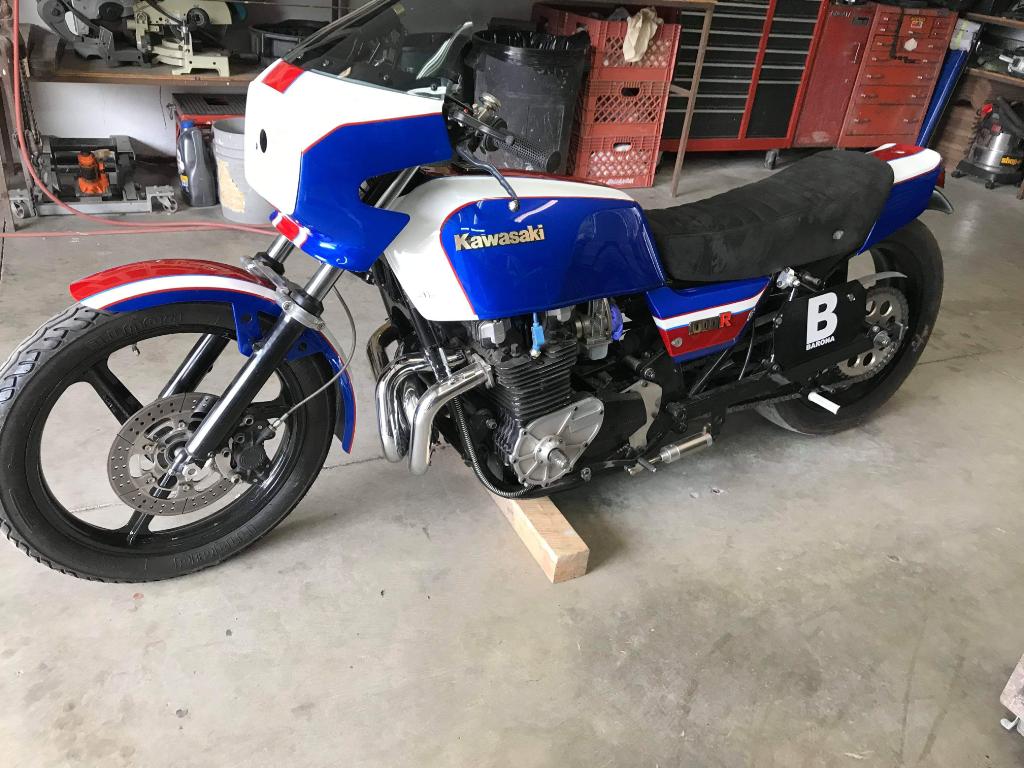 Big thanks to Tom Thibault for sharing the story
There are more videos on the Cycledrag Youtube channel (please subscribe here) and the Cycledrag Facebook page (Please like here) and more will be coming soon. Check back daily.