Top Fuel Motorcycle virtuoso Larry "Spiderman" McBride got the bounce back performance he was hoping for at the Man Cup Fast by Gast Nationals from Central Ohio's Dragway 42, qualifying on the pole, winning the event and closing the points gap between himself and leader Dave Vantine to less than two rounds.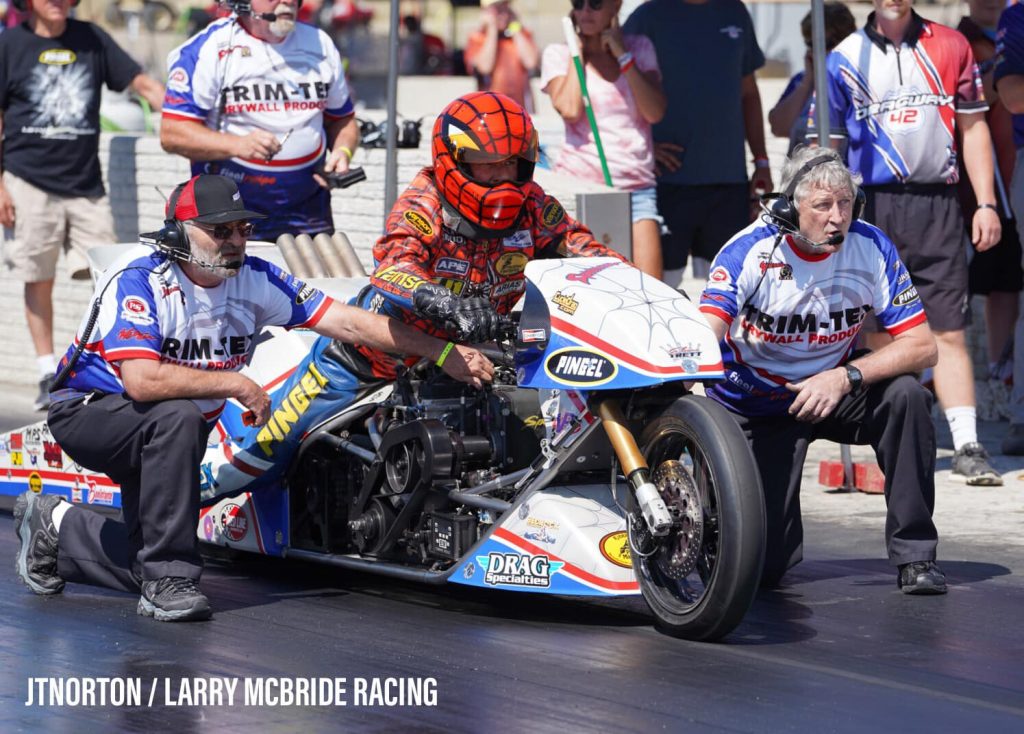 "It feels great. We are back in the hunt," said McBride, who aims to win an unprecedented 20th Top Fuel Motorcycle championship this season. "We are working to make the bike more consistent and are making progress."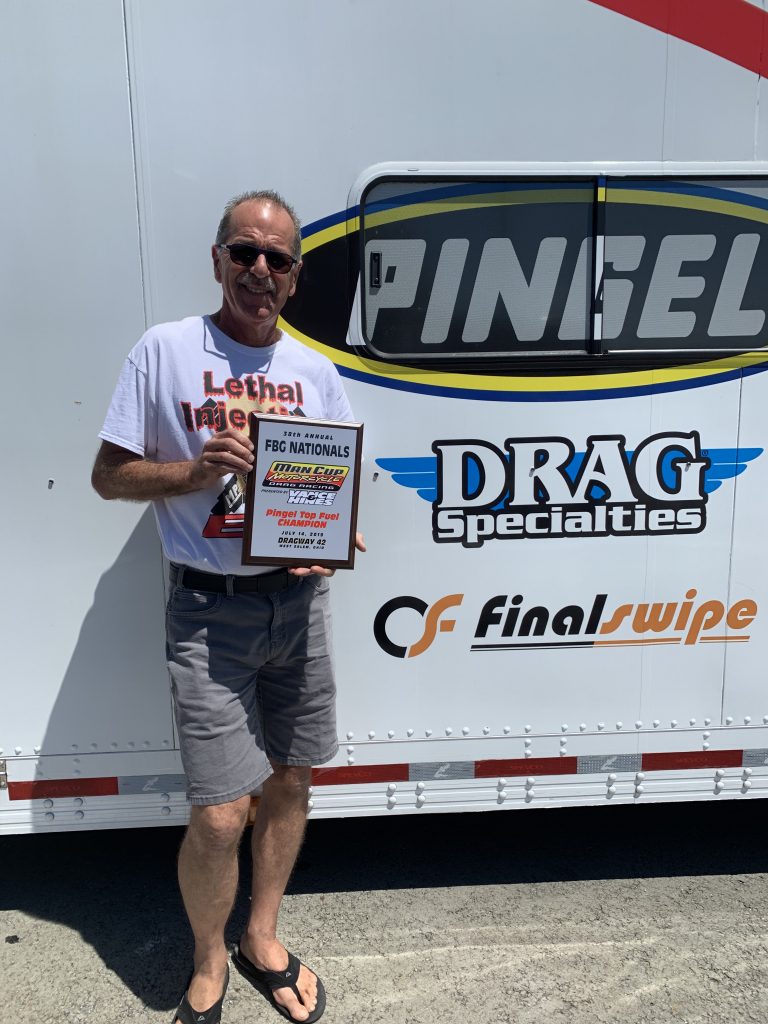 On a hot and muggy weekend McBride and his Trim-Tex / Pingel team made a total of nine runs and burned up more than 50 gallons of nitromethane. McBride made three test runs on Friday, headlined by his rapid 5.78.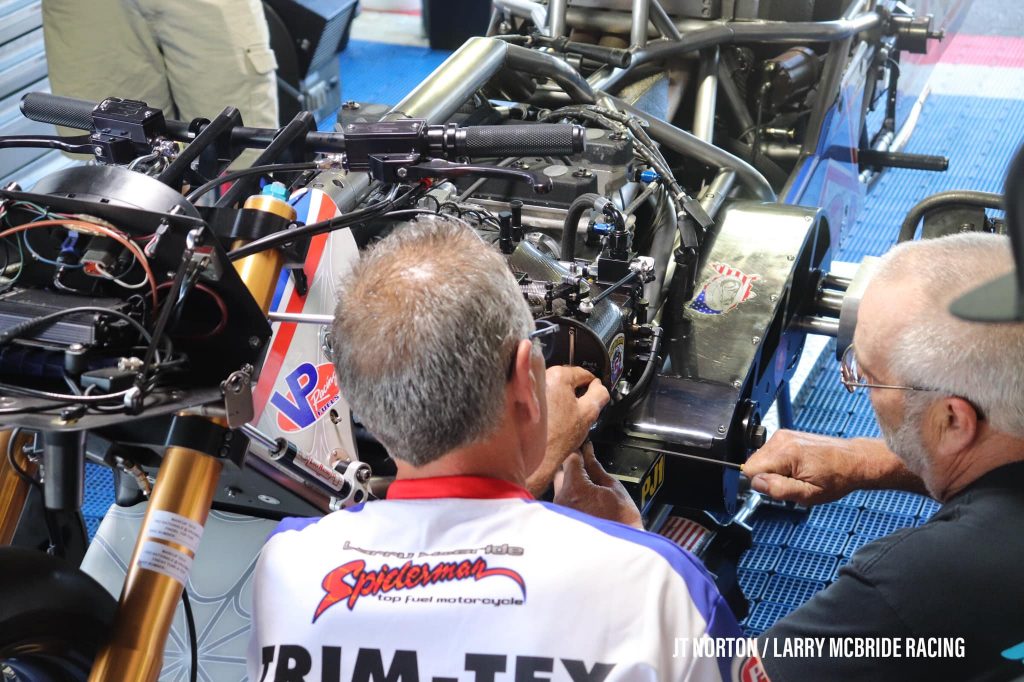 Down 59 points in the championship chase to Vantine following a lackluster season-opening race, McBride knows every point counts and qualifying at the top was a priority. After two sessions on Saturday Vantine was the provisional leader. McBride's final attempt at the pole was not without issue.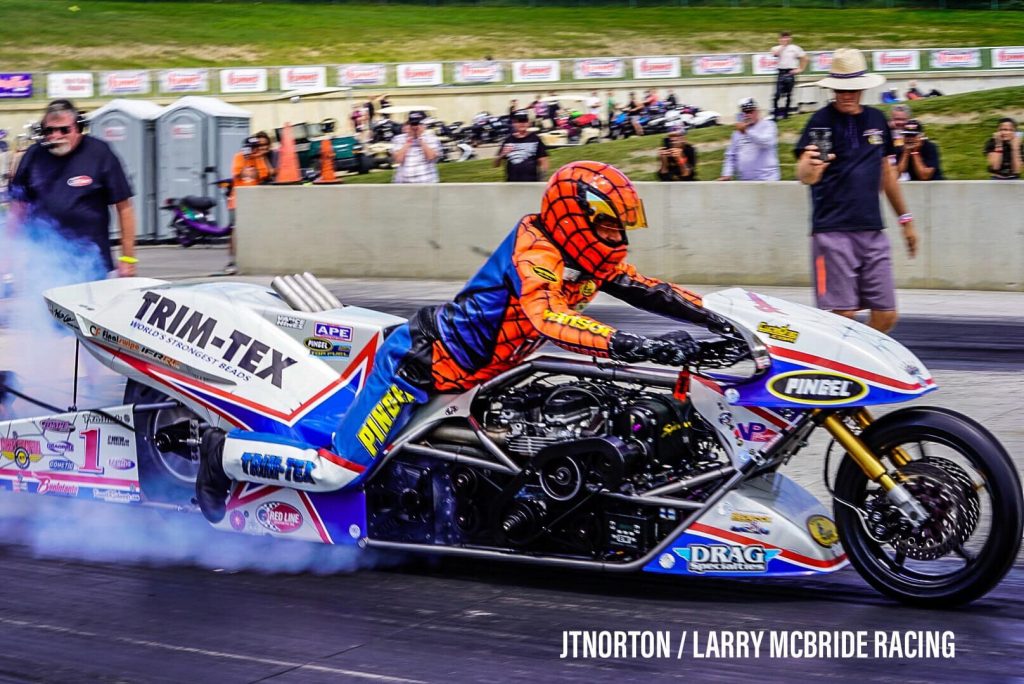 "We broke a throttle shaft and it would not idle down in the burnout box," McBride said. "I was able to turn some screws and it calmed down enough to stage."
With more than 40 years of experience on his side, McBride determined it was safe to make a pass and raced to the No. 1 spot with a 5.82 at 203 mph.
"The bike was acting funny after the run. It did not want to shut off," McBride said. "I knew we had to go for it. I'm glad it worked out."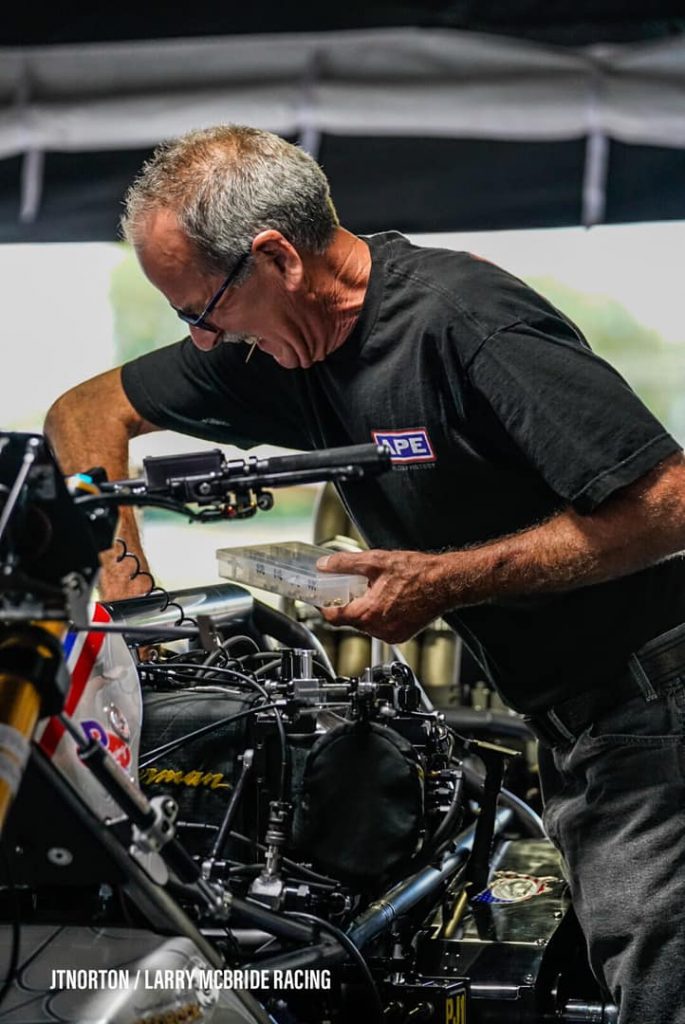 The vivid memory of winning last year's title by a mere four points stays fresh in McBride's mind.
After an opening round bye McBride had luck on his side in his showdown with veteran Sam Wills. With a scorching hot track temperature of 135 degrees, both McBride and Wills smoked the tire. McBride hit the rear brake hard and opened the throttle back up to get the win with a 6.99 at 243 mph.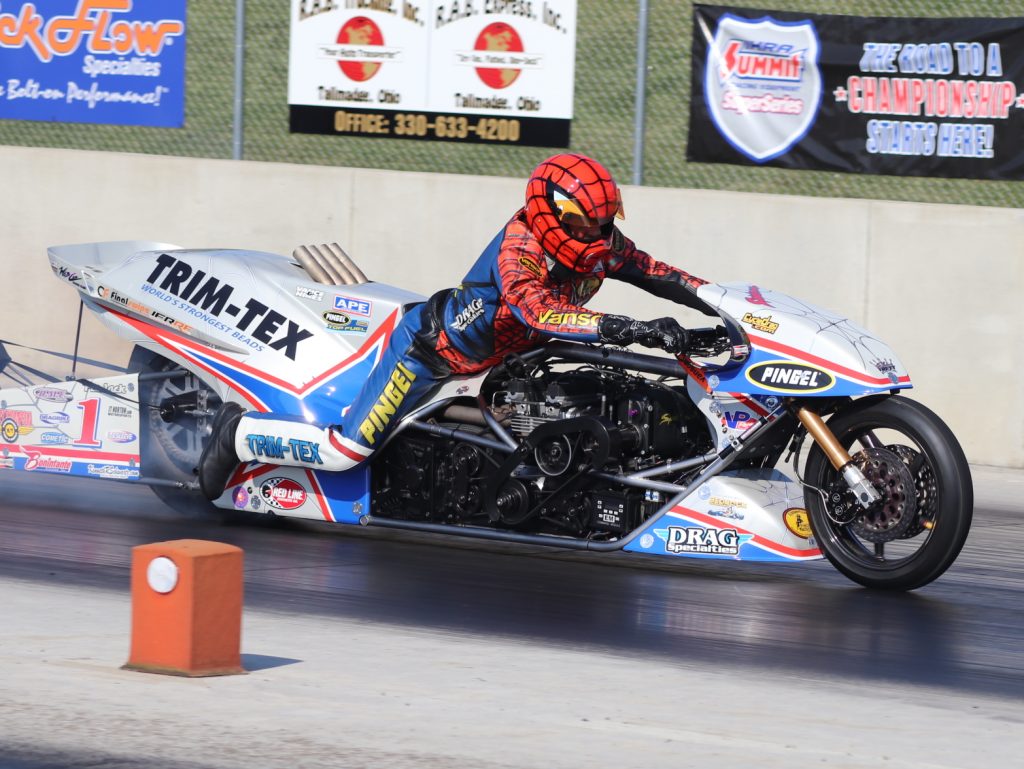 "We were very fortunate. You need luck when you smoke the tire," said McBride who just put a brand new Mickey Thompson slick on prior to the run. "A loss there could have been the end for us in the championship hunt."
The victory set up a gigantic final round showdown between McBride and Vantine, a rematch of last year's final.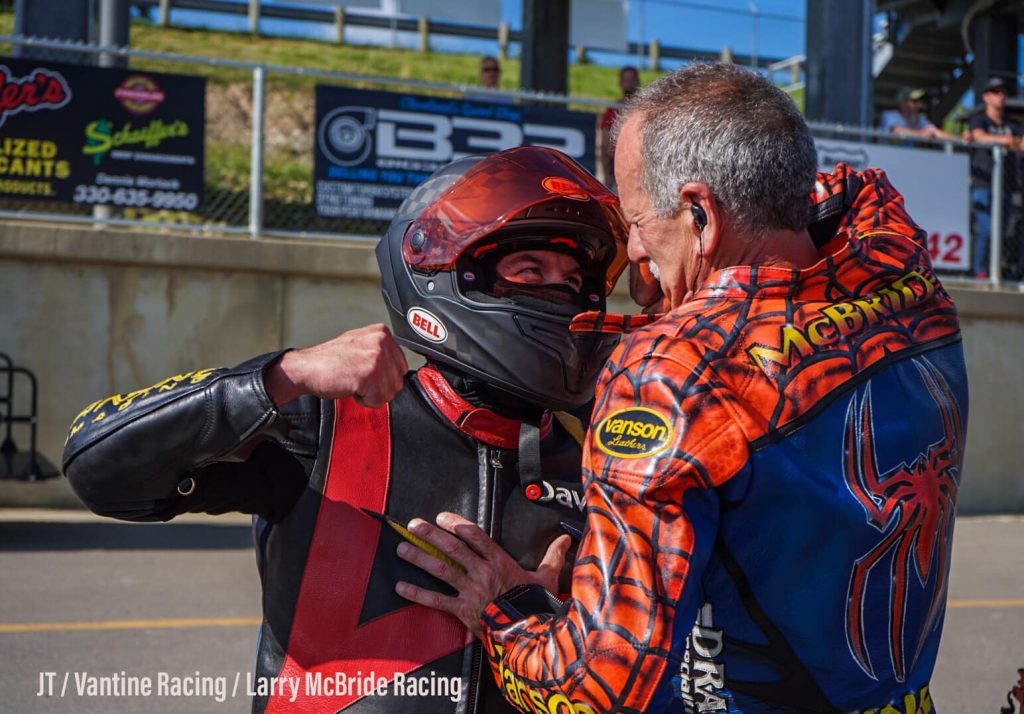 "We knew we needed to calm the bike down," McBride said. "We left the tune-up alone but took 10 percent clutch out of it."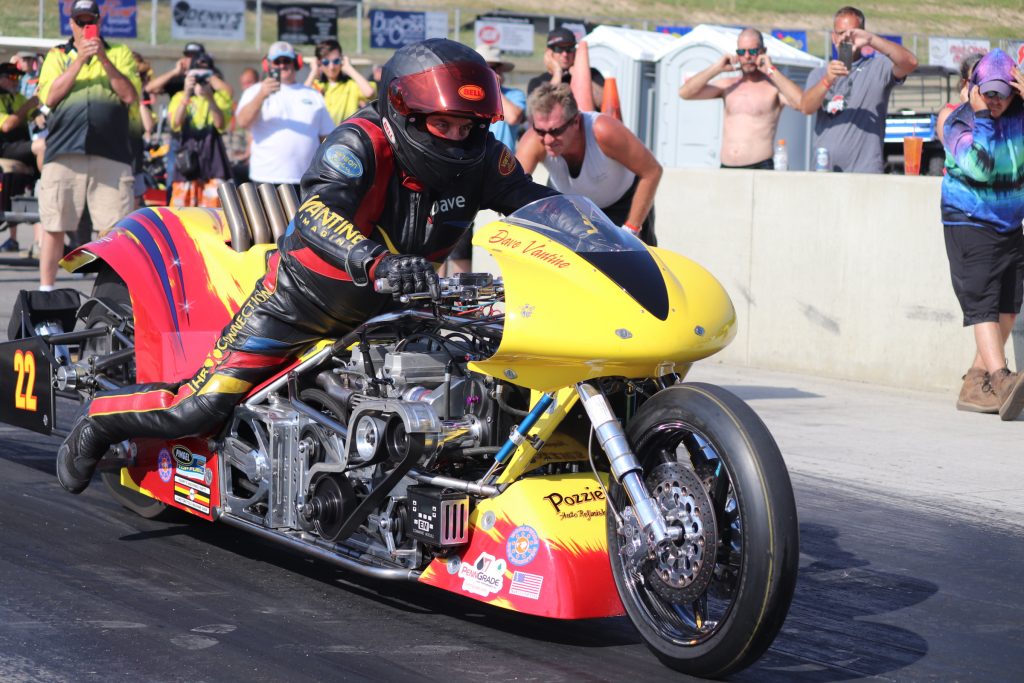 McBride rose to the occasion in the final with a .053 reaction time and a swift 5.78 at 252 mph to defeat Vantine's 8.41 at 99 mph. Vantine suffered from an unforeseen electrical issue.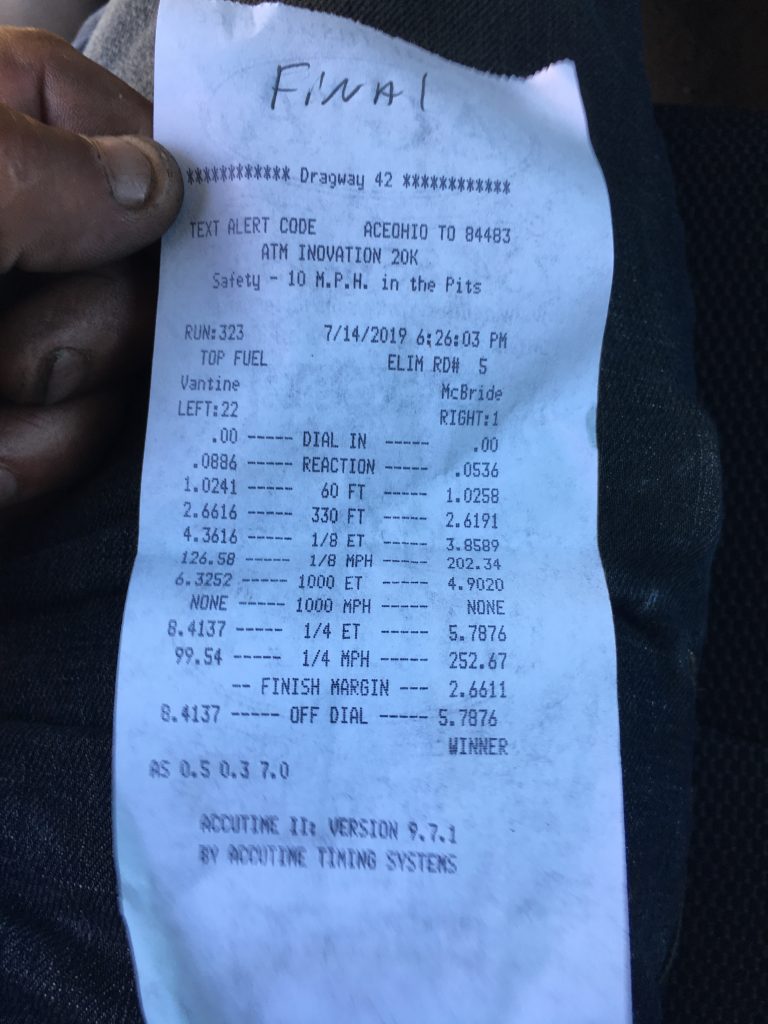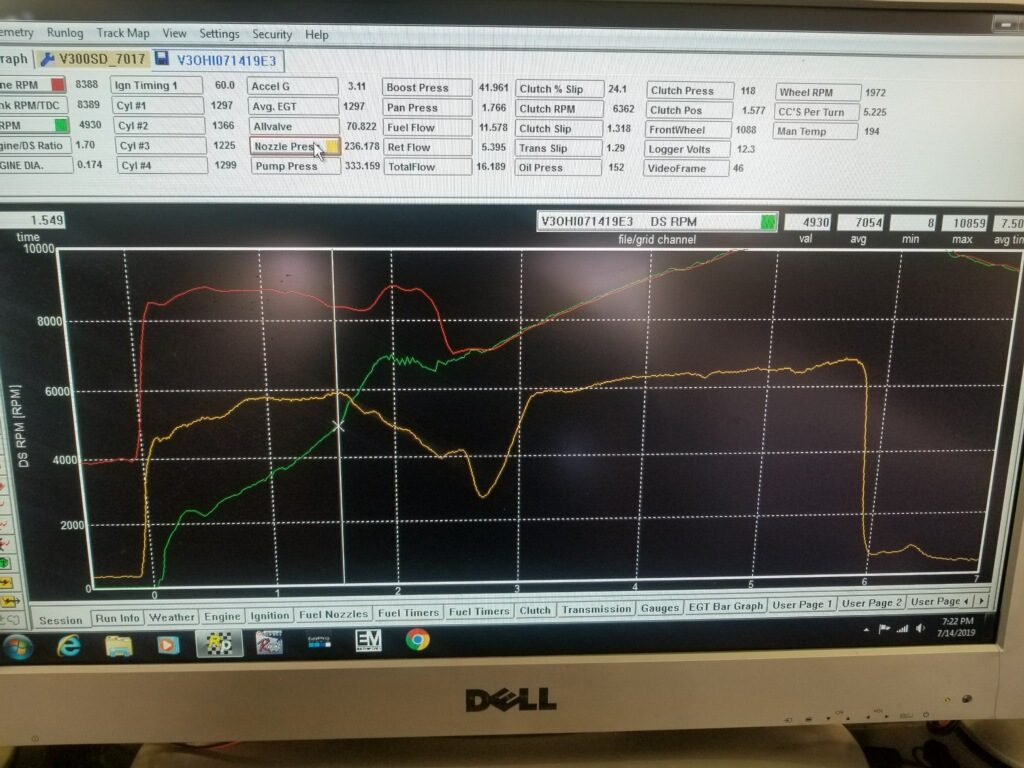 "We needed that," a jubilant McBride said in the shutdown area.
McBride was also relieved he was able to stop without incident after failing to deploy his parachute on what is one of the shortest tracks the Fuel bikes compete on.
"I missed the button and it was too late to try again. I won't take my eyes off the track to look. Not at that speed," McBride said. "Thank God for my carbon-carbon brakes. They really came through."
McBride's victory closes Vanitne's point lead to 38 with three races remaining. McBride's next Man Cup event will take place September 27-29 at Darlington Dragway in Hartsville, S.C.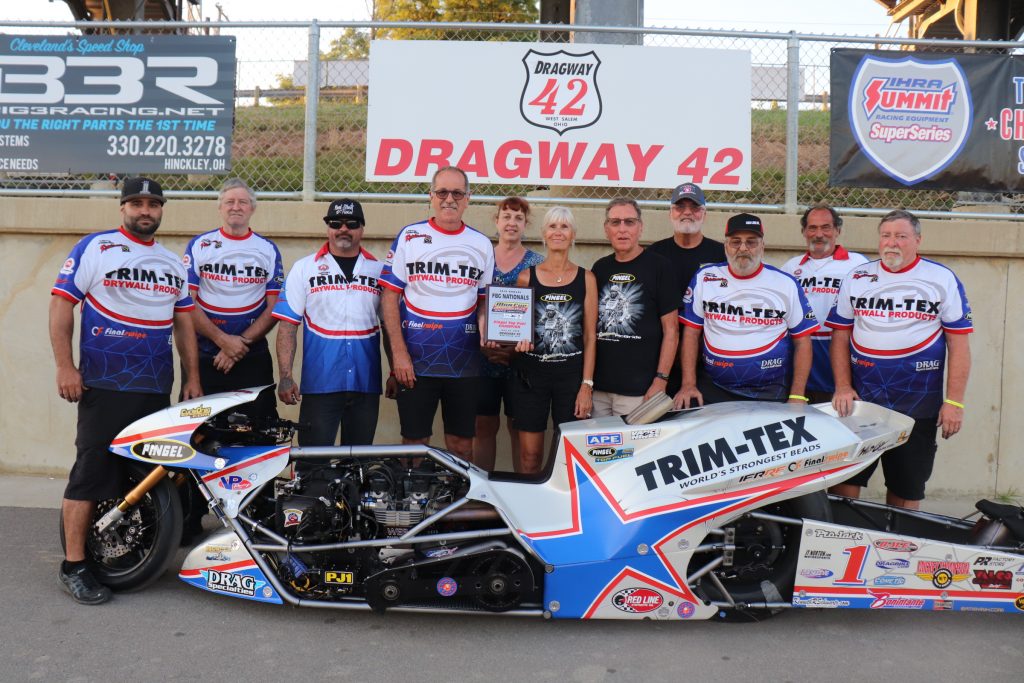 McBride sent a special thank you to sponsors Joe Koenig of Trim-Tex and Wayne and Donna Pingel of Pingel Enterprise, who were on hand for the race.
"It was really special to have them there," McBride said. "I'm glad we could bring home a win for them."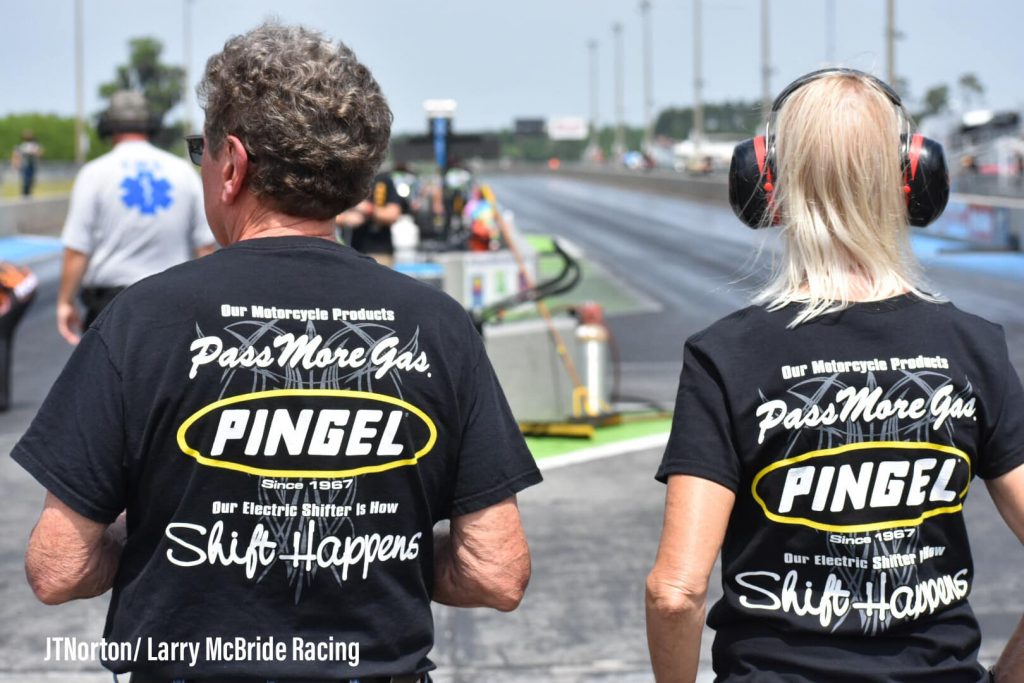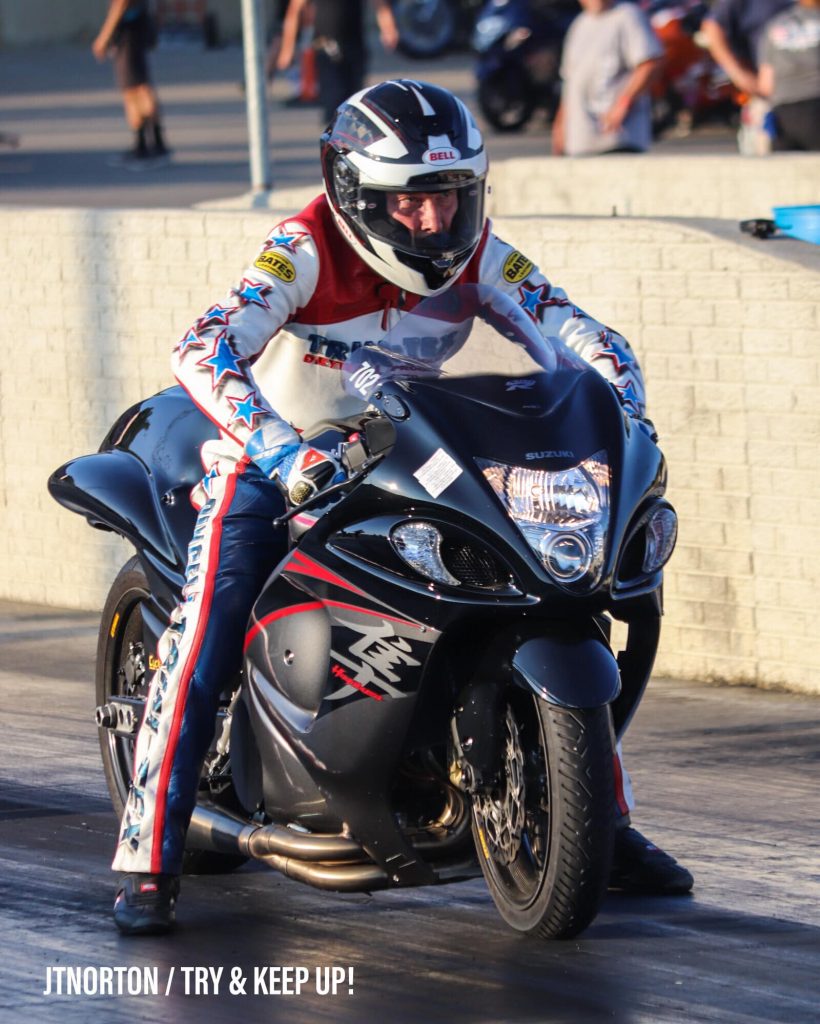 For all the continued support McBride thanked his primary sponsors; Trim-Tex Drywall Products, Pingel Enterprise, Drag Specialties-Parts Unlimited, Final Swipe Merchant Services, Web-Cam, APE, Don and Julie Wilson and Kibblewhite Precision Machining.
Vance & Hines Motorsports, Red Line Synthetic Oil Corporation, Federal Mogul, PR Factory Store, Ferrea Valves, World Wide Bearings, Vanson Leathers, Belt Drives Ltd, Simpson Race Products, Nitrous Express, EK Chain, Arias Pistons, Cometic Gaskets, B&J Transmission, Carolina Cycle, L.A. Sleeve, PJ1, Mickey Thompson Tires, Valco, Goodridge, Carlisle Belts, ProJack, Bullseye Visual, Gates Belts and Don and Julie Wilson.
Photos courtesy of JT NORTON, JTNORTON.com
Larry "Spiderman" McBride DRIVE FOR 20 2019 Schedule
April 5-7 / South Georgia Motor Sports Park
July 12-14 / Dragway 42
September 27-29 / Darlington Dragway
October 26-27 / Rockingham Dragway
November 21-24 / South Georgia Motor Sports Park
There are more videos on the Cycledrag Youtube channel (please subscribe here) and the Cycledrag.com Facebook page (Please like here) and more will be coming soon. Check back daily.