Enjoy this full event, round by round coverage of one of the most thrilling and quickly growing categories in all of drag bike racing – the big motor, nitrous and turbo, Suzuki HAYABUSA, Suzuki GS and Kawasaki KZs of the world's quickest index category, 4.60! In this video you will see a full field of talented XDA motorcycle drag racers try to score five wins to come out of the 32 bike bracket victorious, scoring $3,000 in purse money and valuable championship points.
Our opening round matchups feature multi-time series champ and top qualifier Mike Ostrowski and his Suzuki GS vs. Marvin Savoy and his no-bar Suzuki, Alan Fields and his Suzuki vs. the Kawaski of Steven Shriver, Ellis Pierce and his KZ up against the HAYABUSA of Boo Brown, Ron Bonitatis and his Turbo HAYABUSA vs. Kenny Cornell and his FBR Shoo ATAK HAYABUSA, Jim Jordan and his 1980 KZ up against the Suzuki of Mike Mace, former Pro Mod racer Michael Thyen and his new Suzuki he traded Bill Vose for vs. Larry Leftwhich Jr.'s Kawasaki, Terry Thompson's on the ATAK vs. Douglas Robinson's Kawasaki KZ, Tim Shelton Pro Stock like HAYABUSA vs. Darion Payne and his 77 Kawasaki, Russell Dennison Jr and his Kawasaki vs. the Kawasaki of Barry Harvey, the Suzuki of Wes Hawkins vs. Darryl Hollins' Kaw, Kevin White's ATAK Busa vs. former class champion Ronnie Procopio's Nitrous Suzuki GS, which suffers a nitrous leak in this video, Durwood Rawlings' spotless Kawasaki KZ vs. Dystany Spurlock's Suzuki, James "Crow" Teasley", father of Jeremy, vs. Preston Hopkins Suzuki, veteran racer Mac "General Lee" McAdams vs. Jerry Scott's Suzuki, Brad Gleason's Suzuki vs. Eran Pielert's Kawasaki and former class champion Tyler Cammock's Suzuki vs. Troy Hausmann's Kaw. We are also asking you what combination would you build for this class?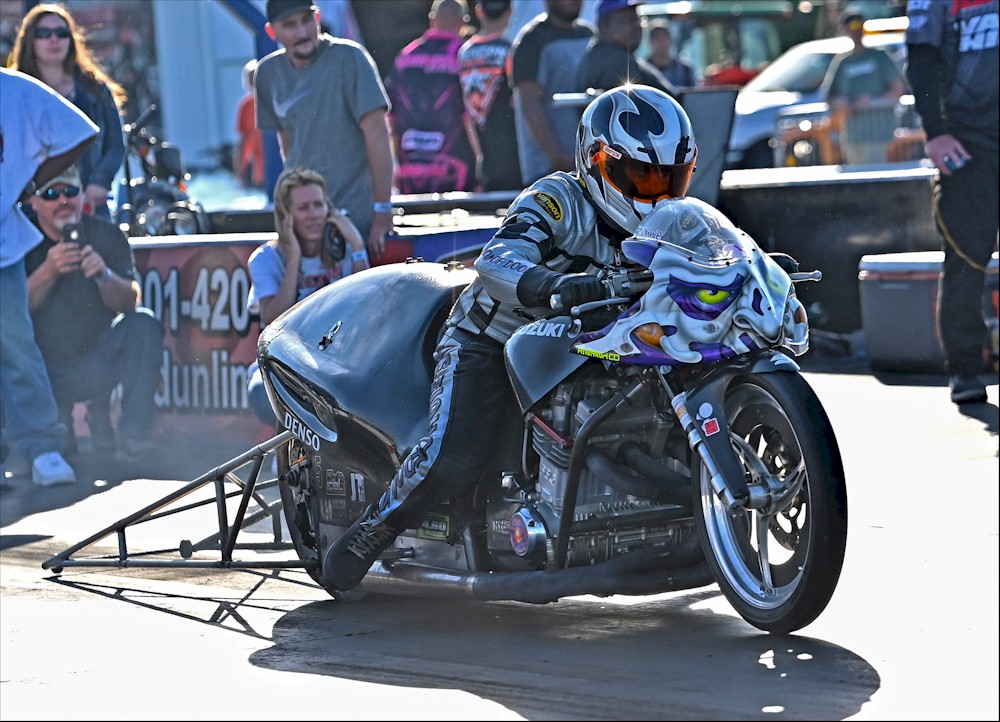 Watch more awesome FAST MOTORCYCLE action video playlists here on our channel:
https://www.youtube.com/user/CycleDrag
Watch more of our recent & related videos!
Supercharged Kawasaki H2R Drag Racing – https://www.youtube.com/watch?v=VCQET1zDtlo
Nitro Harley With Pro Charger Runs 6.06! – https://www.youtube.com/watch?v=eNbSv8U5k60&t=6s
Orange County Choppers 246 MPH Top Fuel Pass – https://www.youtube.com/watch?v=grIF8h5OnFQ
Larry "Spiderman" McBride Gets Best Run on New Bike – https://www.youtube.com/watch?v=__tbbKaDULw
Subscribe ► https://www.youtube.com/user/CycleDrag