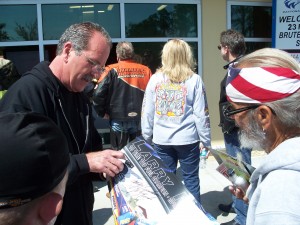 Top Fuel Motorcycle hero Larry "Spiderman" McBride is poised to entertain South Florida drag racing fans with ground-pounding, nitro runs at the Bike Bash at Palm Beach International Raceway in Jupiter, Fla., Sept. 28th.
It won't be McBride's first trip to the venue, but it might as well be. The track formerly known as Moroso has been revised a great deal since Spiderman's last visit in 1998.
"The track has been resurfaced and I'm very excited to makes some passes on it," McBride said. "I've heard wonderful things about it."
Palm Beach International Raceway is one of the top choices for NHRA teams who participate in winter testing.
Aside from the top-notch racetrack, McBride, whose best run is a 5.74, has another reason to be excited.
"We found a few problems in the clutch that we have corrected," McBride said. "This should help keep our 60-foot times under 1.00. If we can get off the line under 1.00, anything is possible."
Despite being a humble southern gentleman and claiming the team isn't solely chasing records, McBride admittedly would be lying if he said the potential to be the first to crack into the 5.60s isn't a major motivating factor for him.
"We are striving for that," McBride said. "We are going to try to put up some numbers and test for Bradenton."
Click here to visit the Pingel Enterprise Website
Click here to visit the Trim-Tex Website
Click here to visit the Web Cam Website
McBride thanked his primary sponsors;  Pingel Enterprise, Trim-Tex Drywall Products, Drag Specialties-Parts Unlimited, Red Line Synthetic Oil Corporation and Final Swipe Merchant Services.  
McBride thanked associate sponsors; K&N Air Filters, Web-Cam, Vance & Hines Motorsports, PR Factory Store, Ferrea Valves, Kibblewhite, Precision Machine, World Wide Bearings, Vanson Leathers, Belt Drives Ltd, Simpson Race Products, Nitrous Express, APE, EK Chain, Arias Pistons, MSD, Protect ALL,  Cometic Gaskets, B&J Transmission, Carolina Cycle, L.A. Sleeve, PJ1, Mickey Thompson Tires, Valco, Goodridge, Carlisle Belts and Gates Belts.