Top Fuel Motorcycle legend Larry "Spiderman" McBride is in his 37th year of professional drag racing.
He's done it all. Yet he still cherishes each coveted event victory as if it's his first.
It's appropriate considering it's certainly not getting any easier for the 14-time champ.
When McBride arrived at the HTP/Motec Manufacturers Cup at Memphis International Raceway on Father's Day weekend, June 20-21, McBride knew this would be one of the most difficult races of his career.
The sun was scorching, the humidity was over 70 percent and the temperature was in the mid 90s. The conditions proved strenuous and punishing for suiting up in a set of leathers and a helmet or feverishly and frantically performing maintenance between rounds.
"It was one of those weekends where you would just stand there and sweat," McBride said. "I went through 10 t-shirts over the weekend."
No Top Fuel test passes were made on Friday due to off-and-on showers soaking the drag strip.
On Saturday the good news was the storm had moved out. The bad news was McBride faced some of the most grueling conditions of his long career.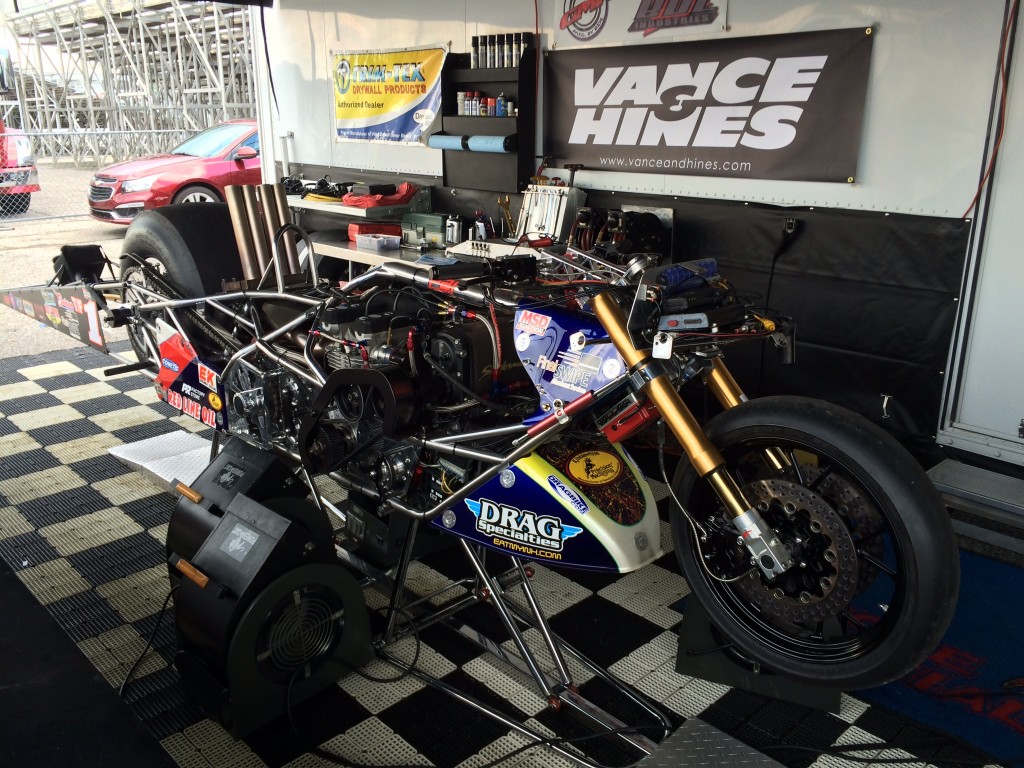 "I've never raced with 135 grains of water in the air," McBride said. "It was hot and greasy and we could not put any power down. The track temperature was 135 degrees."
McBride's first pass of the weekend ended swiftly as he smoked his giant rear tire at the hit of the throttle.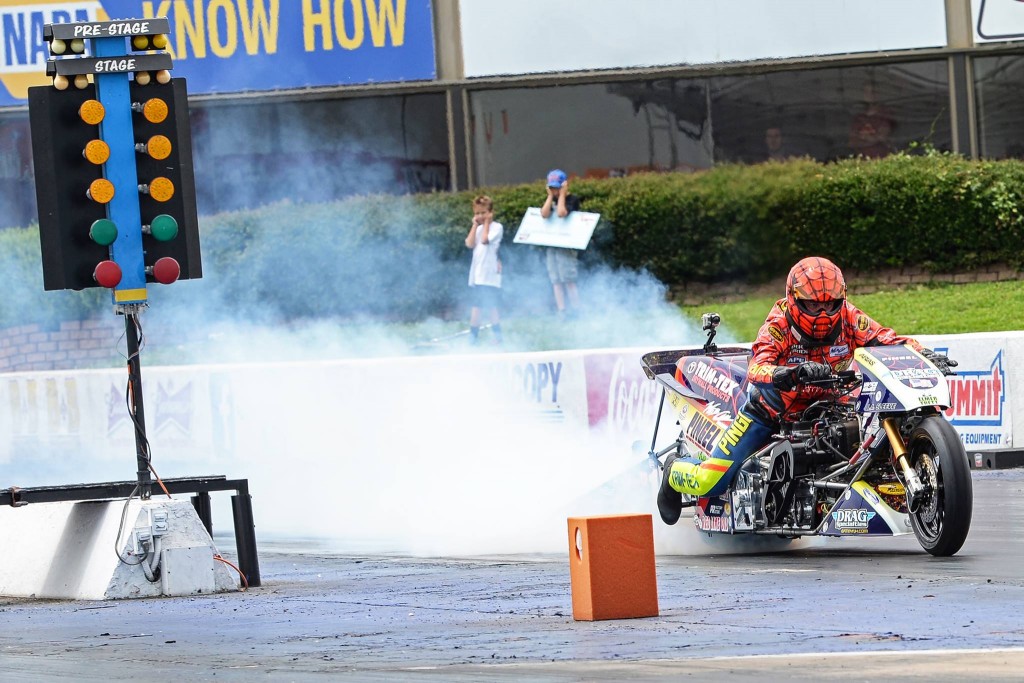 "We went up there with the thing hopped up and we picked the wrong spot on the starting line," McBride said. "When we got back to the pits we calmed it down. We took away timing and nitro and went to a larger tooth pulley on the blower, to give us less air. We wanted to see what the track would handle."
The changes were effective as McBride improved to a 6.40 at 211 mph to take the No. 2 spot, behind Dave Vantine's 6.38 at 211 mph.
"We actually took a little too much power out," McBride said after the run. "It seemed like our choices were smoke the tire, or not have enough power to drive through the clutch. If you take too much load off, nitro will not burn right."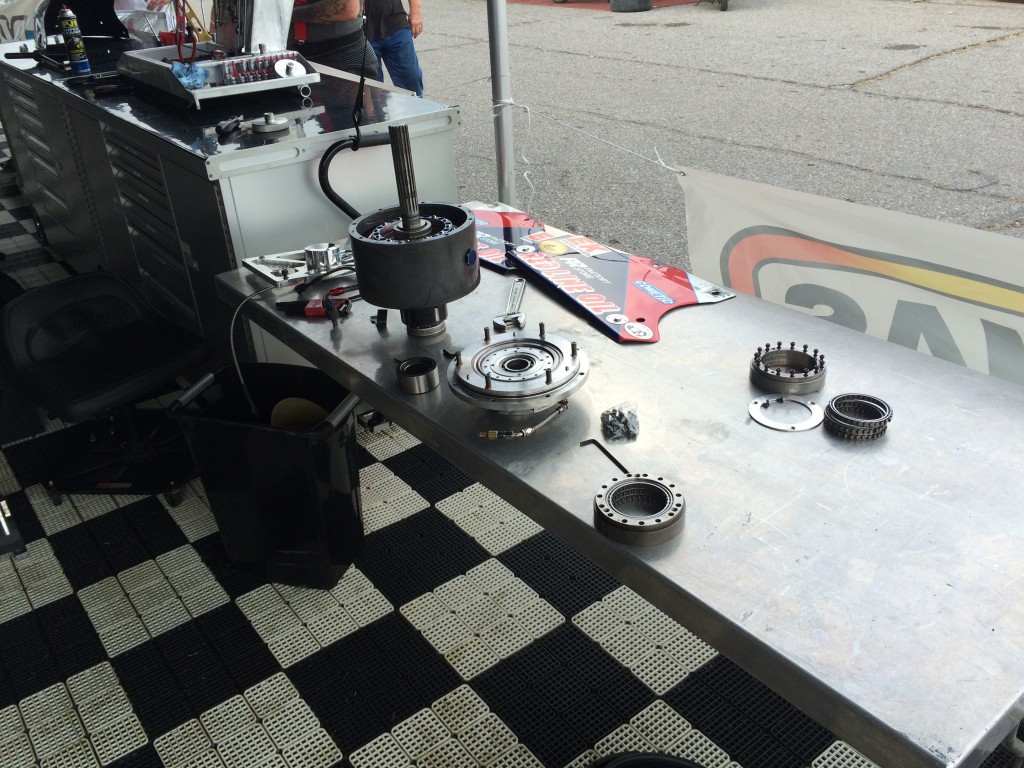 For final qualifying McBride says the team split the difference between the two previous tune-ups by making adjustments to the down-track timers and the clutch.
In final qualifying, the Spiderman did not get the Saturday evening cool down he had predicted before the race, but the team was still able to improve to a 6.21 at 226 mph to take the pole position.
"It is still hotter than hell," McBride said on Saturday evening. "I don't think my crew is having much fun."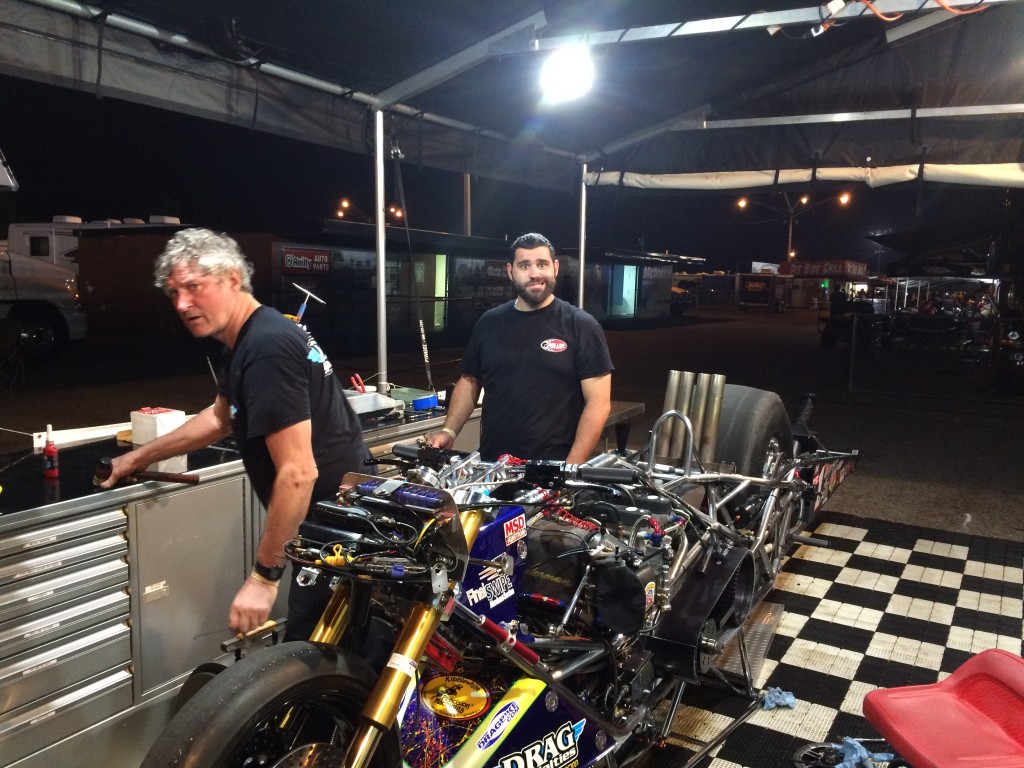 The last round of qualifying was not nearly as kind to McBride's colleague Chris Hand, who suffered an explosion and blew off the side of his cylinder. Hand and his crew worked almost all night trying to repair the motorcycle.
"He fired it up that morning and found out he bent the butterfly shaft and the butterfly," McBride said. "There just was not enough time to fix it."
Ergo the Spiderman was awarded a bye run during the opening round of eliminations and recorded his best pass of the event at a 6.04 at 228 mph.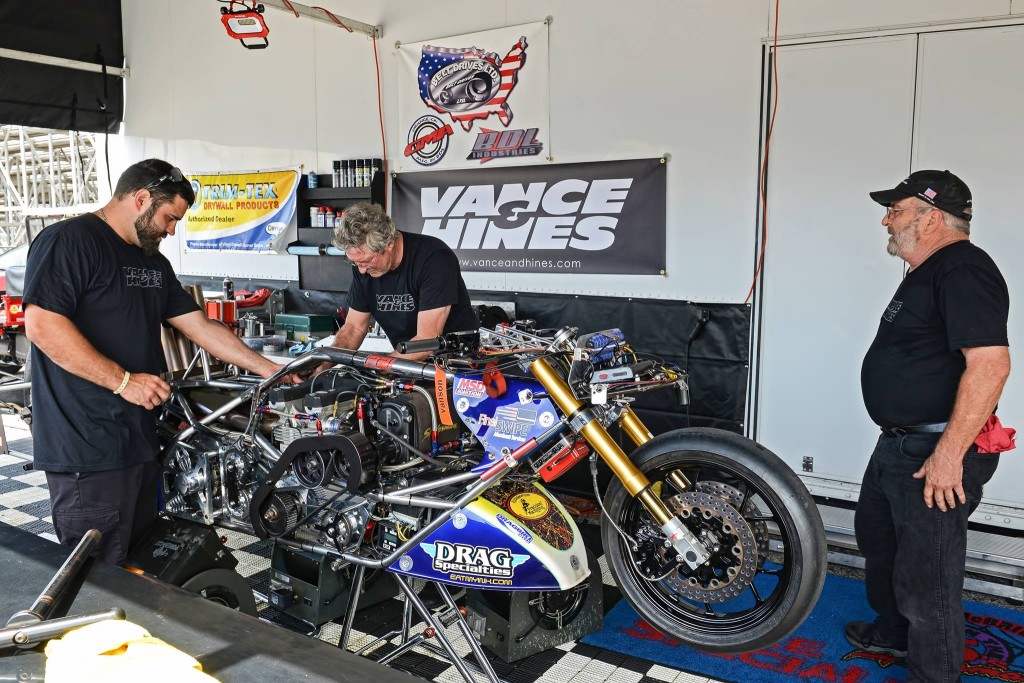 "That was the coolest the track had been all weekend thanks to a little cloud cover," McBride said of the 115-degree racing surface. "Traction was better, but still not great."
The final featured a familiar rematch, with McBride facing the returning Korry Hogan.  Half a decade ago, the duo would face off on the regular and treat fans to some exciting racing.
In the final, the Spiderman took the win with a 6.18 at 228 mph to Hogan's 6.69 at 170 mph.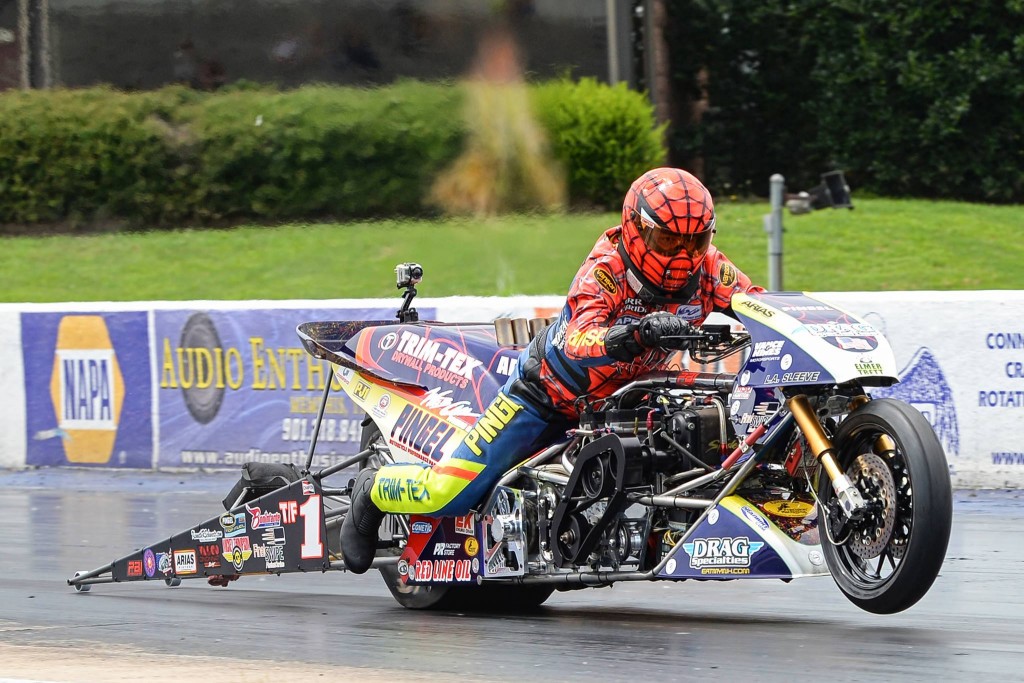 "We just left the bike alone. Korry's team was just trying to see what their new motorcycle would do and collect some data to get ready for the next race," said McBride, who as a veteran knows to never take anyone lightly under any circumstance.  "It was so great they showed up to the event, because we definitely need more bikes in the class. They are going to be very tough to beat when they get dialed in."
McBride extended a special thanks to Barry Van Hook for putting up extra money in the winner's purse, something McBride put to good use for the 925-mile trip from his Newport News, Va. headquarters in his massive rig, which gets six miles to the gallon.
"It means a lot," McBride said. "I appreciate it."
 Team McBride will now prepare for a weekend-long match race series with Dave Vantine at Maryland International Raceway, July 24-26.
McBride will also continue work on his new Top Fuel machine. Check out the team's recent tuning session.
McBride thanked his primary sponsors; Pingel Enterprise, Trim-Tex Drywall Products, Drag Specialties-Parts Unlimited, Red Line Synthetic Oil Corporation and Final Swipe Merchant Services.
Web-Cam, Vance & Hines Motorsports, PR Factory Store, Ferrea Valves, Kibblewhite, Precision Machine, World Wide Bearings, Vanson Leathers, Millennium Technologies, Belt Drives Ltd, Simpson Race Products, Nitrous Express, APE, EK Chain, Arias Pistons, Cometic Gaskets, B&J Transmission, Carolina Cycle, L.A. Sleeve, PJ1, Mickey Thompson Tires, Valco, Goodridge, Carlisle Belts and Gates Belts.
Special thanks to Bland Bridenstine for the great action shots.