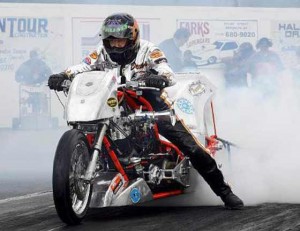 It's been a heck of a season for Larry "Drums" Brancaccio of the Bammer/Starlight Tattoo bike in the Screamin' Eagle Top Fuel Class. Earlier this season he earned his 95th WIN of his drag racing career. BUT last week a simple envelope and letter ROCKED his world.
Larry "Drums" Branccacio has been notified that he is to be Inducted to the Nutley Hall of Fame, Nov. 13th.  Of all his wins, Brancaccio was almost speechless when he recieved the acceptance announcement. He rushed the letter to show his father to make sure it was real, and it is.  To be honored by your home town and in the company of such amazing community members is a priviledge to say the least.
More information will be forth coming.
Brancaccio is proudly sponsored by: Starlight Tattoo, Capone Landscaping, Keith's Custom Seats, World Wide Bearings, Vanson Leathers, Central Metal Fabricators & special thanks to: Barnett Clutches & AutoLite