Top Fuel Harley motorcycles drag raced in at least three locations last weekend—AHDRA at Cecil County Dragway in Rising Sun, Maryland; NHRA at Houston; and AMRA at Dragway 42—and the quickest of all was Tracy Kile's Bad Apple Racing mount at AHDRA.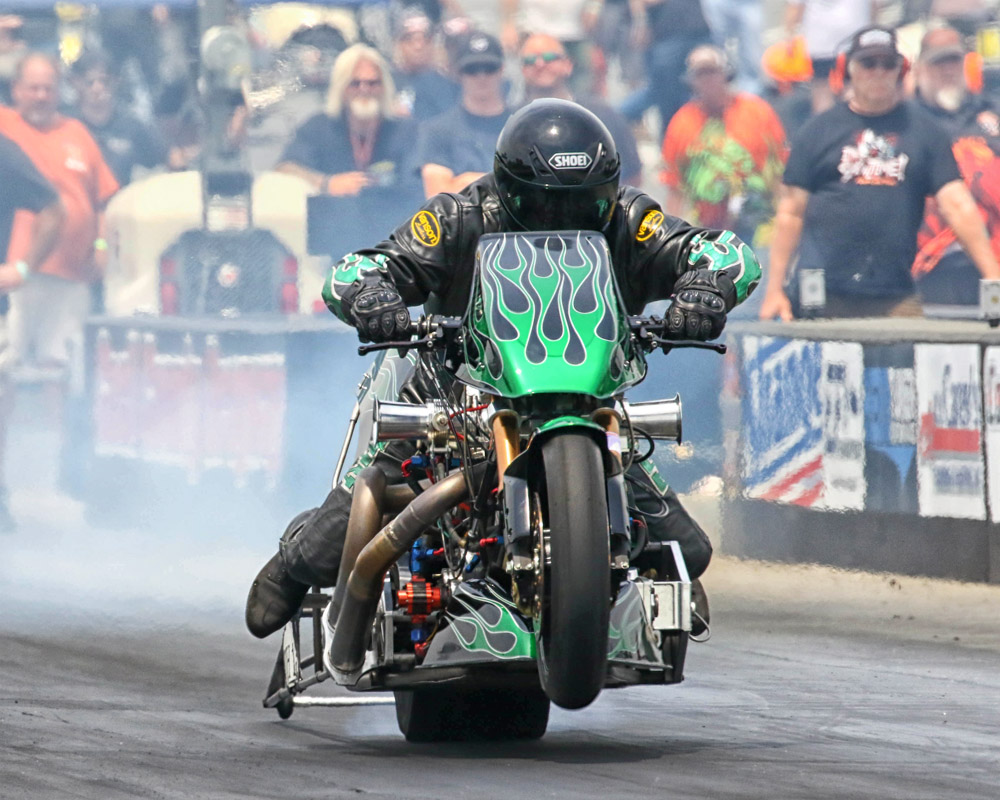 Kile led the nitro nation with a 6.38 at 217.48 mph that placed him as TKR & Associates Top Fuel number one qualifier and ran as quick as 6.25 in eliminations, where he had an earned bye in round one.
Next up for Tracy was defending class champion Rich Vreeland. Pennsylvania Harley-Davidson dealer Vreeland paved the way for an easy win for Kile by detonating a bullet. "We banged the motor pretty bad," said Rich. "Ray (Rich's brother, business partner, and chief mechanic) is going to have some work to do!"
Believe it or not, things got even easier for Kile in the final because Billy "Jack" Jackson crossed the centerline on his semifinal bye and took out a cone. That disqualified Jackson from the final, which was now another bye run for Kile.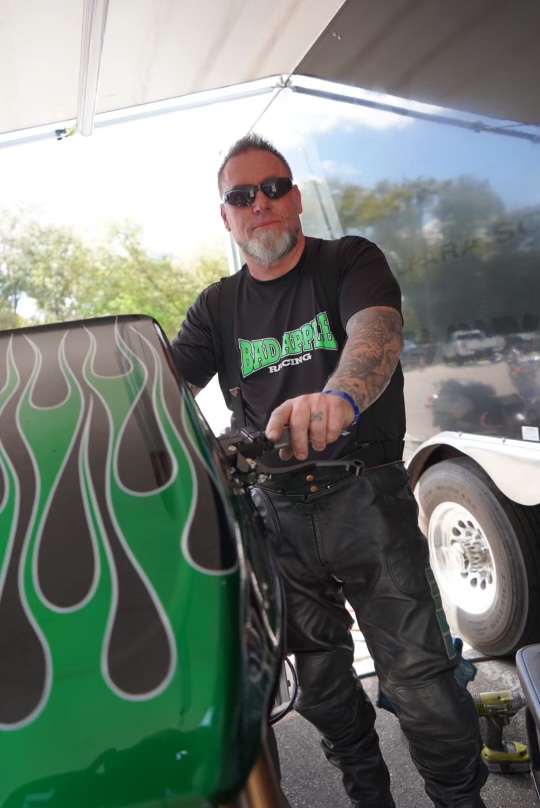 "It was a special event for us, getting the number one qualifier and winning a race dedicated to my very close friend Mike Wells," said Kile. Wells, who passed away a few years ago, ran Mike Wells Motor Works in Souderton, Pennsylvania. "This means a ton to me and the team. Mike was a long time friend of mine and introduced me to (AHDRA owner) Bill Rowe about 40 years ago. Mike was a huge supporter of drag racing, Bad Apple Racing, and was also a long-time sprint car racer.
"We had a hundred plus fans from the Bad Apple Nation here to support me and the team, and I want to thank them for their support through the years. Also my crew: Mary Sutton, Billie Bennett, Chip Shipley, and Michael Hopkins. It is also special because this is my teammate Frank Capone's secnd race back after being away for some time."
Jay Urban won Mike Wells Motor Works Outlaw Nitro.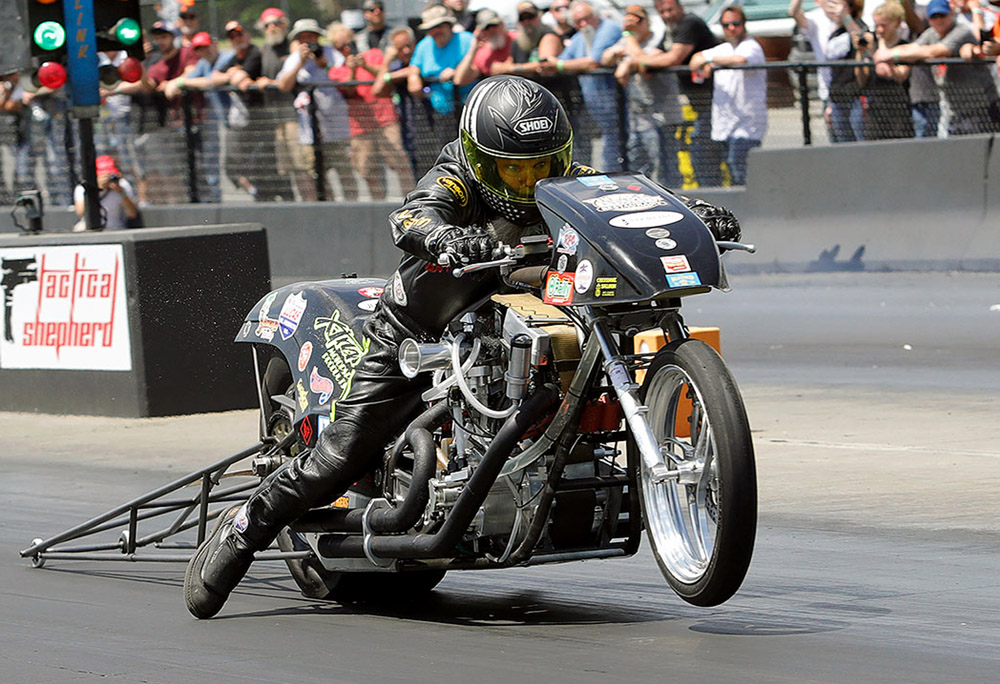 Hawaya Racing Pro Fuel champion Preston "President" Bartlett is making his case for a second term. Following his win in Atlanta, Preston qualified number one with a 7.39 at 164 mph at Cecil County and went on to win back-to-back.
"We were kinda struggling with some gremlins at the end of last season, but we're gathering it up pretty good so far this season," said Bartlett. "Anything can happen when you open up that Blue Barrel, and anyone can win on any given day. Knowing that about our fellow competitors keeps us on our toes.
"We keep pumping Lucas Oil through our HRP Derringer motor, feeding it lots of VP Racing Fuels nitromethane, and letting it roll on Worldwide Bearings. Great teamwork and help from all our sponsors gets it done. And a big thank you to the staff of Cecil County Dragway for giving us a consistent race track
"And we'd really like to thank fellow Pro Fuel competitor John McConnell for throwing down additional purse money to the class and for being a stand-up guy."
Top of Form
Bottom of Form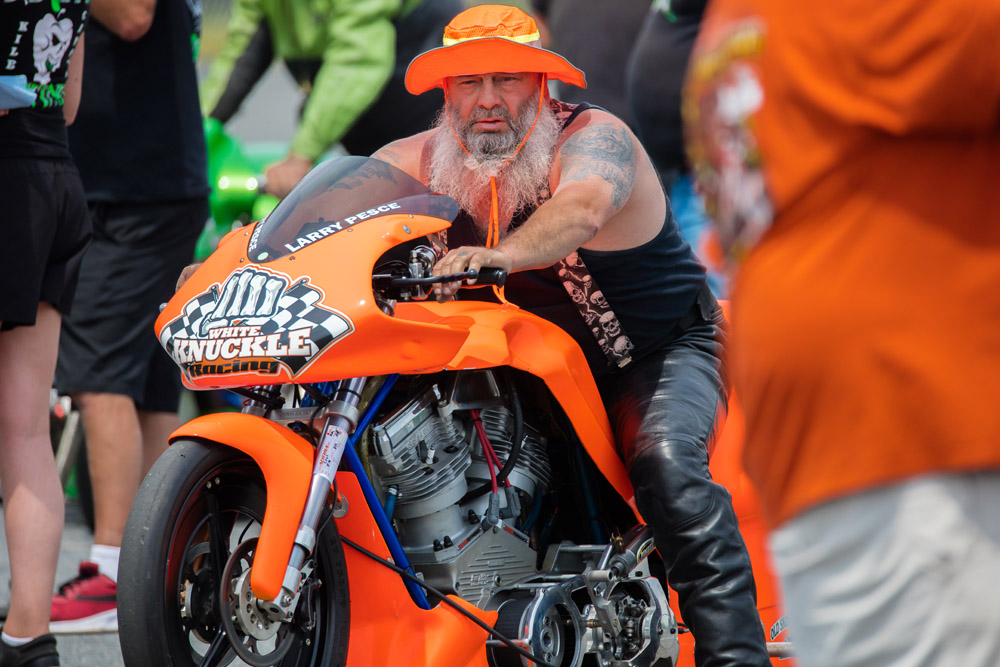 Zippers Performance Pro Modified winner Larry Pesce had lots to say about his weekend at Cecil County. "White Knuckle Racing went through the emotional rollercoaster this weekend to say the least," said Pesce.
"Friday we ran a test hit, running good numbers off the trailer. So we put her up for the night, sat back, relaxed and mentally prepared for qualifying on Saturday.
"It was a beautiful day. Our crew chief Clarissa Pesce ran the numbers and the air was amazing, the humidity was great. They were everything our 'Beast' (AKA our Pro-Mod bike) liked. Being at our local track (Larry lives in New Castle, Delaware), we had friends and family there. All in all it was a beautiful day, with amazing people and an even better atmosphere.
"Then everything changed. During the second round of qualifying our transmission went. We had to pop the chain to be able to get her back to the pit to assess the damage. Our head mechanic, Guy Anderson, got it off and as each piece was removed, it was getting worse and worse. We thought for sure our weekend was done.
"Then our crew chief said, 'Nope, the fat lady hasn't sung yet' and she wasn't ready to give up. Told us all to stand by. She went to the tower and had it announced that we were in need of a transmission if anyone had one. As she was leaving the tower, she was approached by Bill Rowe, who said 'Go talk to Randy Long. He's got a black Harley and pitted in the middle.' Shouldn't be too hard to find at an all Harley race!
"She went pit to pit until she finally reached the very last one where Randy Long happened to be. He came through for us in the biggest way. He allowed us to borrow a brand new transmission. Guy, Randy, and the rest of the crew worked well into the night and then woke up extra early. They got it done.
"Our first round was against Gary Douglass. With that win we couldn't believe it. After all the craziness and not knowing what the bike was gonna do, we won!
"Round two was against Shane Pendergast (number one qualifier with an 8.47 at 159.04). So when that winlight came on and it said 8.613 to 8.614, we were in shock and heading to the finals. Our guardian angels Gerardo Pesce, Marvin Smalls and Eric Carlson were looking out for us.
"The final round was against Rich Boone. We knew if we could get him off the line we had a great chance of winning. He redlighted and the feeling was overwhelming. The team fought through it all and they did the damn thing!
"Without Randy, my crew chief and wife, my mechanic Guy, and the rest of my crew, this win wouldn't have been. And with our friends and family, we celebrated like it was 1999! To do that at our home track was the icing on the cake."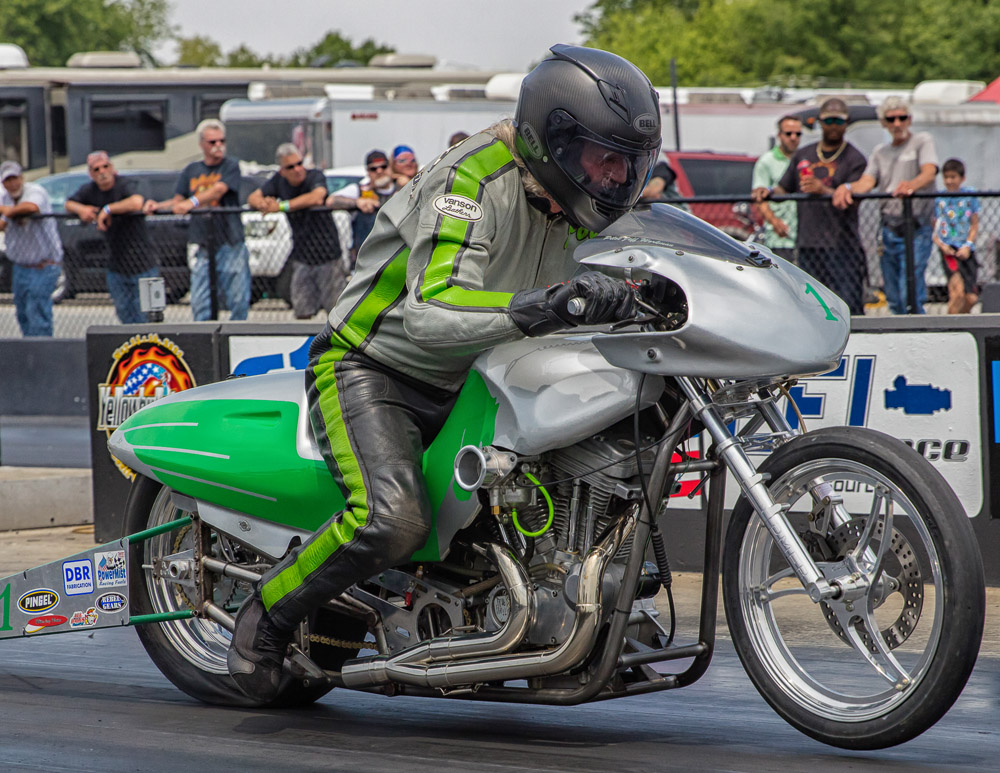 Winning has become old hat for Pingel Modified champion Jeff Workman. After qualifying number one with a 9.269, Jeff went on to beat Nate Carnahan in the final after Nate pulled out an upset against Gary Douglas in the semis.
"This was my first time at Cecil County Dragway," said Workman. "Turned out to be a very fast track, and great prep! Set my personal best 9.265 with my set-up right out of the trailer.
"I'd like to give thanks to the business and friends that support me—Powermist Racing Fuel, Rebel Gears, DBR Fabrication, and the Halifax community."
Despite the final round loss to Workman, Carnahan's weekend still held great success. Nate qualified number one and won 10.30 index. "Had a great day," said Powhatan, Virginia's Carnahan. "Thanks to Bill Rowe for all you do for the sport, and thanks to all the racers and spectators (of which there were many—over 2350)."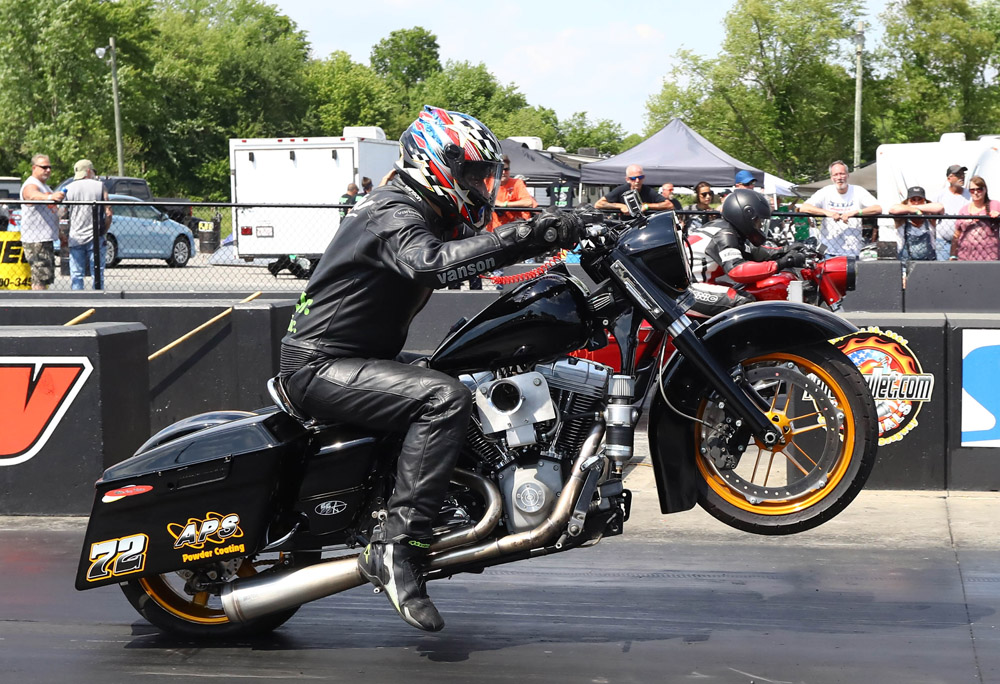 Law Tigers Pro Bagger winner Dave Miller rode his homebuilt '01 Road King to beat Geronimo Pratt in the final."A friend and I built it in my garage a year ago," said Miller of Boyertown, Pennsylvania. "This year, with parts being hard to get, it has a pretty much stock 103 with parts I rescued from the scrap bin at the dealership I work for (Dave is a master technician at Keystone Harley-Davidson) with a single stage of nitrous, stock transmission, and an M3 arm and isolators."
Charlie Douglas brought the right tool to win Horsepower Inc. Hot Street. "The 1250cc combination performs real well," said Charlie. "I ran a 9.54 in the heat at 2700 corrected altitude. With the AHDRA rules we have minimum weight, foot shift and no engine kill."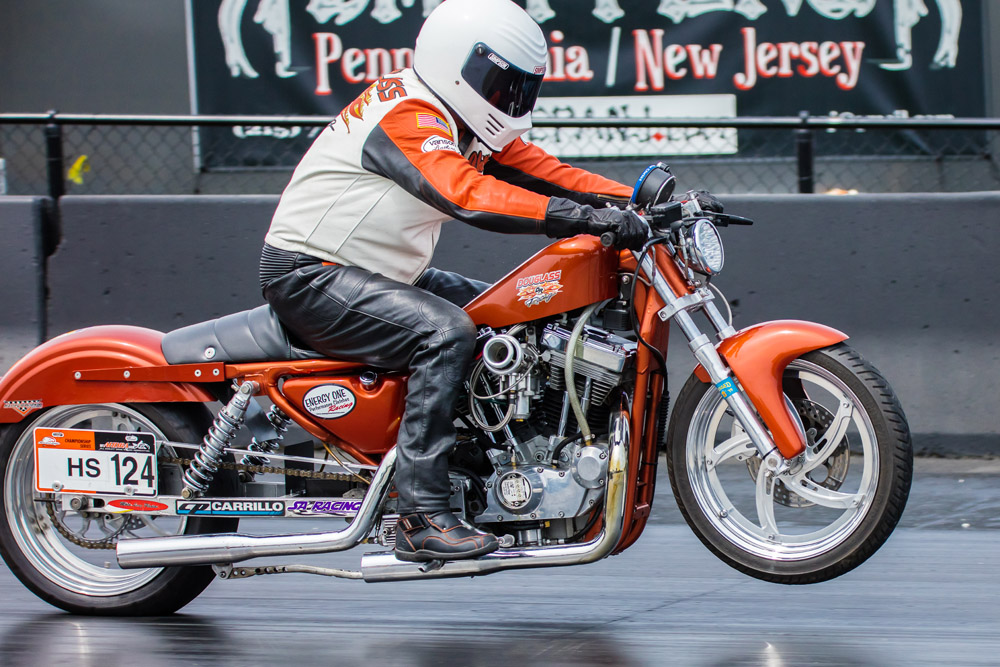 John Paul "JP" Henderzak brought the tool for THREE classes, winning 11.50 index and Mad Monkey Motorsports Eliminator on both Saturday and Sunday.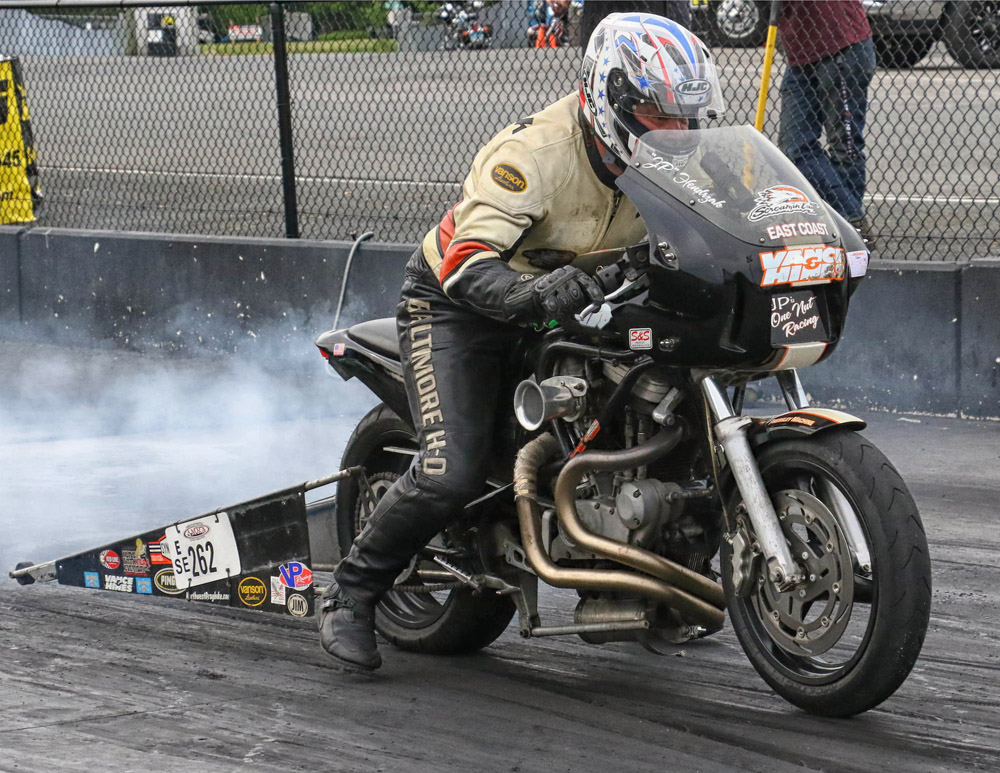 Vreeland's Harley-Davidson 9.90 number one qualifier Brad Reiss Jr. was unable to seal the deal, and Robert Willis took the win.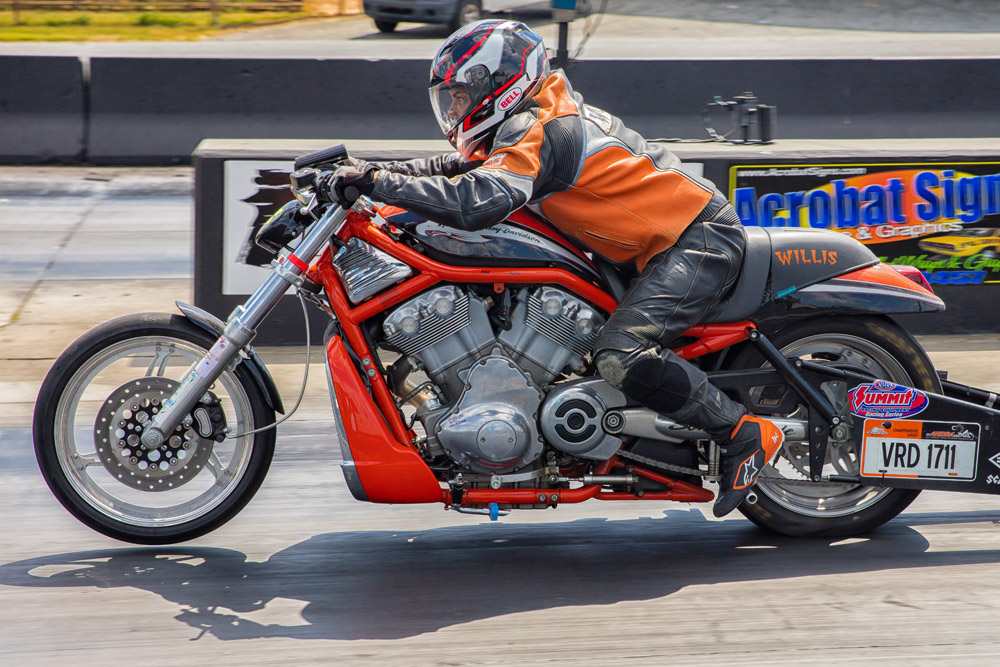 Chris Hoppe WAS able to sweep the 9.30 index table with the win and number one qualifier, as was Kevin Campbell in GMS Racing Pro Open.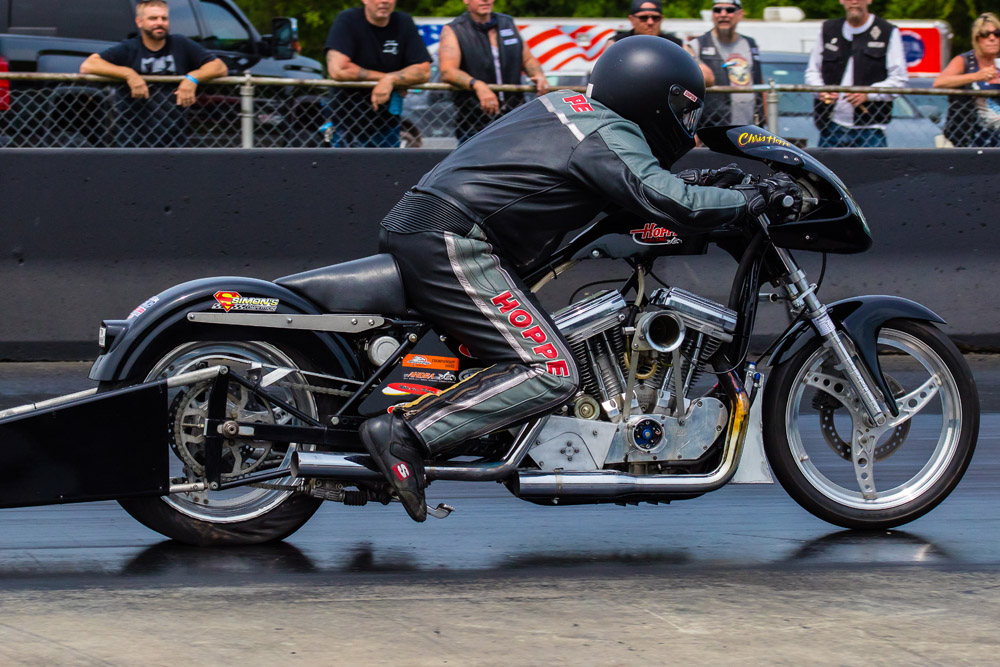 Loren Potter won Universal Fleet & Tire 10.90 and the T-Man Performance Bagger Eliminator winner was Ryland Mason.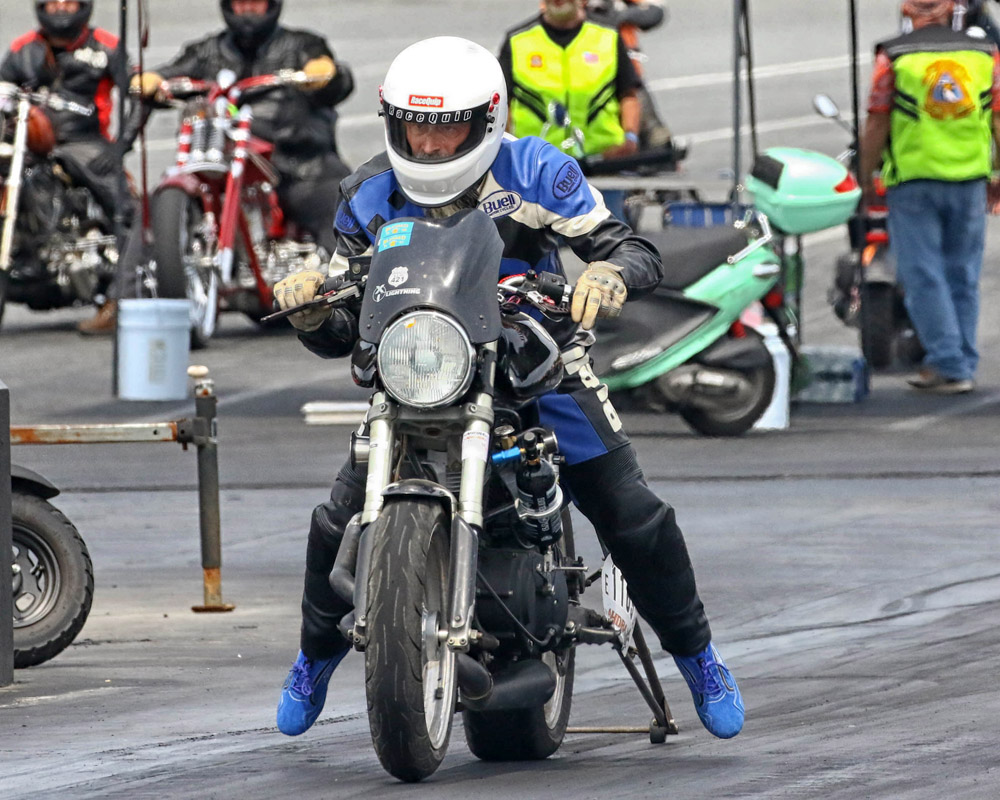 Trophy winners were Craig Laugman on Saturday and LynDee Steiner on Sunday. "Thank you Billy Rowe for bringing back AHDRA!" said Steiner. "Had a blast and OMG was it hot! Being the only female racer this weekend, I'm so glad to have gotten third in ET on Saturday and then winning Trophy on Sunday!"
Rowe, his family, and the hardest working, all-American motorcycle drag racing organization in the business are really looking forward to their next race June 4-6 at Steve Earwood's legendary nitro playground—Rockingham Dragway in North Carolina.
This report was written by Tim Hailey with photos by Tom McCarthy, Mike Swanson and Jim Garrahan.
There are more videos on the Cycledrag Youtube channel (please subscribe here) and the Cycledrag.com Facebook page (Please like here) and more will be coming soon. Check back daily.
To take advantage of some amazing discounts at Brock's Performance, click – http://brocksperformance.com?aff=12
USE cycledrag5 coupon code.