In only the third pro final round featuring a pair of female finalists in NHRA history, Stoffer defeated Angelle Sampey to take the Pro Stock Motorcycle win. Stoffer earned her second win of the season and eighth of her career on her Stoffer Enterprises Suzuki when Angelle Sampey fouled with a red-light start on her Star Racing Buell.
Stoffer, who was only planning to race a limited schedule this season, finds herself the two-wheel category's only multi-time winner this season.
"I certainly can't imagine the way this season has gone," said Stoffer, who defeated a trio of world champs – Matt Smith, Krawiec and LE Tonglet – to reach the final. "I'm still pinching myself, but we never planned how this season was going to go. I didn't think I'd be here for a second. We just wanted to put our best foot forward, and to end up winning, that is icing on the cake."
Her win over Sampey avenged the only other final round meeting between the two veteran riders. Sampey beat Stoffer at Reading, Pa. in 2002. The only other Mello Yello Series final to feature an all-female pairing happened in Top Fuel in 1982 when Shirley Muldowney defeated Lucille Lee in Columbus, Ohio.
"Racing Angelle in a final for the first time since 2002 was interesting," Stoffer said. "We both struggled here, so we had to race a couple of times in qualifying. It was great to race her in the final. I would have liked to have seen two green lights, but we all live and die by the Tree in this class. We managed to get our tire hooked up, and we went down the track, so I think we'd have been in good shape no matter what."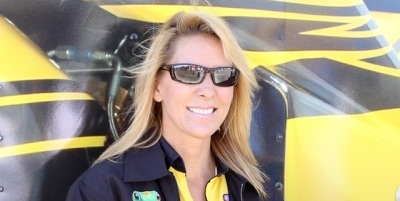 The NHRA Mello Yello Drag Racing Series continues July 9-12 with the Route 66 NHRA Nationals at Route 66 Raceway near Chicago.
Stoffer vs. Sampey in 2008
ROUND ONE — Angelle Sampey, Buell, 6.890, 194.21 def. Jerry Savoie, Suzuki, 6.881, 194.88; LE Tonglet, Suzuki, 6.976, 193.99 def. Steve Johnson, Suzuki, 6.982, 192.88; Jim Underdahl, Suzuki, 6.918, 195.39 def. Hector Arana, Buell, 6.944, 195.31; Andrew Hines, Harley-Davidson, 6.902, 192.69 def. Scotty Pollacheck, Buell, broke; Karen Stoffer, Suzuki, 6.922, 194.63 def. Matt Smith, 6.974, 192.91; Angie Smith, 7.095, 188.75 def. Hector Arana Jr, Buell, 7.312, 146.32; Eddie Krawiec, Harley-Davidson, 6.880, 195.17 def. Chaz Kennedy, Buell, 6.977, 192.19; Chip Ellis, Buell, 6.872, 196.76 def. Joe DeSantis, Suzuki, 7.089, 190.86;
QUARTERFINALS — Sampey, 6.951, 192.93 def. Hines, 6.955, 192.58; Tonglet, 6.944, 194.35 def. A. Smith, 7.098, 188.44; Ellis, 6.892, 195.70 def. Underdahl, 6.982, 193.16; Stoffer, 6.972, 193.68 def. Krawiec, 6.997, 190.48;
SEMIFINALS — Stoffer, 6.937, 193.63 def. Tonglet, 6.942, 194.24; Sampey, 6.948, 194.30 def. Ellis, 6.910, 194.52;
FINAL — Stoffer, 6.984, 193.10 def. Sampey, foul.
Pro Stock Motorcycle
1. Eddie Krawiec, 375; 2. Hector Arana Jr, 322; 3. Andrew Hines, 320; 4. Hector Arana, 291; 5. Karen Stoffer, 270; 6. Jim Underdahl, 258; 7. Scotty Pollacheck, 239; 8. Jerry Savoie, 236; 9. LE Tonglet, 230; 10. Angelle Sampey, 224.