After nearly retiring at the end of last season, veteran racer Karen Stoffer got her return off to the best start possible at the historic and 53rd annual Amalie Motor Oil NHRA Gatornationals at Gainesville Raceway on Sunday.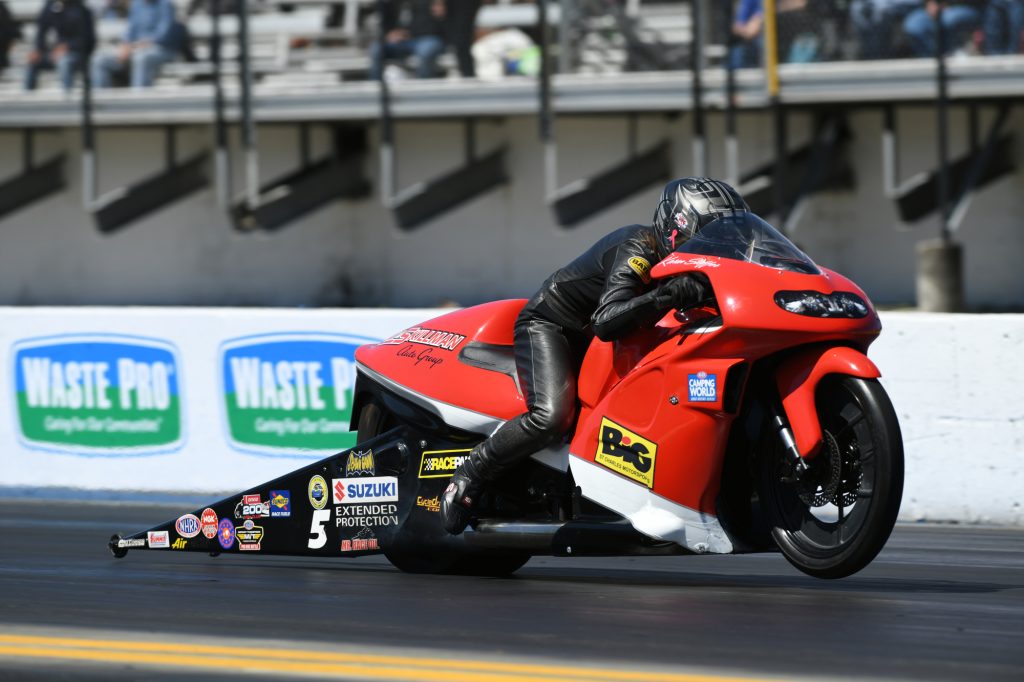 Stoffer wrapped up one of the most impressive weekends in Pro Stock Motorcycle history, finishing her record-breaking weekend by going 6.700 at 200.77 on her Big St. Charles/Ray Skillman Suzuki to beat Angie Smith in the final round. It proved to be a thrilling way for the category to open its 2022 season and the weekend belonged to Stoffer, who claimed her 11th career victory.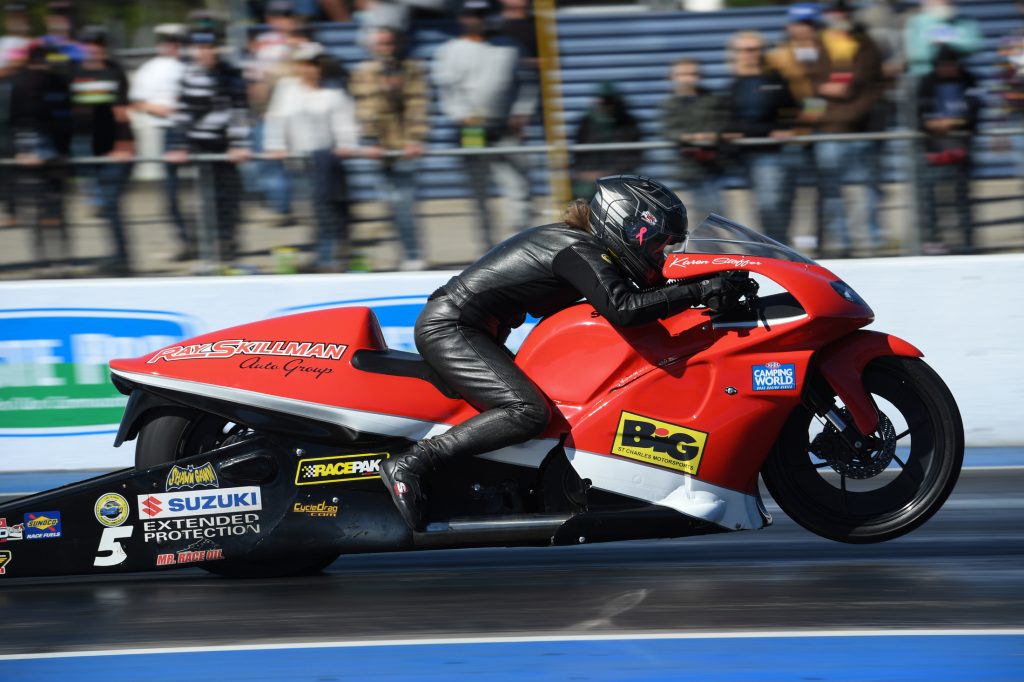 To reach the final round for the fourth straight race, dating back to last season, Stoffer made the two quickest runs in Pro Stock Motorcycle history, going 6.682 at 198.70 in the opening round to initially set the record before she topped it with an astounding 6.665 at 200.71 a round later.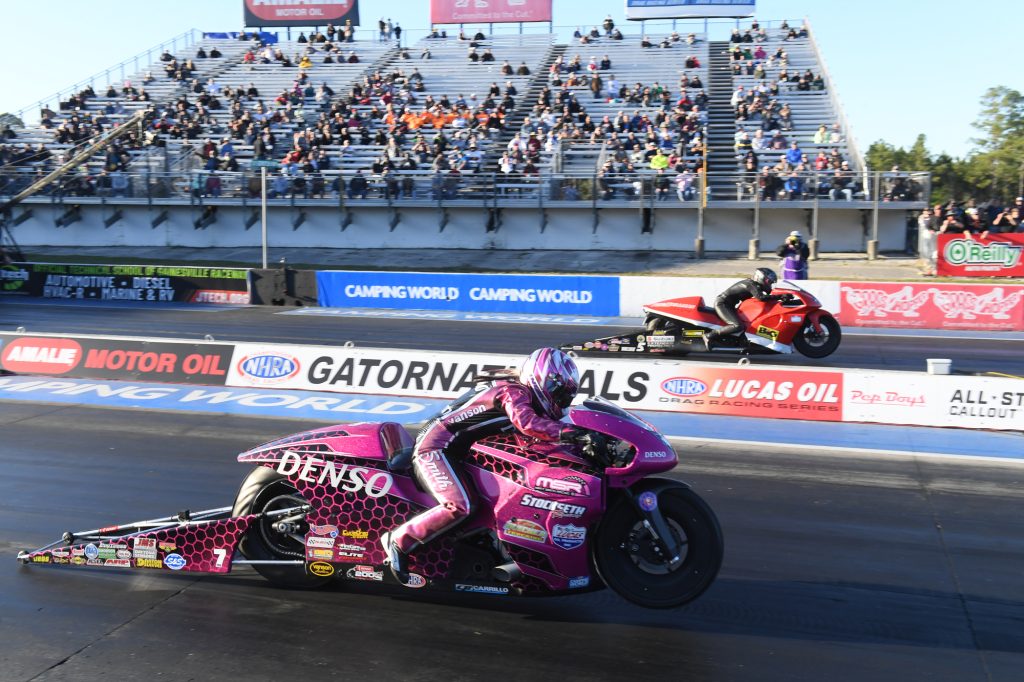 Stoffer added a 6.721 at 200.08 to reach the final round, with her finals performance giving Stoffer the third-quickest run in class history.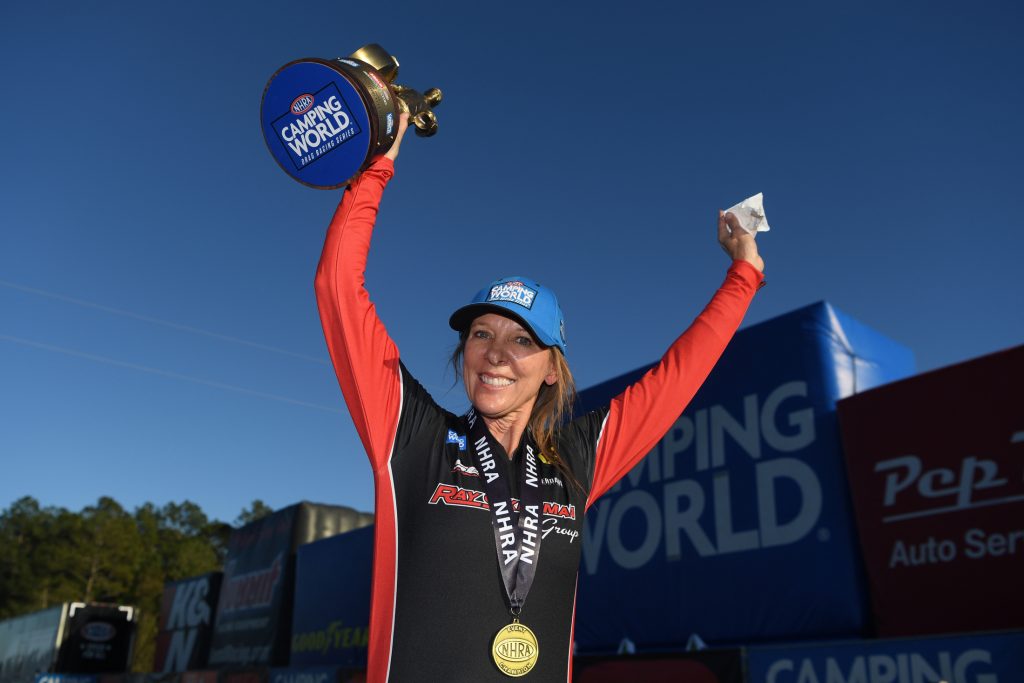 "I knew the conditions were fantastic and out of the box, the bike was on fire," said Stoffer, who now has three Gatornationals wins. "Gainesville is like my second home. I've spent a lot of time here; I feel really comfortable racing here and I've done well. When you look at that whole package, it means a lot and it's definitely a dream come true to win and set a record at one of my favorite tracks. I love it here and it's really nice to know we were able to cement something and say we were the first bike in the 6.60s."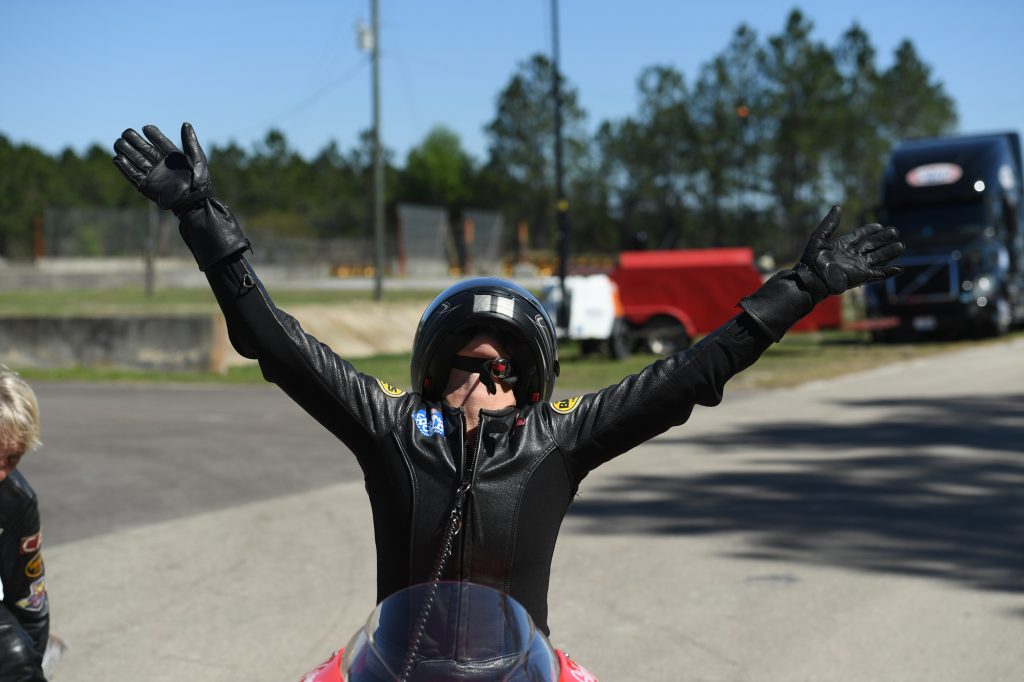 Smith had a strong weekend as well, advancing to her third career final round thanks to round wins against Chris Bostick, Steve Johnson, and Joey Gladstone.
ROUND ONE — Jerry Savoie, Suzuki, 6.781, 196.73 def. Ryan Oehler, 6.833, 197.91; Joey Gladstone, Suzuki, 6.866, 198.52 def. Kelly Clontz, Suzuki, 6.877, 193.77; Angie Smith, 6.812, 201.19 def. Chris Bostick, Suzuki, 7.129, 192.30; Karen Stoffer, Suzuki, 6.682, 198.70 def. Jim Underdahl, Suzuki, 9.686, 83.65; Eddie Krawiec, Suzuki, 6.884, 198.79 def. Michael Phillips, Buell, 16.508, 54.52; Steve Johnson, Suzuki, 10.687, 89.13 def. David Barron, Broke – No Show; Marc Ingwersen, Buell, 6.854, 195.03 def. Angelle Sampey, Suzuki, 8.309, 105.00; Lance Bonham, Buell, 7.444, 181.13 def. Matt Smith, Suzuki, 8.565, 113.56;
QUARTERFINALS — Gladstone, 6.784, 197.91 def. Ingwersen, 6.849, 197.42; A. Smith, 6.764, 200.62 def. Johnson, 6.860, 198.38; Savoie, 6.815, 194.32 def. Bonham, 7.116, 188.04; Stoffer, 6.665, 200.71 def. Krawiec, 6.927, 197.74;
SEMIFINALS — A. Smith, 6.738, 201.01 def. Gladstone, 6.884, 198.29; Stoffer, 6.721, 200.08 def. Savoie, 7.735, 124.21;
FINAL — Stoffer, 6.700, 200.77 def. A. Smith, 6.723, 201.28.

There are more videos on the Cycledrag Youtube channel (please subscribe here) and the Cycledrag.com Facebook page (Please like here) and more will be coming soon. Check back daily.
To take advantage of some amazing discounts at Brock's Performance, click – http://brocksperformance.com?aff=12
USE cycledrag5 coupon code.