You look like you're packed in a sausage casing!" quipped three-time Pro Stock Motorcycle champion Eddie Krawiec. He was directing his humor towards 2013 U.S. Nationals winner John Hall, sitting in the staging lanes at an NHRA Mello Yello race for the first time in over two years. Hall, you see, was fitting a little uncomfortably into his leathers as qualifying was getting started for the 2016 Dodge Nationals a week or so ago at Pennsylvania's Maple Grove Raceway.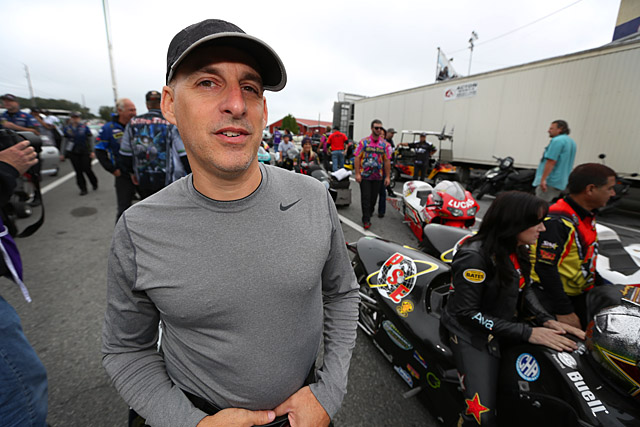 "I'm getting a little fatter, a little older, a little grayer, but hopefully not a little slower," said Hall. "The way I look at it, I'm nor heavier—the bike is."
It's the first time since his AMA/Prostar-Dragbike days that Hall has owned his own bike. A year with Star Racing and two with Matt Smith Racing on the NHRA circuit preceded Hall buying the Vance&Hines/Kuryakyn Buell formerly owned by Harry Lartigue and ridden by Chip Ellis.
Since the purchase, Connecticut real estate developer Hall has had to focus on business while crew chief Bobby Webb has thoroughly gone over the bike and motors—including having a set of heads massaged by Blake Gann.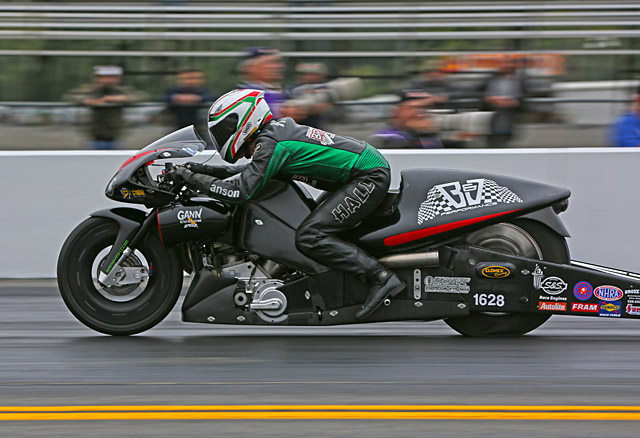 But it's the S&S V-Twin with the V&H heads that's sitting in Hall's Kosman chassis as he waits in Maple Grove's far right staging lane—several lanes away from the rest of the field. "I'm thinking I'd rather be by myself," said Hall. "Having not been on a bike for two years, I want to go through what I have to do up there, going through runs in my head, what will happen when I let the clutch out—'cause I really don't know."
What you don't know is what you don't know, and what Hall didn't know is that his bike would struggle to start. "So I'm prepared, and then the bike doesn't start. Felt like it took 10 minutes."
With lots of rain in the forecast, this would be the class' one and only qualifying shot and everybody knew it. If Hall's bike didn't start, the weekend would be a washout. "But everybody was calm. You either make the run or not."
The bike finally fired, and now Hall was back on the big stage, making his first pass on a motorcycle in over two years and doing it in front of an NHRA national event crowd. "It all comes back to you once the bike starts and you do your burnout."
Hall made a picture perfect run of 7.01 at 188.75 mph—good enough for 10th in the 16-bike field. "I felt really good about it. All my shifts were good except for the 3-4—I was a little early there."
And if Hall felt good about his qualifying, he felt even better about his eliminations pass against Karen Stoffer. No, Hall didn't win the round, but for a guy competing in his first race in over two years, he did pretty damn well. Hall took the tree .041 to .064 against full-season-sharp Stoffer and improved to 6.98 at 189 vs. Stoffer's winning 6.95.
"You never like to lose, but at least we were in it," said Hall. "We were competitive on only our second pass on the bike."
Much of the credit belongs to Webb, who's just now learning his way around the Motec ECU that controls the motorcycle. "Bobby was ready to rip the thing off because he didn't know where to start, but Hector Arana's helped him out a lot."
Hall and Webb will carry their Maple Grove momentum to the last three races of 2016 with an eye towards next season. "I'm just looking to get more data, go faster, and run some rounds," said Hall. "I don't know if we're gonna do all of them next year, but we're gonna be out there."
John Hall thanked his wife Ivette, son John and daughter Mika; Bobby Webb, Worldwide Bearings http://www.worldwidebearings.com/ , Laurie Frazier from Motorsports Travel, Tim Hailey of eamyink.com http://eatmyink.com/, "and anybody in the pits that I borrowed parts from."