On a day that included a barrage on the Sonoma Raceway record books, Pro Stock Motorcycle racer Joey Gladstone rolled to his first win of the 2022 season on Sunday and moved into the points lead in front of a packed house at the 34th annual Denso NHRA Sonoma Nationals.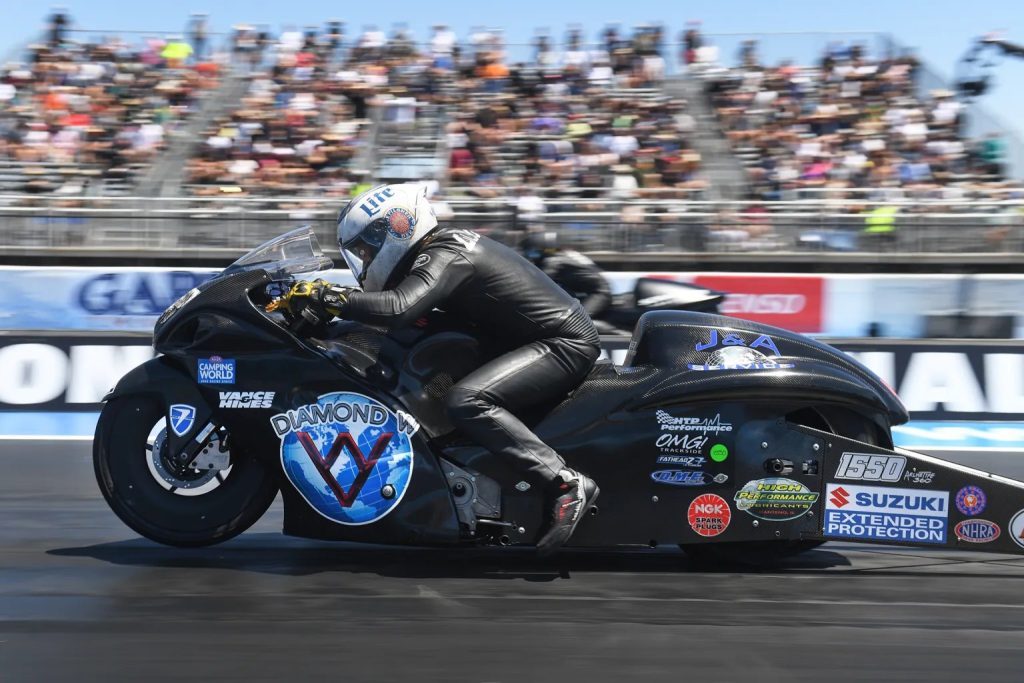 After back-to-back final round appearances, Joey Gladstone broke through for his first career victory in Pro Stock Motorcycle on Sunday, knocking off Eddie Krawiec in the final round with a pass of 6.759 at 200.68 on his J&A Service Suzuki Hayabusa. Krawiec went a quicker 6.758, but Gladstone was quicker on the starting line with a .026 reaction time and held off the veteran to claim his first win in the class. He reached the final round with wins against Jianna Evaristo, Katie Sullivan, and Jerry Savoie, going a stellar 6.735 at 202.18 in the second round. He made sure to finish the job this time, setting off an emotional celebration for Gladstone and his team.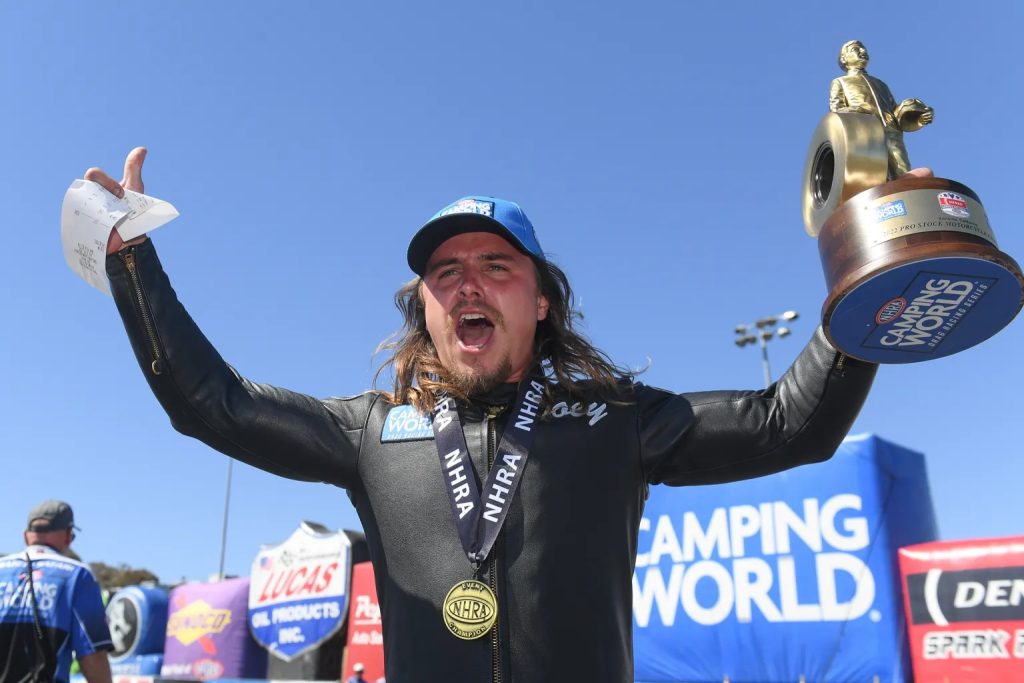 "I've been waiting for this day since I was 12 years old when I decided I wanted to race Pro Stock Motorcycles," Gladstone said. "To finally be here to do it and race the best guys in the world, this means everything to me. I just had to do my job out there. It's been quite the road, and this means a lot and more than you could ever imagine. I've spent my whole life trying to get here and this is just the start for us."
Krawiec reached his 90th career final round thanks to victories against Kelly Clontz, defending world champ Matt Smith and teammate Angelle Sampey, who now has just a two-point lead over Gladstone in the points standings.
The NHRA Camping World Drag Racing Series returns to action on July 29-31 with the final race of the Western Swing, the Flav-R-Pac NHRA Northwest Nationals at Pacific Raceways in Seattle. It is the first race at the track since 2019.
ROUND ONE — Jerry Savoie, Suzuki, 6.780, 198.44 def. Angie Smith, 6.776, 203.00; Katie Sullivan, Suzuki, 6.814, 199.14 def. Karen Stoffer, Suzuki, 6.828, 198.82; Eddie Krawiec, Suzuki, 6.772, 200.56 def. Kelly Clontz, Suzuki, 6.847, 196.36; Matt Smith, Suzuki, 6.723, 202.18 def. Ryan Oehler, 6.932, 195.62; Steve Johnson, Suzuki, 6.758, 199.17 def. Scott Bottorff, Buell, 6.953, 193.05; Joey Gladstone, Suzuki, 6.747, 201.40 def. Jianna Evaristo, Suzuki, 6.949, 192.99; Angelle Sampey, Suzuki, 6.752, 201.19 def. Lance Bonham, Buell, 9.689, 115.15;
QUARTERFINALS — Savoie, 6.751, 199.70 def. Johnson, 6.731, 200.38; Sampey, 6.868, 200.50 was unopposed; Gladstone, 6.735, 202.18 def. Sullivan, 7.480, 134.38; Krawiec, 6.750, 200.41 def. M. Smith, 6.748, 201.46;
SEMIFINALS — Krawiec, 6.758, 200.29 def. Sampey, Foul – Red Light; Gladstone, 6.754, 200.71 def. Savoie, 6.849, 195.05;
FINAL — Gladstone, 6.759, 200.68 def. Krawiec, 6.758, 199.67.
Pro Stock Motorcycle Points
1. Angelle Sampey, 599; 2. Joey Gladstone, 597; 3. Steve Johnson, 587; 4. Matt Smith, 563; 5. Eddie Krawiec, 530; 6. Karen Stoffer, 501; 7. Angie Smith, 500; 8. Jerry Savoie, 468; 9. Marc Ingwersen, 346; 10. Jim Underdahl, 291.
There are more videos on the Cycledrag Youtube channel (please subscribe here) and the Cycledrag.com Facebook page (Please like here) and more will be coming soon. Check back daily.
To take advantage of some amazing discounts at Brock's Performance, click – http://brocksperformance.com?aff=12
USE cycledrag5 coupon code.