The Scrappers Racing team is looking forward to wowing the crowd in their Pep Boys machines at their sponsor's title event, the Pep Boys NHRA Nationals. Mike Salinas (Top Fuel), Jianna Evaristo (Pro Stock Motorcycle), and Jasmine Salinas (Top Alcohol Dragster) will all don the Pep Boys logo on their respective rides this weekend as the NHRA Camping World Drag Racing Series and the NHRA Lucas Oil Drag Racing Series compete at Maple Grove Raceway this week.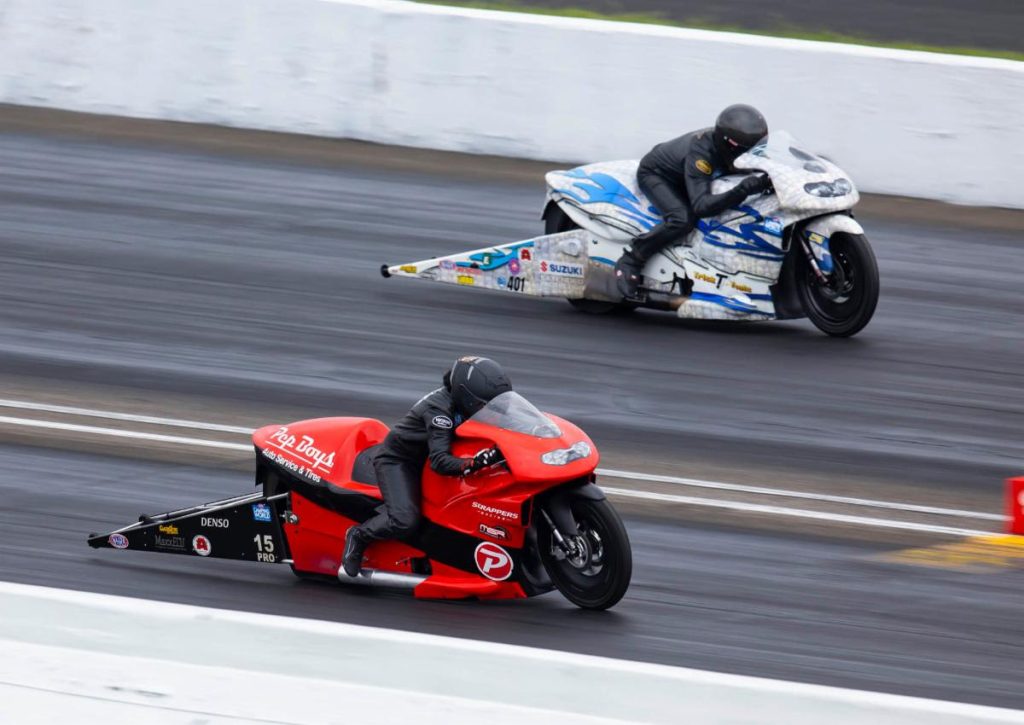 The Pep Boys NHRA Nationals is the first event of the Countdown to the Championship, NHRA's version of the playoffs for the professional categories. Points are reset and it's anybody's game. In what is arguably the most competitive Top Fuel field in NHRA history, Mike Salinas enters the Countdown in the No. 2 position thanks in part to the four event wins and three top qualifiers he's earned so far this season.
"The Countdown is a big deal," said M. Salinas. "To be in the No. 2 position is really cool. But this Top Fuel field is competitive and it's anybody's game. We plan to just keep our heads down, take it round by round, and turn on win lights. It's an honor to represent Pep Boys at their title event. We've heard that a lot of positive changes have been done at Maple Grove, which is owned by a racing family, the Koretskys, so we're excited and ready to put on a great show for the fans."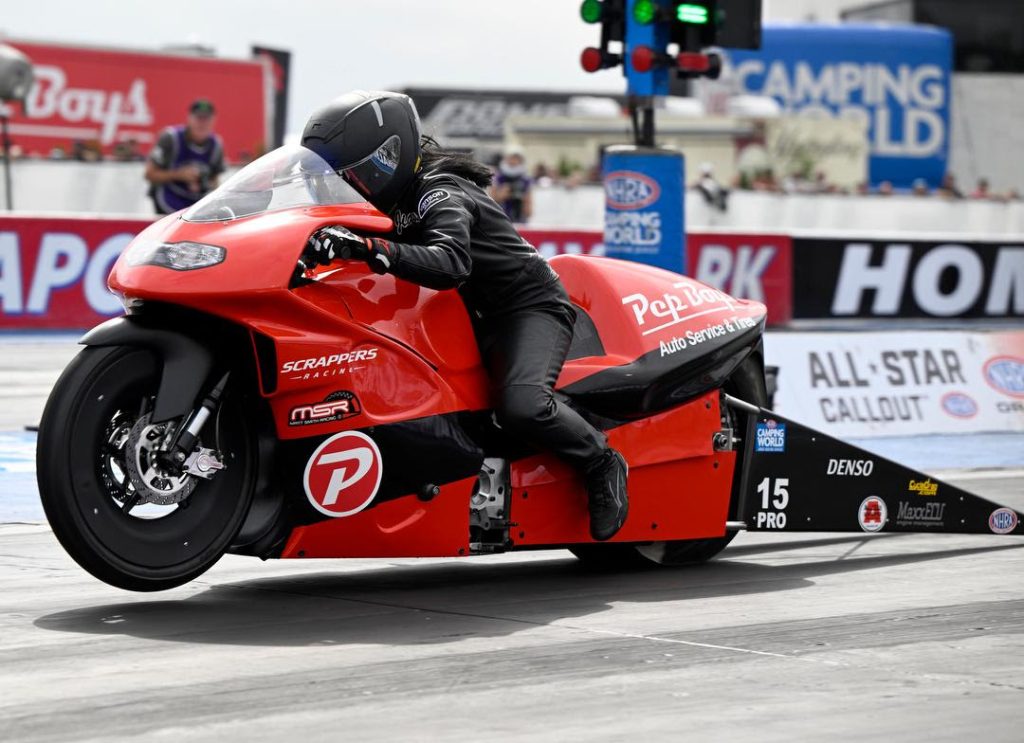 In Pro Stock Motorcycle, Jianna Evaristo is feeling confident after winning her first round of the season at the prestigious Dodge Power Brokers NHRA U.S. Nationals in Indianapolis earlier this month. She also broke her personal speed record at the event when she clocked a 195.17 mph pass on her Pep Boys Suzuki.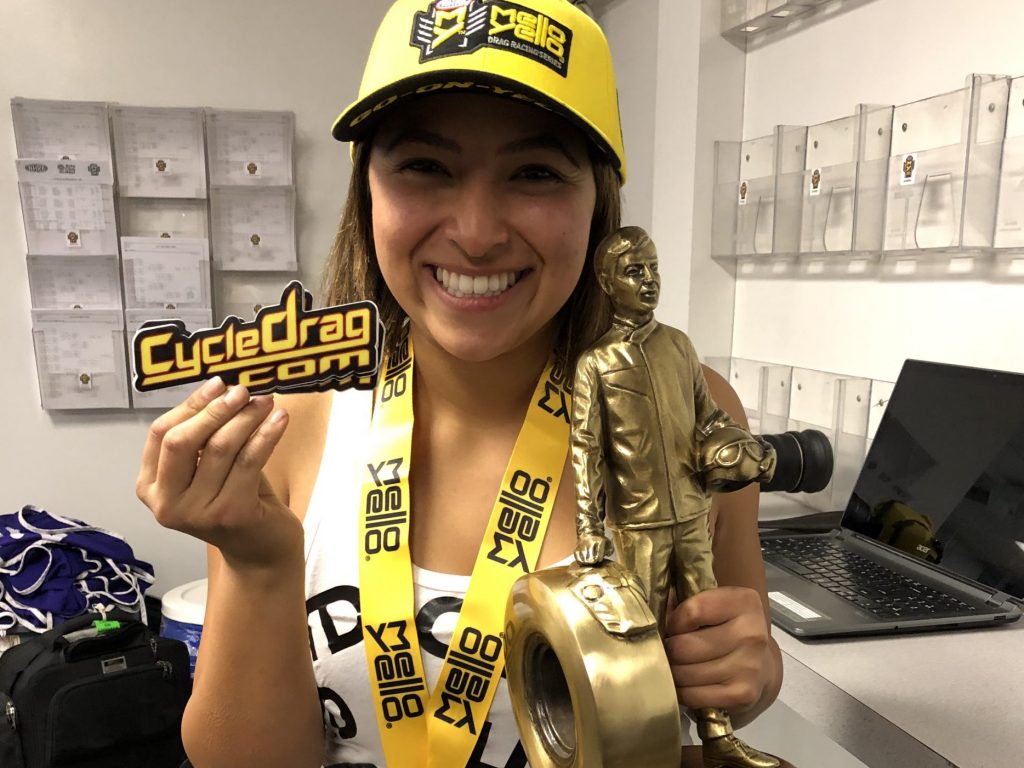 "I feel like I'm not fighting my bike anymore," said Evaristo. "This Pep Boys Suzuki wants to go straight. That's a new feeling and I'm really enjoying it. This is just the beginning but that's been our biggest goal this year, getting me to feel more comfortable on the bike again. I know the wins will come. Trees don't grow overnight. It will happen when it happens."
Jasmine Salinas is in a great spot in the NHRA Lucas Oil Drag Racing Series points, although there is still a lot of racing left to do for the skillful driver. With two NHRA Lucas Oil Drag Racing Series regional event wins and one national event win to her name this season, she is enjoying the best-performing season of her career. Her Pep Boys Top Alcohol Dragster, tuned by the father/son McPhillips duo, has been a consistent force to be reckoned with and J. Salinas is ready to give it all she's got at Maple Grove.
"It's really exciting to be going to this race with the title sponsor, Pep Boys, on my car," said J. Salinas. "I've gone through a lot of ups and downs this season, which means my knowledge base has expanded quite a bit. I'm more determined than ever to put this Pep Boys Top Alcohol Dragster in the winners circle again. This is the home track for Pep Boys as well as my Crew Chief and Tuner, Rich McPhillips Sr. and Richie McPhillips Jr. Maple Grove also has incredible fans so I'm looking forward to a fun weekend."
Racing action for the Pep Boys NHRA Nationals begins Thursday, September 15 at Maple Grove Raceway.
There are more videos on the Cycledrag Youtube channel (please subscribe here) and the Cycledrag.com Facebook page (Please like here) and more will be coming soon. Check back daily.