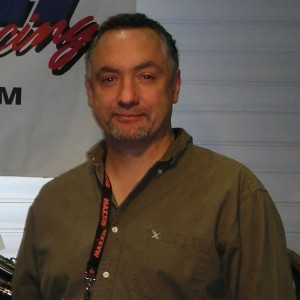 Jerry Cooper was born in Peoria Illinois on May 6, 1962. He started riding motorcycles at an early age. Through his early years Jerry developed his passion for engines, he built both his first car and motorcycle engine at the age of 15.
He continued to work on cars and bikes until 1981, when he joined the U.S. Navy. He spent the next 4 years working on electronics and racing motorcycles at the local dragstrips. It was there that he met close friend Charlie Gressman, who at the time was riding a bike prepped by Vance & Hines Racing. Jerry and Charlie raced for several years in NHRA and IDBA Pro Stock.
During this time, Jerry met and became close friends with George and Jackie Bryce of Star Racing in Americus, Georgia. Jerry worked on and off for Star Racing for 5 years. It was here that he honed his skills working on race engines and cylinder head preparation. While with Star Racing, he was able to be an integral part of NHRA and Prostar championships with the Late John Myers. Jerry was also involved with many great riders of the time including Jim Bernard, Hector Arana, and Ron Ayers just to name a few.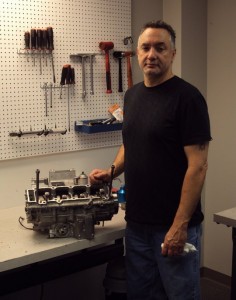 Out of those years with Star Racing, Cooper Performance was born. Jerry has won or been an instrumental part in just about every championship having to do with motorcycle racing.
In the early years of Cooper Performance, Jerry was co-crew chief on Tony Lang's Top Fuel Suzuki. They won five Prostar (now AMA Dragbike) Top Fuel championships in a row and broke just about every record in the books during this time frame.
In Prostar Funnybike, Jerry worked with Rickey Gadson who set the Prostar national record in 1991 with Jerry as his crew chief. Jerry has also worked with other notable Funnybike riders such as Keith Lynn, Travis Davis, and Glen Nickleberry.
Other accomplishments include AMA and WERA motorcycle road racing championships and AMA flat track championships. Last year Cooper Performance prepped an R6 engine ridden by Dane Westby with a podium finish in the Daytona 200 only behind the factory sponsored teams, quite an accomplishment.

Cooper Performance built the engines in Sebastian Domingo's turbocharged Pro Street Suzuki that has won the AMI motorcycle brute horsepower championship several times.
Sebastian has also set several AMA Prostar records with this bike. Sebastian has been currently working on perfecting his new bike as the old bike had been sold and delivered to Qatar.
Over the past twenty years Jerry has helped many people in the motorcycle drag racing community some notables include current ADRL Pro Extreme riders Ashley Owens, Jack Young, Coodee Thomas, Darien Guillory, Nickie Corley, and Travis Davis.
Jerry's roots are not in motorcycle drag racing only. He also built and raced Legends cars. It is here that he formed lasting relationships with Mark Martin, Joey Logano and David Ragan, who are current NASCAR Sprint Cup drivers. Jerry won 2 national championships with Joey Logano in the Legends car division, before Joey signed a sponsorship with Home Depot/Joe Gibbs Racing to drive the # 20 car.
Cooper Performance has been in business for over 20 years and are known worldwide for their cylinder head and race engine design and performance
Check out the Cooper Performance website –