Brock's Performance is excited to announce the addition of Jeremy Teasley to our family of sponsored racers. Teasley is one of motorcycle drag racing's most versatile and respected jockeys. From his exceptionally calm demeanor in high-pressure situations, to his sought after clutch hand, Teasley has proven time and time again to be the right racer for any situation. At 24 years of age, he has amassed an astounding 11 Championships, covering a wide variety of classes and organizations during his fledgling career. Additionally, Jeremy earned the inaugural Dragbike.com BAMF award, honoring him as the single best sportsman motorcycle racer in the country during the 2014 season.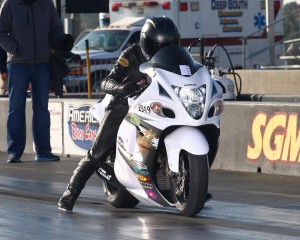 Brock's Performance president, Brock Davidson, has worked with Teasley throughout the years, most notably on the BMW Motorrad USA supported S1000RR project dragbikes, and has always had high praise for the Columbus, OH rider. Brock had this to say, "Jeremy is, without a doubt, one of the quickest and most talented drag racers I have ever seen throw a leg over a motorcycle. Not only can this young man ride, but he knows how to race. That's a combination that's tough to beat, especially combined with his physical size, mental discipline and personal dedication to the sport. Jeremy is a winner, and we are certainly looking forward to watching him kick ass while flying the Brock's Performance colors this year."
Teasley will be campaigning a 2015 Suzuki Hayabusa fitted with a Brock's Performance Alien Head 2 Performance Package in a variety of classes. The new machine will have the stout challenge of defending Jeremy's three Crazy 8's championships from 2014. "I only live an hour away from Brock's Performance, and with their resources and reputation, it's something I've had on my radar for some time. Brock is always working on some cool new projects, and I'm excited to work with him on some new stuff for 2015," said Teasley.
It will be another busy year for Jeremy as you'll find him racing at the following three series: IDBL, NHDRO, and Manufacturer's Cup. In addition to those series, you'll surely see him at some big time grudge racing events and possibly even a few NHRA events.
About Brock's Performance: Brock's Performance leads the way in sportbike innovation for acceleration addicts. From exhaust systems to wheels, this championship-winning company designs, builds and sells more than 3000 products that make it easier and safer for racers and street riders to reach record-breaking results through a never-ending process of research, development and track testing. For more information about BST wheels and other Brock's Performance parts, go to BrocksPerformance.com