The race to the first Harley-Davidson five-second run is heating up.
Cycledrag.com has learned legendary Nitro Harley racer Jay "The Bulldog" Turner will enter his brand new, innovative, supercharged Nitro Harley in the season-opening NHRA Winternationals from Pomona, Calif. Feb. 7 – 10.
The multi-time champion has been hard at work on his state-of-the-art "Lucky 7" Pro Charger-equipped Harley for over a year.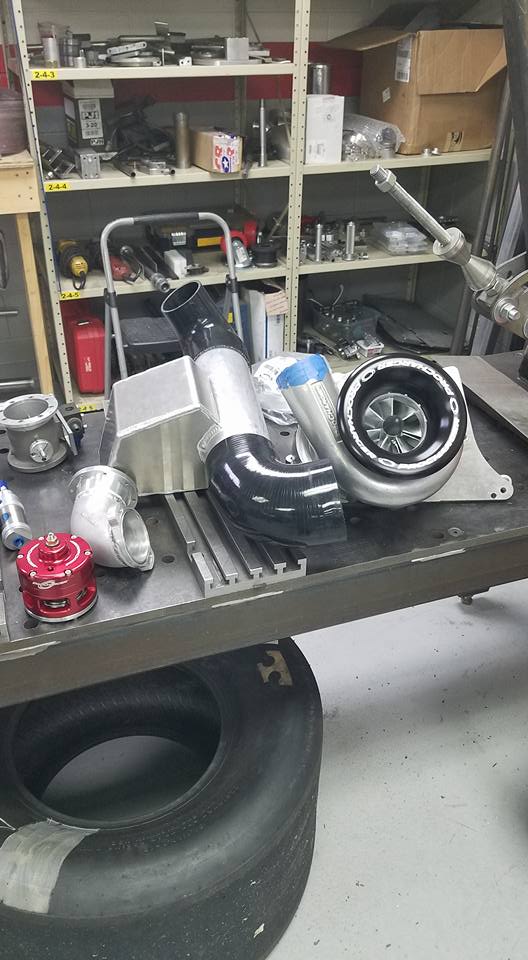 As the off-season began it initially looked as if superchargers would be banned in the NHRA Mickey Thompson Top Fuel Harley category. Sources say an influential NHRA force is of the belief leaving the class open to superchargers could potentially destroy it. After much discussion amongst the competitors and negative feedback to the NHRA, the organization decided to allow superchargers and will continue to closely monitor performance to maintain parity.


Turner is very optimistic about the new combination and gave us a close look at his blower bike at the Man Cup Finals in November.
Turner has a long and storied history in the sport. He has accomplished a great deal. This will be his first attempt at campaigning a supercharged bike.
"We are really excited and pleased with the performance so far. It's been a learning process for us and we want to keep moving forward," Turner said. "We built the bike to go fast and we plan on doing it."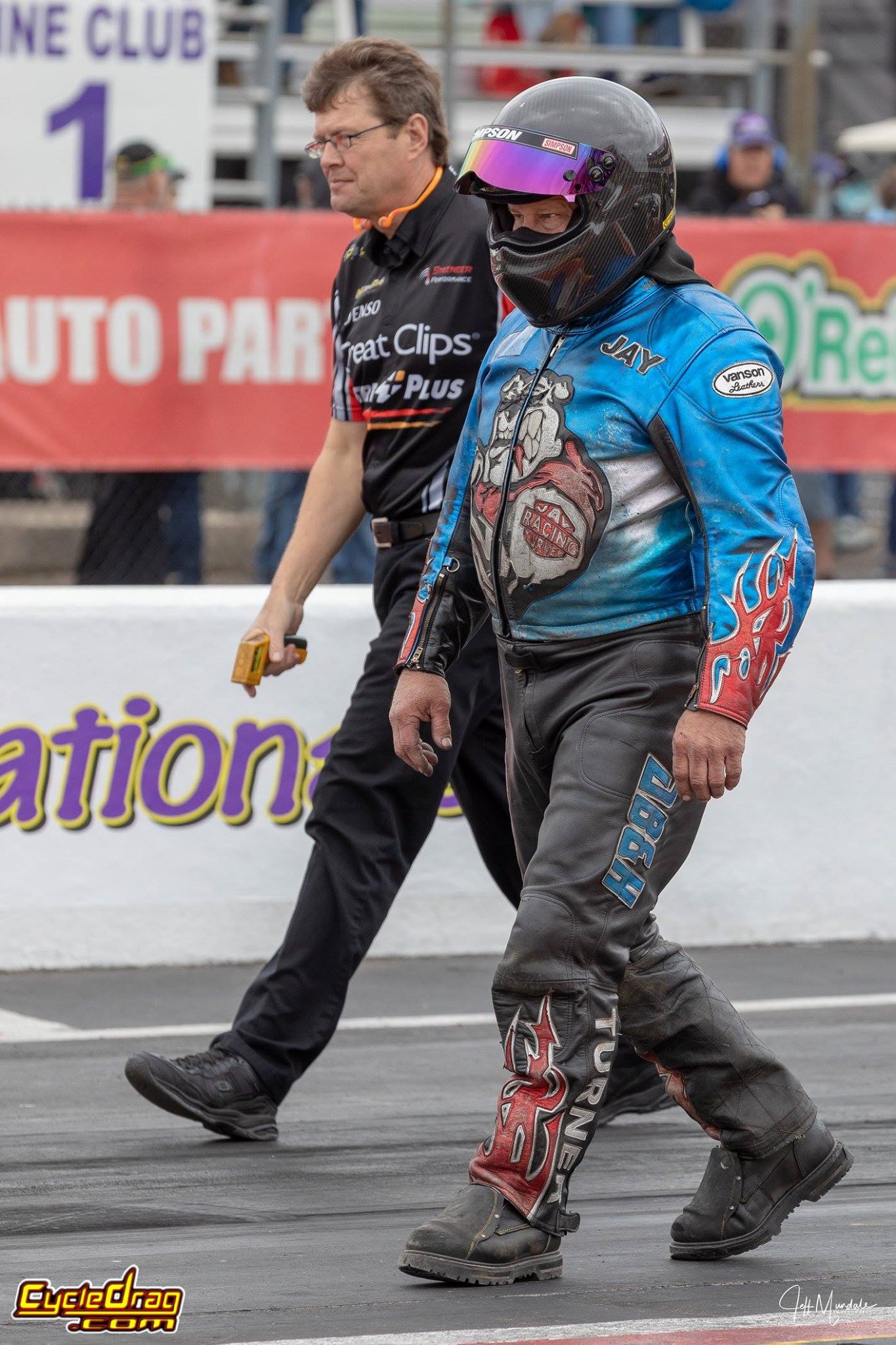 Last season Walt Sipp from Pro Charger explained to Cycledrag how a supercharged Nitro Harley works.
Most experts agree a supercharger has the ability to easily push the nitro twins into the five-second zone, but so far lack of consistency and dependability has been the issue. Tak Shigematsu of Japan often has a difficult time making a clean run on his supercharged Nitro Harley, but when he does it's spectacular. At the 2017 Man Cup Finals Shigematsu set the Harley-Davidson world record with a 6.02 on a far from flawless pass where he brushed the wall and broke his handlebars. It was more evidence that the combination could run deep into the fives. However Shigematsu was plagued with mechanical gremlins for much of 2018 and was unable to make first round at last season's NHRA opener.
Shigematsu backed up his epic 6.02 with a 6.06 this past November in Valdosta.
Jaska Salakari of Finland holds the world record for a v-twin dragbike having clocked an impressive 5.83 on his supercharged machine last season at the Tierp Arena in Sweden. Salakari's configuration is much different though from what is considered a Harley platform. Salakari runs double overhead cams and electronic fuel injection while the supercharged Nitro Harleys use pushrods and mechanical fuel injection.
Salakari has stated he feels his combination still has a lot of room for improvement and boldly predicted 5.40s.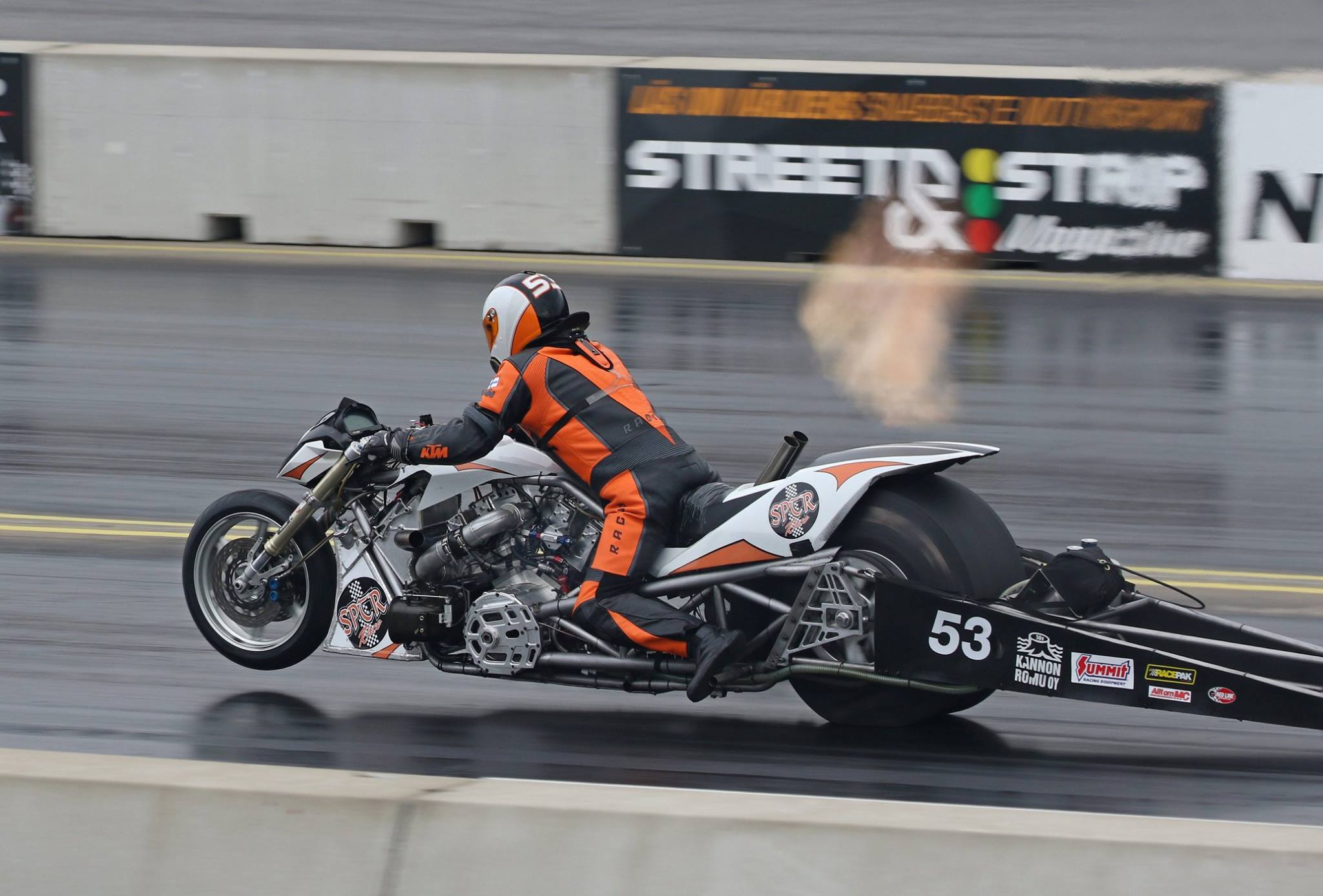 The quickest run on an injected Nitro Harley is a 6.14 by Joey Sternotti at South Georgia Motorsports Park in AMA Dragbike in 2010. Turner holds the official NHRA record with his blast of 6.16 in Epping in 2017.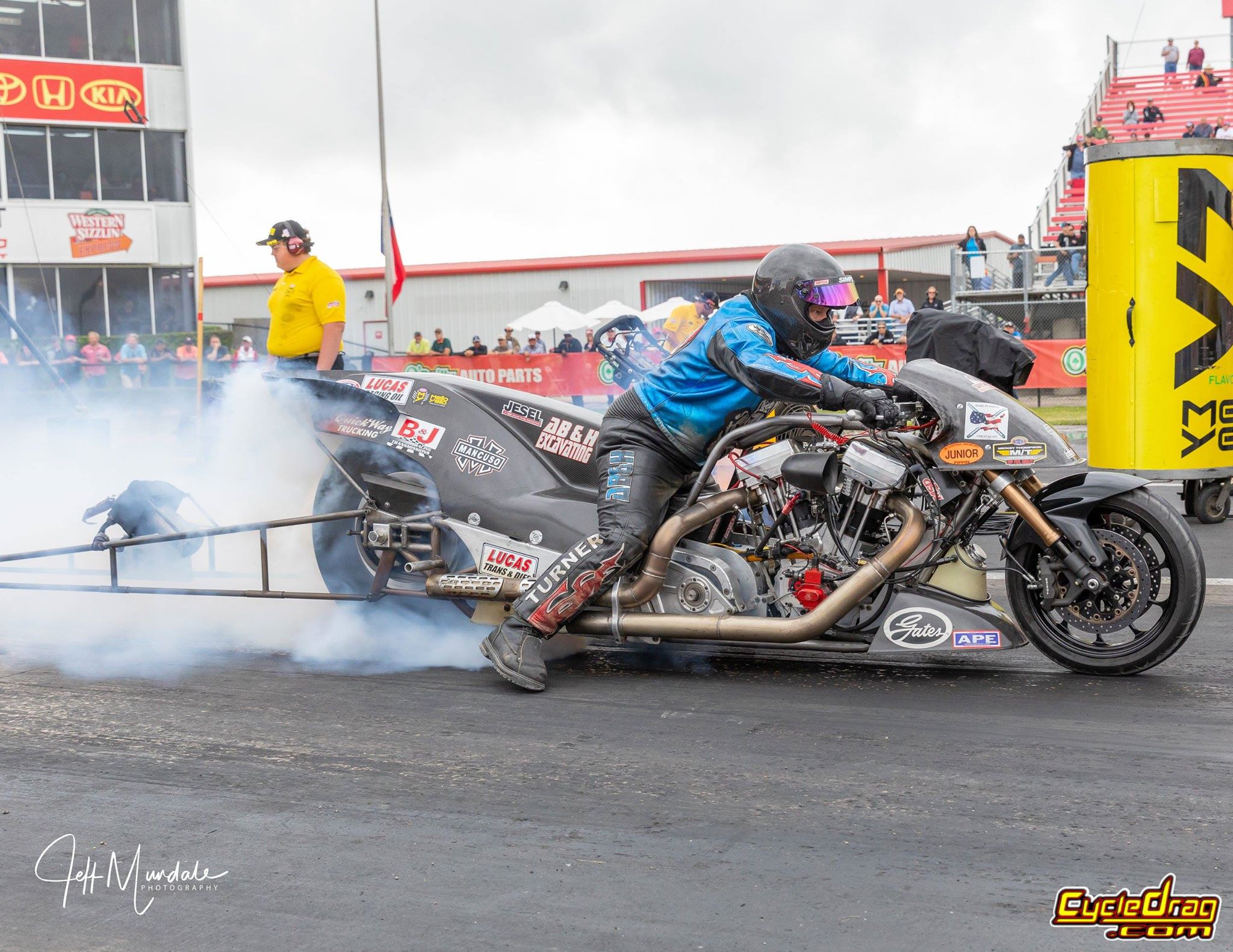 It puts the best performance of a supercharged Harley and an injected Harley only .12 apart with a major consistency advantage going to the non-supercharged bikes. It could make for some intriguing racing.
Jason Pridemore of Ohio was the only other competitor to enter an NHRA race aboard a supercharged bike last season. Pridemore found success, advancing to the semifinals at the U.S. Nationals with consistent runs in the 6.50-zone.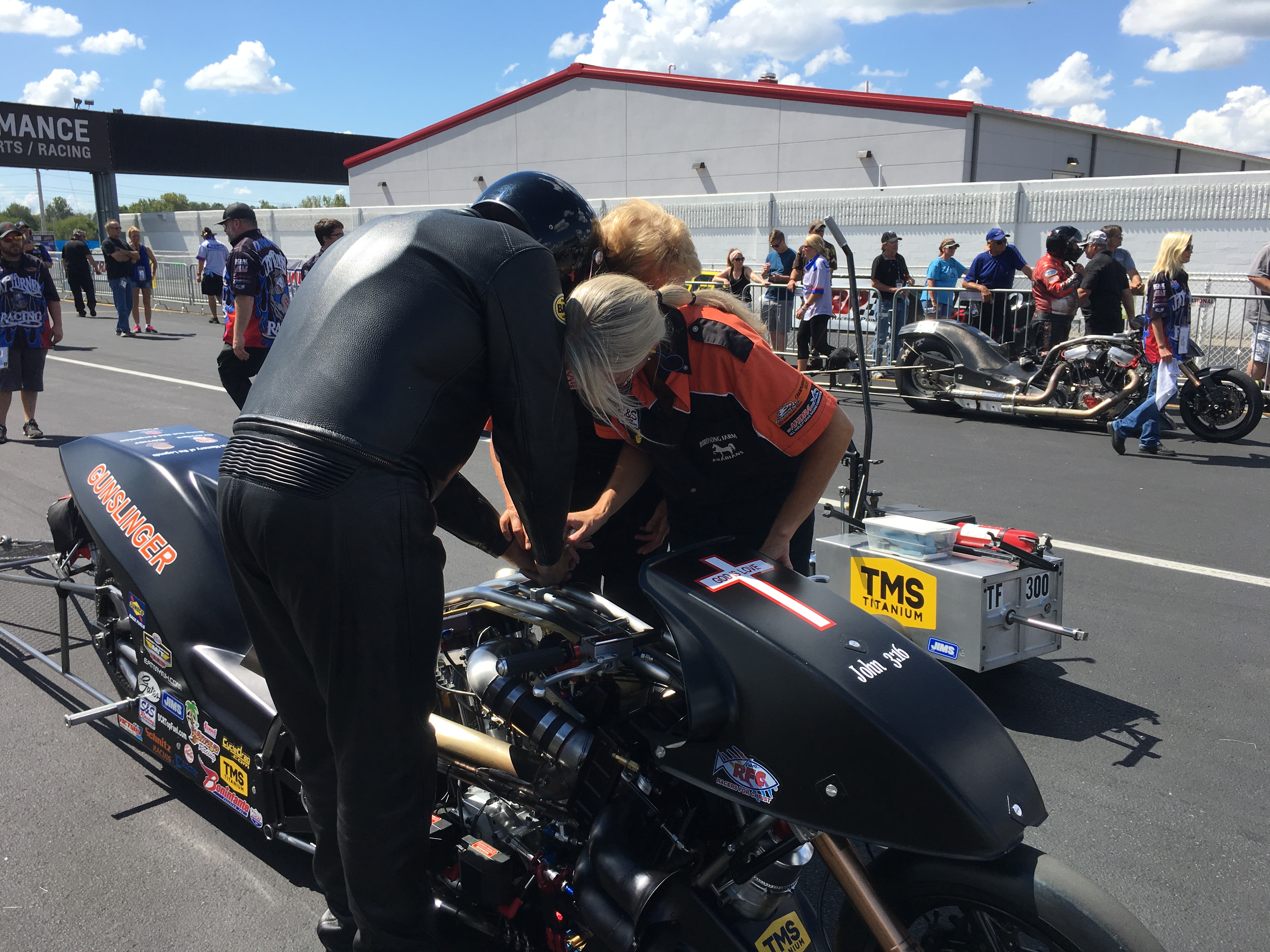 Pridemore tested his crowd-pleasing creation at the Man Cup event at Dragway 42 in West Salem, Ohio in July.
The majority of Top Fuel Harley racers were in favor of keeping the supercharged bikes legal, with many of them citing the incredible amount of work Turner, Pridemore, Shigematsu and others have put into their programs.
2018 class champion Tii Tharpe says NHRA made the right decision and is applauding the efforts of his teammate Tuner.
"I think it's great. You may just see me on a supercharged bike if it doesn't scare the hell out of me," laughed Tharpe.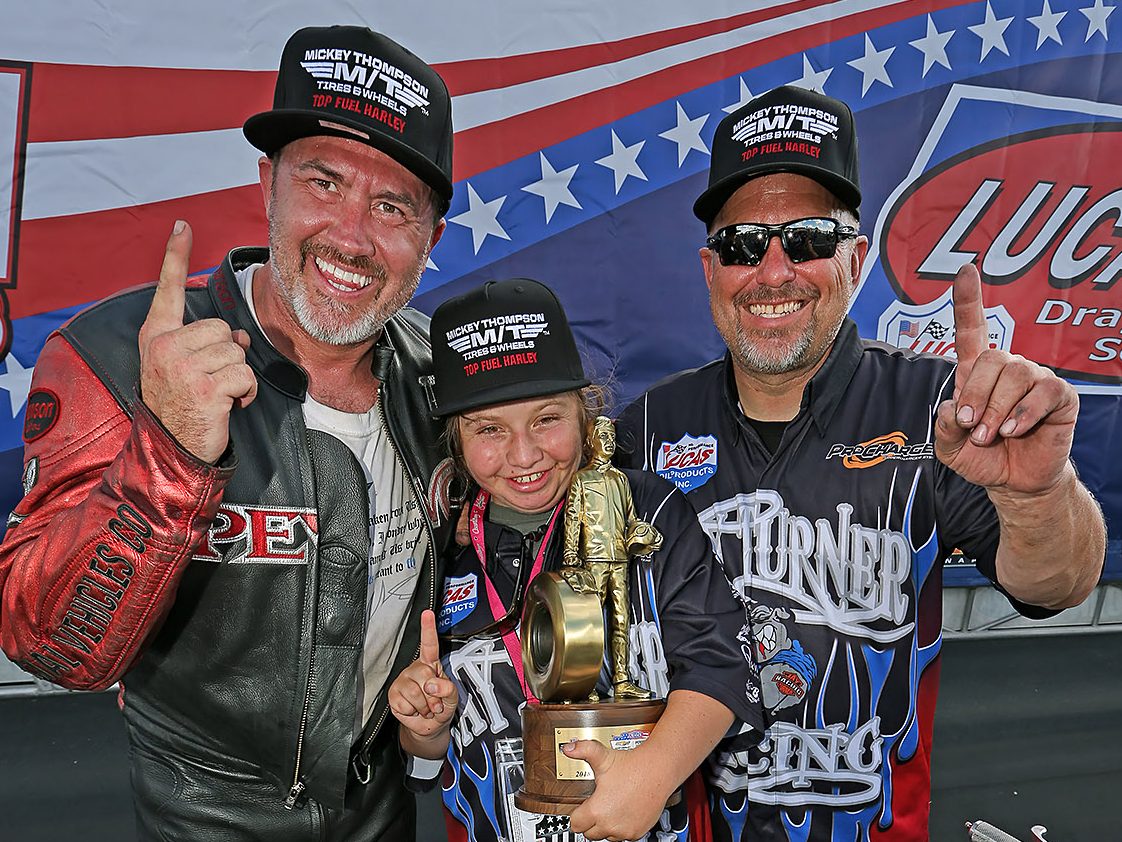 Tharpe isn't buying the argument that the inconsistency of the supercharged bikes and lack of close races will hurt the racing.
"If you want bracket racing you have that with Pro Stock Motorcycle," Tharpe said. "The fans want to see something wild. They want to see a guy smoke the tire or blow the head off the thing. That's the type of racing they have in the Top Fuel and Funny Car classes and look at how popular they are. It's not always side-by-side."
Tharpe thinks his teammate has a great chance to be the first in the fives and says it will be interesting to see how the supercharged bikes are viewed by the other competitors after that milestone is achieved.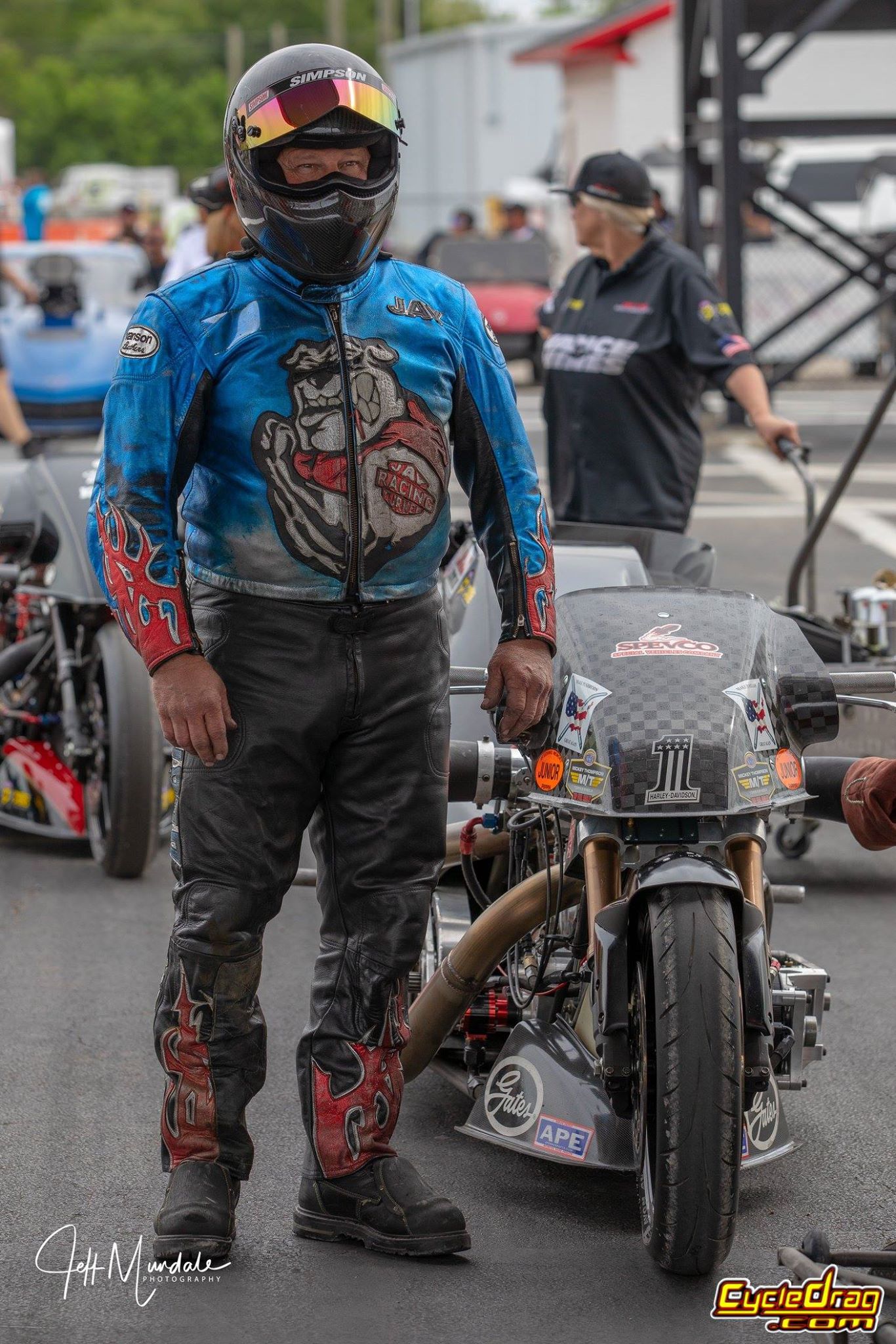 It's yet another reason to get excited for what should be a memorable season in NHRA Top Fuel Harley.
All 10 events will be aired on FOX Sports with select events on the FOX broadcast network. With over 575 hours of programming, fans can tune-in to action from Friday and Saturday qualifying rounds as well as Sunday's eliminations.



Will we see the first Harley-Davidson five this season? And if so who will do it? It could very well be this man on his "Lucky 7."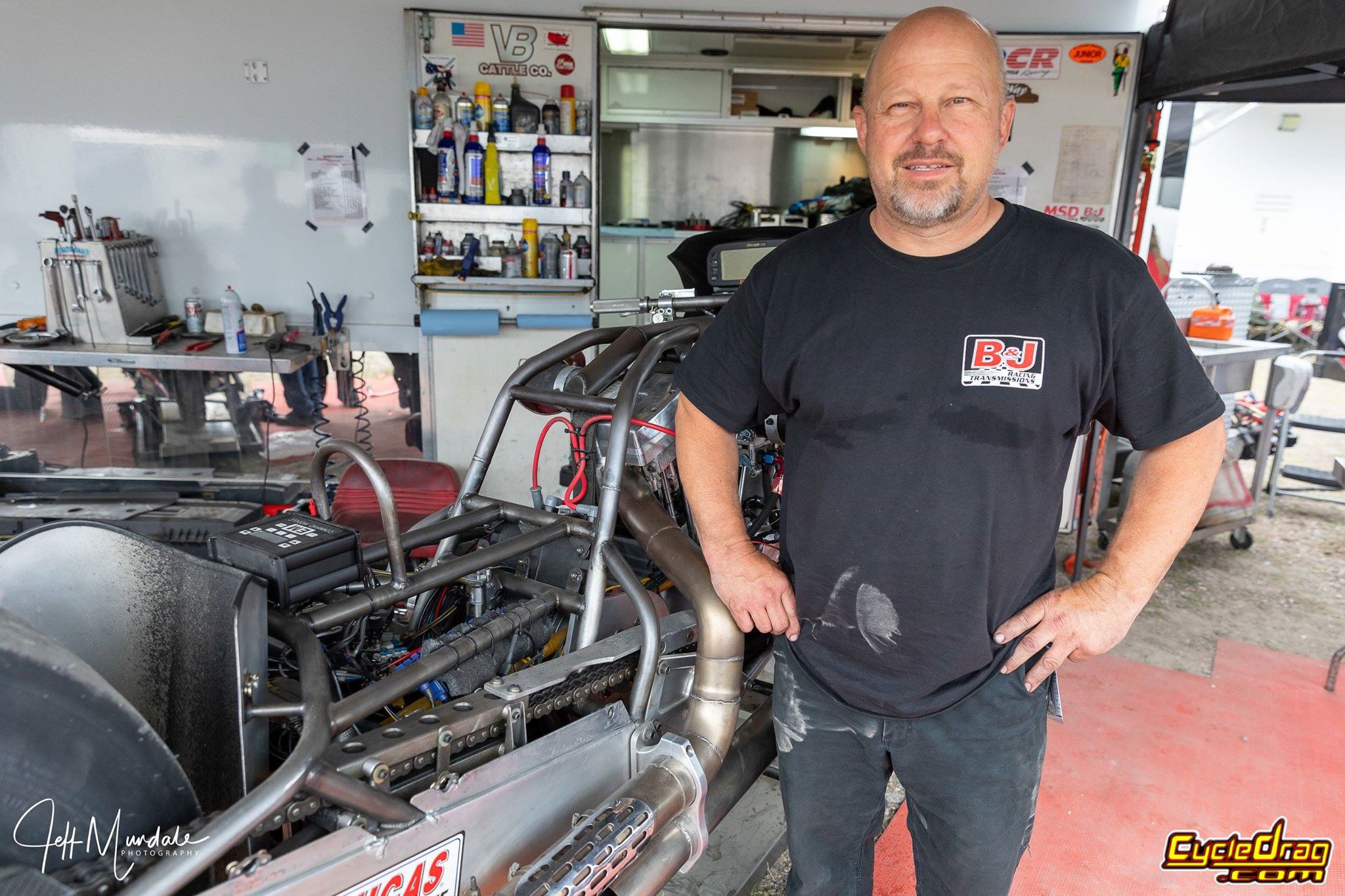 There are more videos on the Cycledrag Youtube channel (please subscribe here) and the Cycledrag.com Facebook page (Please like here) and more will be coming soon. Check back daily.
MICKEY THOMPSON TIRES NHRA TOP FUEL HARLEY DRAG RACING SERIES SCHEDULE
Feb. 7-10, Lucas Oil NHRA Winternationals, Pomona, Calif.
Feb. 22-24, NHRA Arizona Nationals, Phoenix
March 14-17, Amalie Motor Oil NHRA Gatornationals, Gainesville, Fla.
April 12-14, NHRA SpringNationals, Houston
June 7-9, Menards NHRA Heartland Nationals, Topeka, Kan.
June 14-16, Fitzgerald NHRA Thunder Valley Nationals, Bristol, Tenn.
July 5-7, NHRA New England Nationals, Epping, N.H.
Aug. 2-4, NHRA Northwest Nationals, Seattle
Aug. 15-18, Lucas Oil NHRA Nationals, Brainerd, Minn.
Aug. 28-Sept. 2, Chevrolet Performance U.S. Nationals, Indianapolis