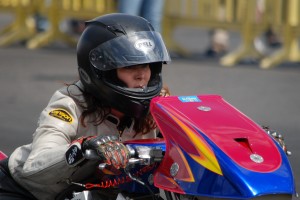 Dream Chaser Racin's, Janette Thornley is excited to kick off her dragbike third season on March 7 in Houston Texas where she will compete at the Royal Purple Raceway in the NHRA Harley-Davidson Drag Racing Series.
"I can feel the knots in my heart and stomach get bigger, that feeling of excitement and anticipation, as the season opener gets near." Says Thornley.  "We are ready to pick up where we left off last year, consistent and hungry for a win!"
Thornley is moreconfident as she moves into her third year of racing and expecting a full year of solid Pro Dragster competition.  The Dream Chaser Racin' team has plans to chase a points series this year, offered by the NHRA Harley-Davidson Drag Racing Series their goal is to bring home a Championship title!  "Competition will be tough, it always is in this field, but that's what I'm there for!" said Thornley.
"2013 was a great year, bringing home two first place trophies (one an NHRA Wally); running my best time at 7.302 e.t. and really becoming one with the motorcycle." Said Thornley "I am feeling more confident going into 2014 and I hope it shows in my performance."
2014 Race Schedule (* dates are tentative; seeking sponsorship)
| | | | |
| --- | --- | --- | --- |
| March 7-9 | NHRA Houston TX | June 20-21 | NHRA Bristol, TN |
| April 4-5 | NHRA Petersburg, VA | July 18-20 | NHRA Hebron, OH |
| April 11-13* | Man Cup Valdosta, GA | Aug 15-17 | NHRA Rising Sun, MD |
| May 16-18 | NHRA Norwalk, OH | Oct 11-12 | AMRA Rockingham, NC |
| May 31-June 1 | AMRA Rockingham, NC | Nov 6-9 | NHRA Las Vegas, NV |
| June 13-15* | NHRA Morrison, CO | Nov 14-15* | Man Cup Valdosta, GA |
Dream Chaser Racin' would like to thank sponsors LAT Racing Oils, CP-Carrillo, Quality Printing and West Coast Action Photos for your support.  A special thanks to:  Hawaya Racing, America's Forgotten Heroes and of course my family.  
Contact Dream Chaser Racin' at dreamchaserracin@yahoo.com
Facebook: Dream Chaser Racin' – Janette Thornley

 Picture credit:  Mark Lull of West Coast Action Photo's