Continuing to show dominance in his history-making rookie season with Vance & Hines/Mission Suzuki rider Gaige Herrera raced his Gen 3 Suzuki Hayabusa to a sixth victory of the season Sunday at the DENSO NHRA Sonoma Nationals at Sonoma Raceway in Sonoma, California, becoming the first Pro Stock Motorcycle rider to sweep the NHRA's fabled Western Swing.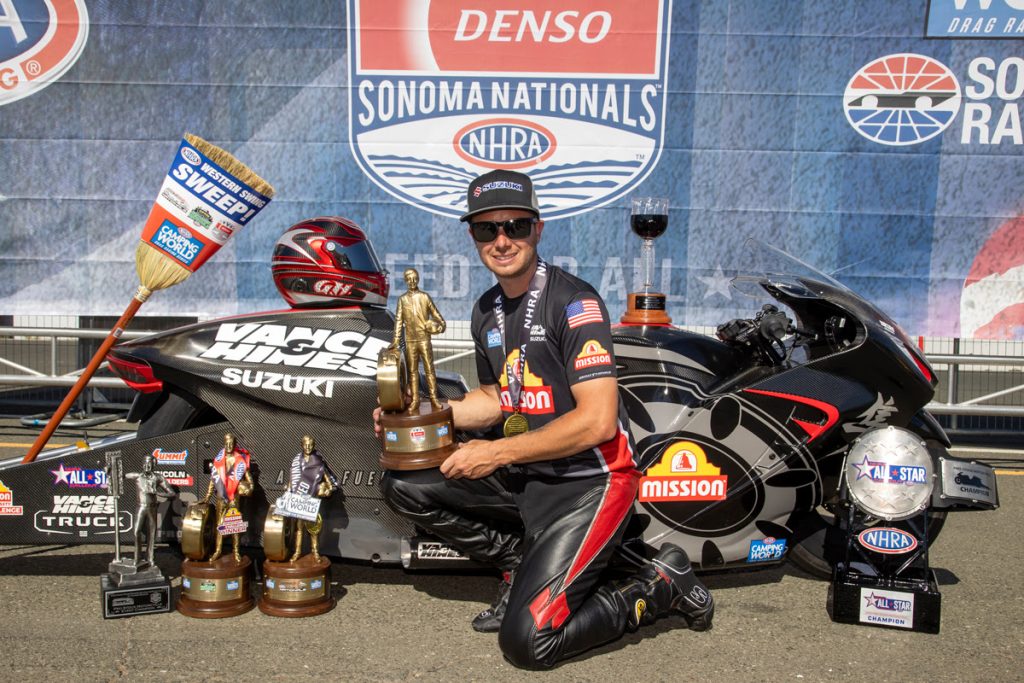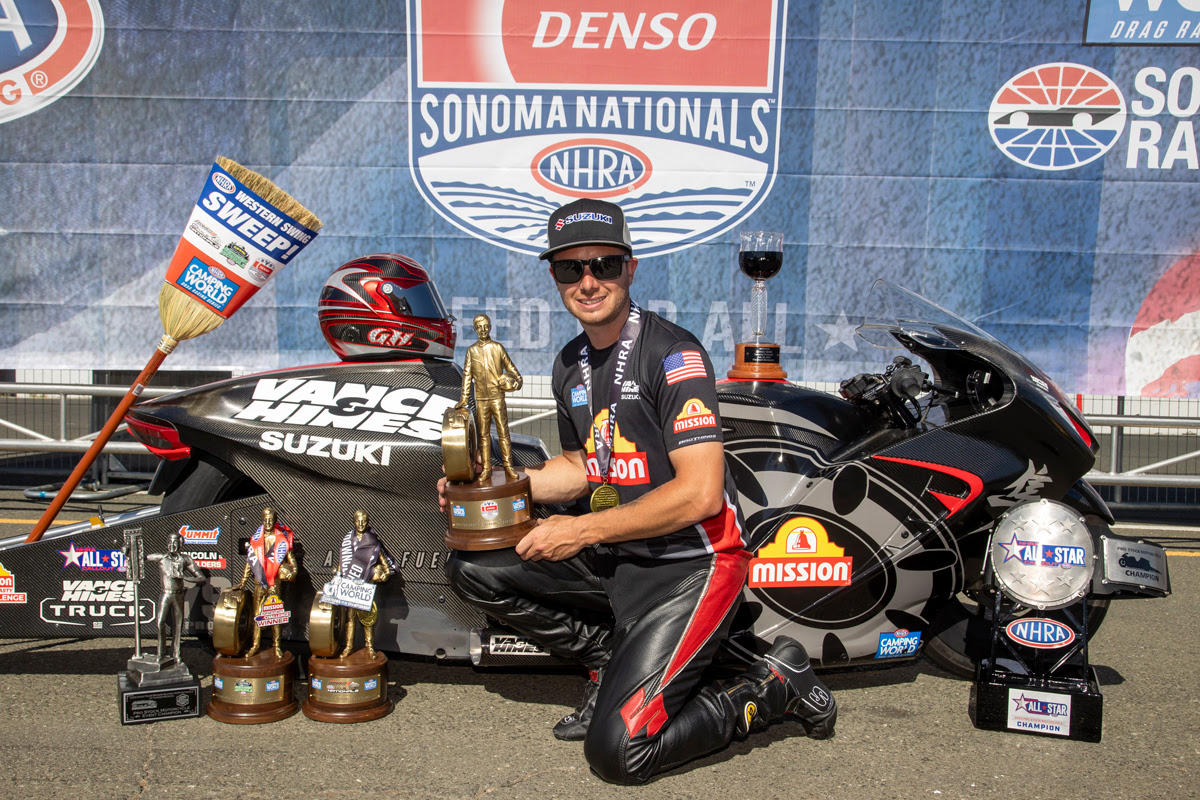 After wins in Denver and Seattle, Herrera came to Sonoma with a chance to become the first Pro Stock Motorcycle rider ever and the first racer in any NHRA class since 2009 to win the grueling Western Swing that consists of three consecutive back-to-back national events.
As he did at the first two races of the Swing, Herrera took the number one starting spot in Sonoma, posting a 6.728-second/199.94 mph run to claim his seventh number one qualifier of the season. On Saturday, Herrera also won the inaugural NHRA Pro Stock Motorcycle All-Star Callout, a specialty race that gives the top eight riders in the class a chance to "call out" an opponent in a head-to-head grudge match during the qualifying rounds. Herrera took home the $15,000 top prize with wins over Chase Van Sant, Hector Arana Jr., and Angie Smith.
In the first round of eliminations, Herrera made a 6.729-second/199.11 mph run, his quickest elapsed time of the weekend, to advance against Ryan Oehler (no time). He moved out of round two with a 6.836-second/196.10 mph win over Marc Ingwersen, who fouled. Herrera defeated Karen Stoffer (6.926 seconds/191.97 mph) in the semi-finals, making a 6.793-second/195.28 mph pass, setting up his first final-round appearance against reigning class champion Matt Smith.
But the highly anticipated matchup came to an anti-climactic conclusion when Smith's motorcycle was unable to fire on the starting line, forcing him to withdraw. Herrera made an unopposed 6.775-second/198.12 mph pass to claim his seventh win of the year and complete the first sweep of the Western Swing since Top Fuel Racer Antron Brown accomplished the feat in 2009.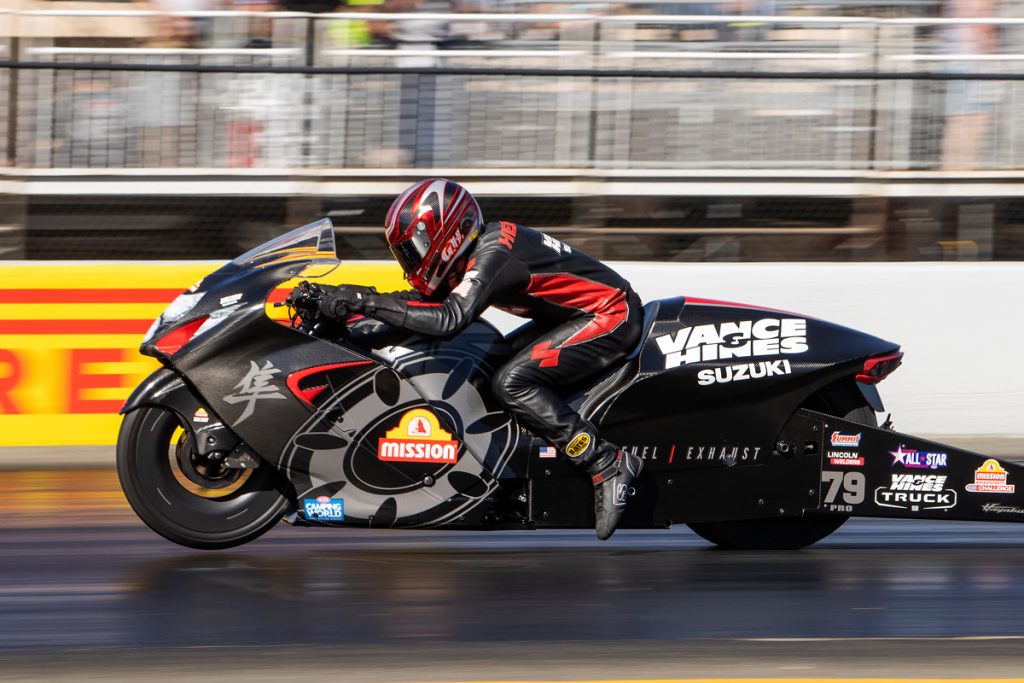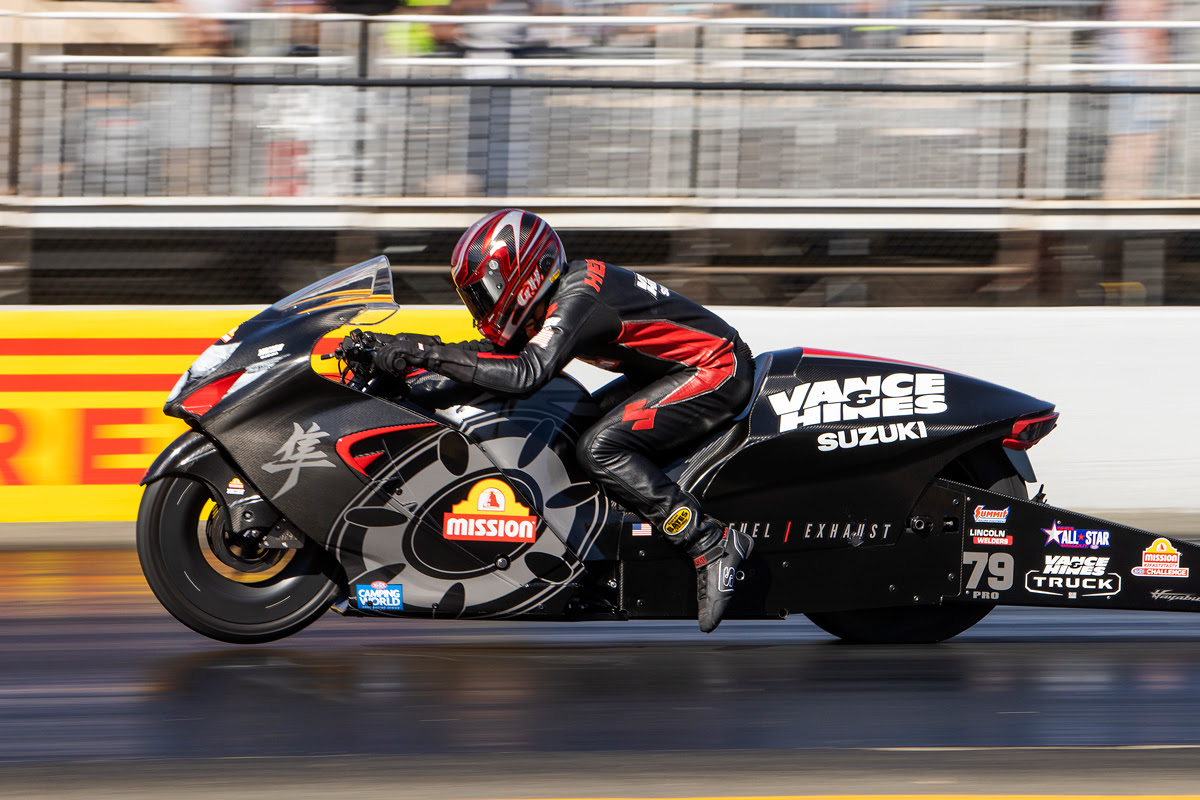 "Being the first rider to sweep the Western Swing is something I never expected. It's remarkable. It's hard to put into words how it feels, but I give all the credit to the team. They work their butts off to give me the best bike possible, which gives me all the confidence in the world when I pull up to the starting line," Herrera said. "I wanted to race for it, especially against a rival like Matt, but we're going home with the win and that's what matters. I clinched a spot in the Countdown to the Championship this weekend, so that's where our focus goes now. Once the countdown starts, we need to keep the results coming and show we can be as good at the end of the season as we were at the beginning. I'm extremely excited for what's to come."
Eddie Krawiec came to Sonoma showing an upswing in mid-season performance following his best finish of the year in Denver and qualified third with a 6.771-second/199.91 mph run on Saturday.
Krawiec knocked off John Hall (7.853-seconds/123.64 mph) in the first round with a 6.818-second/198.03 mph run, and advanced into the semi-finals with a 6.762-second/199.23 mph victory in round two over Angie Smith, who fouled.
But despite a starting line advantage over Matt Smith in the semi-final round, Krawiec came up inches shy of repeating last week's all-Vance & Hines/Mission Suzuki final when his 6.860-second/199.52 mph run fell just short of Smith's 6.819-second/198.23 mph pass at the finish line.
"The track kind of got us in that round. I wouldn't say the surface went away, but it wasn't as good as it was in the earlier rounds and my bike rattled the tire off the starting line. Usually, if I have someone by four-hundredths on the tree, I expect to get the win, but unfortunately, my opponent had a good run at the wrong time," Krawiec said. "I have a great motorcycle in the Gen 3 Hayabusa, and the package is coming together for me at the best time in the season. We've got a month now to go home and get ready for our hometown race in Indy. That's where I won my last race, and it would be the perfect place to win my 50th."
Vance & Hines/Mission Suzuki crew chief Andrew Hines was all smiles on the starting line when Herrera pulled up for his history-making run, and Hines credited the accomplishment to both Herrera's outstanding riding ability and the work of the team.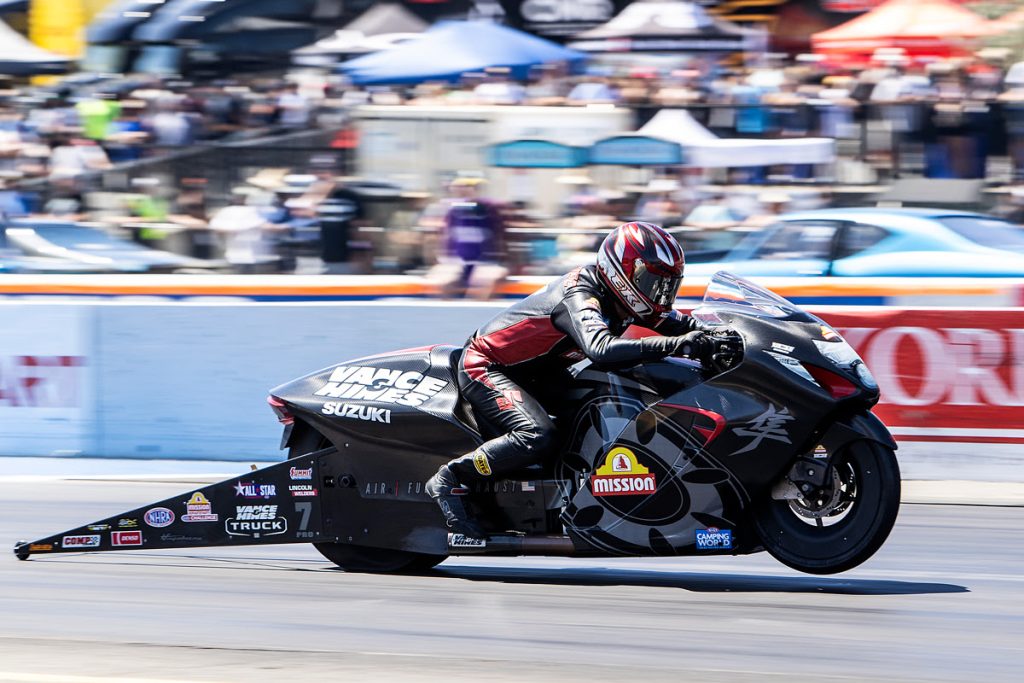 "It's surreal. These wins are by-products of all the decisions we made over the last six months and of the hard work of this team. It's a fully collaborative effort by everyone, from Gaige rising to the occasion, the team sharing data, to trying different setups from round to round, and even taking a gamble here and there. We're successfully finding every avenue to turn on win lights," Hines said. "We've been away from our families for a long time on this Western Swing and the energy and success we're taking into this break will push us to make our Suzukis even better for Indy and the rest of the season. The class is getting closer to us, but we're here and we accept the challenge."
After eight of 15 rounds, Herrera and Krawiec currently sit first and third in the Pro Stock Motorcycle championship standings with 924 and 563 points, respectively.
The Vance & Hines/Mission Suzuki team is back in action August 30 – September 4 at the Dodge Power Brokers NHRA U.S. Nationals at Lucas Oil Indianapolis Raceway Park in Indianapolis, IN.
There are more videos on the Cycledrag Youtube channel (please subscribe here) and the Cycledrag Facebook page (Please like here) and more will be coming soon. Check back daily.
To take advantage of some amazing discounts at Brock's Performance, click – http://brocksperformance.com?aff=12
USE cycledrag5 coupon code.