It is known throughout the drag racing world as one of the fastest, most pristine tracks in all of racing. And now, the International Hot Rod Association's best racers will travel to Palm Beach International Raceway™ (PBIR) for two thrilling days of action and entertainment at the IHRA Nitro Jam Palm Beach Nationals, May 2-3, 2014.
Considered one of the crown jewels on the IHRA Nitro Jam Drag Racing Series event schedule, Palm Beach International Raceway will host the best in Nitro Funny Car, Nitro Harley, Nitro Altered, Mountain Motor Pro Stock and Jet Dragster competition over two jam-packed days of racing. For the first time since 2009, the IHRA has returned to a traditional competitive racing format with professional qualifying taking place on Friday, May 2 and eliminations set for Saturday, May 3. A huge championship purse and championship points are on the line in all classes when the IHRA Nitro Jam Drag Racing Series stops at Palm Beach International Raceway the first weekend in May.
Mountain Motor Pro Stock will test the quarter-mile at Palm Beach International Raceway coming off of a record-setting start to the 2014 season
"Palm Beach International Raceway is not only one of the fastest tracks in the country; it is also one of IHRA's main facilities as part of the IRG Sports + Entertainment™ family. In addition to some great racing, the Palm Beach Nationals will also feature a lot of fun, entertainment and great hospitality for the many fans of the IHRA," said Scott Gardner, President of IHRA Motorsports. "This is one of the biggest weekends on the calendar for the IHRA Nitro Jam Drag Racing Series, and I anticipate the drivers and teams will most definitely step up their games to try and win one of our crown jewel events."
And with so much on the line, records have fallen or nearly fallen in every single professional class so far this season. Among the record-setting performances in 2014 have been great showings from IHRA's Nitro Funny Car and Pro Stock classes during the first three events in the 12-city series. One of IHRA's original classes when it was founded in the early '70s, Pro Stock returned to IHRA competition for the 2014 season after a brief hiatus and has been met with overwhelming support – not to mention topping the list of record-breaking performances.
Earlier this year, Missouri native John DeFlorian shattered the IHRA records in speed and elapsed time with a blistering 6.224-second pass at 226.70 mph in San Antonio. Currently, DeFlorian sits second in the Pro Stock standings behind Oklahoma native Cary Goforth. They will be joined in Bradenton by Goforth's teammate Todd Hoerner, along with two-time IHRA Pro Stock World Champion Pete Berner, Scott Hintz, Kevin Bealko, and more.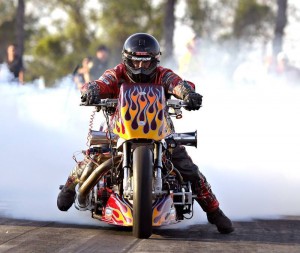 New IHRA world records have been set in two classes, including Nitro Harley
In the Nitro Funny Car races, Californian Jason Rupert leads the way in the "Black Plague" Camaro, coming off of two Nitro Jam victories in the first three races. He is joined by rookie winner Mike McIntire Jr. in the "McAttack" Camaro, who played spoiler at IHRA's other Florida event in Bradenton, along with "Mr. Explosive" Mark Sanders, Tim Boychuk in "Forever Forward," John Hale in the "Mike Burkhart" tribute Camaro, Bruce Litton in the "U.S. Male" Vega, Ronnie Young in the world famous "Blue Max," Mike Halstead in "Candies & Hughes", and additional racers.
Also making history in Palm Beach will be the debut of the world's only Jet Dragster championship program being contested by the four fastest women in drag racing – the Larsen Motorsports jet team. This four-car team is made up of four very talented female competitors with vastly different backgrounds. From a 19-year-old college student, to a female test pilot, a nurse and an entrepreneur at the helm of the operation, the team of Elaine Larsen, Marisha Falk, Dawn Perdue and Kat Moller will compete in 300 mph, side-by-side jet-powered drag racing action.
Additional IHRA Nitro divisions will include Nitro Harley and Nitro Altered, two radical and extreme classes that are among the most popular in the world for their death-defying competition. Iconic racer Jay Turner leads the 220 mph nitro-powered motorcycle class, joining points leader Randal Andras, Floridian Joey Sternotti, Mike Scott, Ron Gledhill, and more racers.
Nitro Altered, another extreme class once banned from organized competition due to the extreme danger behind the wheel, will include Arizona native Ron Maroney in "Blind Faith," Las Vegas native and third generation racer Kyle Hough in "Nanook", the popular "Arizona Thunder" driven by Mike Hilsabeck, "Bullet Bob" driven by Don Blackshear, and more.
Nitro Funny Car headlines IHRA Nitro Jam's return to PBIR
In addition to all of the on-track action, the 2014 Palm Beach Nationals will feature an all-new interactive Fan Fest. Fans can tour the open pits, meet the drivers, and take part in a number of fun family activities including the Larsen Motorsports Jet Technology Center, a hands-on look at the design and technology behind a jet-powered racing team. Fan Fest also features the Hollywood Cars of the Stars – an exclusive collection from the Miami Auto Museum – of real cars from famous movies and television shows such as the General Lee from Dukes of Hazzard, the DeLorean from Back to the Future, the Batmobile from the 1960s Batman television series, and additional well-known vehicles.
Fans will be treated to an autograph signing session with the stars of the television show "Hot Rod Reality" – Bubba Lloyd, Tom Lloyd and supermodel Layla Von Athey – on Saturday, May 3 from 1:00 p.m. to 3:00 p.m. as part of the Fan Fest. On display exclusively for the Fan Fest at PBIR will be the stunning one-of-a-kind Bubba Edition Bumblebee TRANSFORMER Camaro, featured in the movie "Transformers: Age of Extinction", in theaters this June. With facilities located in both Jupiter, Florida and Fairfax, Virginia, Bubba's East Coast Rods and Customs is a family-run business headed by the father and son team of Tom and Bubba Lloyd.
The Nitro Jam show time is scheduled for 7:30 p.m. on Friday for qualifying and 6 p.m. on Saturday for eliminations. For a complete event schedule, visit www.RacePBIR.com.
Tickets to the 2014 IHRA Nitro Jam Palm Beach Nationals at PBIR are $25 on Friday and $30 on Saturday for adults and $10 for children per day. Fans can save $5 on each adult spectator ticket when purchasing tickets online in advance at www.NitroJam.com.
For more information on the 2014 IHRA Nitro Jam Palm Beach Nationals, visit www.NitroJam.com or www.RacePBIR.com.