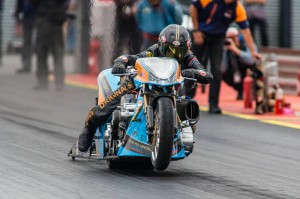 To say that the Gulf Oil – Grand Prix Originals team had a successful weekend at the European Championship Finals would be to understate what was achieved by Europe's most successful Top Fuel Bike team at this, their last home event of the season.
A new personal best for rider Ian King (and in doing so making history as the first UK rider to run a sub six second pass on home soil), an event win and the teams seventh European Championship were the result of their efforts over the weekend.
Qualifying session one saw King lay down a mark with an off the trailer 6.0322s @ 222.19 mph in front of sponsors Nexus Underwriting Management to put him straight into number one qualifying position that was not relinquished all weekend despite the cool track and blustery wind on the run.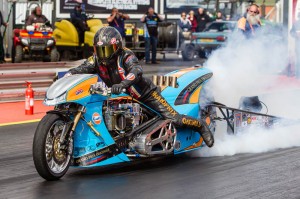 His next qualifying round saw King make the history setting mark of 5.9646s @ 232.57mph and to put him in touch with the European Speed record. The short times were looking good for improving over the weekend, 1.0106 to sixty feet and a storming 3.9203 @ 195.49mph at the eighth mile on the Puma Yamaha.
However, the team found that they were suffering some piston ring issues that necessitated King to take care of top end engine temperature, so his elimination runs were a case of careful management of engine power at the top end.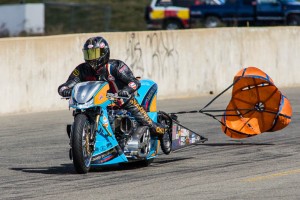 Eliminations round one saw King's early shutoff 6.2552 @ 181.34mph just defeat Dutch rider Rene van den Berg (also Puma Yamaha) who made a fine first six second pass of 6.5473s @ 216.16mph. King's closest rival for the European Championship title Rikard Gustafsson of Sweden ran a stout 6.5936s @ 207.92mph on his Pro 1 Puma Suzuki Funnybike to defeat Czech rider Otto Knebl on the more powerful Puma Yamaha.
King secured his seventh FIM European Top Fuel Bike title in eliminations round two when Greek rider Filippos Papafilippou surprised many with a great 6.9343 @ 196.39mph to overcome Rikard Gustafsson's problem ridden 7.0135s @ 185.86mph pass. King elected to make a pass to secure lane choice rather than just take the green light and push back but a rapidly cooling track resulted in a fishtailing 6.6870s @ 156.84mph early shutoff, but quick enough to have choice of lane for the final.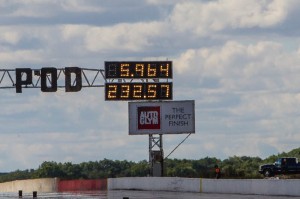 The final saw King against Filippos Papafilippou but the new European Champion ran a 6.2135 @ 200.66mph that would have been impossible for the great performing Greek rider to better.
Pictures courtesy of Ivan Sansom, Rose Hughes and Stefan Boman
At the FIM Championship Awards ceremony Ian King said "I am extremely happy for my fantastic sponsors, team, family and fans from around the globe who continue to support us and provide the motivation to keep coming back to compete successfully at the highest level. I am particularly thankful for the wonderful support and products provided by Gulf Oil International and Grand Prix Originals. Sam, Stefan and Marco have become a key part of the extended team effort that has been so expertly implemented by Michael, Marius, Martin, Nick and Debbie. Thanks all!"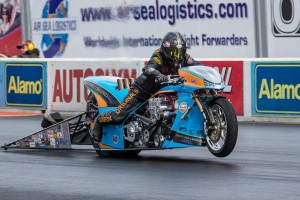 Sam Cork, Brand Manager for Gulf Oil International added " It's a fantastic achievement for Ian and the Gulf Oil – GPO Dragracing Team. Everyone at Gulf would like congratulate them on their 7th European Championship and other landmarks this year such as breaking the magic six second barrier. And to think all this is achieved with standard Gulf motor oil taming a 1500 BHP monster – it's a great testament to the quality of Gulf products."