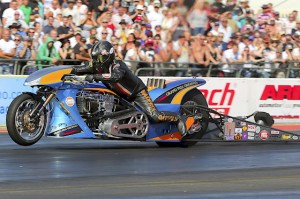 The Gulf Oil Dragbike racing – Grand Prix Originals Top Fuel team are pleased to announce that they will be competing in the opening round of the premier series for motorcycle dragracing in the USA, the Manufacturers Cup.
The Exoticycle / Roaring Toyz Spring Cup event takes place on the 11th – 13th April at South Georgia Motorsports Park in Valdosta, Georgia, USA.
The decision to participate was made after a number of parties came together to provide an infrastructure and budget to ensure that this endeavour became a reality.
Following discussions over the last few years with John Morgan, the person behind the creation of the world's most advanced Funnybike (the Puma powered Morgan Hahn Suzuki) it was decided the time was right for the team's first direct involvement in US racing for over a decade. California based John and his wife Dea stepped up to the plate with their assistance and the project was underway.
After discussing the feasibility of competing at the opening event with Jay Regan of the Manufacturers Cup it became clear that the team would benefit with the addition of team members based in the US. An introduction was made to Mike and Sandy Marsh of BlackCat Motorsports of Clearwater, FL who currently campaign a HD V Rod. Mike and Sandy have kindly agreed to join the team and will bring much needed stateside support and local expertise.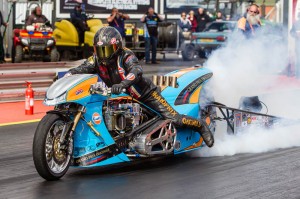 Seven Time European Top Fuel Bike champion and Team Principal Ian King said "we are all very excited at the opportunity to race in the US again. The Manufacturers Cup committee has worked very hard to fill the void left by the demise of AMA Dragbike and provide a race series for dragbikes of any marque to race in. Our Top Fuel Bike class is growing steadily again in the US, and the chance to compete alongside our great friends from North America was becoming irresistible."
Ian continued "An added attraction of competing in the US arose as we could not be inducted into the exclusive MTC Engineering 5 Second Top Fuel Club despite becoming the world's sixth team to run a 5 second pass ever during our European competition last year. Membership is restricted to the first eight riders to run a 5 second pass at a Manufacturers Cup race in the USA only. To date seven riders have now run a 5 second pass in US competition leaving a solitary spot in the club open before it will be closed for evermore."
"With two proven 5 second machines in US competition in the hands of `new' riders Sam Wills and David Vantine it is sure that the remaining spot will be filled very soon and it would be a shame if our previous performances went unrecognised without at least trying to meet the membership criteria. It will be tough for us as we have to ship our operation almost half way across the world to compete in foreign and unknown conditions on an unfamiliar track and against the talented and experienced Sam and David in the dash for the final spot. However, despite being the underdogs we will give it our best shot, we owe it to our fantastic team of sponsors and fans, and particularly to those who have made this specific trip possible – John and Dea Morgan, Mike and Sandy Marsh, Jay and Dianne Eshbach, Laurie Dunlap, Thomas Kundrick, Jerry Francis, Dave Schnitz, Jay Regan and Marius van der Zijden. I cannot begin to express my gratitude for your fantastic support."
The Gulf Oil – GPO Dragracing team uses and endorses exclusively Gulf Oil greases and lubricants in their history making machine. The team is extremely proud to be supported by many leaders in their chosen markets in winning the 2013 European Championship and in their 2014 endeavours:-
APE – The world's most innovative manufacturer of aftermarket parts for race bikes
ACTION CAMERAS – Europe's leading source for action sports cameras
COMETIC GASKETS – The Premier Manufacturer of racing gaskets
GATES – The world's most trusted name in drive belts, hoses and hydraulics
GOODRIDGE – The most innovative and the best in fluid transfer systems
GRAND PRIX ORIGINALS – The brand for drive and lifestyle, past and present
GULF OIL INTERNATIONAL – The world's most iconic brand in automotive fuels and lubricants
GRAPHITE ADDITIVE MANUFACTURING – A leader in 3D printed technologies and rapid prototypin
HOTROD HANGAR – Home of the world renowned custom artist Knud Tiroch
HYPERPRO – The leading producer of progressive suspension products for motor bikes
JE PISTONS – The world's premier manufacturer of high performance forged pistons
JOHN AND DEA MORGAN RACING – The creators of the world's most advanced New Age Funnybike
KIBBLEWHITE PRECISION MACHINING – The highest quality valve train components available
KING RACING – The most successful Top Fuel Bike team in European Dragracing
MICKEY THOMPSON – Simply the best drag race tyres in the world
MRE – Leaders in trackside support for drag race components and air shifting systems
MTC ENGINEERING – Manufacturer of clutches for the fastest motorcycles in the world
NITROSHUTTER – Europe's leading dragracing photojournalists
NCTENGINEERING – Manufacturer of the world's leading non-contact motorsport torque sensors
NGK SPARKPLUGS UK – The world's number one spark plug manufacturer
PAR WILLEN – Master webmeister and proprietor of HarleyDrags.com
PORTABLE SHADE – The best custom branded collapsible canopies available
PRO ALLOY MOTORSPORT – The UK's leading fabricator of alloy tanks, intercoolers and radiators
PUMA ENGINEERING – Manufacturer of the world's most powerful motorcycle engines
RSG CUSTOMIZE – The UK's most creative website designers and vinyl artists
SUPERTOUGH – Custom cases and covers for the Film, TV, Music and Motorsports Industries
SPIES HECKER – the world's leading supplier of paint for car, commercial and industrial finishing.
VAN ES MOBILITY – The leading manufacturer of telematic products for management of moving objects
VANSON LEATHERS – The most iconic brand in motorsport leather goods
WEB CAMSHAFTS INC – Simply THE company for Top Fuel Bike camshafts
WORLDWIDE BEARINGS – The world's leading supplier of ceramic bearings for racing
ZODIAC – Europe's largest supplier of performance and aftermarket HD parts