Richard Gadson joined the team this year with his nitrous Kawasaki ZX-14 Real Street bike.  HTP recently added a MoTeC M84 standalone ECU and custom nitrous kit.  Danny Cox and Ryan Schnitz are back with their nitrous Suzuki Hayabusa Pro Street Bikes.  Both bikes have been upgraded to the Hays Machine Works Convertible Clutch to meet the 2012 rule revisions.  A 3rd Pro Street bike ridden by Lavar 'lil Charlie" DeLee is expected to be ready for the next event.
Saturday qualifying proved to be difficult for many competitors including team HTP.  The team battled chassis and clutch issues with the Richard's Real Street bike but was able to get down the track with an 8.10 at 172mph securing the #9 position.   "We've made a lot of changes with this bike trying to get it just right for Richard this weekend." said team owner Cecil Towner. "With no lock up clutch, short wheelbase and big power it's a constant battle to find the right combination."
Pro Street competitors had an even more difficult time with the track because of their longer wheelbase and higher horsepower.  Cecil Towner says "The pine tree pollen is so bad that the starting line looks like a golf course.  Bikes are covered with it and it's just blowing everywhere.  Everyone is having problems getting off the starting line."  Everyone did, except for Danny Cox who qualified #1 for the first time with a 7.24 @ 201.64mph.  Ryan Schnitz qualified 5th with an "off the gas" 7.55 @ 164mph pass.  "I'm really impressed with Danny." says Towner.  "He's really stayed focus over the winter and is much more comfortable on the bike this year."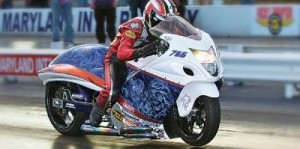 Sunday's 1st round eliminations were delayed by a few hours due to overnight rain.  With a first round bye, Cox advanced to the second round.  Schnitz was matched up with Shannon Maylee and squeezed by with a 7.94 to his 8.09.  Both bikes had to get on and off the throttle to battle the track conditions.
1st round of Real Street matched Gadson with last year's champion, Jeremy Teasley.  Teasley pushed the tree too hard with a -.018 red light giving up the win to Richard.
Second round of Pro Street had Cox against Jeremy Teasley with another "throttle fest".  Danny's 7.50 was no match to Jeremy's 7.30.  Schnitz advanced when his competition broke.
Richard Gadson had a close race against Ashon Dickerson but lost with an 8.15 to his better 8.10.

Schnitz Advanced all the way to the finals but the track proved to be difficult to manage and lost with a tire smoking launch to team No Joke Racing.
The team is excited to get back to the track and do some testing with a new turbo Pro Street Bike and Pro Mod later this month.
Team HTP Performance would like to thank our sponsors:
Arai                                  www.araiamericas.com
Brock's Performance        www.brocksperformance.com
BST Wheels                     www.brocksperformance.com
CP/Carrillo                       www.cp-carrillo.com
Hays Machine Works        www.haysmachineonline.com
JRI Shocks                       www.jrishocks.com
Marine Crankshafts           www.marinecrankshaftinc.com
Mickey Thompson            www.mickeythompsontires.com
MoTeC                             www.motec.com.au
Motul                                www.motul.com/us/en-us
Ryan Schnitz Drag School www.ryanschnitz.com
Schnitz Racing                  www.schnitzracing.com
Worldwide Bearings          www.worldwidebearings.com
Find us on Facebook – http://www.facebook.com/htpracing
Follow us on Twitter – http://twitter.com/HTPPerformance
Watch us on YouTube – http://www.youtube.com/HTPRacing
Visit our website – http://www.htpperformance.com/