The Midwest's largest motorcycle drag racing series—NHDRO—held one of it's biggest races ever with their Summer Nationals presented by Ape Raceparts on July 29 through August 1, 2021 at Lucas Oil Raceway near Indianapolis. Shootouts were spread throughout the large, competitive field and Friday night saw the debut of a fantastic and popular new class.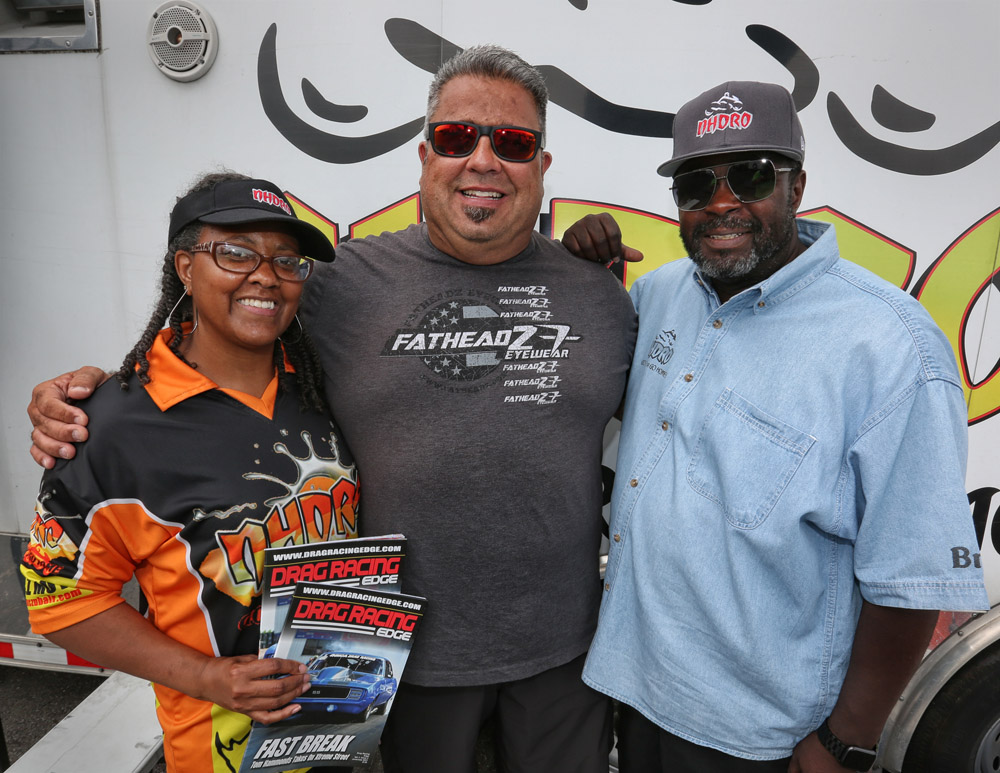 NHDRO's biggest checks of the weekend went to the winners of the $16,000 Bracket Shootout with $7500 winner-take-all Box and No-Box ladders—with each winner facing off for an additional $1000.
Norwalk regular Kevin Adams won the first No-Box Shootout at the season opener at National Trail and did it again at Indy. Even better for Adams, he was able to beat Dustin Lee in the final—the same racer that beat him for the overall win at National Trail.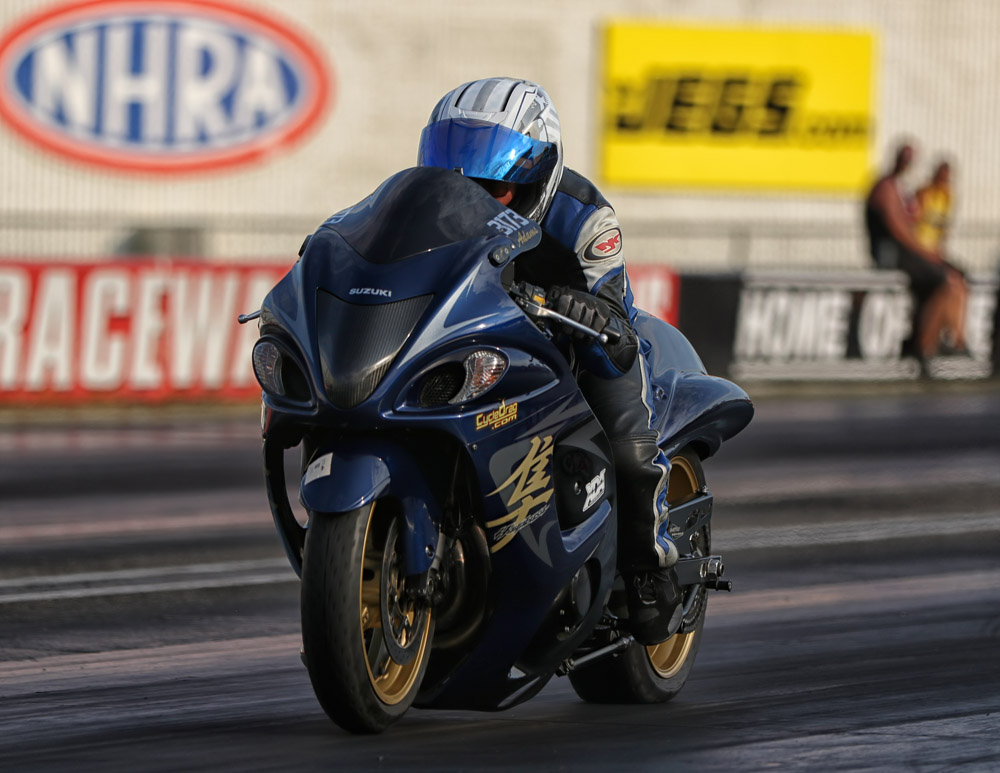 This time around, the pair were only .03 off with their dial-ins—Adams with an 8.86, Lee with an 8.89. Kevin took the tree with an .018 to Dustin's .028, and from there it was pretty much an all-out throttle-twisted-to-the-finishline drag race, with Adams winning with an 8.83 to Lee's 8.84 in a double-breakout race.
"Didn't even know if I was going till five days before the race," said Adams. "We were having problems with the bike shifting, and the bike owner Greg Kubach was going on vacation. We took the bike down to Columbus and Joe Marasco of MSP got it all figured out, so Greg told me to go ahead and take his trailer and get in the race and get the bike dialed in with the brand new Holley ECU on the bike.
"So I get to indy and make four hits on the bike and it is running flawless. On to eliminations and I have to race five rounds to get a win and what a tough group i had to go up against—Trevor Schnitz, Rick Poole, Willis Eacing, Chase Van Sant, and finish with Dustin Lee! Wow!"
Jeremy Hicks is another Norwalk racer who's taken home NHDRO Big Money, winning the $18,000 Big Payback last year. Hicks took the Box final handily this time around when Tyler Fisher redlit by -.009 in the other lane.
There were only green lights in the run-off, with Adams taking the starting line advantage .014 to .022 with his no-box, no-bar Suzuki Hayabusa. But Hicks was dead-on with a 4 on his 8.10 dial and took the stripe vs. Adams' 8.839 against his 8.82.
"Jeremy and I have been friends for many years, congratulations to him," said Adams. "I would like to thank Joe Marasco, he really had his hands full getting this bike going; Greg and Maria Kubach, my dad, wife and kids, Craig Adams, Eric Birchfield, Keller Racing, Jeremy, Joey Brandgard, Buzzy, and the rest of the Norwalk crew.
"I would like to add thanks to all the media outlets for their hard work and dedication to our sport; And Brian and Niki Welch for having these races for the racers."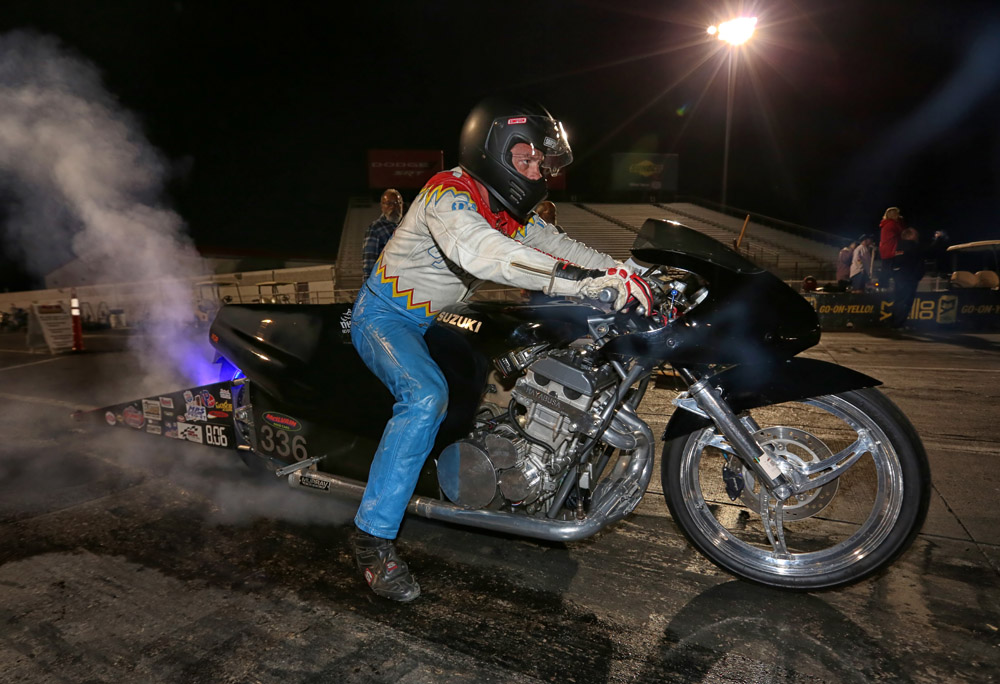 "My bike has been awesome from day one, so with that I've got a lot of people to thank," said Hicks. "The good Lord above for keeping us all safe to start with; my wonderful girlfriend Cheri McFarland that allows me to leave for the weekends and race; Craig and Bill Adams (ironically, Kevin's brother and father, respectively) who helped build my bike; Gary Godwin, who builds phenomenal motors; and my competitors, who make me better and make me look bad at times. All of these people continue to drive me.
"I love bracket racing and everything about it. We say it over and over again that it's a family thing and it truly is! So blessed that I've been given this chance to race."
NHDRO/I-65 Grothus Dragbikes/Klemme Performance Motorcycles Pro Ultra 4.60
Yet another Norwalk regular—Joey Brandgard—also had to battle a 32-bike field, and also came away a winner. But to make matters more difficult, Brandgard qualified last with a too-fast 4.593 in NHDRO/I-65 Grothus Dragbikes/Klemme Performance Motorcycles Pro Ultra 4.60 and had to race "Perfect 4.600" Les Stimac in the first round.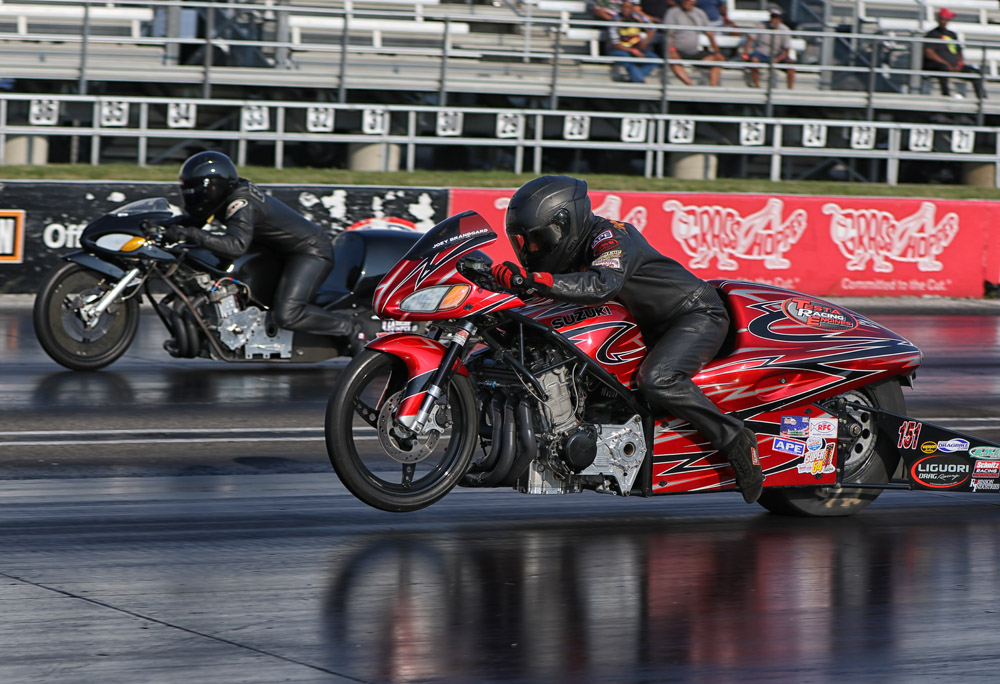 No biggie. Brandgard put .018 on Stimac at the tree and left a little cushion with a 4.636 to Stimac's 4.629.
With every round a bruising battle, Brandgard kept lighting winlights to meet Fast Times Motorsports boss Jeff Jones in the final. This one started out very sharp at the tree, with Joey taking a scant .015 to .017 advantage. But then Jones went full-Tennessee tornado, running a mind-blowing 4.44 while Brandgard nailed a perfect 4.600 for his first 4.60 win.
"I almost didn't come to the race, but Wednesday night the guys convinced me to pack up and head that way," said Joey.
"Carlo Testa built my bike and we proved our little 70 inch, self-starting Hayabusa could compete in the class like a lot of people didn't think."
Jones collected the Last Man Standing bonus, which clocked in at $2700 with nine racers entered.
Road Course Shootout
Two years ago, NHDRO restarted Streetbike Shootout with no takers. Using basically the same rules—quarter mile, no bars, no slicks, must pass a road course test, but on an instant green tree—NHDRO held their first Road Course Shootout—sponsored by Dorian Wallace, Robert Sprague, and Port-Tech—and had no trouble filling a 32 bike field. Free entry may have had something to do with that. They raced for $1100 to win, $600 for the runner-up..
The road course test was great fun, bringing back memories of AMA/Prostar's Streetbike Shootout days, especially at Indy. Eliminations were even better, with few knowing how they would fare against each other till the green lights flashed and win lights lit.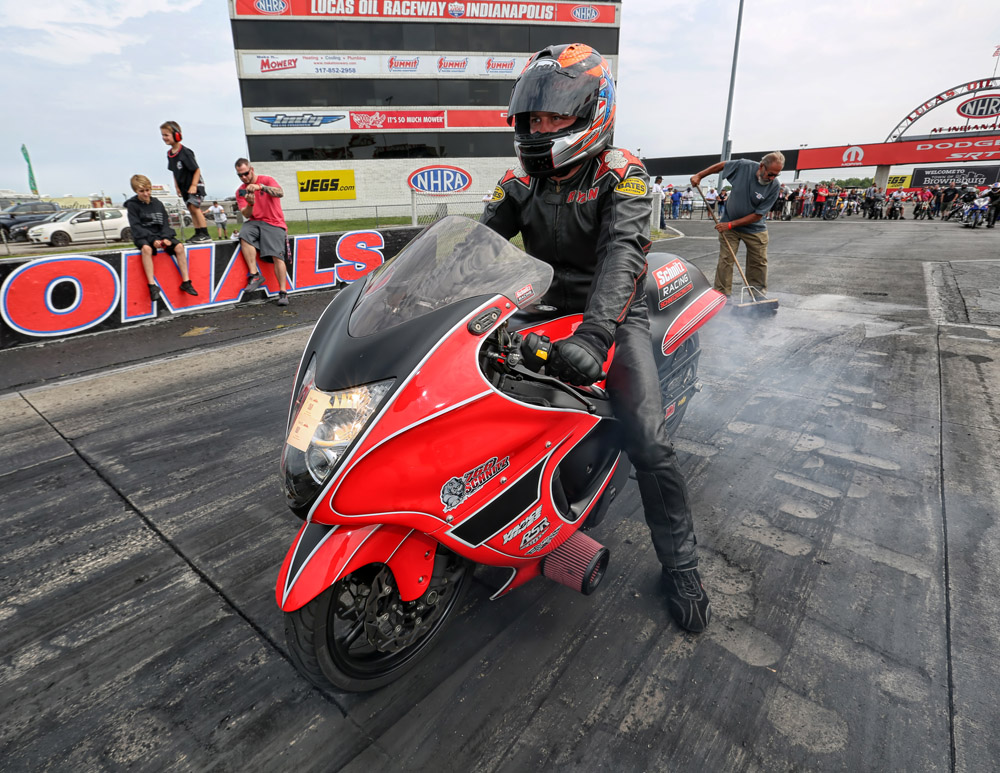 At the end of the evening, it was an old Streetbike Shootout racer that took this win too. Using his Top Gas bike, Ryan Schnitz showed what the turbo Suzuki Hayabusa could do when unleashed from an index.
With the instant green tree, even the reaction times looked retro. Schnitz's .445 took the tree against Zach Green's .513, and from there it was all Schnitz Racing turbo power. Ryan clocked in for the win with a 7.69 at 184.6 mph to Green's 8.56 at 161.
What did Prostar Streetbike Shootout bikes run the last time they ran a road course? Kent Stotz remembers completing a 12 mile road course at Gateway and putting up a 7.31 on his Honda Blackbird.
MTC Pro Street
Schnitz's 'Busa was ultra busy this weekend, with Josh Ford entering the bike in the contemporary version of Streetbike Shootout—MTC Pro Street. National Trail winner Ford foreshadowed a devastating weekend of Pro Street carnage, torching his nitrous motor in Thursday testing and forcing the switch to Schnitz's bike to qualify and get some points.
Gabe Frederick and Rudy Sanzottera had a great running battle in MTC Pro Street qualifying, with Rudy running personal bests and keeping the edge by 1/100th in the first two rounds. And that's how they finished, putting Brandon Mass' "Mass Traction" track prep to good use with Rudy number one at 6.76 and high MPH of 214.21 and Gabe second with a 6.77 and a best MPH of 212.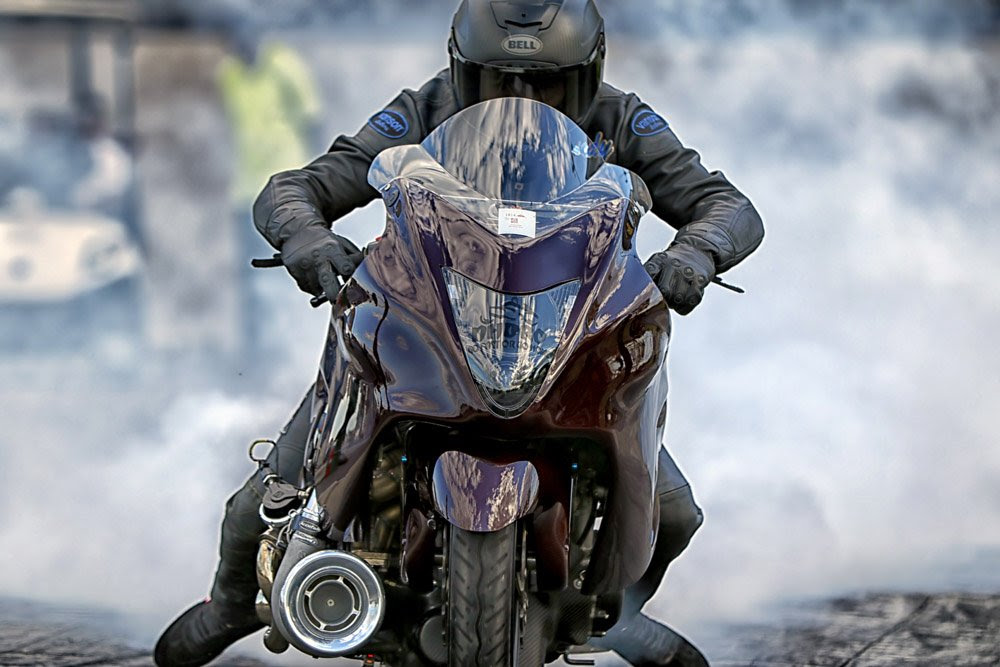 In third was Josh Affholder with a 7.001 and—as it turned out—the best seat in the house to watch Sanzottera and Frederick take themselves out with mechanical destruction.
Frederick's bike went in round one of eliminations against Mike "Kavos" Kovacevich, erupting first in a cloud of smoke at a thousand feet and then a bright flame at the finishline. "Well that's the end of our day," Gabe's dad Ed grumbled coolly on the starting line.
Gabe won the round but no-showed next time around, giving opponent Affholder a bye to the final after running his first official 6 second pass in E1.
In the final he met Sanzottera, who'd been running consistent 6.80s all day and was seemingly poised for the win. Both bikes left within .003 of each other, but instead of the win, it was Rudy's turn for destruction and Affholder's turn to run a 6.80. Rudy's chain broke and took out his clutch cover and Marvic wheel, while Afholder won his first with a 6.86 at 205.
"Where to even start?" said Josh. "My first Pro Street win, this is crazy!
"About a decade ago I remember getting shown the Eatmyink Gainesville Pro Street video from 2007. I think that's kind of where it all started.
"Finally getting to race Pro Street has been unreal. Racing against guys I used to watch videos of over and over again. It's been a blast and the people are awesome.
"Going into this weekend I really wasn't sure what was going to happen. It's the first time out with John Gover and Williford Racing's air-assist clutch. But with help from Gabe Frederick, Gover, Josh Spencer, and Grandpa Ed Frederick this weekend, everything just kind of fell into place.
"I knew it was going to be tough going into the finals against Rudy. The guy had been running awesome, and it seemed like it might be his weekend. But this is racing, can't just roll over and let him have it, right? What fun would that be? So we figured we'd try to at least make it a show."
Affholder used his semifinal bye run as an opportunity to test some things out down low, pinning it to the eighth mile. "Got enough data from that hit in the semis to put together the 6.86 tune-up. The rest was up to me to do my job, and maybe a little bit of fortune cookie luck.
"I have to thank everyone that has helped out. This might be a long list and I'm probably going to forget one or two: Craig Lehman and Wire Nutz, Wil Marquardt and The Cycle Shop, John Gover and Wiliford Racing, Marcus McBain and M2 Shocks, Jason Dickey and RPM Powersports, Rudy Sanzottera and all those guys from Quicktime, Ed Frederick, Josh Spencer, and huge giant thank you to Gabe Frederick and GF Recreational. Wouldn't have been able to do any of this without that guy.
"Last but not least my dad, wish he was here to see this one. This win is for him."
Schnitz Racing Top Gas 8.20 index
4.60 winner Brandgard qualified number one in Schnitz Racing Top Gas 8.20 index with an 8.201 and made it as far as the semi before falling to fellow Norwalk racer Craig Adams.
Craig met another Ohio racer—Jeremy England—in the final, and nailed a .006 light on Jeremy. England had a perfectly fine .022, and then a fine view of Craig blowing past the index with an 8.13 even while on the brakes at only 152 mph. England hung close with his own 8.19 at 171 for the win on his 30th birthday weekend.
"I knew this was my last race with my dragbike since I raffled it off," said England. "Jordan (his wife) and me were discussing on the ride there how sweet it would be to win one more race with the bike.
"I tried my hand in the shootout Friday and Bruce Damewood stuck it to me in a really good race. Saturday in Pro ET, I made it three rounds where I got beat again. Sunday morning I lost Pro ET first round, and decided not to buy back so I wasn't rushing around and could just relax for the day and focus on Top Gas.
"In qualifying I went 8.30, 8.14 and 8.18. I used my tune-up from the 8.14 run all day Sunday since it was windy (headwind). First round, Joe Deck was .002 red and I went 8.197 at173, and I figured we had something to work with the rest of the day.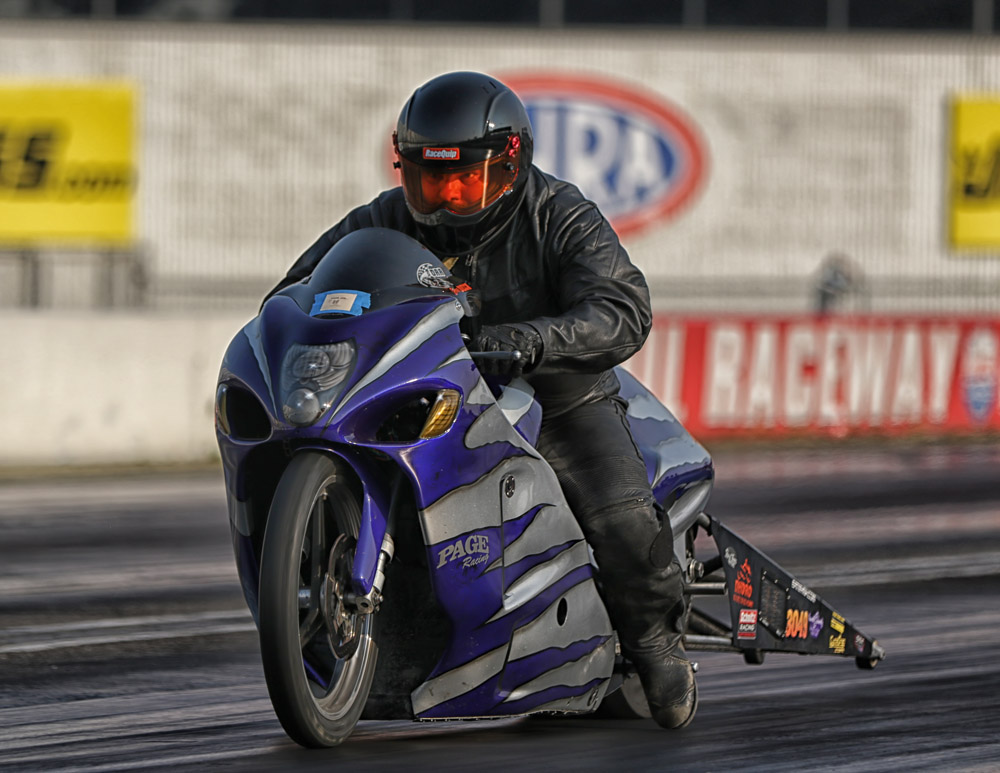 "We made it to the finals, where I was a little emotional. Me and my buddies were saying how sweet it would be to end my time with this bike winning. Not only did everyone in my camp make the weekend a total knockout to celebrate my birthday, but taking the win in Top Gas with the circumstances at hand will forever be one of my favorite wins. Definitely the most bittersweet win I think I'll ever have.
"The success I've had with this motorcycle wouldn't be possible if it wasn't for Jordan Hall helping me every step of the way with late nights working on it, traveling to each race, slaving away in the pits, and helping keep me focused. David Liguori for his top-tier tuning, advice and help with the bike. It legitimately would not make repeat passes if it wasn't for him. And I especially couldn't be winning like I do if it wasn't for the Dave Page powerplant. I have made some insanely fast passes on this bike and I make 300-350 runs a year on it and I never had an engine failure. He's always there to help when I need something and he's always very insightful.
"Also, congratulations and good luck to Bradley Shellhaas, who is the new owner of my bike. I'll be passing the torch to him this week for him to be out there winning races with it.
"Thank you Tim Hailey and thank you Brandi Neithamer at Dragbike.com for the coverage. You guys are awesome!"
M2.Shocks 8.70 Quick Street
Marty White's Katana is a straight-up sleeper, but his number "1300B" gives up the little bike's secret for M2.Shocks 8.70 Quick Street success.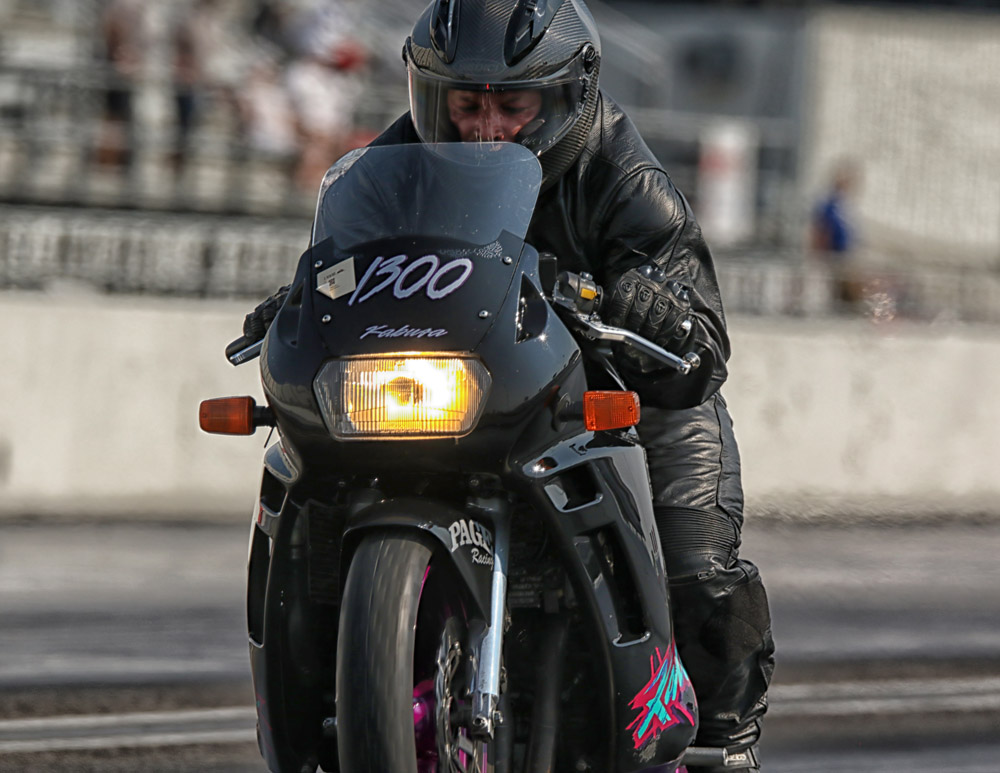 When White met up with Eric Yost in the Quick Street final, it was hard to tell which racer had the biggest fan club. But it was White's fans that had something to cheer about. Yost took the tree by .010 but Marty ran closer to the index with an 8.86 while Eric ran 8.97.
Mike Wright qualified number one.
Kevin Dennis Insurance Street ET
The 8.70 win was White's second victory of the weekend, having already collected Saturday night's Kevin Dennis Insurance Street ET Big Check. White's final round ET opponent Jeremy Himes Jr. ran very close to his 8.99 dial with a 9.01, but a .110 advantage at the tree allowed Marty to take the stripe while running a tenth over his 8.72.
Sunday's Street ET final was an all-Markham family affair, with John "Spooky" Markham and son Dalton both taking the tree with identical .014 lights. Spooky dialed-in a 9.61 and ran only .002 over. In the other lane, Dalton called out a 9.31 but broke out with a 9.304.
Advanced Sleeve Dirty 30 9.30
Like White, Spooky also scored two wins at Indy, putting a spell on Ricky Scott Jr. in Advanced Sleeve Dirty 30 9.30 index. Markham took the tree .034 to .045 and ran a 9.32 to Scott's 9.33—a great race.
"Thanks to Brian and Niki Welch for another great NHDRO event and to my sponsors Millennium Trailers. Thanks to Xtreme Motorsports for the motor. Ray Mancini just finished it and I take it to two finals—guess I broke it in right! Thanks to Dan Rudd at MPS and my awesome pit guy Racin' Caeson Markham, and my fans, my mom, my wife Sonia, and crew chief Bobby.
"But really, the highlight of the weekend was running Dalton in the Street ET finals and Caeson being in the final of Juniors, and thank God for blessing me continuously!"
Andy Bailey qualified number one in Dirty 30.
BB Racing Super Comp 8.90
Chase Van Sant lost round two of 4.60 when that part that Brandy Davis calls the "cranker nut" worked lose and prevented his Trick-Tools Suzuki from starting.
So Van Sant and his family team put their attention into his streetbike, carrying it to the BB Racing Super Comp 8.90 final to face Jeremy Teasley.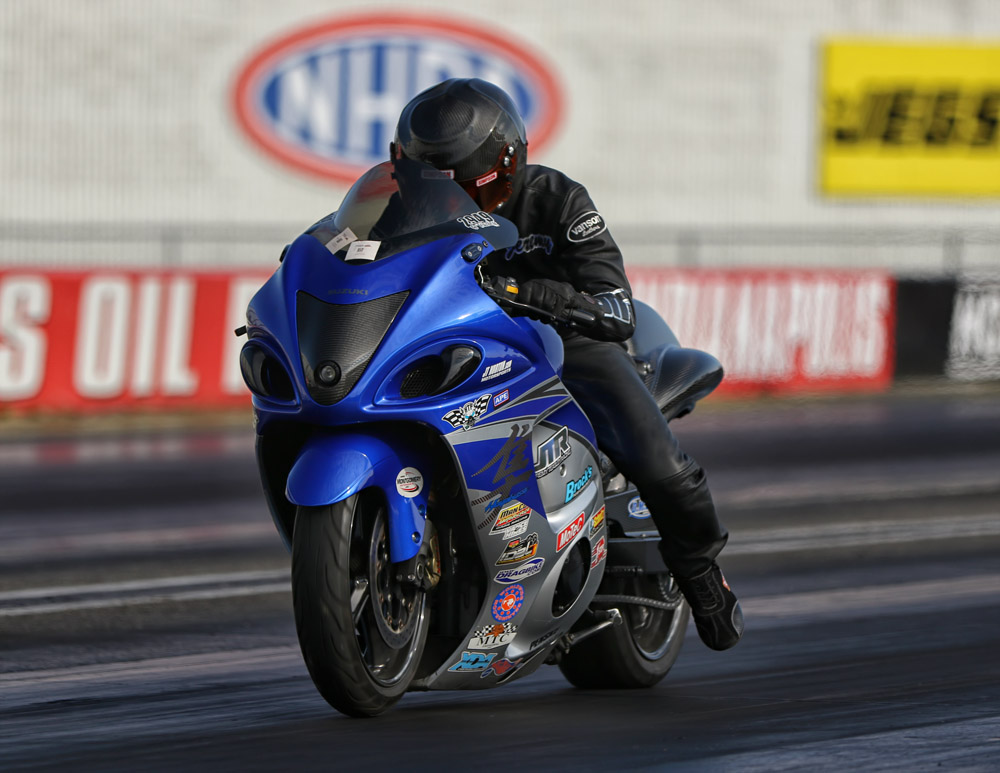 The final started off pretty well for Chase, who took the tree .013 to .021. But the double breakout finish saw Van Sant break out by more with an 8.853 to Jeremy's winning 8.864.
Thomas Davis qualified number one.
MPS Pro ET
Schnitz Racing Top Gas champion Joe "Big" Deck didn't win that class, but he did win Saturday's MPS Pro ET race. Deck had an .035 light to final round opponent Matt Knaggs' .060. That set the stage for Joe to win with an 8.217 on his 8.21 dial while Knaggs broke out of his 8.68 with an 8.64.
"This win was probably the luckiest one I've ever had in my entire racing career," said Deck. "I had some redlights against me, I had some breakouts against me, and another one whose bike wouldn't shift—lucky for me because my visor fogged up as soon as I staged and I missed the tree.
"The bike was on point with that Dave Page powerplant. Thanks to Kenny Gerwin (crew chief) for getting the band back together after 20 years. He's an awesome dude. Thanks to Instant Karma Racing. Congratulations to Matt Knaggs on the runner-up. Thanks to my wife Katrina and my girls Jill and Jennifer. And Nate. And don't forget all my trailer trash racing family—the McQuinns, the Emersons, the Poffingbergers, the Halls and the Scotts. Thanks Tim Hailey for awesome coverage."
Veteran Indy racer Wes Wells took the Sunday MPS Pro ET win, putting a .004 light on Jack Foster (.043) and keeping him in his trick, elevated side mirrors for the double breakout win. Wes ran 9.552 on his 9.57, Foster 9.04 on his 9.10.
"I've won quite a few races in my career, but this is the first time I've ever won at NHDRO," said Wells. "I was riding the slowest bike I own, but it's probably the most fun to ride. I was really happy to break through and finally get a win.
"I couldn't have done it without support from my family and my sponsor Ray Skillman."
Hard Times Parts & Service Jr. Dragster
Klein Medlen Simpson took one and gave one away in Hard Times Parts & Service Jr. Dragster.
Simpson won Saturday's race against Racin' Caeson Markham, but had an .083 light to Drew Elmore's .028 on Sunday. That was tough to recover from, and Elmore won with an 8.07 to Simpson's 8.03.
VooDoo Grudge
VooDoo Grudge was packed with shootouts and money races on every day of competition, with the lanes and track crowded nightly with Grudge bikes of all types, rowdy fans, and a hoarse Brian Welch keeping the mic busy and the crowd entertained.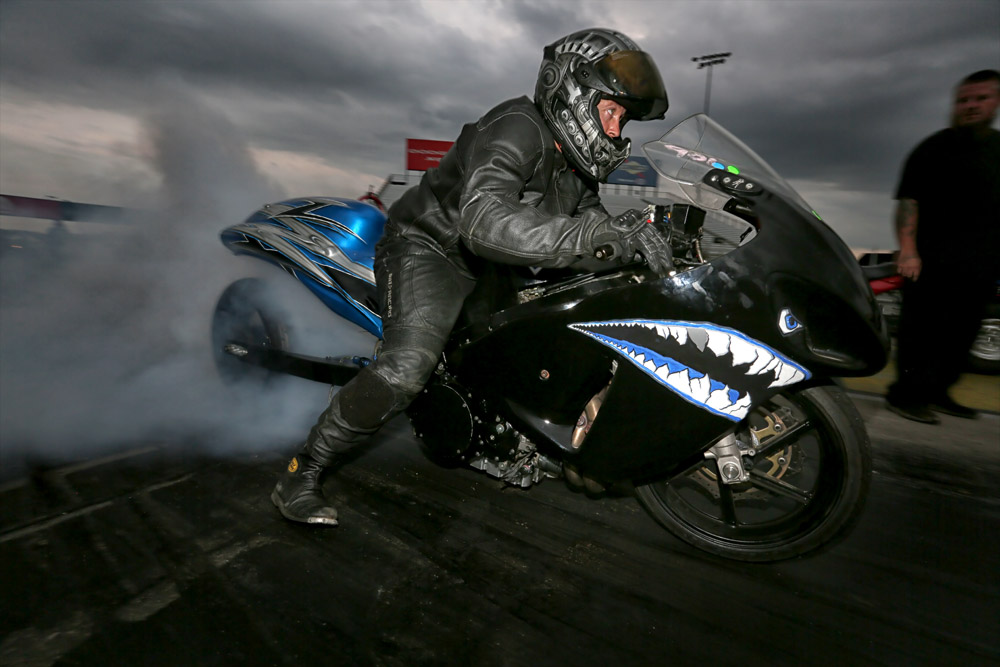 Brian and Niki Welch can't wait to keep the backhalf of 2021 rolling and welcome the NHDRO family back up north to U.S. 131 Motorsports Park in Martin, Michigan on August 27-29
There are more videos on the Cycledrag Youtube channel (please subscribe here) and the Cycledrag.com Facebook page (Please like here) and more will be coming soon. Check back daily.
To take advantage of some amazing discounts at Brock's Performance, click – http://brocksperformance.com?aff=12
USE cycledrag5 coupon code.