The biggest motorcycle event of the year is back on July 23-25, as the 21st annual WPGC Bike Fest invades Maryland International Raceway (MDIR) located in Mechanicsville, Maryland. And this year, spectators are welcome!
The WPGC Bike Fest will feature over 700 Professional, Sportsman, and Grudge motorcycle drag racers competing for over $80,000 in cash purse at this event. But this event is more than just a drag race, the WPGC Bike Fest has something for everyone. Racing starts on Friday; then the party turns up on Saturday and Sunday with an action-packed venue featuring something for everyone.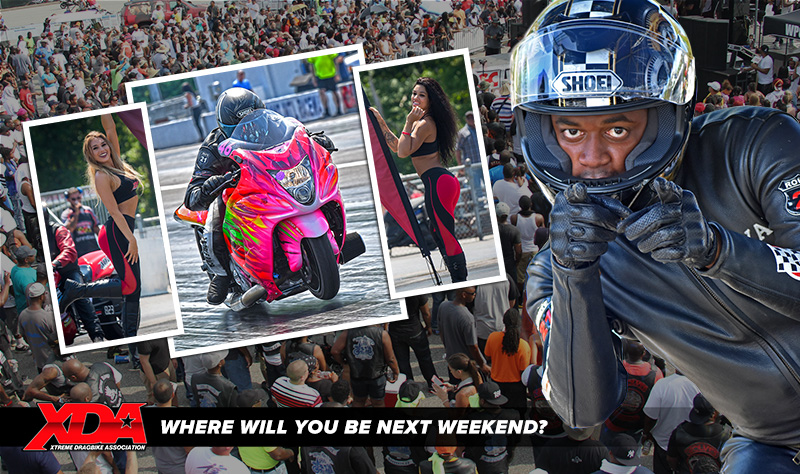 Grudge Racers, this is the event you CAN NOT miss! The biggest grudge race of the year is being held Saturday night on XDA's 'no excuse' prepped track. Boosted Bull competitors Chris Moore and Richard Gadson have posted their lock-in money and the race everyone wants to see is finally going down! Saturday night, 'Melania' and 'Mad Dog 20/20' will pair up for the biggest single Grudge Race of the 2021 grudge season. Will 'Mad Dog' deliver a deadly bite to Moore, or will Moore Mafia trump another Gadson with 'Melania'? Either way, it's a race you want to say you saw in person. And XDA is helping you get in on the action with an on-site raffle at $10 per raffle ticket, pick a side and share in the payout!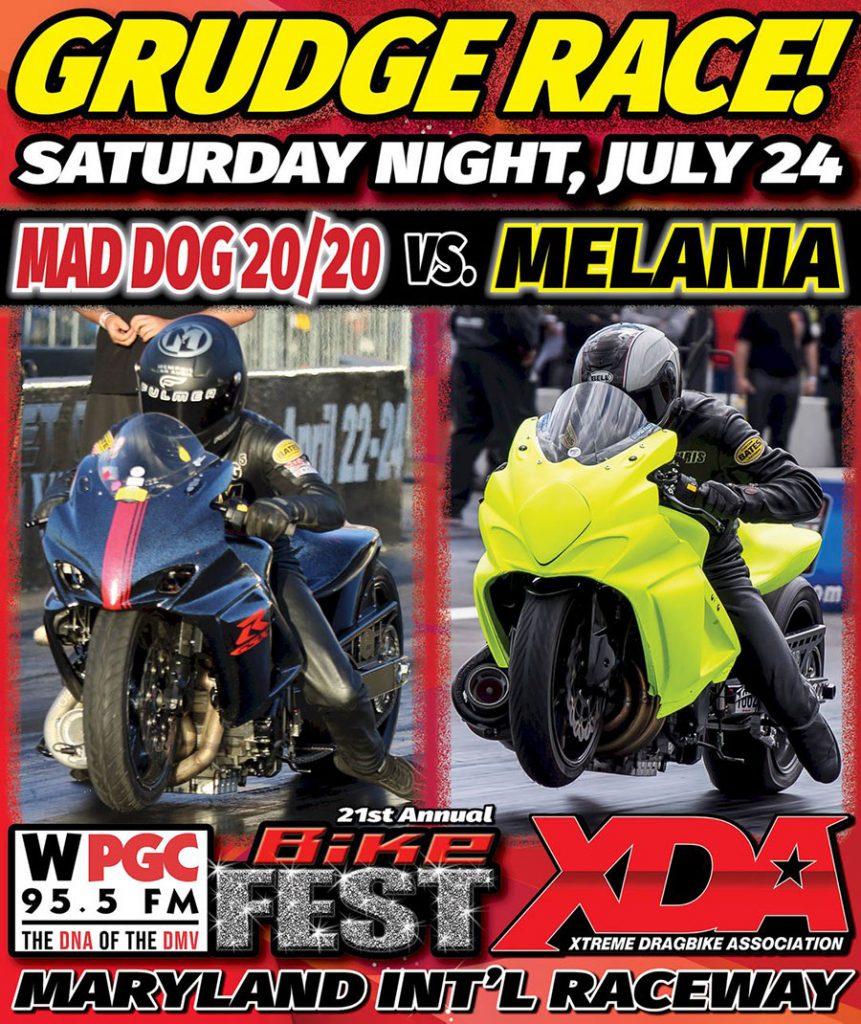 The Saturday night HTP Performance Afterdark Underground Grudge also features the APE Nitrous Bulls (Nitrous Bikes), 3 Sixty 5 Transport Monster Bulls (Heavyweights), and Tommie's Motorsports DMV Bulls.
The freestyle motocross show will feature Team FMX with shows on both Saturday and Sunday. The ramp-to-ramp jumps will be right between the track and the bleachers for everyone to see. These high-flying daredevils have bags full of tricks and will be putting on a thrilling show! If you have never seen this type of show in person, then you need to be here to witness it for yourself.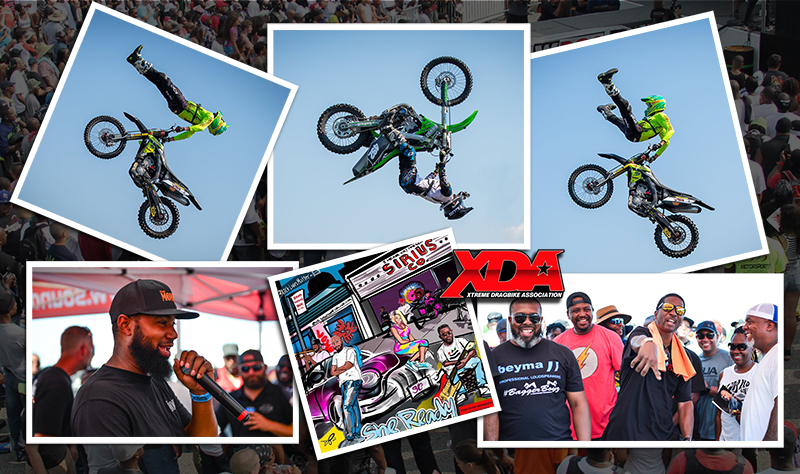 The WPGC stage will be jamming on Sunday with DC's hottest bands and a live performance by Sirius Company with WPGC's own DJ Flexx hosting the show!
The Bikini Contest has been a part of the WPGC Bike Fest for over a decade and features the hottest girls of the DMV competing for bragging rights and cold hard cash! Hot Girls in Bikinis – Sunday, Sunday, Sunday!
Ride your motorcycle to the event and get FREE Pit Side parking in the huge street bike corral. Ride in, be seen, and park close to the action!
The popular beer garden returns with plenty of ice-cold beer served by hot women in bikinis. Grab yourself some great food and cold refreshments and enjoy great racing, music, bike show, freestyle MX and bikini contest. Need we say more?
Orient Express Racing Pro Street
The Orient Express Pro Street class, running at speeds over 230 mph in only 6-seconds, will continue to push the performance bar next weekend as the season hits its halfway mark. So far this season, we have seen three new riders break the 230 MPH barrier, and Justin Shakir took over the 'Fastest No-Bar Motorcycle in the World' title with a 234.29 MPH pass.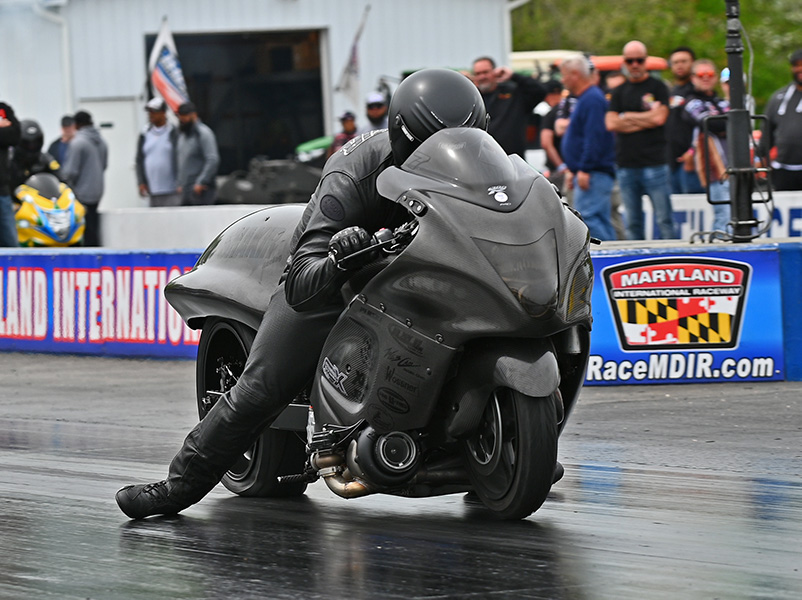 The battle for a spot at the 25th annual Haltech World Cup Finals presented by Wiseco at Maryland International Raceway will also be of concern next weekend. Only the top ten will be invited to compete in front of 40,000+ fans, and a chance to win the $5,000 Pro Street Shootout sponsored by Platinum General Services on November 3-7, 2021.
The DME Racing Real Street 7-second, 190mph class will see Ben Knight's return on his DAS Performance-built ProCharger Hayabusa. Knight's Hayabusa will be the only supercharged entry, and the only one that you will need hearing protection from in the Real Street class. Be in the stands when they call the Pros so you don't miss all the action in this street legal class.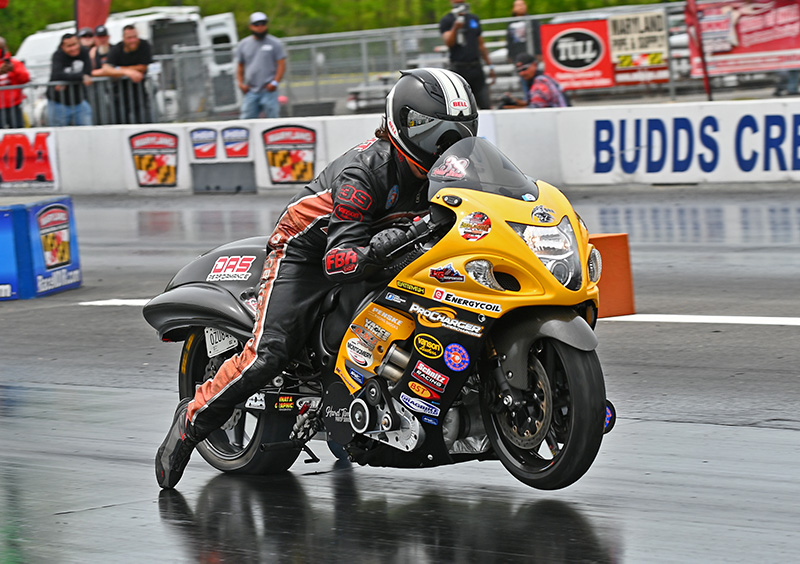 The 1/8 mile heads-up class of MaxxECU Pro Xtreme features the Turbocharged, Supercharged, and Nitrous Injected wheelie-bar monsters. Chris Garner-Jones is currently leading the points, but he will need to keep an eye on Rob Garcia. Garcia's Suzuki was in launch mode in the final at the last race. Many people said he went through the finish line carrying the front wheel, costing him the race. Whether that was the case or not, he is hungry for the winner's circle finish.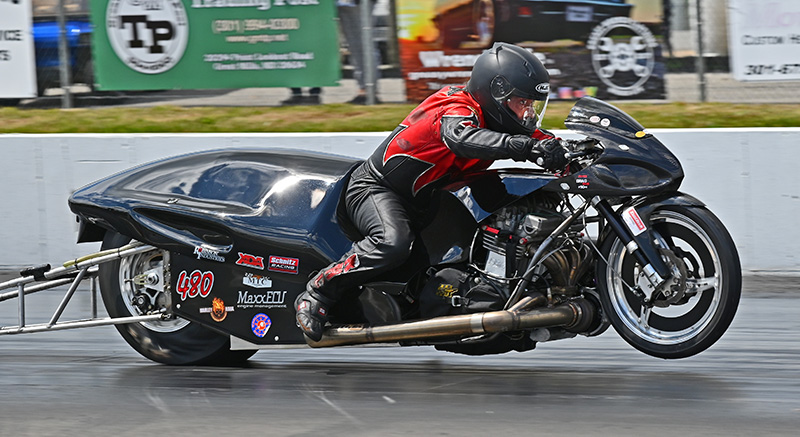 HTP Performance Super Stock
In the stock wheelbase HTP Performance Super Stock class, this is the event that competitors need to take David Fondon out in round one. The 2020 class champion has a 162 points gap on the class with three straight wins this season. Riders will need to get their clutch hands ready and start making some moves if they want to dethrone Fondon. HTP Performance has laid out some new ground clearance revisions based on rider's weights that go in effect at this event, and that is going to mix up the competition for sure!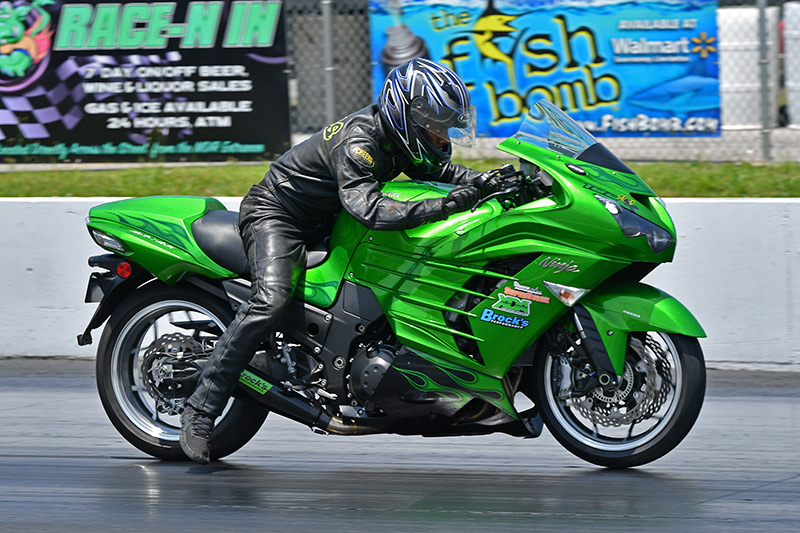 The Vance & Hines 1/8th-mile 4.60 class has close to forty riders on the pre-race roll call ready for another round of battle. We have seen three different winners this season, but Ron Procopio has accumulated the most round wins and leads the points chase. However, Procopio's points lead is not enough to allow him to feel secure. Who will be in the points lead after the WPGC Bike Fest, now that is something to start betting on.
Class champion Dustin Lee leads the 1 Stop Speed 5.60 index class going into the mid-season event with sixty-five points. Lee won the PFR Spring Nationals, Robert Parker won the MTC Summer Nationals, and Nick Noble took the win at the FuelTech Superbike Showdown. Lee is a seasoned veteran and knows that 'rounds won' will win the championship every time. So while the points battle in this class is far from over, it's all a numbers game now.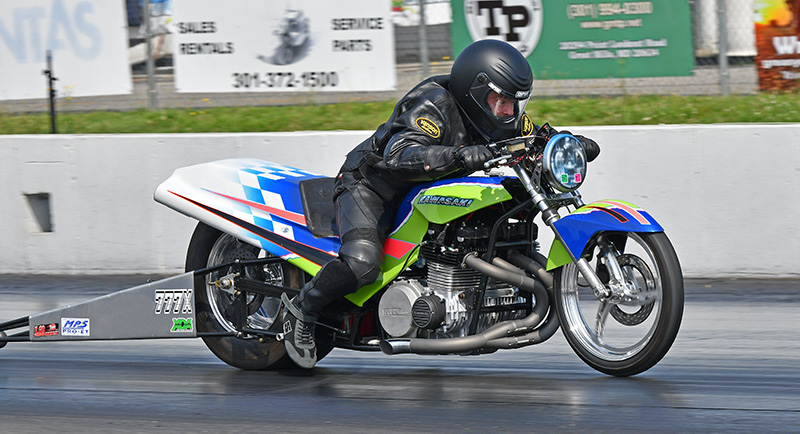 Mickey Thompson Tires Top Sportsman
Mickey Thompson Performance Top Sportsman is the quickest bracket class of the XDA. Jefferey Santin has won two events to take the lead by fifty-one points. The championship chase is still wide-open in this class and Santin has everything to lose if he doesn't stay on top. You have to be fast and consistent in this class, and that's no small order.
Yes, Jeffrey Santin is currently leading points in two classes. MPS Racing Pro ET has over 200 racers in the points chase right now, and Santin only leads by thirty points. This class is full of serious ET racers, so it would be surprising if Santin isn't knocked off his perch this weekend. Nick Hamlett, Dale Hamilton, Bill Maturo, Dustin Lee, Russell Dennison, Jimmie Miller, Duane Jackson, you have heard these names a million times. And these are the guys nibbling on Santin's points lead.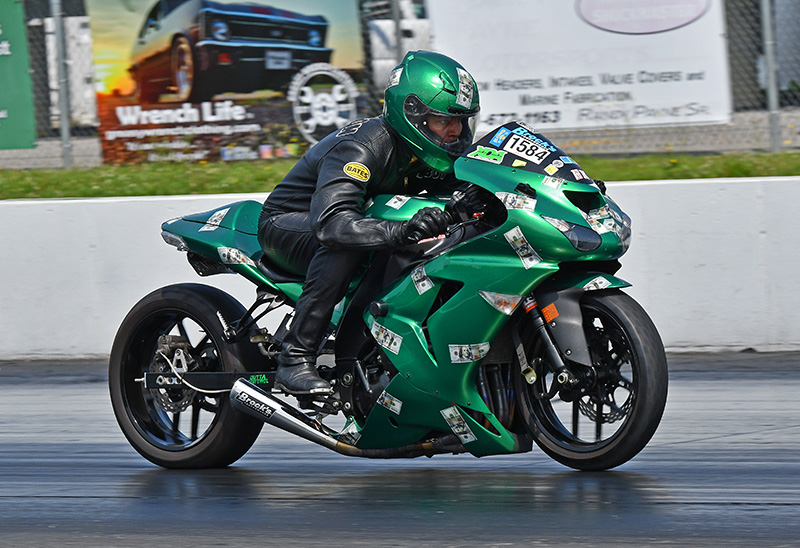 Brock's Performance Street ET
The Brock's Performance entry-level class of Street ET is anyone's game. If you have never raced down the quarter-mile, this is the class you want to enter. For only $65 you can start a new hobby, win some cash, and a chance for the winner's circle glory. Derrick Milbourne leads this class by only one point, so the championship is up for grabs. Next year it could be you leading the points.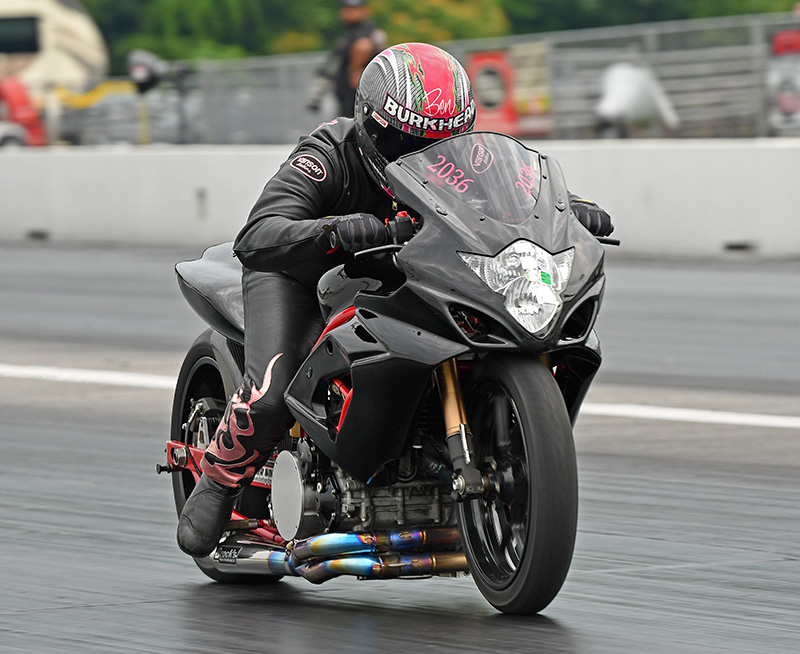 Learn more at xdaracing.com.
Hard Times Parts and Service Gamblers Race
The Friday night Hard Times Parts and Service Gamblers Race is getting an upgrade and will now feature a sixty-four bike bracket allowing more racers to get into the action and making it a $4,000 to win payout if all 64 spots are filled! Sign up early on Friday at the track and get a spot.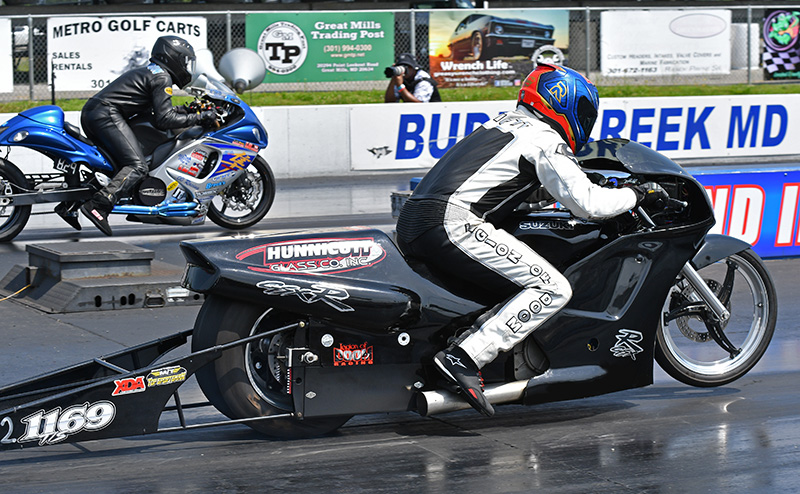 VooDoo Saturday Bracket Bash
The VooDoo Bracket Bash held on Saturday will add to the $26,000 up for grabs in cash payouts for sportsman racers next weekend. Make plans now for the WPGC Bike Fest, where sportsman racers have a place to compete in a professional environment.
Make your plans now for next weekend and get ready for the ultimate thrill ride that only the XDA can deliver. Don't miss out on the action this year. Head to MDIR July 23-25 for the 21st annual WPGC Bike Fest.
There are more videos on the Cycledrag Youtube channel (please subscribe here) and the Cycledrag.com Facebook page (Please like here) and more will be coming soon. Check back daily.
To take advantage of some amazing discounts at Brock's Performance, click – http://brocksperformance.com?aff=12
USE cycledrag5 coupon code.