Top Fuel Motorcycle legend and 14-time national champion Larry "Spiderman" McBride needs your creative input.
McBride is inching closer to debuting his much-anticipated, state-of-the-art, nitro-fueled dragbike. McBride and his brother Steve encountered several obstacles to overcome in constructing the one-off machine, which includes an array of handmade components. Ironically, what some would consider one of the easiest steps in the build is giving the Spiderman the most grief.
Known as a perfectionist with incredible attention to detail, McBride can't decide on a paint scheme for the new motorcycle. Some would say, when you only build one every 20 years, you earn the right to be picky.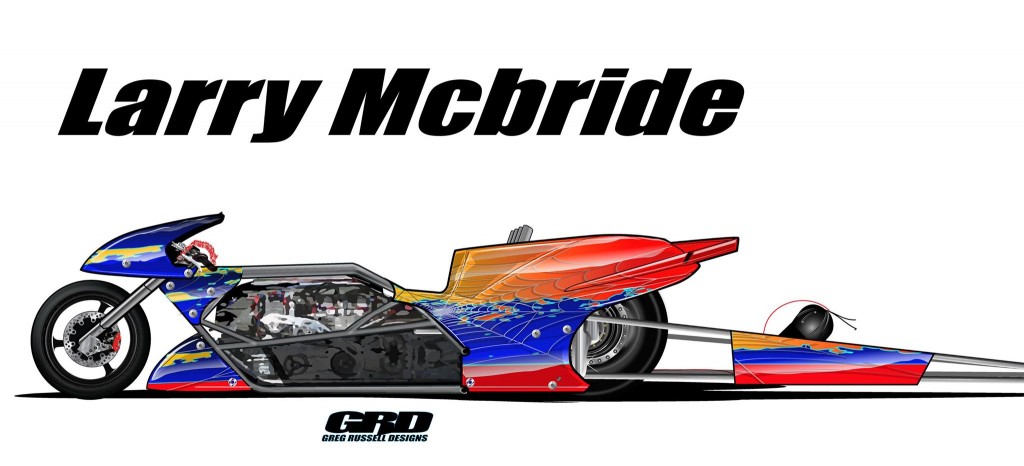 "We want to keep my signature Spiderman look but we also want to change it up a bit," McBride said.
The Spiderman is asking fans and supporters for help.
Well respected designer Greg Russell of Atlanta, Ga., who McBride met through Dave Conforti of World Wide Bearings, has put together some awesome renderings, but like a discerning artist culling work, McBride has yet to make a final decision.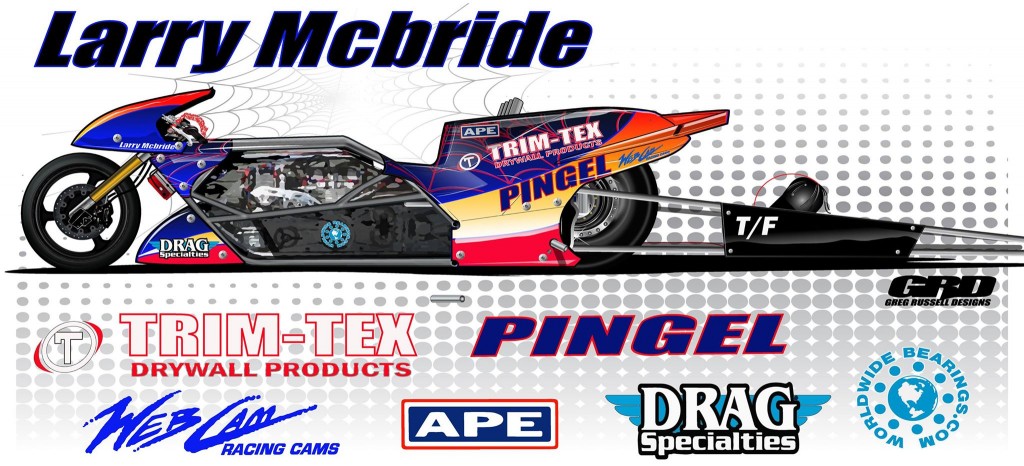 "Greg's stuff is so awesome. I still want to make some changes, but it's close," McBride said.  "I think I want more blue. That's my favorite color. I think we need some more blue behind the seat. I think there may be a little too much orange in this one. I'm also not sure where to go with the cloud look."
McBride also pointed out that the sponsor placement will be different from what is seen in the drawing due to some sections of his custom bodywork's drastic curves.  McBride is focused on putting the sponsors' names on the sections of the motorcycle that will make them the most visible.
"We will have to move Pingel from where it is in the drawing. There just won't be enough room down there with the curves," McBride said.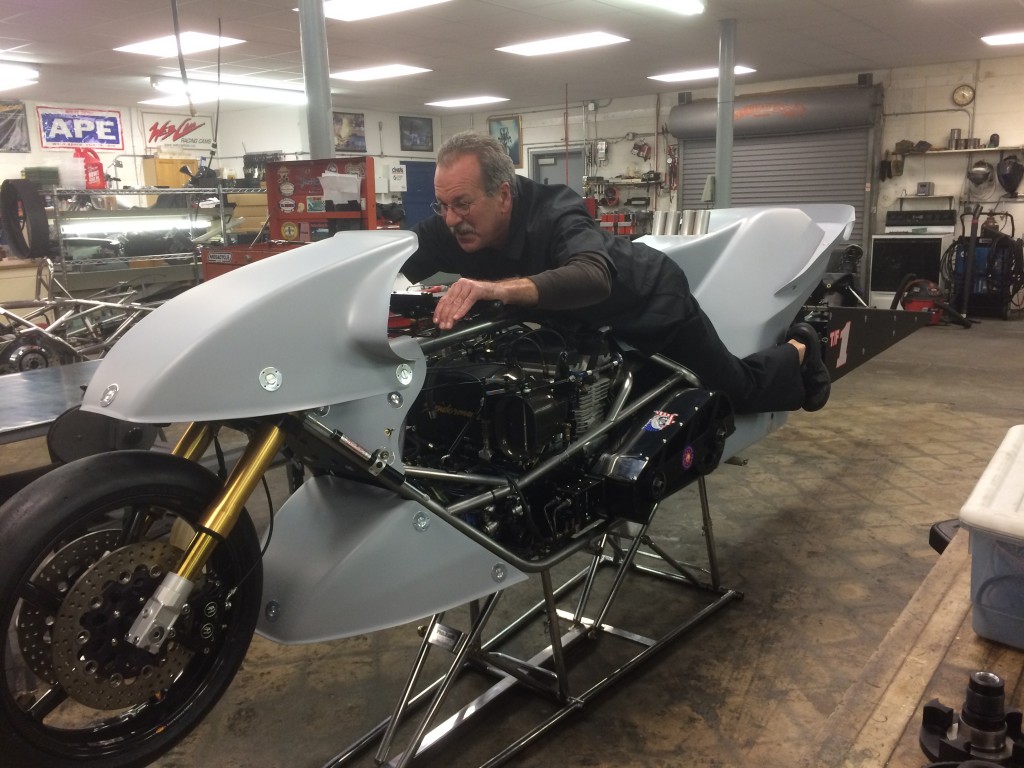 McBride will soon take delivery of one of his last missing components, a state-of-the-art cylinder head from Vance and Hines Motorsports.
"I'm getting excited. We are getting very close. I had hoped to test the bike in Fla. over the winter but we were just not ready in time," McBride said.  "We are going to run Blue (McBride's current motorcycle) in Valdosta (MANCUP Spring Race) and we hope to test the new bike sometime after at a local track, maybe Virginia Motorsports Park or Maryland International Raceway. It will be much more reasonable than going all the way to Fla. to test."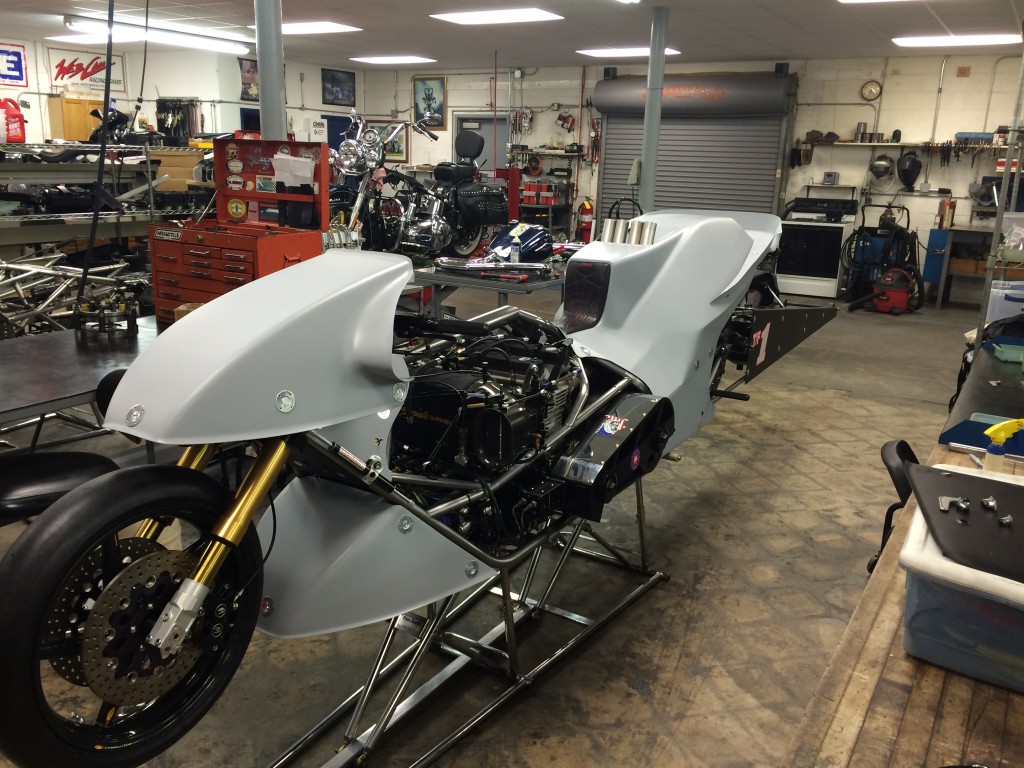 McBride received a necessary piece of equipment from his friends at ProJack, who manufacture stands for Top Fuel Dragsters, Funny Cars and Pro Mod Cars.  They also make stands for Matt Smith's Pro Stock Motorcycle team, but McBride was the first one to ever have a ProJack for a motorcycle when he got one in 1994.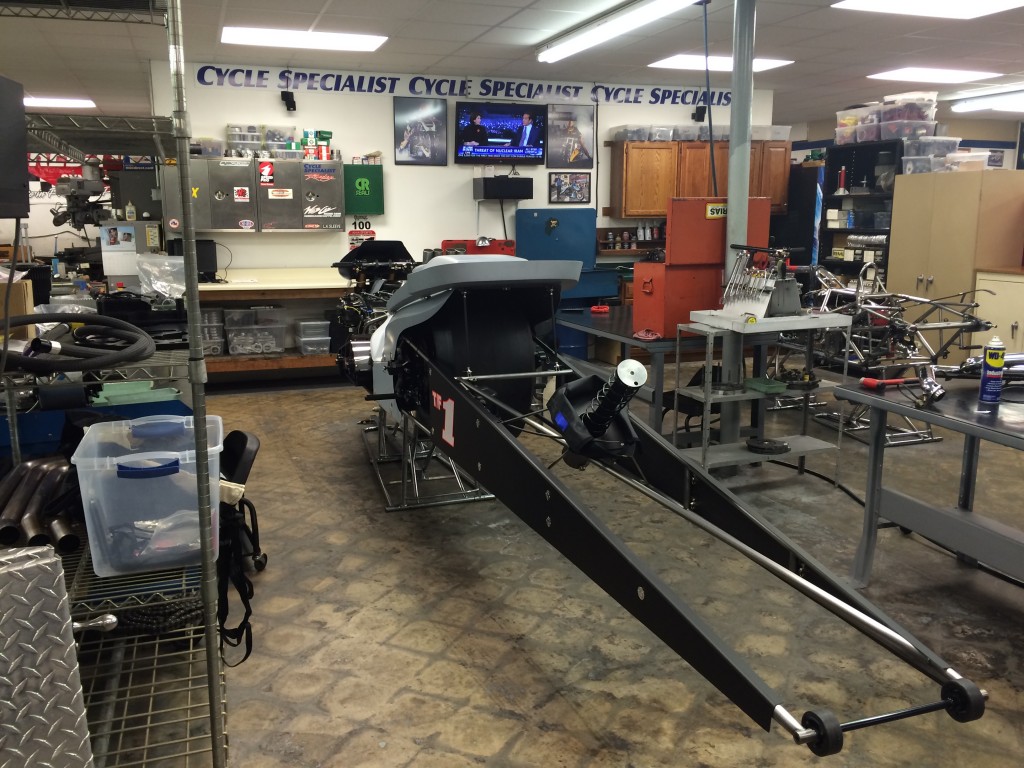 "It's so awesome.  ProJack really treats me like gold," McBride said. "It's just another example of something we need to have. I didn't realize when we started this build just how much we would need. It's a lot more than just the motorcycle. We are almost there though."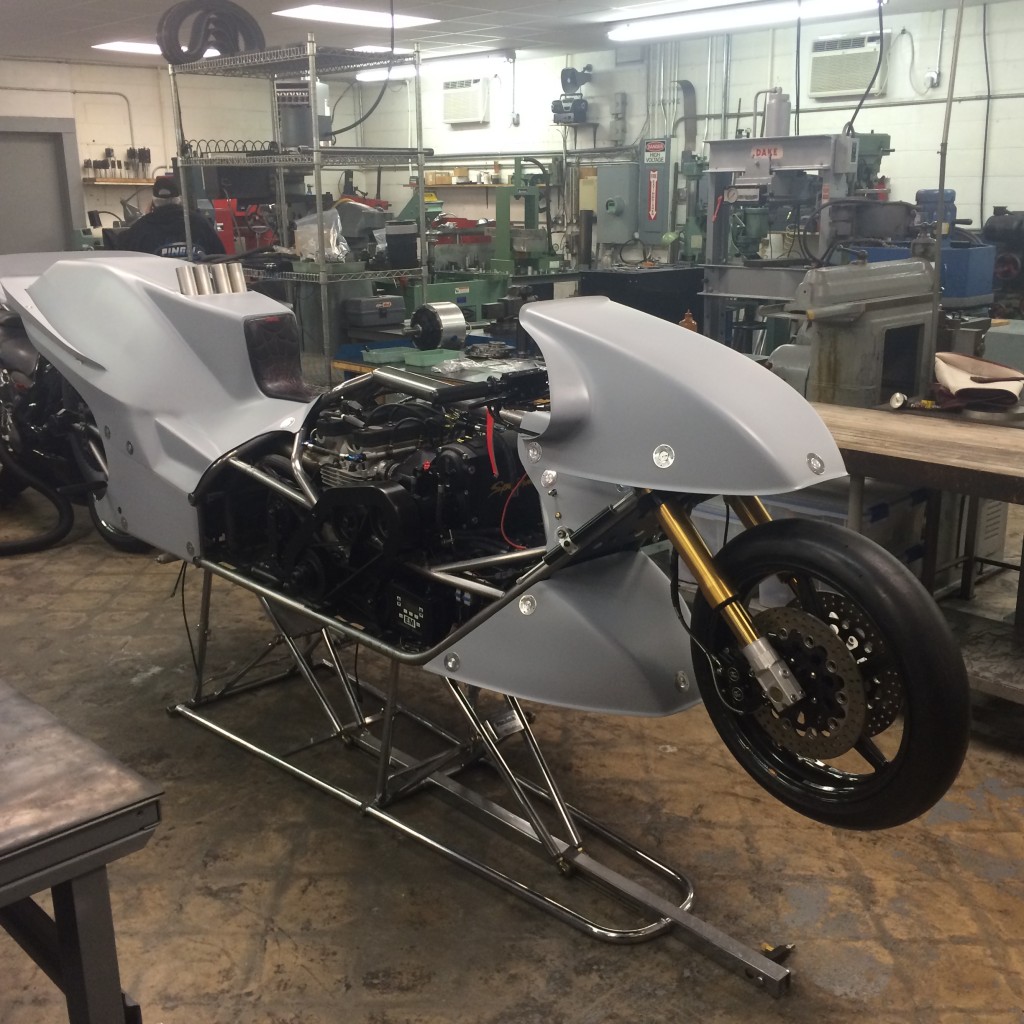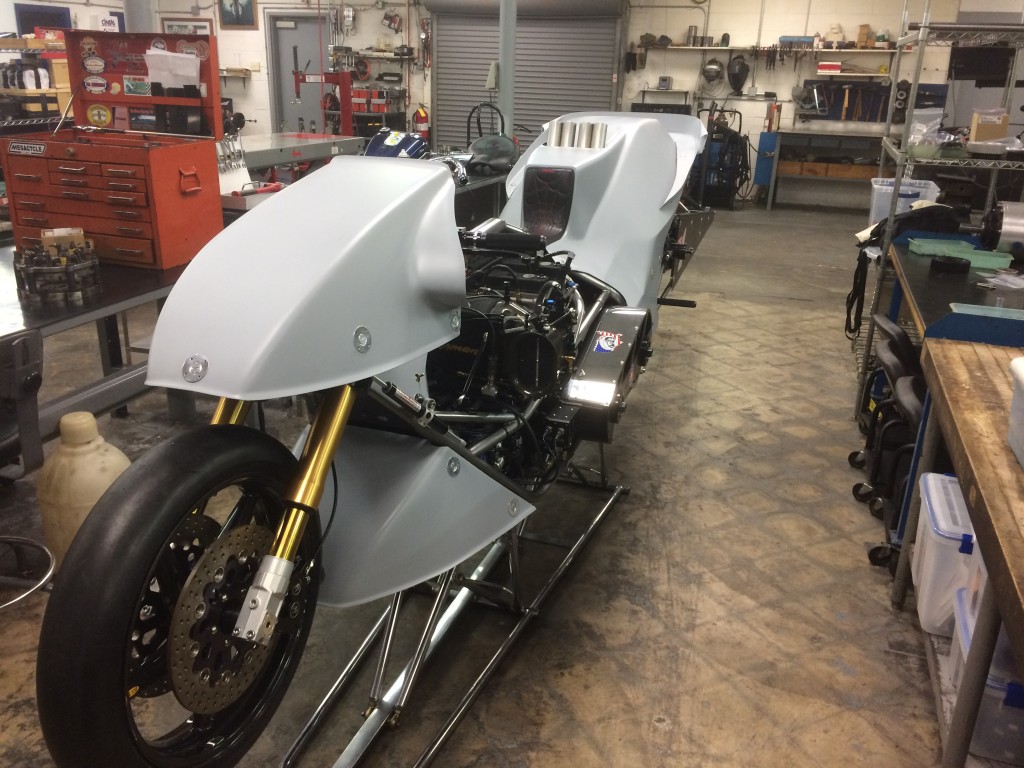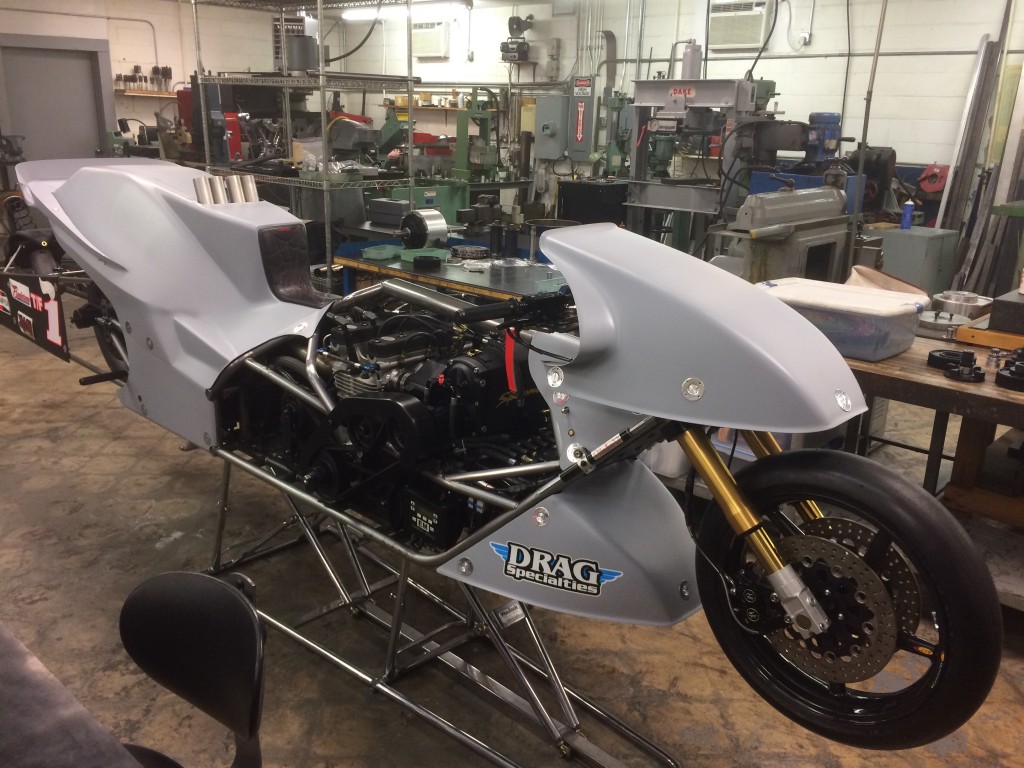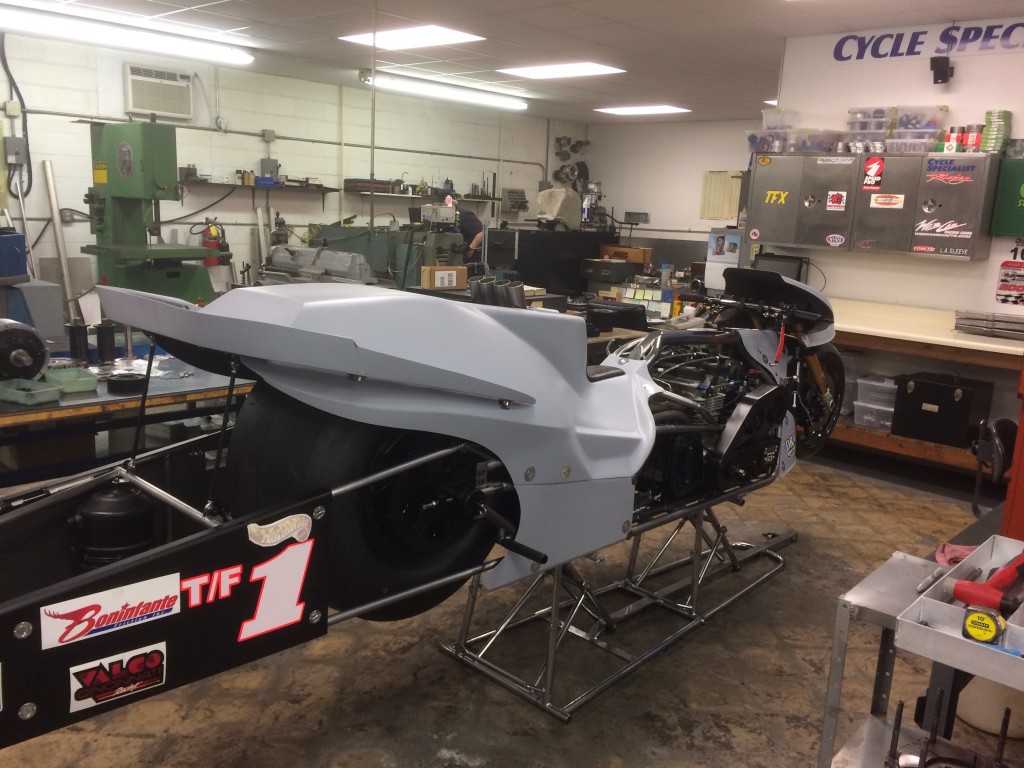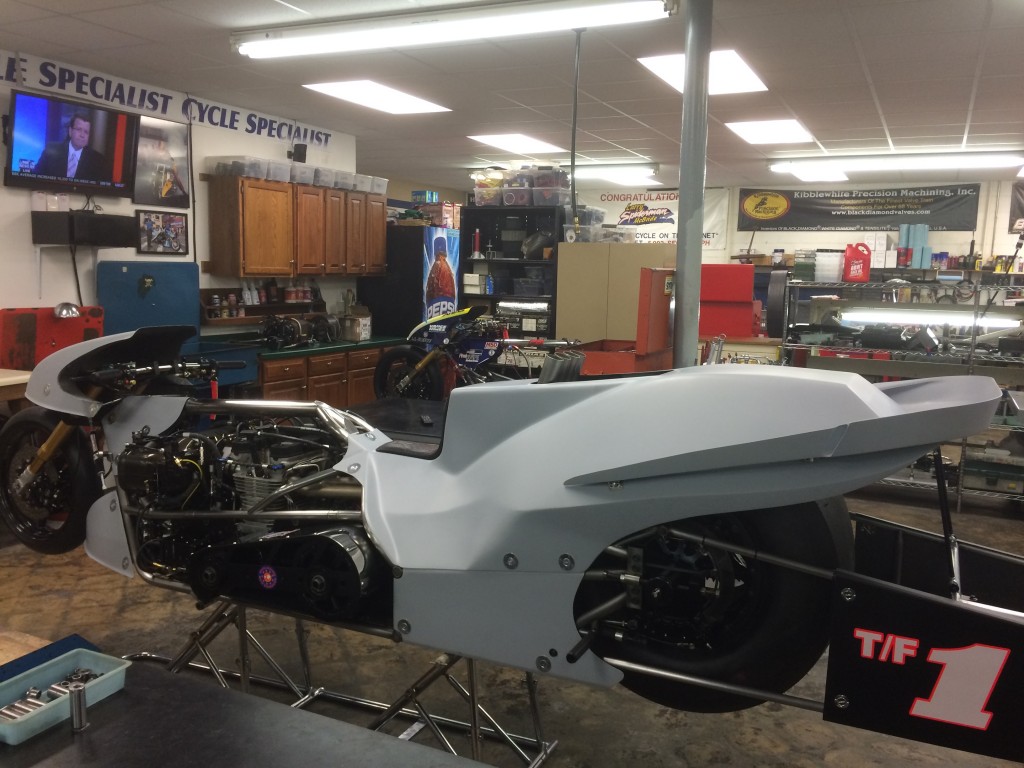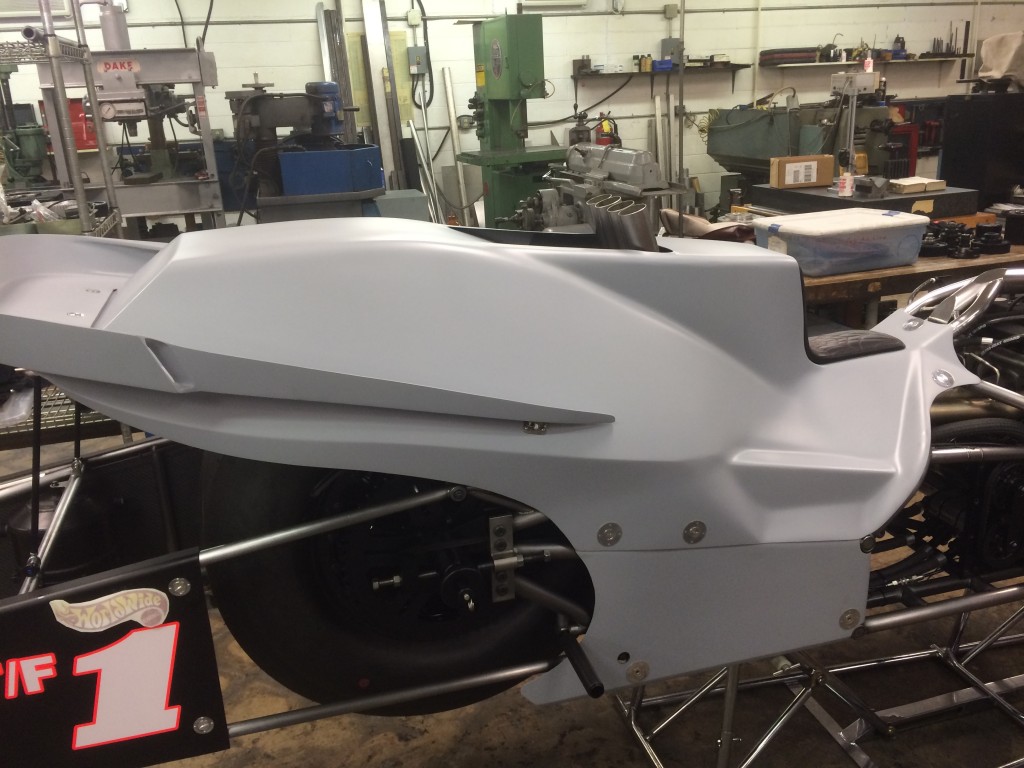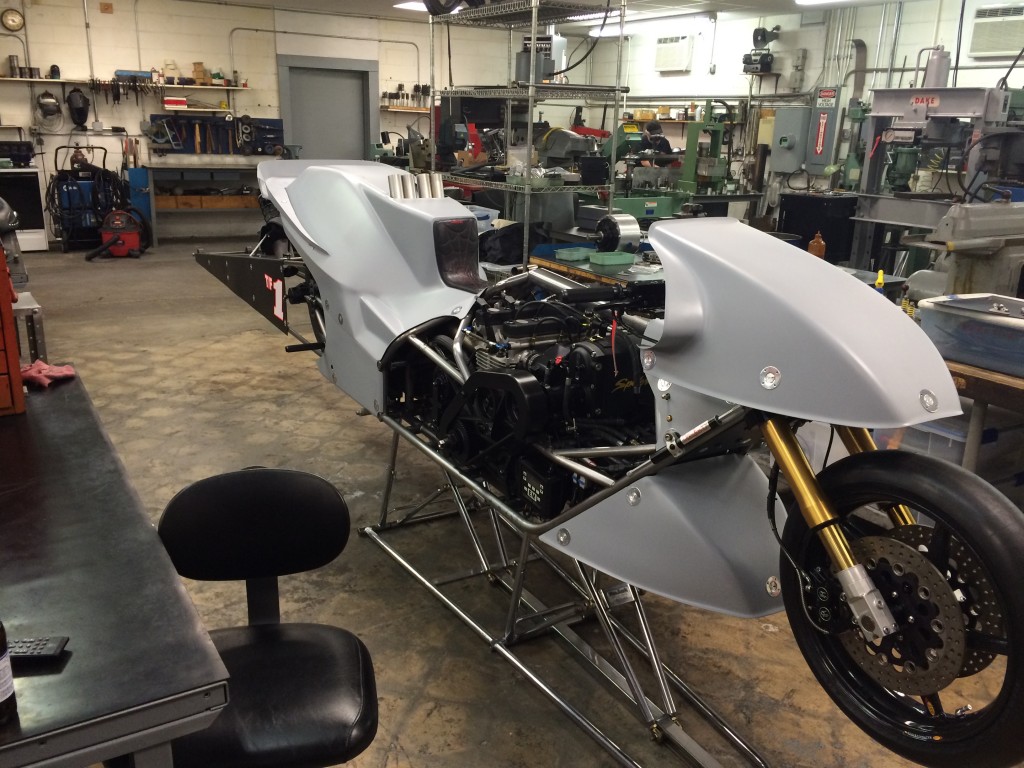 In the meantime it's time to figure out the paint scheme. Leave your comments or rendering. Who knows, you may just be the inspiration for what is likely to be the world's quickest motorcycle.
McBride thanked his primary sponsors; Pingel Enterprise, Trim-Tex Drywall Products, Drag Specialties-Parts Unlimited, Red Line Synthetic Oil Corporation and Final Swipe Merchant Services.
Web-Cam, Vance & Hines Motorsports, PR Factory Store, Ferrea Valves, Kibblewhite, Precision Machine, World Wide Bearings, Vanson Leathers, Millennium Technologies, Belt Drives Ltd, Simpson Race Products, Nitrous Express, APE, EK Chain, Arias Pistons, Cometic Gaskets, B&J Transmission, Carolina Cycle, L.A. Sleeve, PJ1, Mickey Thompson Tires, Valco, Goodridge, Carlisle Belts and Gates Belts.