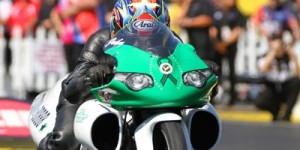 Second year NHRA Mello Yello Pro Stock Motorcycle racer John Hall has established points paying consistency, going to the semifinals this past weekend at the Summit Racing Equipment NHRA Nationals in Norwalk, Ohio. Add in his recent win at the inaugural New England Nationals in New Hampshire, and you've got a breakout season for Hall—a Connecticut real estate investor with a long history of racing no-bar bikes in the former AMA/Prostar series.
Hall and his Matt Smith Racing / Viper Motorcycles Buell were quick right off the trailer in Norwalk, running a 6.95 that was good enough for second in the first round of qualifying. "Then we kept getting bumped down a little bit," Hall said about the next two qualifying rounds. But when he improved to a 6.942 at 193.07 mph in the final round, he was able to turn the tables around a bit. "We matched Adam Arana on ET but beat him on MPH, so he got bumped down."
Hall finished fourth in the qualifying order and Arana—whose fortunes seem to have paired with Hall's this year—was fifth.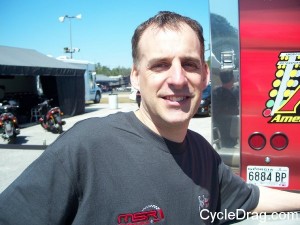 The opening eliminations round opponent for Hall was Mike Berry, who got a slight .005 advantage off the line. But Hall's Buell had the right combination and while Berry backslid, John improved and took the round. "We had a good tune-up," said Hall. "We improved from 1.08 to a 1.06 60 foot time. We just had the right clutch set-up for the track right then and I hit my shift points."
eliminations round 1
(W) John Hall   .047 rt  6.924 at 190.86 mph
Mike Berry  .042 rt  7.119 at 187.00 mph
Then came a round 2 match-up with Arana, the runner-up in Hall's final round win at New Hampshire. The Norwalk result was similar, with Arana again posting a -.070something redlight. "Adam's definitely an up and coming star in the sport and I'm happy to get all the wins I can against him while I can," said Hall. "He's never raced anything before this year and he's improving leaps and bounds every race."
eliminations round 2
(W) John Hall       -.010 rt     6.959 at 191.32 mph
Adam Arana  -.079(R) rt   7.159 at 160.19 mph
The next round was also a New Hampshire rematch, but this time the result went the other way. While Hall was able to race past teammate and tuner Matt Smith in Epping, this time he got snuffed. "I had some tire shake the top of first gear, which sent me out of my groove a bit and I short shifted 2-3 pretty badly," said Hall.
eliminations semifinal
(W) Matt Smith  .051 rt  6.965 at 192.44 mph
John Hall    .045 rt  7.066 at 189.84 mph
Smith went on to win the event and joined his dad Rickie in the Norwalk winners circle, in what has become a very successful stretch for the Matt Smith Racing/Viper Motorcycle team. "We've been to three straight finals with two wins," said Hall, who also noted that his former Star/Sovereign team has been similarly successful and that the Aranas started the season in near dominant fashion. "Any of the16 bikes in the field can win a race."
Currently fourth in points behind Smith and ahead of last year's teammate Scotty Pollacheck, Hall is looking forward to continuing the team's run in the NHRA's upcoming western swing.
John Hall would like to thank Matt Smith Racing http://www.mattsmithracing.com/ , Viper Motorcycle Company http://vipermotorcycle.com/, Rush Racing Products http://www.epiflex.com/ , Red Line Oil http://www.redlineoil.com/ , PJ1 http://www.pj1.com/ , S&S Cycle http://www.sscycle.com/ , Mark Stockseth Racing https://twitter.com/markstockseth and Worldwide Bearings http://www.worldwidebearings.com/
John Hall and the Matt Smith Racing team race next June 19-21 at the Mopar Mile High NHRA Nationals at Bandimere Speedway in Denver, Colorado
contact John Hall: jhall451@aol.com
for media inquiries: Tim Hailey timhailey@earthlink.net
for more about the NHRA http://www.nhra.com/
This report was prepared by Tim Hailey. Photos are for editorial use only. Enjoy everything there is to read, see and watch about motorcycle drag racing and more at http://www.eatmyink.com
-end-
High-res images for editorial use are available by e-mailing timhailey@earthlink.net