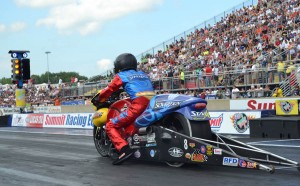 Following Sovereign-Star Racing's win at the Route 66 NHRA Nationals in Chicago, Ill., the team went on to earn another No. 1 qualifying position, advance to the final round of eliminations and post a new track record this past weekend July 5-7 during the Summit Racing Equipment NHRA Nationals at Summit Motorsports Park in Norwalk, Ohio.
"Our team has had an awesome three weeks on the road. We have both motorcycles running great right now thanks to the hard work of everyone at our Star Racing shop, our shipping department and our track crew. Our team has provided the labor, parts and horsepower to deliver a final and a No. 1 qualifier this week and a win last week," Star Racing owner George Bryce said.
Throughout the past three back-to-back NHRA Mello Yello Series races, Sovereign-Star Racing Buell driver Michael Ray has claimed a national event win for the team at Chicago and No. 1 qualifying positions at the other two races in Epping, N.H., and Norwalk. Ray also posted the low ET and high mile per hour of this past weekend's Norwalk event with his No. 1 qualifier run of 6.912 seconds at 194 mph, which set a new Pro Stock Motorcycle speed record for Summit Motorsports Park.
"I think our team is definitely a class leader at this point, and it all boils down to how prepared we are. In this sport, you have to be good to even compete at this level. You have to be the best to rise to the top, and Star Racing is showing how they've been one of the best for over 25 years. It may have taken the team two years to work our way back to the top after taking time off, but now we have the best people in the business to keep us out front and moving forward," Ray said.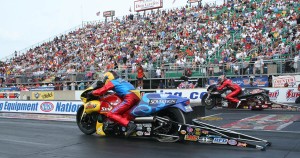 Ray's teammate, Scotty Pollacheck, also had a successful weekend at Norwalk on his S&S Cycle-powered Buell, qualifying at No. 10 and then driving his way to the final round of eliminations on Sunday against No. 8 Buell driver Matt Smith. As Pollacheck advanced to his third final round this season, he also claimed the low ET for the semifinal round.
"We need to give lots of credit to the guys at the (Star Racing) shop that are turning those engine parts around in such a short amount of time to get it back to the racetrack. Also, our crew at the track, Ken (Johnson), Chuck (Kennedy), Andrew (Schulz) and Chaz (Kennedy), are doing an awesome job, especially since they've had their hands full keeping everything working properly while they've been on the road," Pollacheck said.
No. 1 qualifier Ray faced No. 16 Buell driver Shawn Gann in round one eliminations on Sunday and claimed the win with a 6.941 against Gann's 7.010. No. 10 Pollacheck also took the round one win with a 6.941 run against No. 7 Harley-Davidson V-Rod rider Andrew Hines' 6.995.
In round two, Ray posted the low ET and the top speed for the round with his 6.934/193 pass, but it was not enough to drive around Smith's big lead at the starting line and his 6.955/192. Pollacheck advanced to the semifinals after taking a single run in round two when No. 15 Suzuki driver Michael Phillips was unable to make the pass.
Pollacheck went on to set the low ET for the semifinal round with his 6.947/192 win against No. 11 Harley-Davidson V-Rod rider Eddie Krawiec's 6.999/189 pass.
Smith and Pollacheck faced off in the final round of eliminations, where Pollacheck's 7.008/191 was not enough to overcome Smith's 6.954/192.
Even though Smith took the win, Pollacheck was still grateful for the positive results that his team experienced over the weekend.
"It was really good to get back in the groove of things again. It seemed like we were struggling with my bike for a couple of races there, so it was definitely nice to feel like we were ahead of the curve again," Pollacheck said.
After another successful weekend at the racetrack, the Sovereign-Star Racing teammates are both in the top five of the NHRA Pro Stock Motorcycle points standings for the season. Ray remains in the No. 2 position, while Pollacheck moved up one spot to No. 5 after his final round appearance in Norwalk.
"I had mentioned before that these past four races were like a mini version of the Countdown to the Championship. Our team came out of them with two wins out of three final round appearances and two No. 1 qualifying positions. I think we gained more points than anyone else in these four races. So, in my mind, we won this mini scrimmage championship run, and I'm looking forward to keeping it going at Denver," Ray said.
The Sovereign-Star Racing teammates will compete again July 19-21 at the Mopar Mile-High NHRA Nationals at Bandimere Speedway in Denver, Colo.
The 2013 Sovereign-Star Racing Team is a partnership between Georgia-based Star Racing and the Hungarian-based Sovereign Racing Team, the 2011 UEM European Pro Stock Bike Championship Team, owned by sugar distributor Jenõ Rujp.
The Sovereign-Star Racing Team would like to thank the following sponsors: Sovereign, Star Racing, Americus Motorsports Complex, S&S Cycle, Daytona Sensors, Worldwide Bearings, CP Pistons, Cometic Gaskets, Quality Tire, and Uncle Hal Gottspeed Racing.
Star Racing Fast Facts:
·         Based in Americus, Georgia
·         Six-time NHRA Pro Stock Motorcycle Championships
·         80 NHRA national event wins with 10 different riders
·         Owned by George & Jackie Bryce
Sovereign Racing Team Fast Facts:
·         Based in Budapest, Hungary
·         2011 European Motorcycle Union (UEM) Championship Team with rider Jesper Thiel
·         Owned by Jeno Rujp
Scotty Pollacheck Fast Facts:
·         From: Medford, Oregon
·         Job: Owns "Quality Tire" store
·         Years in drag racing: 27
Michael Ray Fast Facts:
·         From: New Braunfels, Texas
·         Job: Harley-Davidson Motorcycle Salesman
·         Years in drag racing: 11