In the 500th career race in the Pro Stock Motorcycle category, Gaige Herrera earned his first career victory in the Countdown to the Championship, going 6.726 at 201.34 on his Mission Foods/Vance & Hines Suzuki to win against a red-lighting Hector Arana Jr at the 15th annual betway NHRA Carolina Nationals. Herrera moved back into the points lead with his dominant weekend en route to his seventh victory of the season, also getting back on track after an early exit in the playoff opener.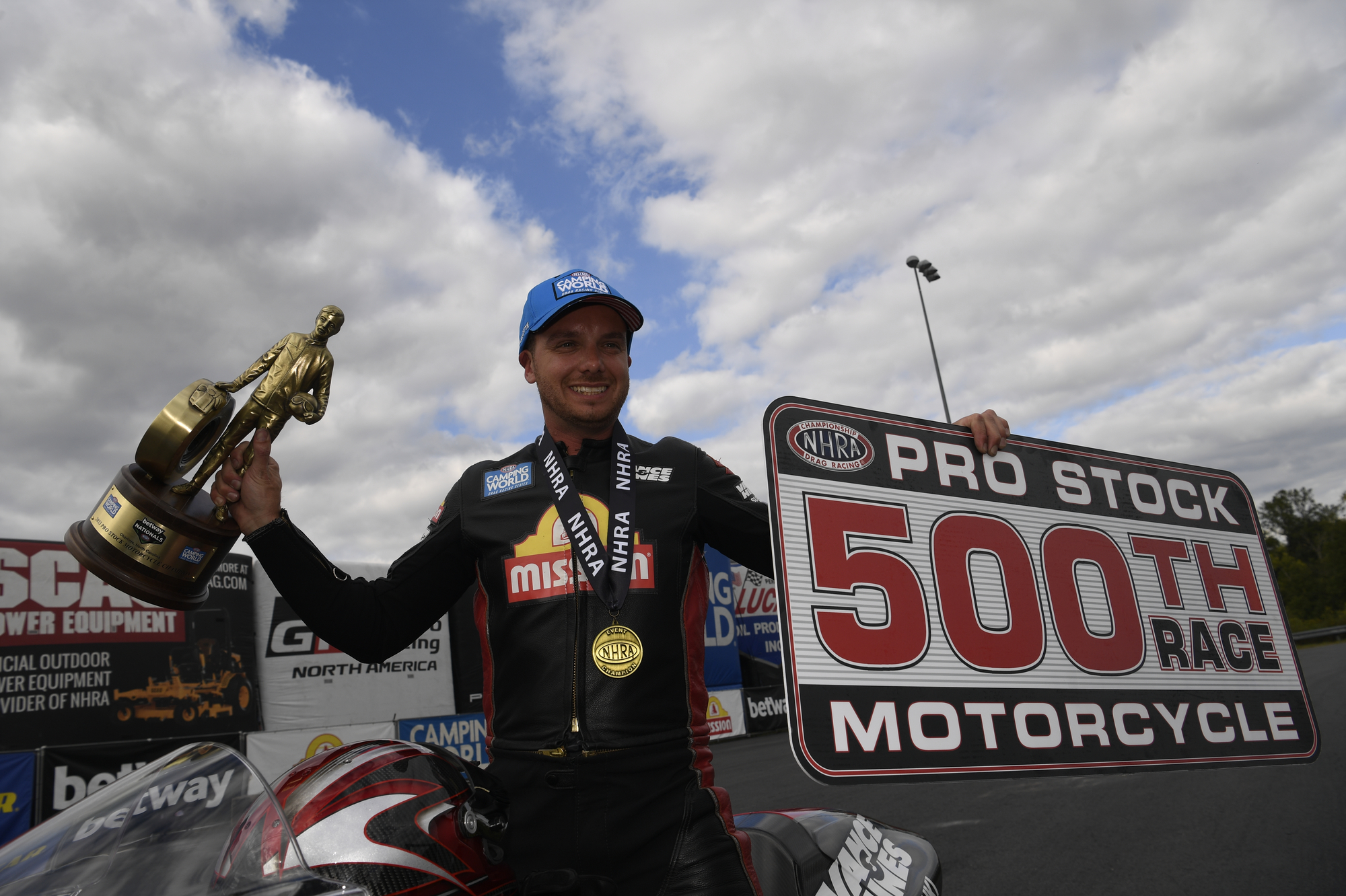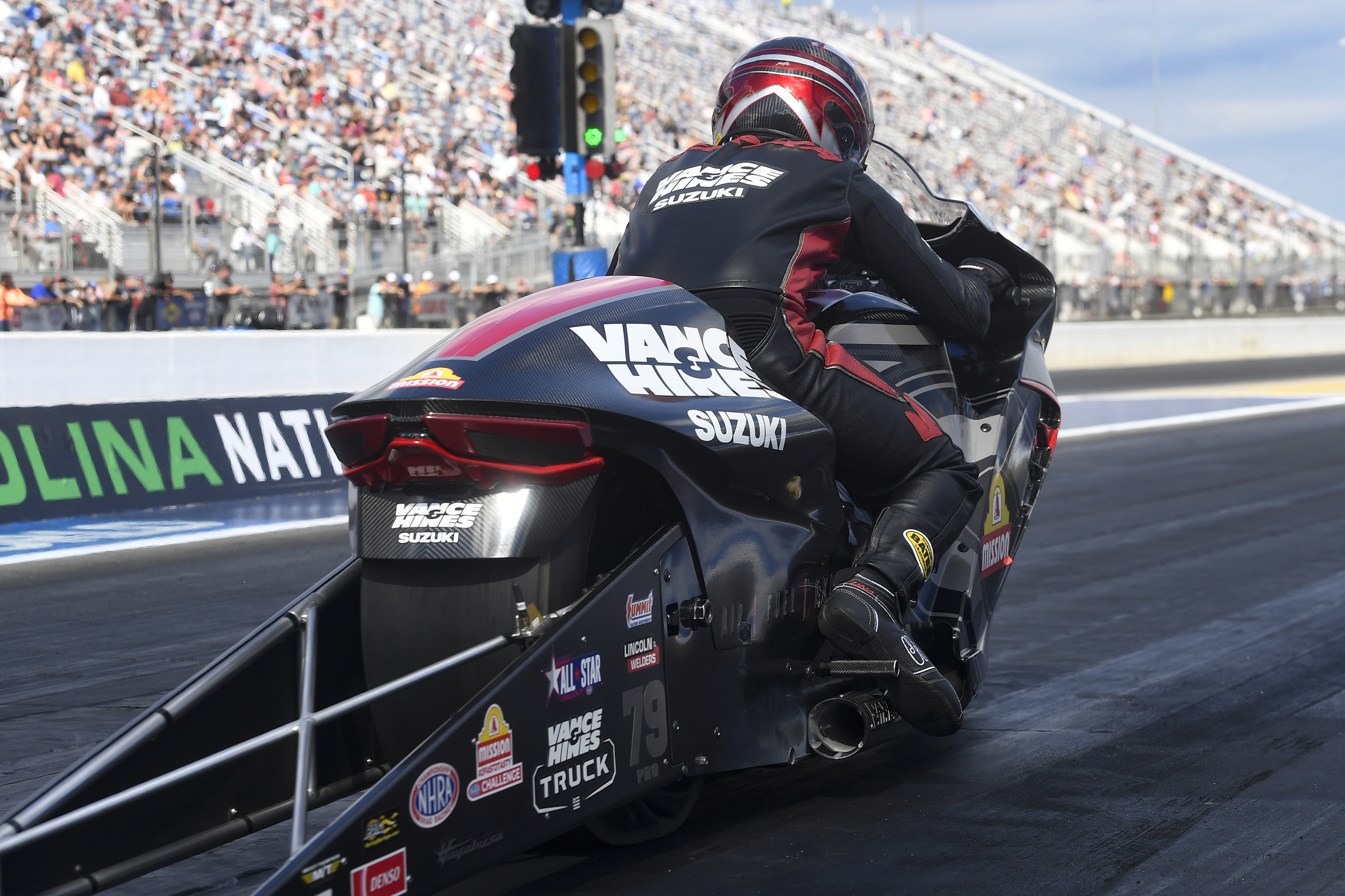 There were no upsets on Sunday at zMAX Dragway, as Herrera, who also qualified No. 1, rolled to round wins against Jerry Savoie, defending world champion Matt Smith and Chase Van Sant, setting a track E.T. record in the opening round with a 6.706. Arana Jr. left early in the finals, but Herrera would have been tough to take down as he enjoyed another spectacular weekend. His lead against Smith stands at 52 points.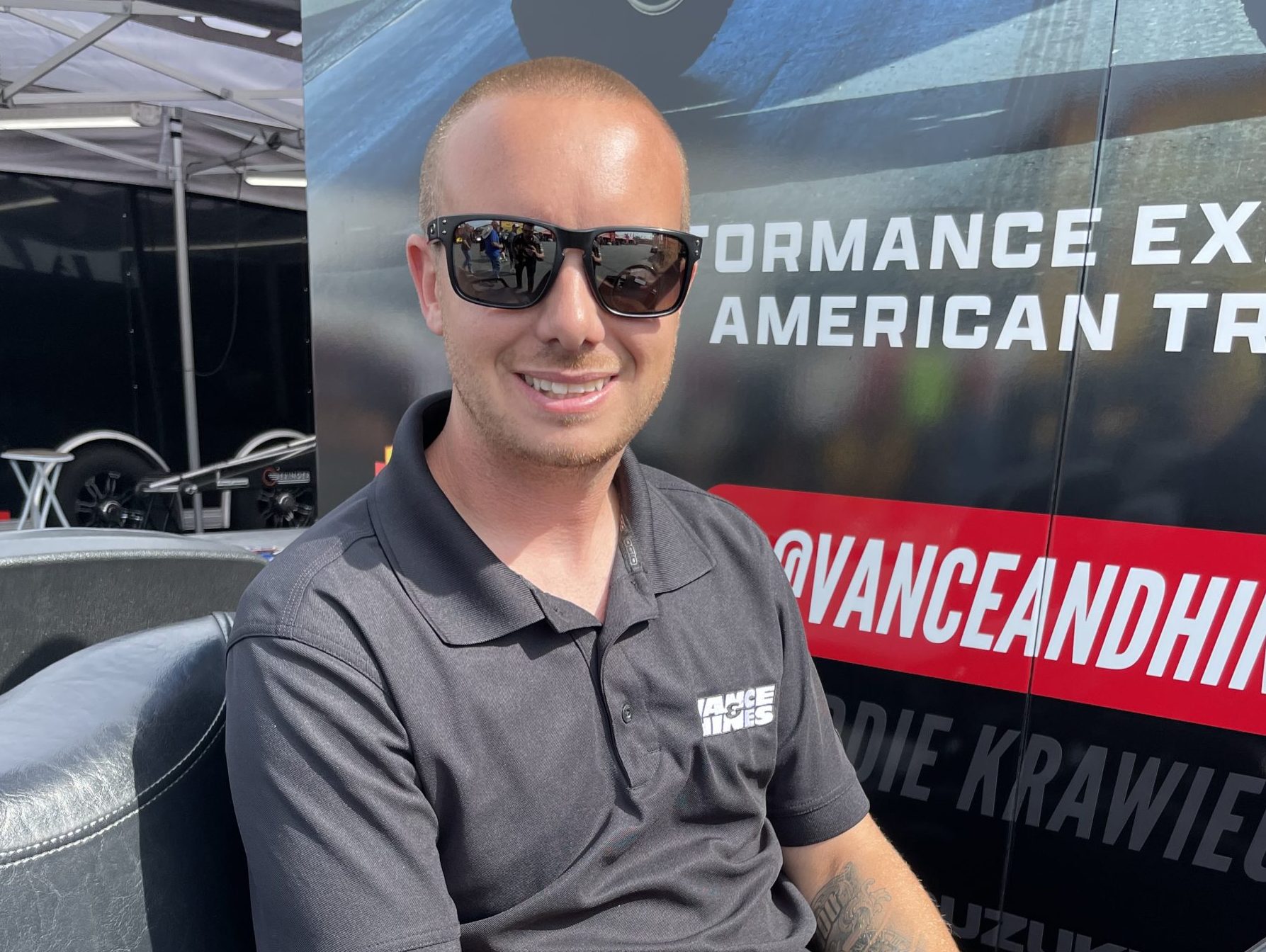 "It was a good Sunday. I'm glad my bike was consistent again today. It came off the trailer running strong and I'm glad we came home with the win," Herrera said. "I'm happy with that. This is definitely one of my favorite tracks.
"Andrew (Hines, crew chief) and those guys, they don't quit. I'm with one of the best teams with Vance & Hines. It's pretty cool, racing Matt second round. The ladder couldn't have worked out any better for me today. I regained the points lead and definitely have a lot of momentum going into St. Louis."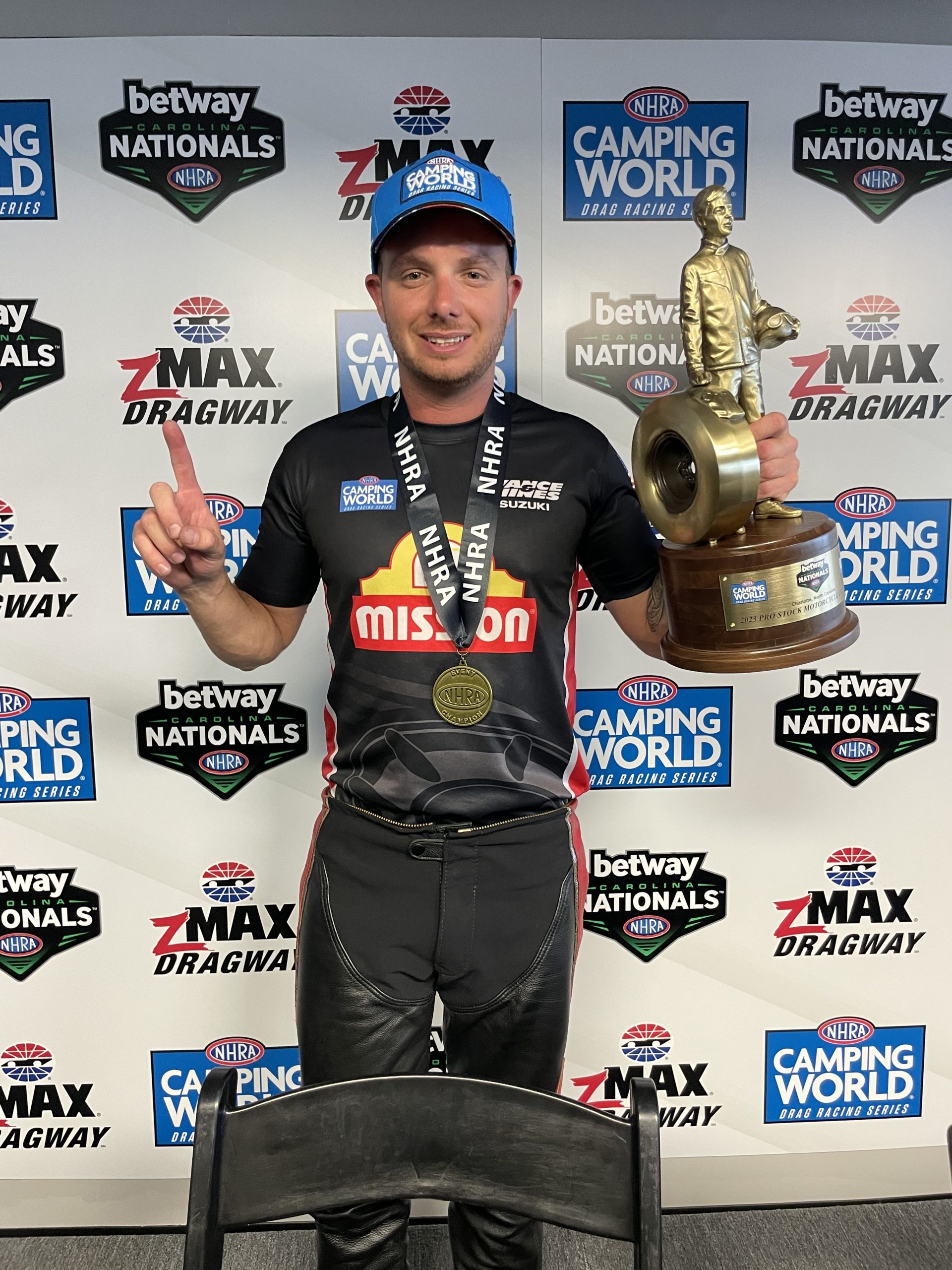 Arana Jr. stayed third in points, getting past Steve Johnson, Angie Smith and Eddie Krawiec to reach the championship round for the third time in 2023 and 33rd time in his career.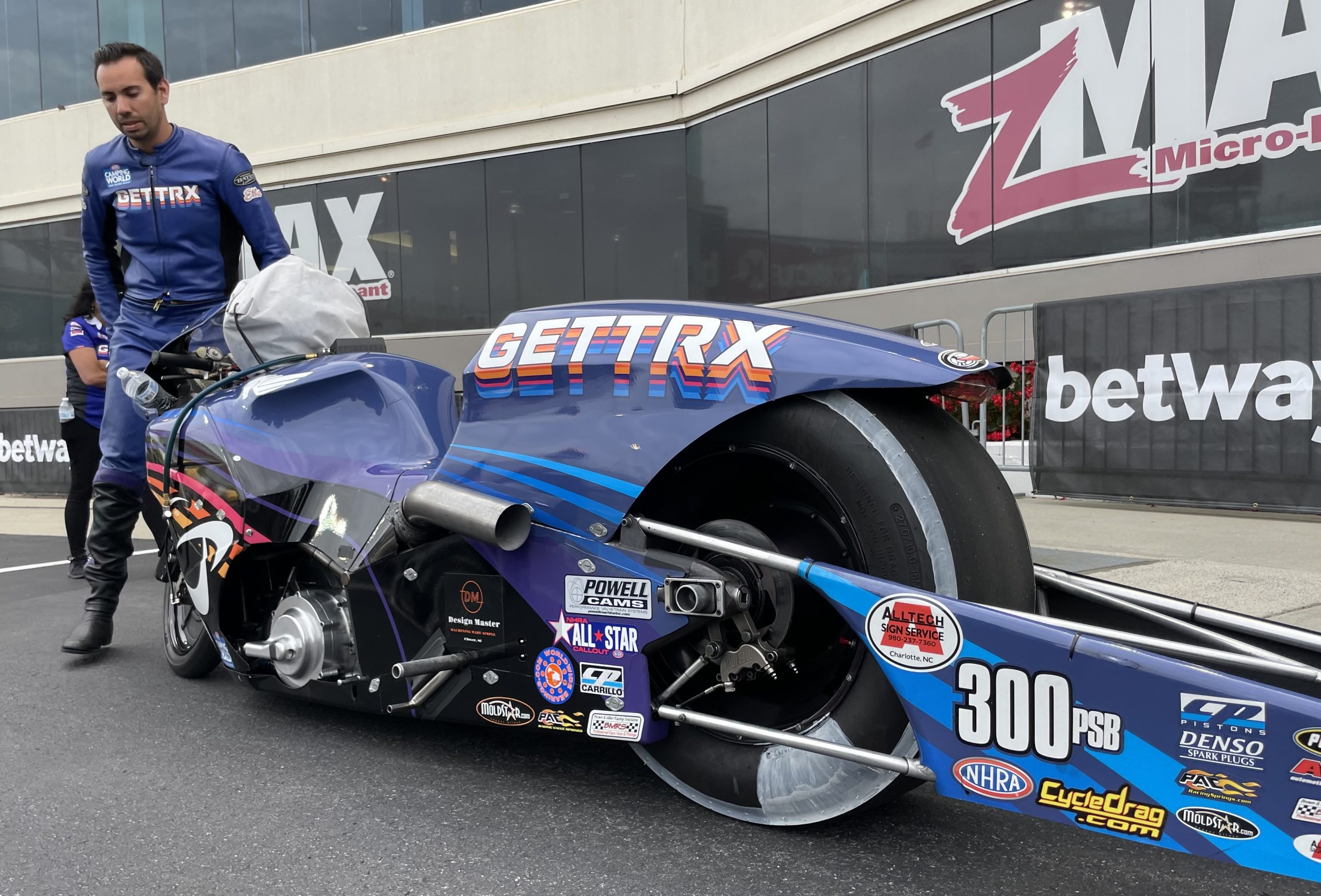 The NHRA Camping World Drag Racing Series returns to action Sept. 29-Oct.1 with the NHRA Midwest Nationals at World Wide Technology Raceway in St. Louis.
ROUND ONE — Angie Smith, 6.846, 198.26 def. Chris Bostick, Foul – Red Light; Kelly Clontz, Suzuki, 6.883, 195.68 def. Jianna Evaristo, Suzuki, 6.899, 196.67; Chip Ellis, 6.791, 199.46 def. John Hall, Foul – Red Light; Hector Arana Jr, 6.785, 201.61 def. Steve Johnson, Suzuki, 6.949, 193.24; Matt Smith, Suzuki, 6.858, 195.00 def. Marc Ingwersen, 6.881, 193.57; Chase Van Sant, Suzuki, 6.863, 196.47 def. Joey Gladstone, Suzuki, 6.898, 195.28; Eddie Krawiec, Suzuki, 6.791, 200.08 def. Ron Tornow, Broke; Gaige Herrera, Suzuki, 6.706, 201.94 def. Jerry Savoie, Suzuki, Foul – Red Light; QUARTERFINALS — Van Sant, 6.861, 197.45 def. Ellis, Foul – Red Light; Krawiec, 6.828, 199.85 def. Clontz, 6.950, 194.86; Arana Jr, 6.873, 197.86 def. A. Smith, 6.836, 198.50; Herrera, 6.747, 200.71 def. M. Smith, 7.880, 122.91;
SEMIFINALS — Arana Jr, 6.815, 198.06 def. Krawiec, 6.855, 199.17; Herrera, 6.755, 201.10 def. Van Sant, Foul – Red Light;
FINAL — Herrera, 6.726, 201.34 def. Arana Jr, Foul – Red Light.
There are more videos on the Cycledrag Youtube channel (please subscribe here) and the Cycledrag Facebook page (Please like here) and more will be coming soon. Check back daily.