Come get a taste of what it is kind to be in a NHRA Top Fuel Nitro Harley Drag Bike Team at the U.S. Nationals as this squad is tasked with rebuilding the Cycle Gear Nitromethane, 175 c.i. Harley Davidson Drag Racing Motor in less than 90 minutes in order to make final qualifying. Fearless Dennis "Nitro Menace" Fisher goes for a wild ride and nearly suffers a Top Fuel Nitro Harley crash!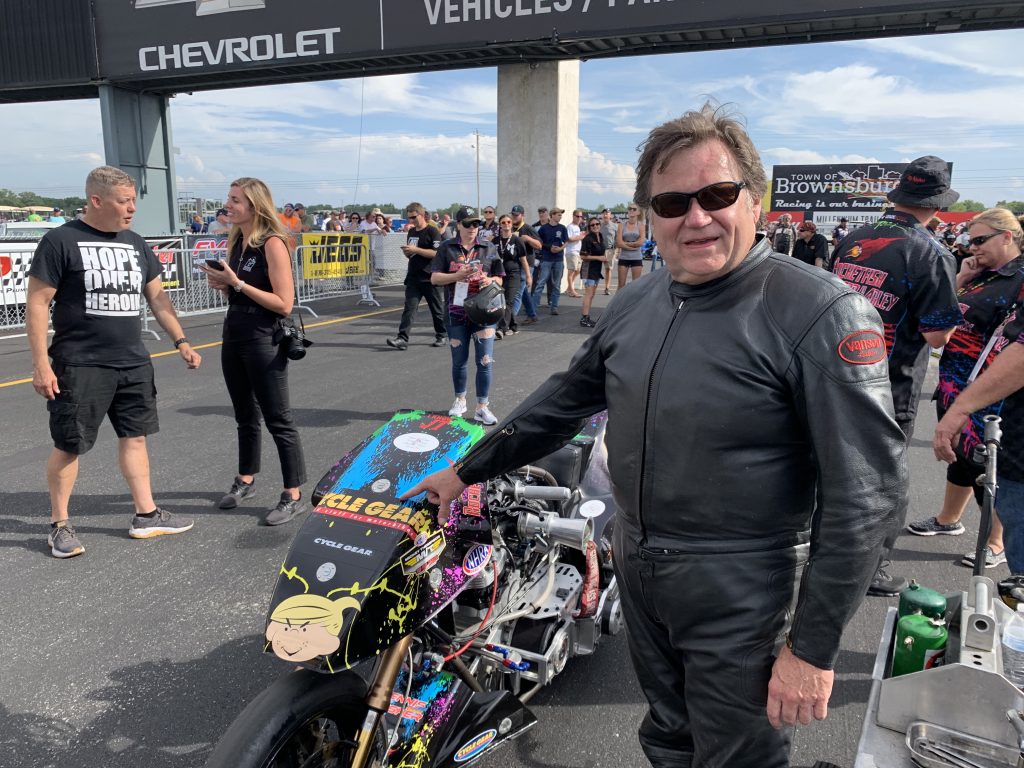 Fisher and his Nitro Harley Team secured the backing of Cycle Gear for the biggest drag race of the year and were focused on making it into the program. In the third session of qualifying the team had a fuel system gremlin that was pumping nitro into the cylinders and washing down the crankcase, which wiped out the lower end rod caps and bearings. As the saying goes, Nitro is not your friend! Watch as the team scrambles to rebuild the bike under the guidance of talented crew chief Steve Vickers of Hawaya Racing.
There are more videos on the Cycledrag Youtube channel (please subscribe here) and the Cycledrag.com Facebook page (Please like here) and more will be coming soon. Check back daily.
The team makes final qualifying and Fisher goes for a wild ride and gets close to the wall. With adrenaline pumping Dennis grabs a little too much front brake at the far end of the track but wisely let back off the lever to correct the problem. Fisher is hoping to expand his relationship with Cycle Gear / Revzilla for 2020. Please comment with your support and share this video with friends to maximize exposure! I hope you enjoyed this look into Nitro Harley Racing and how challenging a motor rebuild can be when under pressure.