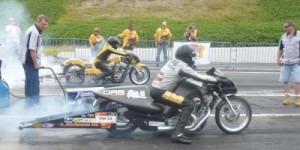 Off season from racing is not a time for meditation and relaxation, it's time to get new parts, sometimes new paint, make deals with sponsors, and set the season's calendar.
In 2012 Frank Capone of Capone Racing won his first National Championship in the Pro Mod class with AHDRA.  Capone and Shaun Reno, Team HeadBlade set numerous records with AHDRA. Capone had intended to defend that Championship this season when the news came about the demise of that long time sanction.
Both teams now plan to persue records and Championships with the AMRA and will run NHRA Screamin' Eagle divisionals on the East Coast and Midwest and possibly the NHRA finals in Las Vegas, NV.
"We encourage our friends and fans to make this conversion with us, it'll be new tracks and new competition and we're ready," says Capone.
March 23-24 AMRA State Capitol Raceway, Baton Rouge, LA
April 12-13 NHRA Virginia Motorsports Park, Petersburg, Va.
April 27-28 AMRA Beech Bend Raceway,NO TF or Nitro Funnybike, Bowling Green, KY
May 17-19 NHRA Summit Racing Equipment Motorsports Park, Norwalk Oh
May 30-June 2 AMRA Mason Dixon Dragway, Hagerstown, Md.
June 29-30 AMRA Beech Bend Raceway, Bowling Green, KY
July 19-21 NHRA New England Dragway, Epping, N.H.
July 27-28 AMRA Kil-Kare Raceway, Xenia, OH
Sept. 20-21 NHRA Bristol Dragway, Bristol, Tn
Sept. 28-29 AMRA Beech Bend Raceway, Bowling Green, KY
Oct. 31-Nov. 3 NHRA The Strip at Las Vegas Motor Speedway, Las Vegas, Nv.
Capone's team consists of Mark Godin, Richard Murray, Craig Fisher, Lorne Buchanan and Katy Miller.
Capone Racing sponsors and friends supporting Capone's record breaking season include: G&G Engineering, DAS Performance, L. Buchanan Co., Gannos Machine, Energy One Clutches, Vanson Leathers and all the staff at Capone Landscape.
Capone can be reached at:
781-224-0700
Reno's team includes his wife, Kim; crew chief, Ricky Stewart, & Kelcie Edwards
Special thanks to: HeadBlade, Inc., Hampton Roads Harley Davidson, Energy One Clutches, SA (Steve Allstaedt) Racing
Reno can be reached at:
email
renoscc@cox.net
phone (804)642-0554